by Flint Adam, Nolensville resident & REALTOR®
The number of home sales closed in Nolensville last month plummeted by almost two-thirds compared to the year before, but contract terms were the strongest sellers have seen since last summer.
Meanwhile, at least forty more homes went under contract in April, illustrating increasing demand moving forward. Over half of those forty new contracts last month were on existing homes, a change of pace from earlier in the year when new construction contracts dominated the marketplace.
As we move toward summer, existing home sales should strengthen as fewer and fewer completed, new construction options remain.
Interest Rates Remain High…
Mortgage rates remain stubbornly high, with conventional 30-year fixed loans continuing to sit in the mid-six percent range. The real estate market has shown pops of activity when 30-year, fixed rates drop to near six percent, but stalls when rates are closer to seven.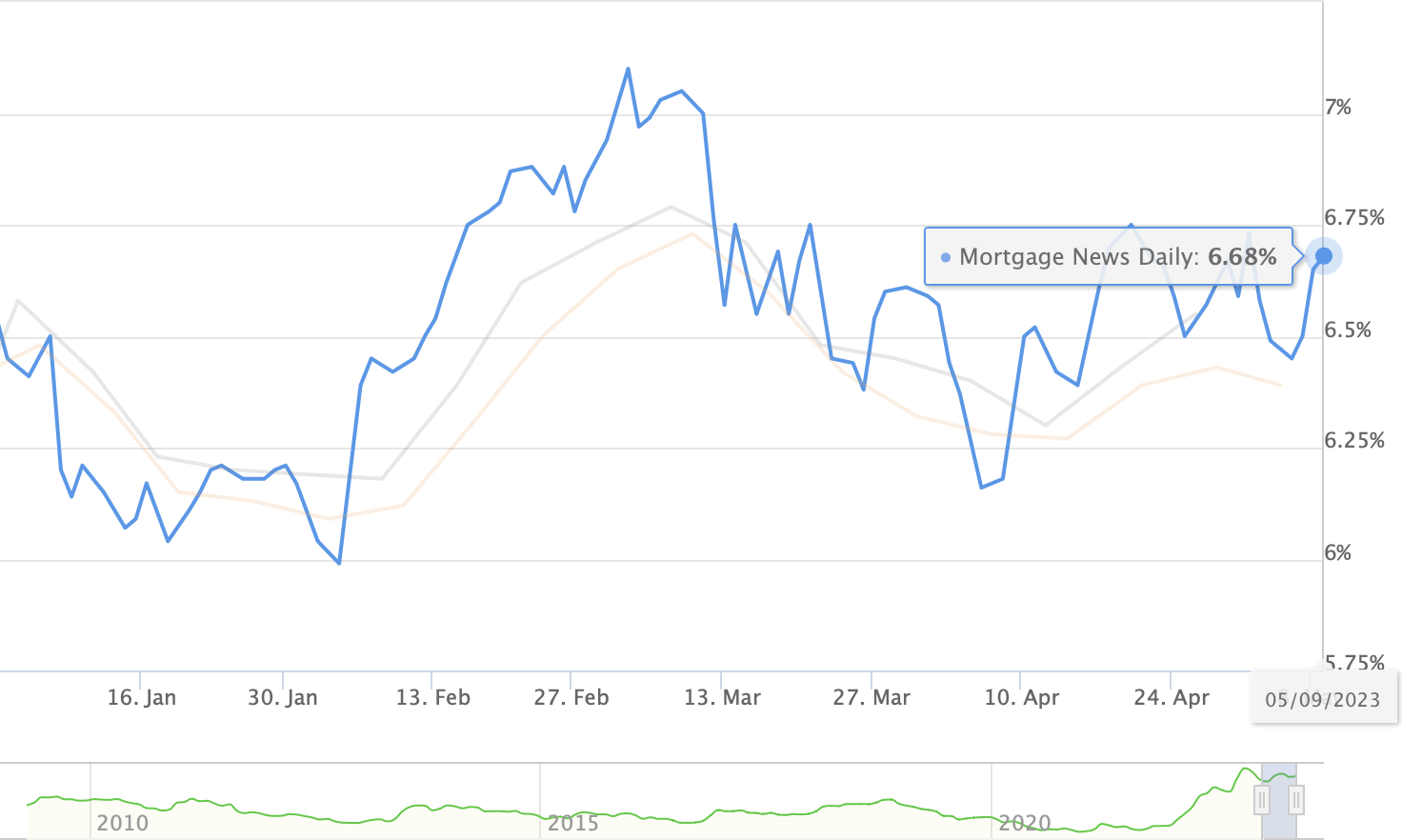 Housing Inventory Rises…
Nolensville housing inventory had been on the decline for months, but with April came a surge in spring listings, especially toward the latter part of the month. There is now more inventory available for purchase in Nolensville than we have seen at any time since November of last year.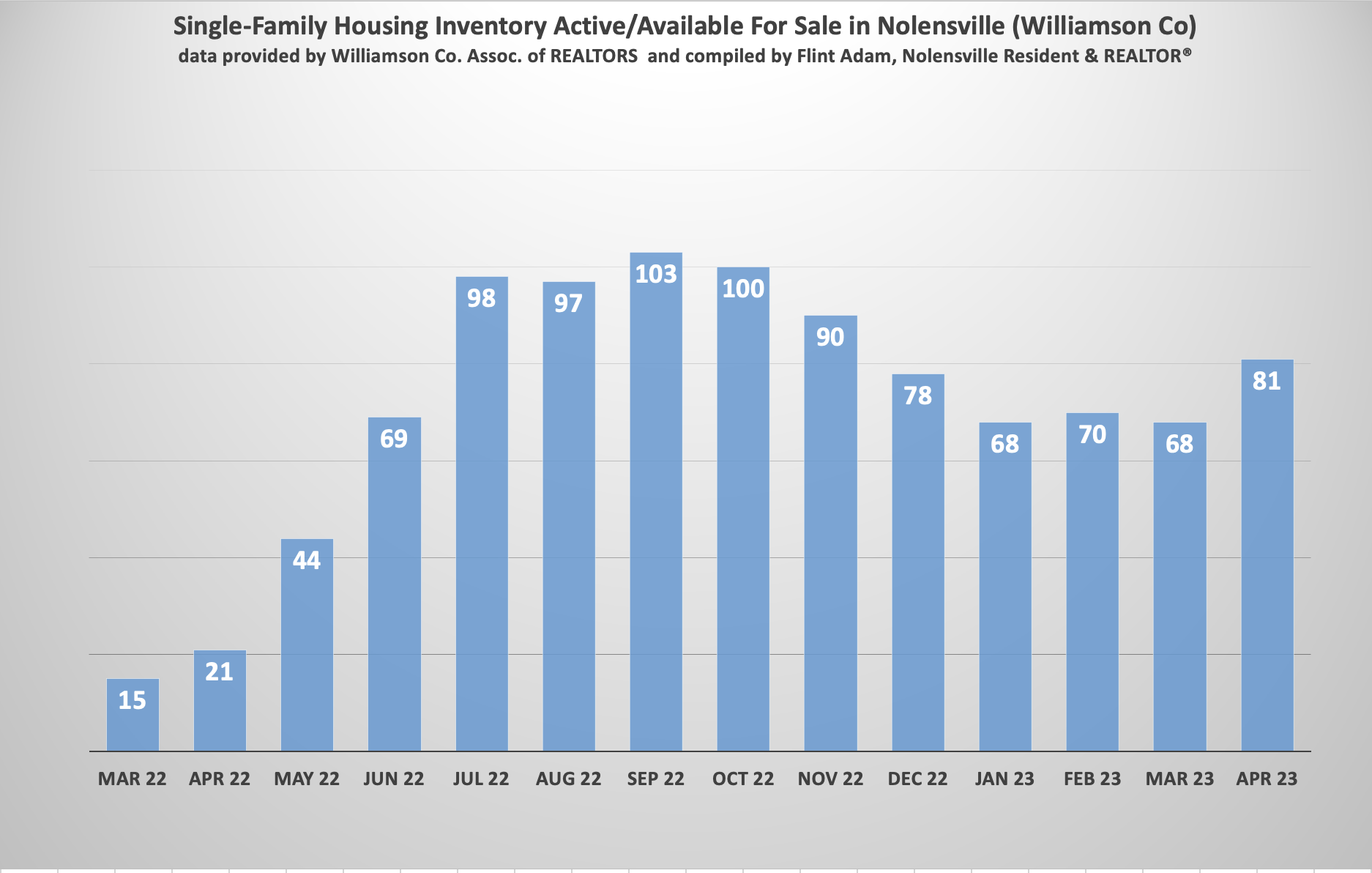 Median Selling Prices Drop (Again)…
The median sales price of a Nolensville home, compared year-over-year, dropped for a third consecutive month, and is well-off the all-time high of $1,049,900 hit this past November. That was an outlier month, though, as no other month of Nolensville home sales has ever even reached a median price of $900,000.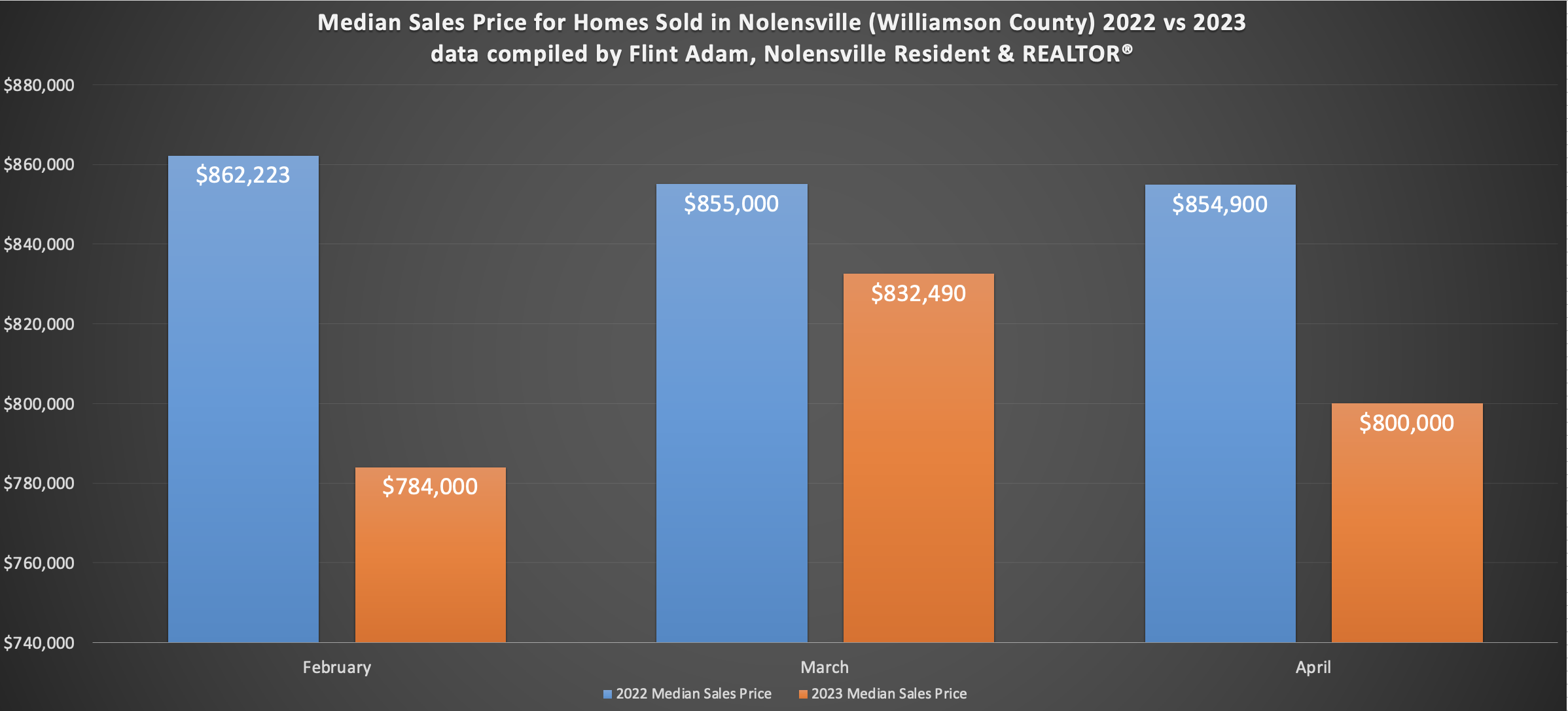 Even so, last month's $800,000 median sales price remained almost 33% higher than median prices were in April 2021 ($603,000).
Interest rates were also a different ballgame back then. On April 30, 2021, 30-year fixed mortgage rates averaged about 3.12% instead of the 6.59% we saw at the end of last month.
Mortgage Applications Remain Subdued…
Nationally, new mortgage applications remain near 26 year lows. In the chart below, the blue graph illustrates mortgage applications, and the gold graph illustrates interest rates. While there have been a few upticks here and there this year, people are still purchasing homes at the lowest rate since April 1997.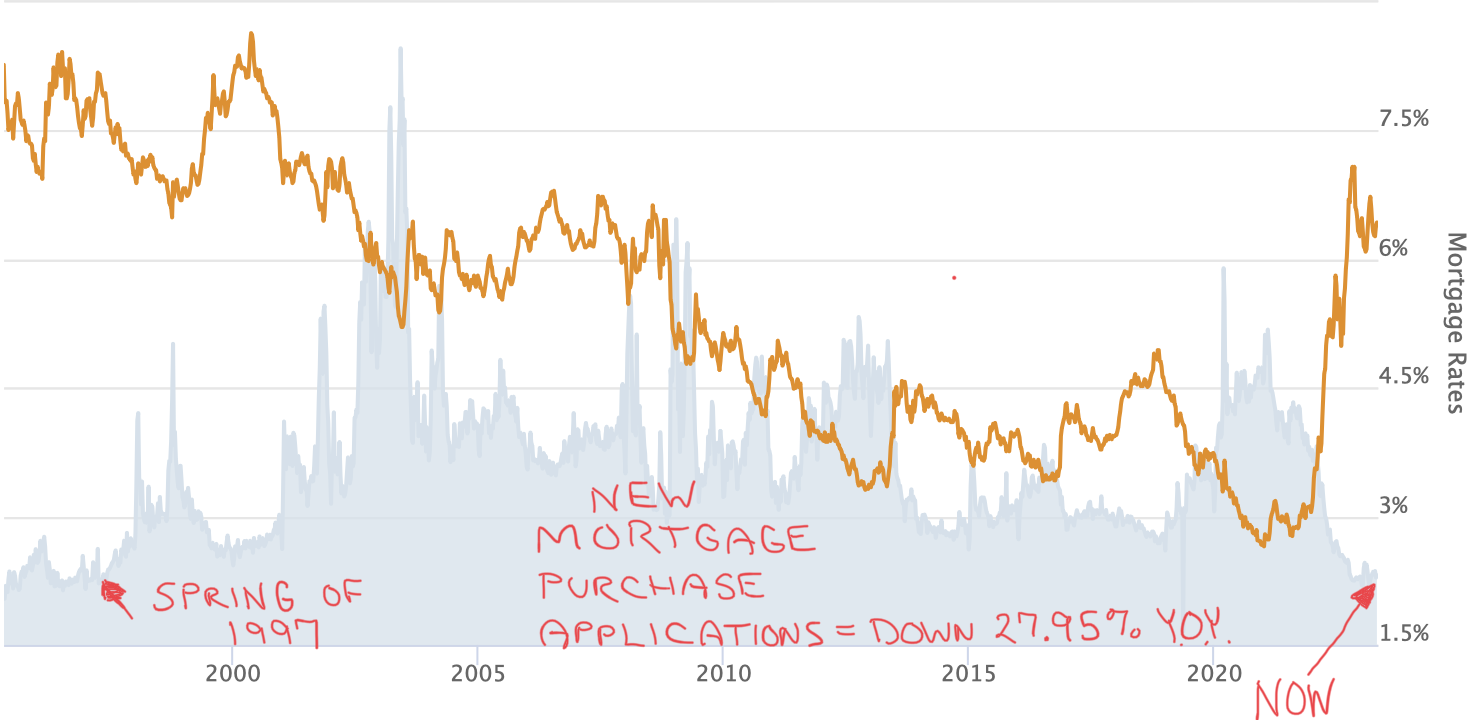 There is good news in Williamson County, though, as new contracts rose 37% from the month before, and were almost flat compared to April 2022. We live in one of the most in-demand counties in the country, and that has helped the area fair better than many parts of the country.
April 2023 Nolensville Real Estate In Depth…
I noticed a very encouraging sign last month: the sale-price to list-price ratio for existing homes sold in Nolensville jumped above 99% for the first time since July of last year.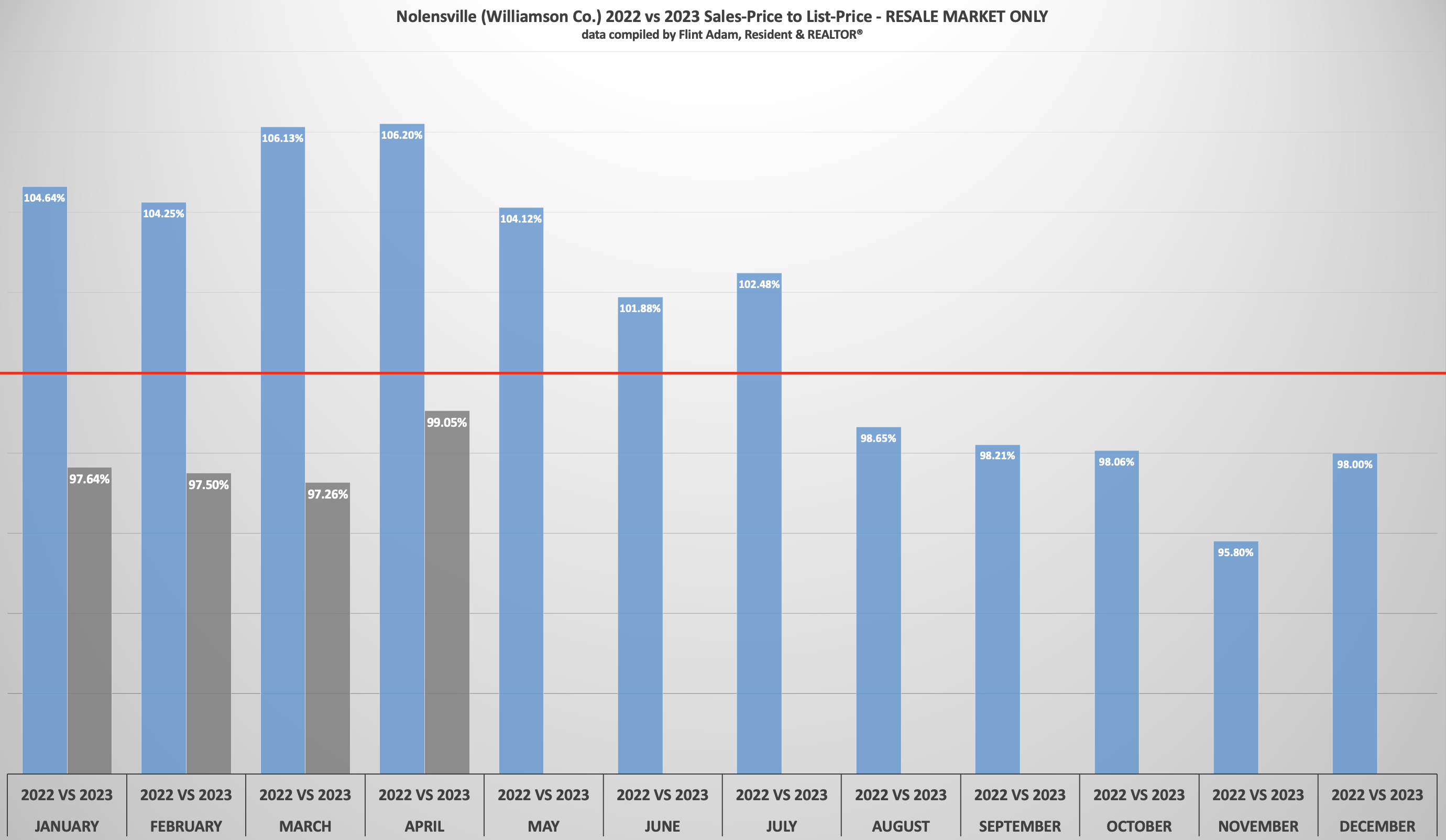 The SP/LP ratio for the existing homes (resale) market is a very important indicator as it illustrates the strength of buyer demand in near real-time. If May's figure remains above 99%, that shows the marketplace is really tightening and sellers gaining more momentum.
April 2023 vs. April 2022 Nolensville Home Sales:
25 Nolensville (Williamson Co.) homes sold… down from 71 (

-64.79%

)
The median sales price was $800,000… down from $854,900 (

-6.42%

)
The average days on market was 50… up from 3 (

+47 days

)
The sales-price to list-price ratio was 99.40%… down from 103.73% (

-4.17%

)
13 of the 25 homes (52%) sold were new construction
The lowest price sale was 1865 Looking Glass Lane in Ballenger Farms for $589,000.
The highest price sale was 1041 Annecy Pkwy. in Annecy for $2,011,440.
Deeper Dive:
When we eliminate new construction and larger acreage properties and look solely at subdivision resales (12 total), some interesting figures come to light:

The median sales price becomes $721,000
The average sales-price to list-price ratio falls to 99.05%
3 of the 12 sales (25%) is above asking-price
5 of the 12 sales sold (42%) below asking-price
Three homes sold for all-cash
The average days on becomes 28
1 of the resales had a contract fall through before selling
5 of the resales (42%) had to price-reduce before going under contract
*Note: The information above cites Williamson County sales data for Nolensville, Tennessee. There is, of course, a small percentage of Nolensville homes that exist in Davidson and Rutherford counties, but for continuity in my blogging I reference only Williamson County statistics.
Williamson County Sales Stats…

The number of single-family home sales closed in Williamson County last month dropped by more than 37% year-over-year. The median selling price was also down 1.7%.
Active/available inventory, meanwhile, rose 136.52% compared to April 2022, while newly-written contracts were virtually flat.
Greater Nashville Sales Stats (includes Williamson Co.)…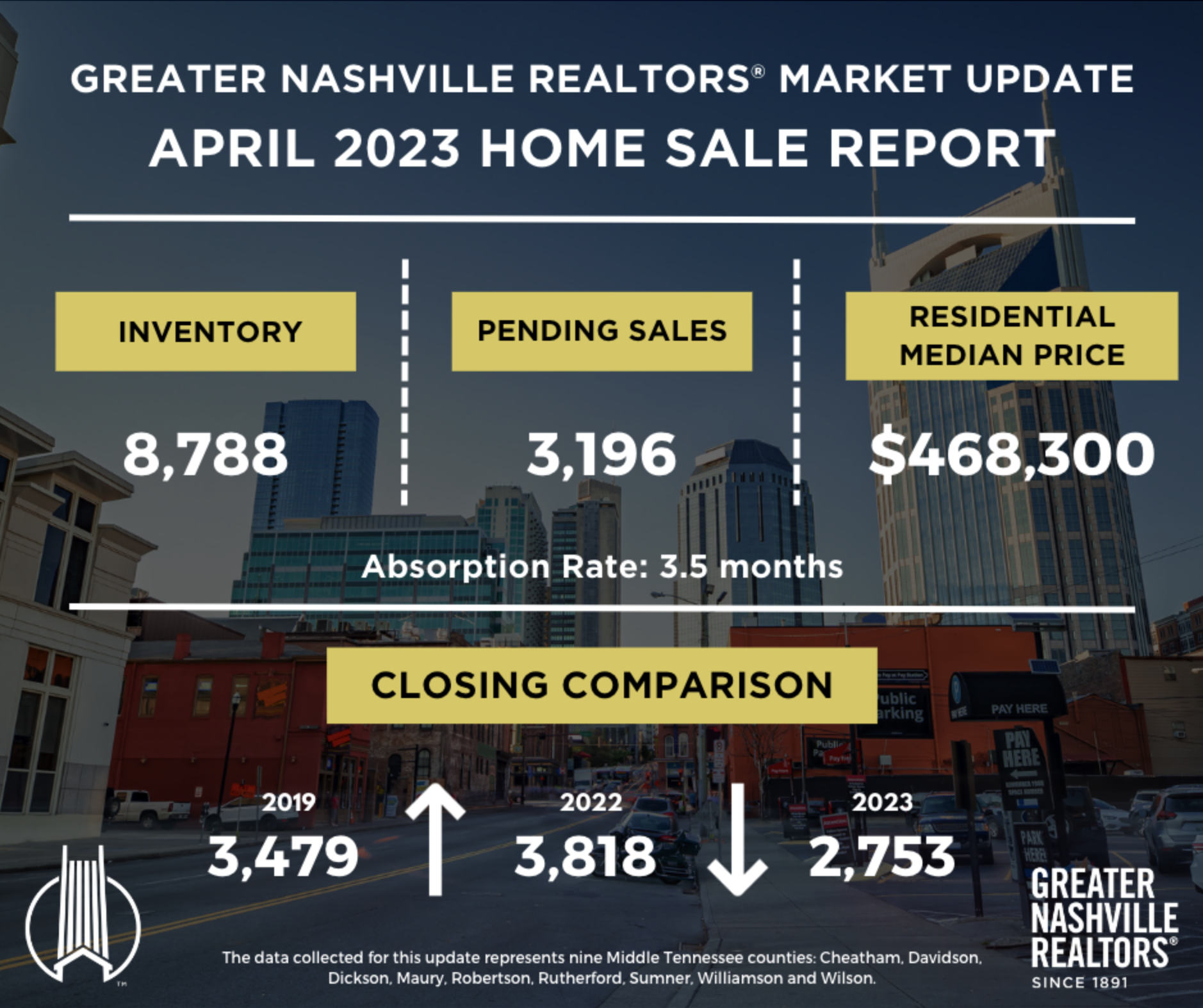 Greater Nashville housing inventory doubled from the year before, while the median residential sales price dropped about two and a half percent. Closings were down almost 28% from the year before.
In Conclusion…
I feel better about the real estate market right now than I have in almost a year. While interest rates remain elevated, home prices have come down some and are now beginning to stabilize. Meanwhile, the pool of buyers has adjusted to the higher interest rate shock, and more and more are getting back out there looking to purchase.
While we remain in a housing inventory shortage, supply is better right now than it was in the two prior years, so buyers are typically able to secure the home they want under terms that are fair to both sellers and buyers.
If you're interested in buying or selling, I am at your service. My no-obligation consultations are filled with data and offer you an opportunity to speak with a local expert before you decide on your path.
Give me a call at 615-500-6393 or email me at flint@theguidehome.com and let's chat about your goals.
Interested in up to date Nolensville TN real estate sales figures? I'll email you an HOURLY UPDATED look at Nolensville real estate activity including what has gone pending, price-reduced, and withdrawn. Just shoot me an email with your name and preferred email address to flint@theguidehome.com
---
The Latest on Mortgage Rates…
From Mortgage News Daily on May 11, 2023:
The volume of mortgage applications increased last week for both home purchases and refinancing. The Mortgage Bankers Association (MBA) said its Market Composite Index, a measure of that volume, increased 6.3 percent on a seasonally adjusted basis and was 7 percent higher on an unadjusted basis compared with the previous week.
The Refinance Index increased rose by 10 percent but remains 44 percent lower than the same week one year ago. The refinance share of mortgage activity increased to 28.0 percent of total applications from 27.2 percent the previous week.
---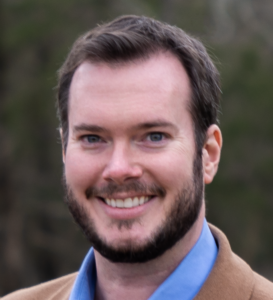 Flint Adam is a 14- year Nolensville resident and lives in Bent Creek. He focuses his real estate practice here in town, having served almost 200 buyers and sellers in closed Nolensville real estate transactions. Flint enjoys blogging about local real estate, traveling the world, photography, and hiking. He is passionate about serving Nolensville and keeping it one of America's greatest small towns.