by Flint Adam, Nolensville resident & REALTOR®
If you have a Nolensville home for sale right now, you may be feeling a little bit of frustration. Chances are you're getting showings, but buyers may be low-balling you, or unable to commit to a decision, or they seek perfection. (Hey, at six and a half percent interest rates, nobody wants to be disappointed with what they buy).
I glanced this morning at homes currently available for purchase in Nolensville (Williamson County). Among the twenty-nine, existing homes listed for sale, the average days on market sits at 51, and almost a third of these resales have had price-reductions.
There are also another 38 new construction homes marketed on MLS. A few are available for move-in within the next sixty days, though most are under construction and won't be available until late summer, if not the end of the year.
All together, there are 67 homes marketed as Active/Available on MLS in Nolensville (Williamson County) today. That number illustrates a housing shortage.
"But Flint, aren't there four times more homes available for purchase today than there were a year ago?!"
Yes! …….
But, a year ago… even TWO years ago… we were in never-before-seen housing shortages caused by COVID-induced, market-wreckage… and historically low mortgage interest rates that had everyone out buying what few properties were available.
Today's housing inventory is bursting at the seams compared to 2021 and 2022, but it pales in comparison to pre-COVID housing inventory.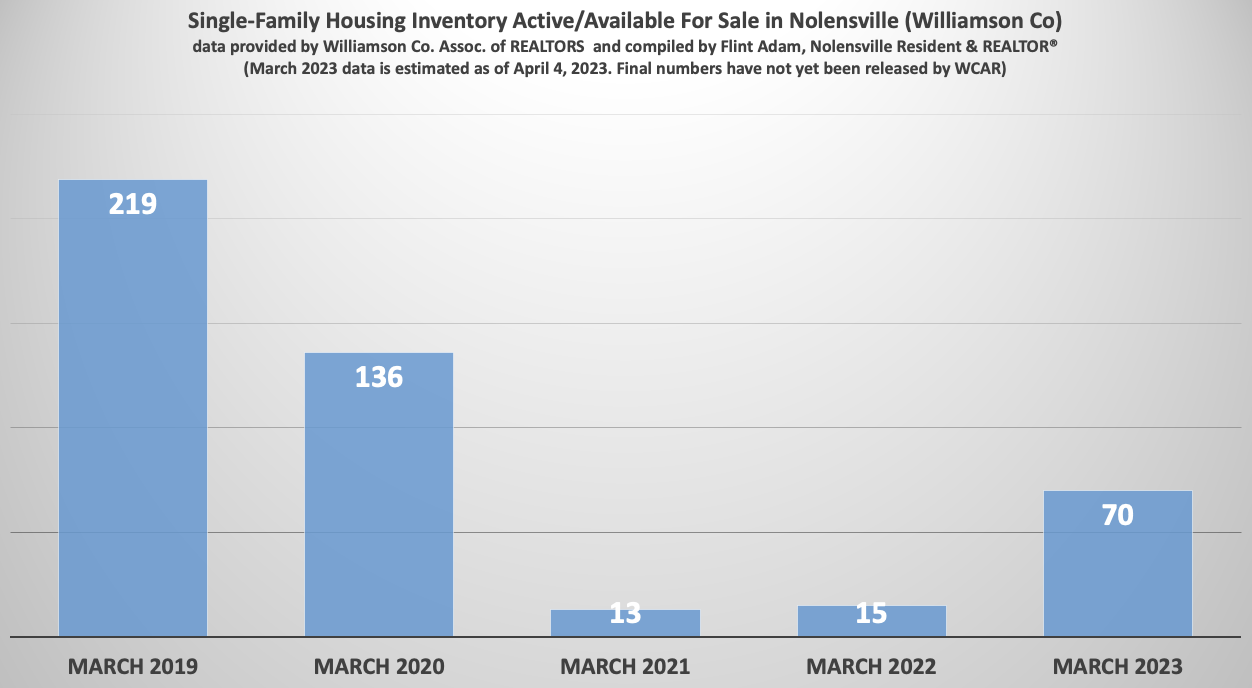 Go back to March 2020 – back when the pandemic first arrived in Williamson County – and inventory was almost double what it is today. Jump back to March 2019, and there was three times more inventory than what is out there today.
What we have right now isn't a housing inventory-glut… it's suffocating interest rates.
Last month, the *unofficial* median selling price in Nolensville (Williamson County) was $832,490. The year before –  March 2022 – the Williamson County Association of REALTORS® says the median sold price was $874,880. Interest rates are quite different during the two periods, though.
*(Note: I am not a loan originator or expert… the following is an example I am trying to keep basic).
According to Mortgage News Daily, a 30-year, jumbo loan rate at the end of March 2022 was about 4.15%. (Conforming loan limits in Williamson County last year were $694,600, so with 20% down a buyer still wouldn't qualify for conventional financing at last year's median home price).
This year, conforming loan limits in Williamson County rose to $890,100. So, most lenders would stick you in a 30-year, conventional mortgage rate at the end of March 2023… which was about 6.57%.
Based on the above figures, (median sold price + 20% down + excellent credit + typical interest rates)… a buyer purchasing in Nolensville (Williamson Co.) would pay the following principal + interest per month:
March 2022 payment = $3,403
March 2023 payment = $4,240.23
That $837.23/month higher payment is not chump-change, especially with all of the other inflationary expenses people are shouldering these days.
There Will Come A Turning Point…
Many of the ingredients are there for housing to take off again. There isn't enough inventory, there is pent up buyer demand, new construction availability is waning, and rent is still way too expensive.
When the 30-year, fixed rate mortgage drops back below 6%, I expect the market to get competitive once more. Multiple offers and quick purchase agreements could very well resume.