by Flint Adam, Nolensville resident & Realtor®
Monday, August 28, 2017
I never thought I would write a blog agreeing with Zillow on something, but hey – life is full of ironies! Both the portal, and myself, see evidence that Nolensville's long run as a Seller's haven may be over – at least for now.
Dropped in my inbox on Saturday was Zillow's latest market report on the 37135 zip code. I get these for a variety of zip codes around Greater Nashville, and while I take great issues with the portal's Zestimate methodology, their presentation of recent sales and market activity isn't too bad.
In recent months, I've mentioned the slow-down of Nolensville's resale-home market. I wasn't able to put together my monthly blog recapping July 2017's sales figures, but I can report here that the trend did continue for a fourth consecutive month –  sales were once more down year-over-year:
April 2017 –

down 19%

from April 2016
May 2017 –

down 24%

from May 2016
June 2017 –

down 19%

from June 2016
July 2017 –

down 27%

from July 2016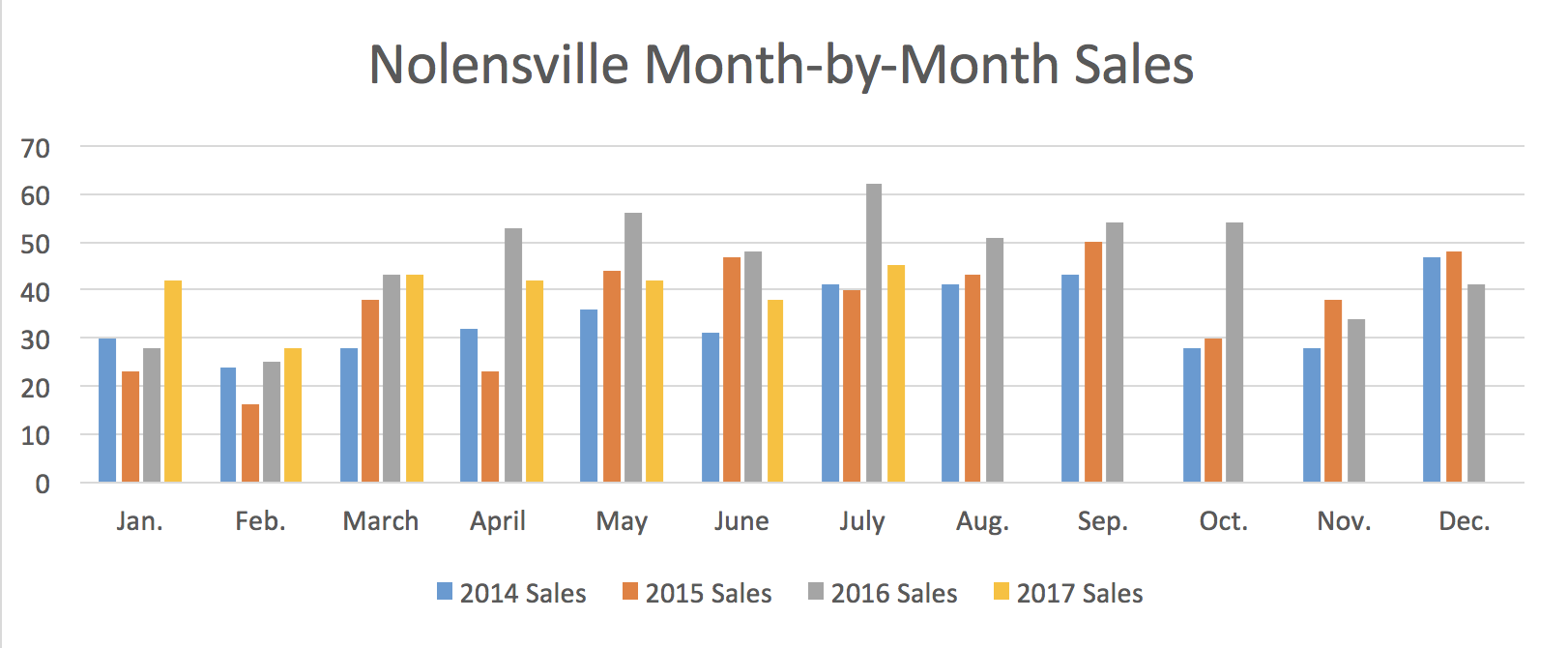 The news may initially dishearten some of you, but I see 3 positive takeaways:
1.) Sellers No Longer Need to Speculate About the Ceiling…
Sellers who were on the fence about listing because they wanted to see how high the market could go may now have their answer – Nolensville prices likely peaked earlier this year and a gradual correction has taken shape since then.
That's not to say there aren't Nolensville homes still selling quickly and at asking price, but the market is demanding greater value from resales and scrutinizing their imperfections more, leading to many resales sitting on the market longer and reducing prices.
2.) Buyers Are People, Too! Now It's Their Turn…
Back in January, I blogged that a Buyer's market was on the horizon, and it arrived even faster than I predicted. Buyers who are interested in purchasing a resale-home in Nolensville have more leverage now than they've had in some time.
It's been an interesting summer watching prices adjust. Some have been by $1,000 or so… but more than a few have dropped by 20… 30… even 40-thousand dollars!
Not so much fun for Sellers, but hey – Buyers have had a tough run the past few years around Nashville, so don't expect their sympathy. In my heart, I don't see the board completely flipping… I feel like a more 'normalized' market is on the horizon. That's not a bad thing.
3.) New Construction Is A Different Animal…
Ah, but if only price-reductions extended into new construction. The second-half of Williamson County's ginormous school impact-fee levied on new construction takes effect September 1st. Now, new construction buyers in Nolensville can count on a total of $10,000 to $12,000 fee added to their overall purchase price simply for the privilege of building a new home.
This may actually help out the resale market. New construction is getting much more expensive – in July, the average price of closed new construction in Nolensville was $641,975 while the average price of a closed resale was $453,164. That's a 34% difference in price!
Back in April, the average sales price spread was much more narrow… $547,793 for new construction vs. $479,697 for resales… only a 13% difference in price. That created a value problem in the resale market which is now going away. Resales are becoming a better value once more.
In Conclusion…
August isn't done yet, but a peek at sales data so far shows that we're not far behind last year's pace – within a handful of sales, in fact. If that trend holds true through the end of the month, then it may illustrate that the Nolensville market is stabilizing.
I'm optimistic that the 4th quarter will be okay, too. A lot of under construction homes will close during that time, and resales should fair better now that they present a greater value than they did earlier this year.
---
Flint Adam is a Nolensville resident and lives with his wife and son in Bent Creek. He focuses his practice in town, having served almost 60 buyers and sellers in closed Nolensville real estate transactions. Flint enjoys blogging about real estate, traveling the world, photography, and drinking wine with friends and loved ones. He is passionate about serving Nolensville and keeping it one of America's greatest small towns. His family attends The Village United Methodist Church.