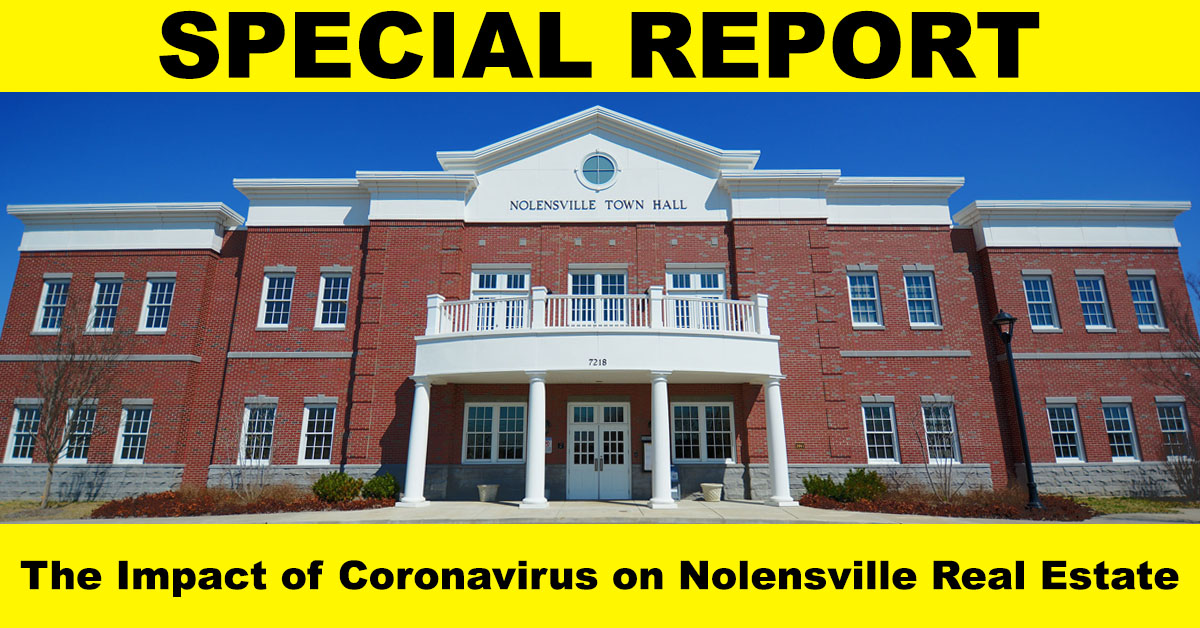 by Flint Adam, Nolensville resident & Realtor®
*Note: The information below cites Williamson County sales data for Nolensville, Tennessee. There is, of course, a small percentage of Nolensville homes that exist in Davidson and Rutherford counties, but for continuity in my blogging I reference only Williamson County statistics.
Last week I reported the good news: Nolensville's first quarter home sales were the best on record. This week… well, it's time to talk about the new reality we all face in the shadow of the coronavirus, Covid-19. There's some good, some bad, and some surprising.
Our record-setting Q1 numbers were the result of a historically busy January and February in the Nolensville real estate market. Everything was humming right along until the first case of coronavirus in Tennessee was reported on March 5. Coincidentally, that first case was in Williamson County.
A week later, on March 12, a State of Emergency was declared in Tennessee as coronavirus cases bloomed and the threat to our way of life grew. Schools and many daycares were closed, some people were now working from home, and questions brewed over how long and how deep the coronavirus impact would be.
Meanwhile, real estate was still closing in Nolensville and across the Greater Nashville area. Last month, in fact, would become the best-selling March ever in our little town. But beneath the surface, the market was changing.
New Inventory Eases
In Nolensville's residential resale market, new listings eased back. Beginning March 12, 2020 – the day a State of Emergency was declared – and tracking through yesterday, April 15th… 38 Nolensville resales came to market. During that same time period last year, 53 resales came to market. This represents a 28% decrease in new inventory.
When accounting for just the first half of April, though, the numbers stagnate even more. There have been 9 new Nolensville resales listed between April 1st and April 15th compared to 24 a year ago, a more than 62% decrease in new inventory.
The takeaway – we've battled inventory issues for a while, but the issue will only exacerbate this spring. Many sellers are opting to delay listing or simply refinance.
Foot Traffic Slows Down
Our Middle Tennessee Multiple Listing Service (MLS), RealTracs, partners with a showing service called ShowingTime. When a real estate agent calls and requests a showing, chances are it routes through ShowingTime, who then reaches out to the home seller and confirms a day and time. ShowingTime is not universally used by Greater Nashville real estate brokers, but its data is representative of what is happening in the marketplace.
The data for scheduled real estate showings in Nolensville the past six weeks illustrates a precipitous drop-off in foot traffic year-over-year:
| | | | | |
| --- | --- | --- | --- | --- |
| | DAYS | DAYS | DAYS | DAYS |
| MONTH | 1st – 7th | 8th – 14th | 15th – 21st | 22nd – 31st |
| March 2019 | 80 | 107 | 108 | 220 |
| March 2020 | 13 | 24 | 10 | 9 |
| DIFFERENCE = | down 84% | down 78% | down 91% | down 96% |
| | | | | |
| | DAYS | DAYS | DAYS | DAYS |
| MONTH | 1st – 7th | 8th – 14th | 15th – 21st | 22nd – 31st |
| April 2019 | 97 | 109 | | |
| April 2020 | 5 | 4 | TBD | TBD |
| DIFFERENCE = | down 95% | down 96% | TBD | TBD |
Again, this data is not all-inclusive since it doesn't take into account new construction foot-traffic, (which typically makes up anywhere from half to two-thirds of Nolensville home sales in any given month), but does shed light on what is happening in the resale market.
The takeaway – far fewer people are physically out there touring homes for sale, but the ones who are… well, they're serious. (See what's next.)
New Contracts in March Were Surprisingly Steady
The Williamson County Association of REALTORS® noted in their recent market update, which I recapped here, that 466 properties were newly under contract last month. That compares to 579 contracts written county-wide in March 2019… a 19% drop year-over-year.
But here in Nolensville, my analysis shows that 42 homes went under contract last month compared to 43 in March 2019. That's an amazing statistic considering the county's number and the drop-off in local showings.
To break it down even further:
25 of last month's contracts were new construction… 17 were resales.
The average days on market for the resale contracts was just over five days.
12 of the 17 resales went under contract after Tennessee declared a State of Emergency on March 12th. This is a very interesting figure as it shows that despite far fewer showing the second half of March, the buyers who were out there were serious and moved quick.
The takeaway – the most marketable homes (the ones that are properly prepared, marketed, and priced) moved quickly among the available buyers.
April Activity May Not Be Too Bad
There is incomplete data to sort through so far in April. Here's what I can tell you, though:
9 new Nolensville resales have hit the market so far in April
Only 1 of those newly listed resales has gone under contract as of April 15
The average days on market for this month's newly listed resale (so far) is almost 8 days
But…
A total of 17 contracts have been written in the Nolensville marketplace so far this month… that's just over one a day
Just over half of them (9) are resales… and just over half of those (5) sat on the market between 24 and 50 days.
Last year, 37 Nolensville homes closed in April. Based on the pending contracts I see on MLS, I think there's a good chance we can have a similar stat this month.
The takeaway – real estate is still moving. Yes, foot-traffic is down, but so is inventory. The buyers who are out there right now don't want to look at 20 homes… they're identifying the ones they really like, going there to make sure it doesn't smell weird, and then they're writing a damn offer!
What is Happening Nationally
It's not as rosy across the country, but keep in mind that coastal markets and high property-tax states tend to get the worst of it when the housing market retreats. I don't expect Middle Tennessee – and Greater Nashville, especially – to be affected nearly as much as the national numbers predict. That said…
Those are alarming headlines, and all of them have merit, but they examine the situation on a macro level and Nolensville is a micro market.
Opportunity and Optimism Exist in Nolensville
There are a lot of scary headlines right now, yes. There are plenty of reasons to scrutinize real estate decisions this year, yes. But the local market hasn't cratered. In fact, there are excellent reasons to be both a buyer and a seller right now.
If you're a buyer, you can take advantage of some of the lowest interest rates we've ever seen. Borrowing money is cheap!!
If you're a seller, low-inventory means there's less competition. There may be fewer buyers out looking right now, but the ones who are… are motivated. If your home is properly priced and marketed, then chances are you won't have to do many showings. The right buyer could come by fast!
Since March 12th, the average list price to sales price of a resale closed in Nolensville is 99.26%. Deals are getting done, folks.
Seek Professional Advice
There's a lot going on right now and every situation is different. Some homes have a better chance to sell than others. Some buyers are more qualified than others. If you've been considering making a real estate move, it's imperative you're getting sound advice.
Seek out a REALTOR® with local experience, the right credentials, and a sound strategy on how to help you buy or sell a home in today's marketplace.
My own shameless plug: I've helped 120 families buy and sell homes here in Nolensville. I'm also one of the most credentialed agents in Middle Tennessee, and have many raving reviews.
It's my pleasure to speak with you about your situation and offer perspective. Maybe you stay put… maybe you make a move… but whatever you do, be informed.
---
I'm a Nolensville TN resident… I'm a Nolensville TN Realtor®… and I always offer a complimentary, no commitment, no pressure Comparative Market Analysis for my neighbors. Please let me know how I may assist you in the sale or purchase of a Nolensville property.