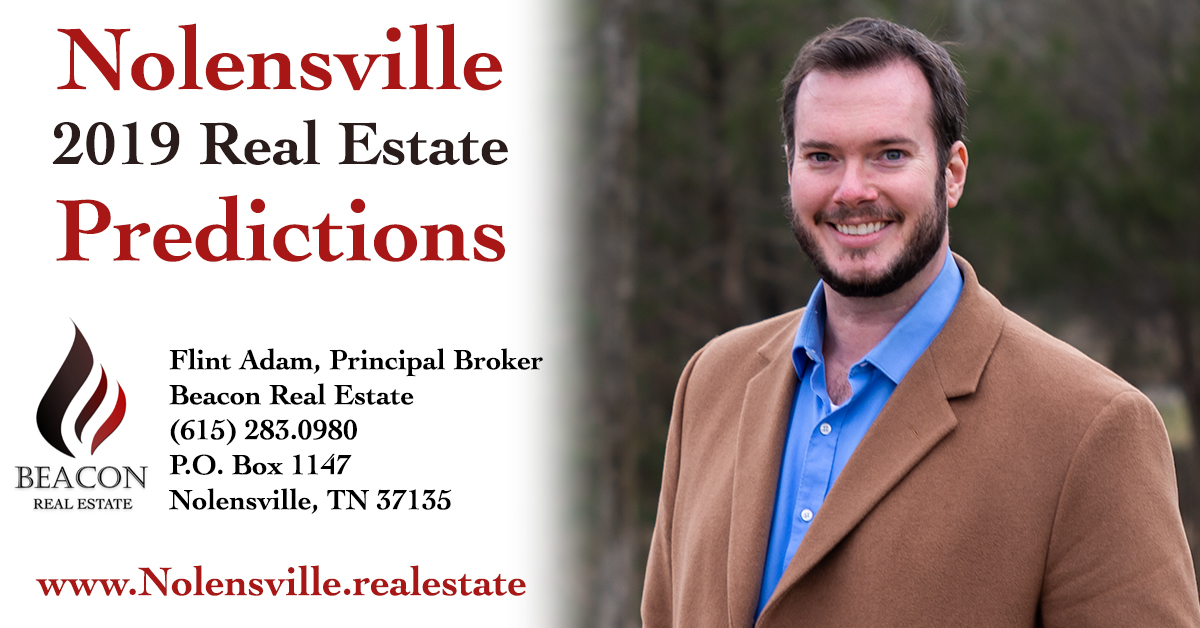 by Flint Adam, Nolensville resident & Realtor®

Earlier this month, I recapped the record year of real estate sales Nolensville enjoyed in 2018. Will 2019 bring new highs, or is local real estate destined for a correction?
I'll begin with a brief recap of how we got to the present-day real estate market, then take a high-level look at expectations for 2019 before diving in to some Nolensville-specific predictions.
Once Upon A Time…
Ten years ago, the U.S. stock market was about to hit rock bottom (March 9, 2009), and the housing market had already begun its collapse. New home construction would grind to a near-halt, and existing home prices were free-falling under a wave of foreclosures.
Greater Nashville wasn't hit as severely as some markets across the nation, but it was still left bruised. In fact, a foreclosed home in Bent Creek is what brought me and my wife to Nolensville in late spring 2010.
At that time, sales around here were significantly less. 233 homes closed in Nolensville (Williamson Co.) in 2010. (For comparison, 577 sold in 2018 (+148%). The average sales price for a Nolensville home that year was $308,055. (In 2018, it was $542,775 (+76.19%)).
While the current bull market began March 10th of 2010, most of us didn't begin realizing its effects until about 2013, when the stock market had largely made up the losses incurred the years before; meanwhile, many Nolensville homeowners sitting on negative equity wouldn't get their heads above water until 2014 or 2015, when the housing market really began taking off.
Nolensville Real Estate Takes Off…
Nolensville home sales jumped in 2012 and would continue growing five of the next six years.
2012 Nolensville home sales +28% year-over-year
2013 Nolensville home sales +20% year-over-year
2014 Nolensville home sales +12% year-over-year
2015 Nolensville home sales +7% year-over-year
2016 Nolensville home sales +24% year-over-year
2017 Nolensville home sales

-9%

year-over-year
2018 Nolensville home sales +14% year-over-year
Nolensville home prices dramatically increased, too… both in resales and new construction.
In 2015 and 2016, it was not uncommon for Nolensville homes to list and go under contract within days or at most a few weeks. The first inklings of change began in late-March 2017 when homes that were recently selling in short order suddenly and unexpectedly began laboring on market for months.
By May 2017, monthly sales-volume began dropping year-over-year and would continue that trend through October – with August 2017 being the sole month during that time that would outperform the prior year's volume. Price-reductions also became much more common during this time – unthinkable only a year before.
I came into 2018 wondering if we were entering correction-territory, but the market would take off again that February and roar through much of the rest of the year, becoming our best overall year of real estate sales ever. However, some cracks again developed the second half of the year, and real estate professionals became antsy.
Real Estate Headwinds Form…
By late summer 2018, I would often times bump into another agent – or sometimes the broker at my old company – and hear the same question, "hey, are you noticing anything different in the market?"
I knew where they were going with it – is real estate slowing down? I remember one conversation last fall with a top-producing Nashville agent who came out and said, "this is the slowest I've been in the past ten years."
Looking around the marketplace, I saw it – inventory was higher than in recent years… many homes were sitting on the market for months… and some prices were coming down $20, $30, even $40,000! There was gathering agitation among home sellers.
Meanwhile, there were multiple rate hikes by the Fed in 2018, and interest rates on a conventional 30-year loan crept up to around 5% for the first time in years.
However, real estate kept selling – just not at the crazy price-appreciations and low days-on-markets we had recently been accustomed to. And by late 2018, interest rates even relaxed about a quarter point.
2019 Forecasts Roll In…
Nationally, headlines coming into 2019 spoke of a looming slowdown – especially in what have been some of the country's hottest markets. Realtor.com does some excellent research and named Nashville as one of the top-five markets expected to ease back in 2019, citing increasing inventory and high-prices as the main culprits.
In this informative MarketWatch article, forecasts call for at least two more Federal rate-hikes in 2019… with Realtor.com believing average 30-year conventional loan rates will peak around 5.50% this year. Zillow is even more bullish, believing we'll see rates as high as 5.80%.
As of this writing, the 30-year conventional rate is 4.61%… so we're talking substantial cash here, folks.
5 Predictions for Nolensville Real Estate…
So, here we are – the moment you've been waiting for. What will Nolensville real estate look like in the year ahead?
Prediction #1.) Overall home sales will be flat:
Before you panic, consider that last year was a record year of real estate in Nolensville… and sales have increased every year this decade except for one (2017). Staying in the 550 to 600 sales range is still really strong.
Prediction #2.) Home prices edge up, but not severely:
This is actually a good thing. Buyers will be the first to tell you that prices have gotten out of control. And most sellers will still realize a tidy profit of tens of thousands of dollars. For the folks who bought a home in the past three years, though, it'll be harder to get much profit out of your investment after expenses. If you can stay in your home another couple years, you should find yourself in a more profitable position.
Prediction #3.) Mortgage rates increase, but less than expected:
We've been talking about the dreaded 5%+ mortage rate for a couple of years here, and while we briefly touched it last fall, it sunk back down. I do believe we'll finally break through with rates averaging above 5% in 2019, but there's also talk about the Fed tempering their rate-increase program. My expectation is we'll peak around 5.25% this year on a 30-year conventional loan and probably spend most of the year right around the 5% mark.
Prediction #4.) Price reductions and 60+ days on market become the norm:
I still meet sellers who have it in their heads that real estate is going gang-busters like it was in 2016. Those days are gone, but it remains a seller's market (less than 6-months of inventory is in the seller's favor), and accurately-priced and well-presented homes will still sell quick! When interviewing listing agents, get a firm grasp of their pricing-methodology. If they're promising you a sales price that's well above what your neighborhood competition has been settling at, you need to dig deeper and find out what the agent's motivations are.
Prediction #5.) Out-of-Towners pour in:
I expect a sizable portion of this year's buyers will come from out of market… and out of state. Every day, folks are moving here from California, Texas, Illinois, and New York. These are all high-tax states that have pushed people to their limits. They're arriving in Tennessee and don't have the sticker shock we locals have. These are the buyers who will keep our market buoyant and prices relatively steady.
Schedule a Personal Consultation…
If you're wondering what your Nolensville home is worth in today's market, just want a better understanding of current trends, or are interested in relocating to or within Nolensville, give me a call and we'll sit down and cover all the bases.
There is never any obligation to work with me, but it's fun meeting people face to face and hearing their story. I'm at your service and look forward to offering more Nolensville expertise in the years ahead!
---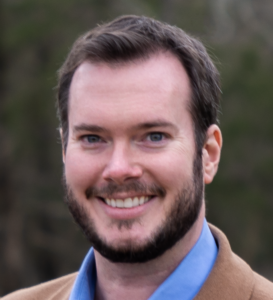 Flint Adam is a Nolensville resident and lives with his wife and children in Bent Creek. He focuses his practice in town, having served almost 100 buyers and sellers in closed Nolensville real estate transactions. Flint enjoys blogging about real estate, traveling the world, photography, and bourbon-hunting. He is passionate about serving Nolensville and keeping it one of America's greatest small towns.