by Flint Adam, Nolensville resident & REALTOR®
Less than half as many Nolensville home sales closed last month than during September 2020. Meanwhile, the average price of a Nolensville home was the second-highest figure on record.
Only 29 September home sales were recorded in the Williamson County portion of Nolensville, which makes up the majority of town. A year ago, there were 63 sales despite restrictive lockdowns and no COVID vaccine.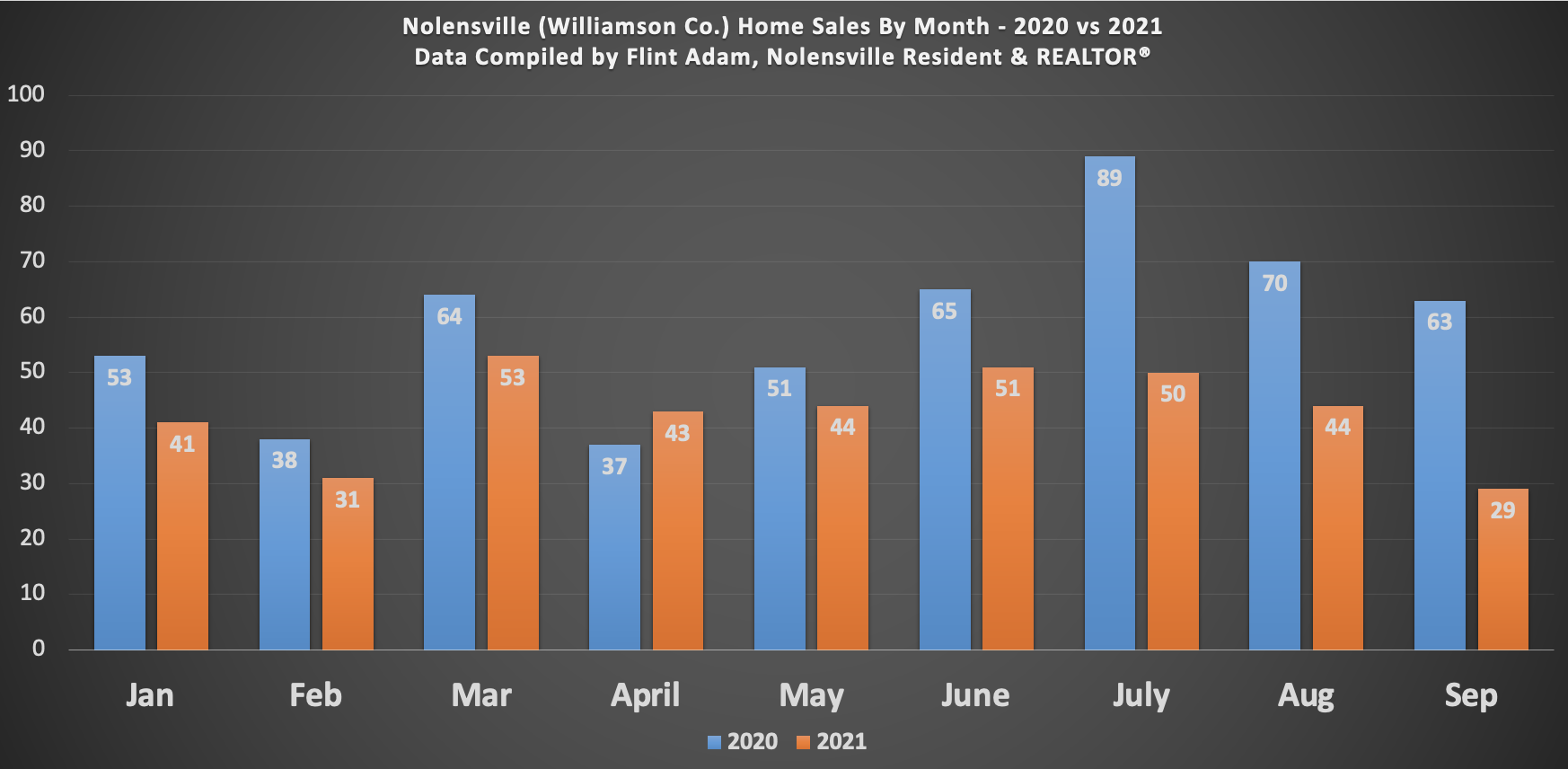 The 29 total sales is easily the lowest figure we've seen so far this year, and is also the lowest monthly total recorded in Nolensville since 29 homes sold during February of 2017.
There haven't been fewer than 30 September sales since 20 closed in 2011. (Ballenger Farms had 8 of those sales!)
My, what a difference ten years makes, too. Back then, the average sales price of a Nolensville home was a quaint $312,390. Last month's average was $737,198.

Last month, I noted that competitiveness among buyers seems to have peeked in June. That remains the case, with a steady decline in sales-price to list-price ratios. September's 102.28% ratio was the lowest we have seen since February.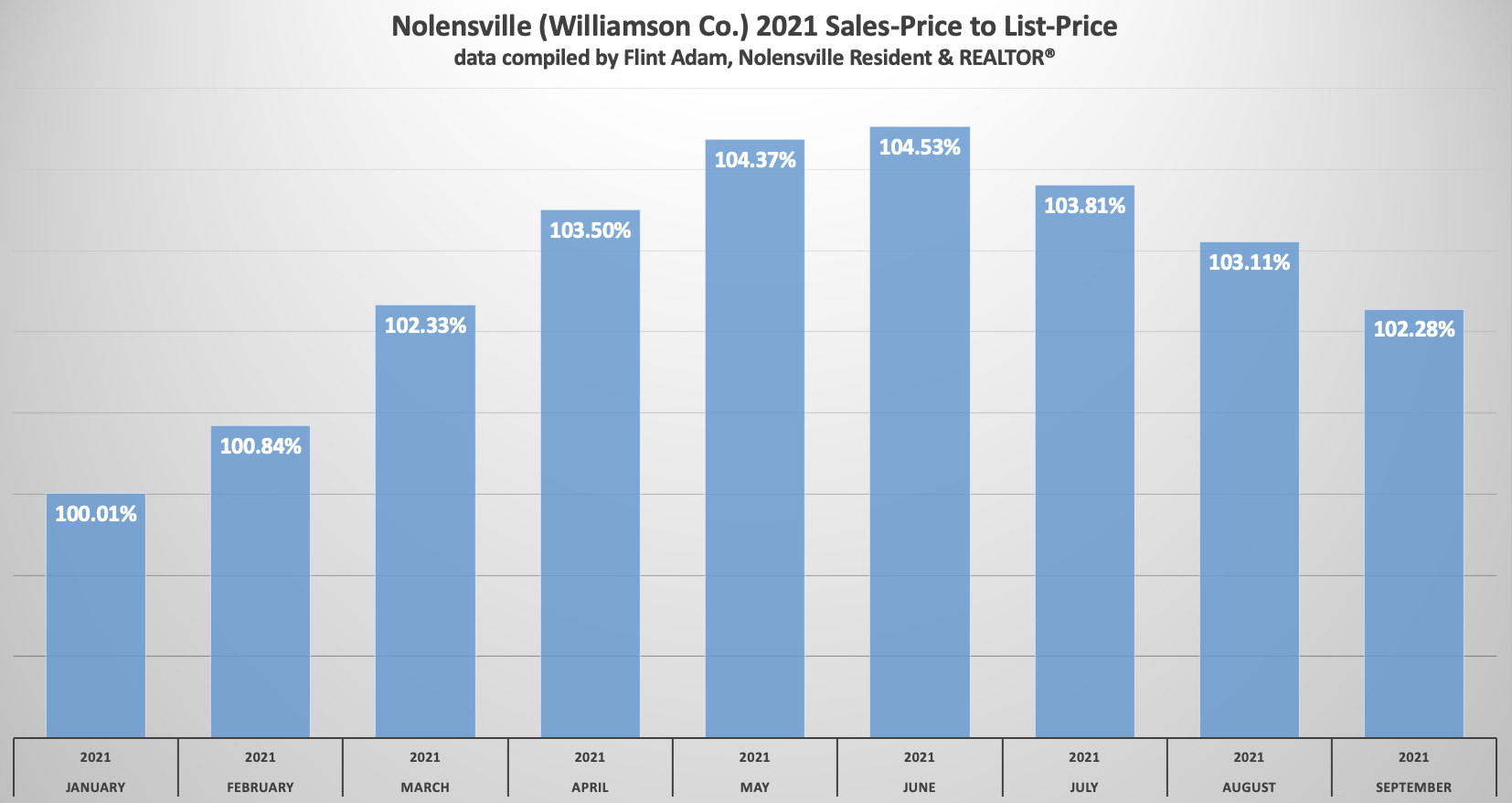 And while the average sales price last month was $737,198… the median sales price was a more accessible $675,000. This is still $100K higher than the same time last year, but prospective home buyers will be happy to know this figure has eased from the prior three months when median sales prices were running around $150K higher year-over-year.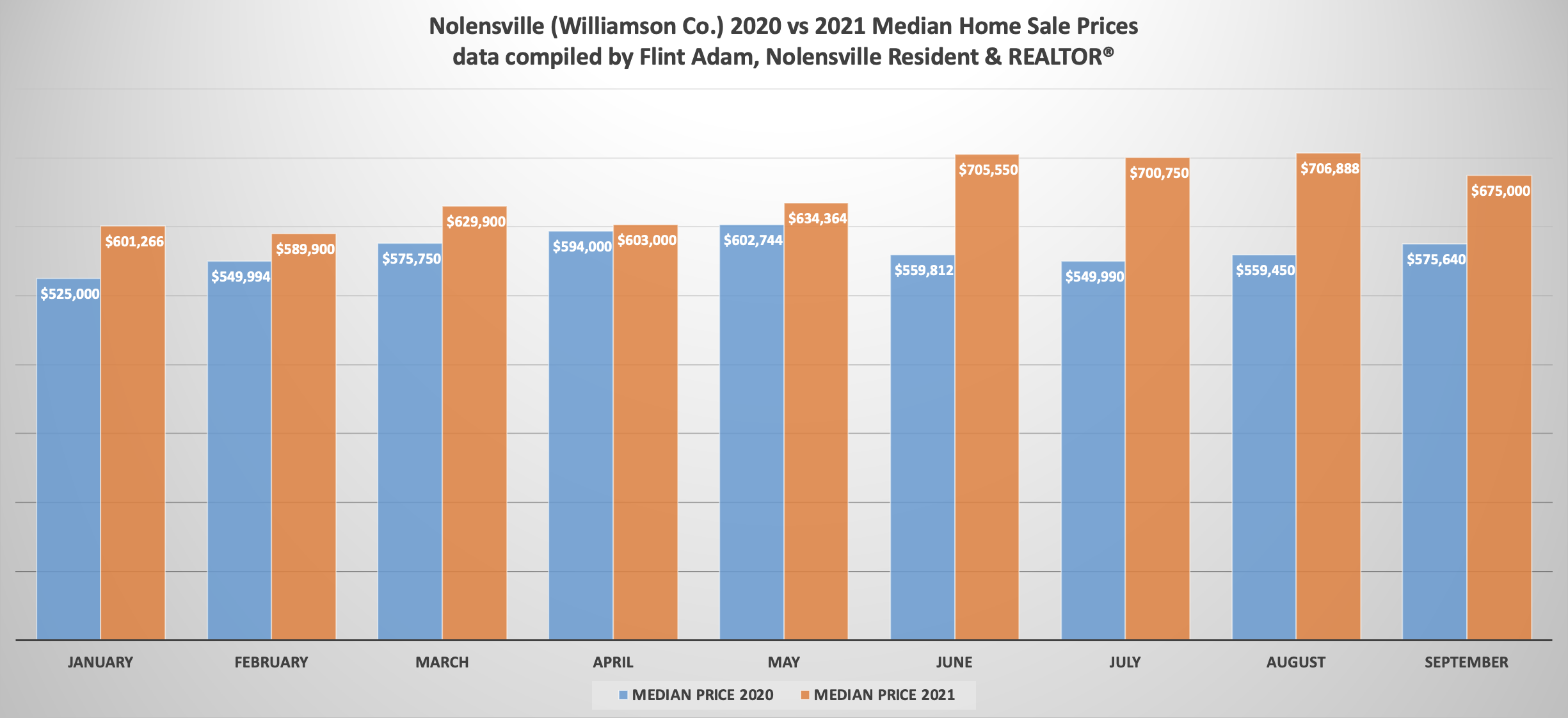 I was surprised to see Days on Market for resales remain in single digits. I thought we would break into double-digits during September, but instead we remained at the same average we saw back in March.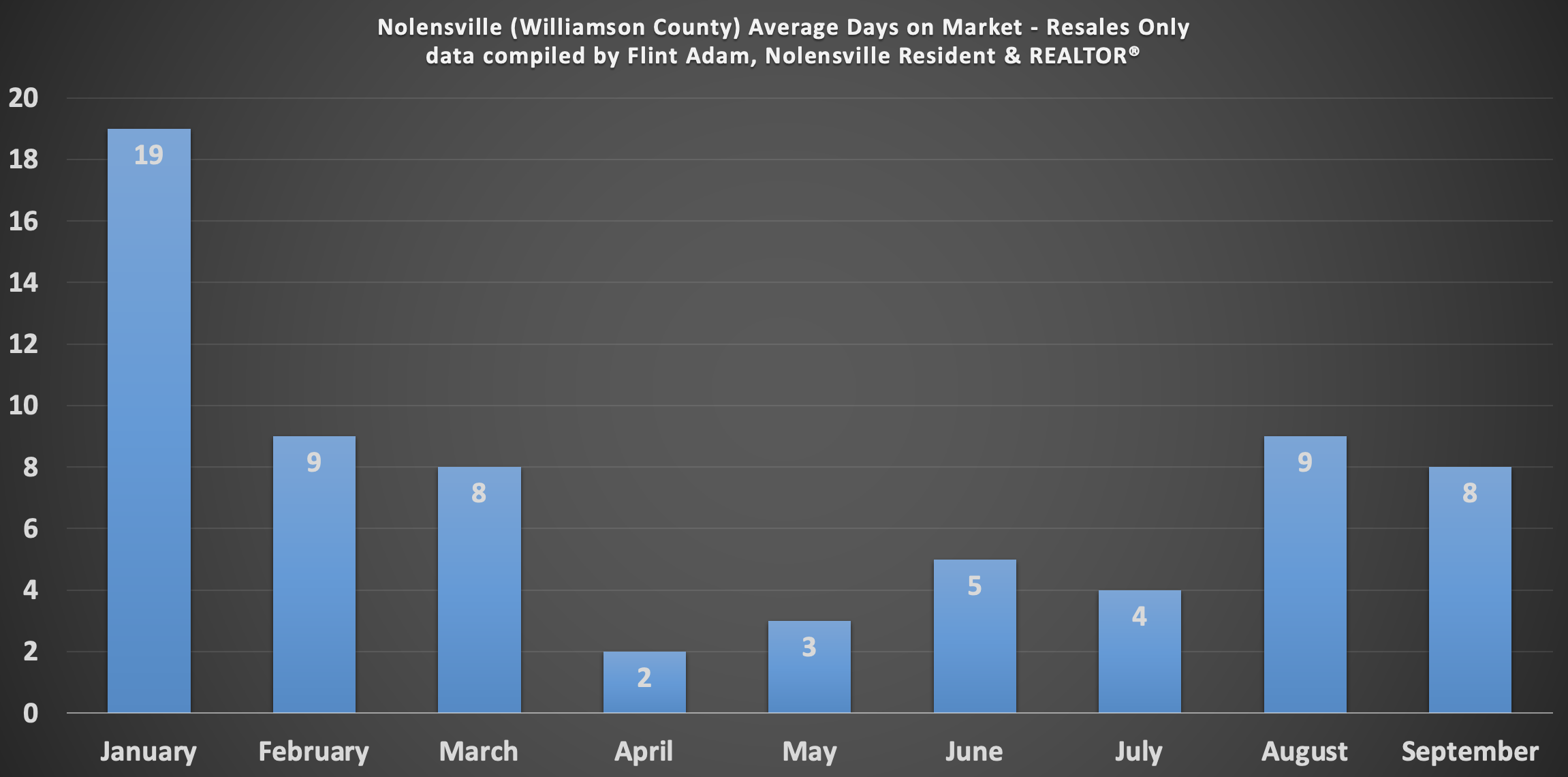 September 2021 sales stats vs. September 2020:
29 Nolensville (Williamson Co.) homes sold… down from 63 (

-53.97%

)
The average sales price was $737,198… up from $618,219 (

+19.25%

)
The average days on market was 5… down from 39 (

-34 days

)
The sales-price to list-price ratio was 102.28%… up from 100.23% (

+2.05%

)
10 of the 29 homes (35%) sold were new construction
The lowest price sale was 6005 Yates Ct. in Bent Creek for $418,000.
The highest price sale was 152 Telfair Ln. in Telfair for $1,075,000.
*Note: The information above cites Williamson County sales data for Nolensville, Tennessee. There is, of course, a small percentage of Nolensville homes that exist in Davidson and Rutherford counties, but for continuity in my blogging I reference only Williamson County statistics.
---
Williamson County Home Sales Stats…
This section will be completed once the Williamson County Association of REALTORS® releases their final stats in the coming days.
Where Does It Go From Here?…
At this moment in time, Nolensville inventory is pretty low with only twenty listings on the market. If you're shopping this weekend, want a home in a subdivision, and need to move in before the end of the year… pickings are even slimmer with only seven homes to bid on.
Elsewhere in Williamson County, though, inventory is readily available with about 180 existing properties available at prices ranging from $180,000 to $5,000,000.
If you need Williamson County, 4 bedrooms, 3000sf, a 2-car garage and have a budget of around $750,000 there are 30+ options out there.
The point is the market is stabilizing… for now. Inventory is available and the fall season typically brings with it a slower pace. I'm encouraging people who have been on the sidelines this year to test the waters. You can still sell your house at a great price, and now you have the best opportunity we have seen this year to land in your next home.
Give me a call – we'll put together a plan. 🙂
Interested in up to date Nolensville TN real estate sales figures? I'll email you an HOURLY UPDATED look at Nolensville real estate activity including what has gone pending, price-reduced, and withdrawn. Just shoot me an email with your name and preferred email address to flint@theguidehome.com
---
The Latest on Mortgage Rates…
Commentary by Nolensville resident, Jesse Alvarez, with The Mortgage Exchange
As workforce trends become more and more favorable for the economy and inflation continues to creep up, the Federal Reserve will have no choice but to tighten monetary policy soon, thus causing interest rates to rise.
Locking in rates today for purchases and refinances would be prudent. Treasury yields are being pulled up across the board to 2021 highs and they will be pulling mortgage rates up right along side of them.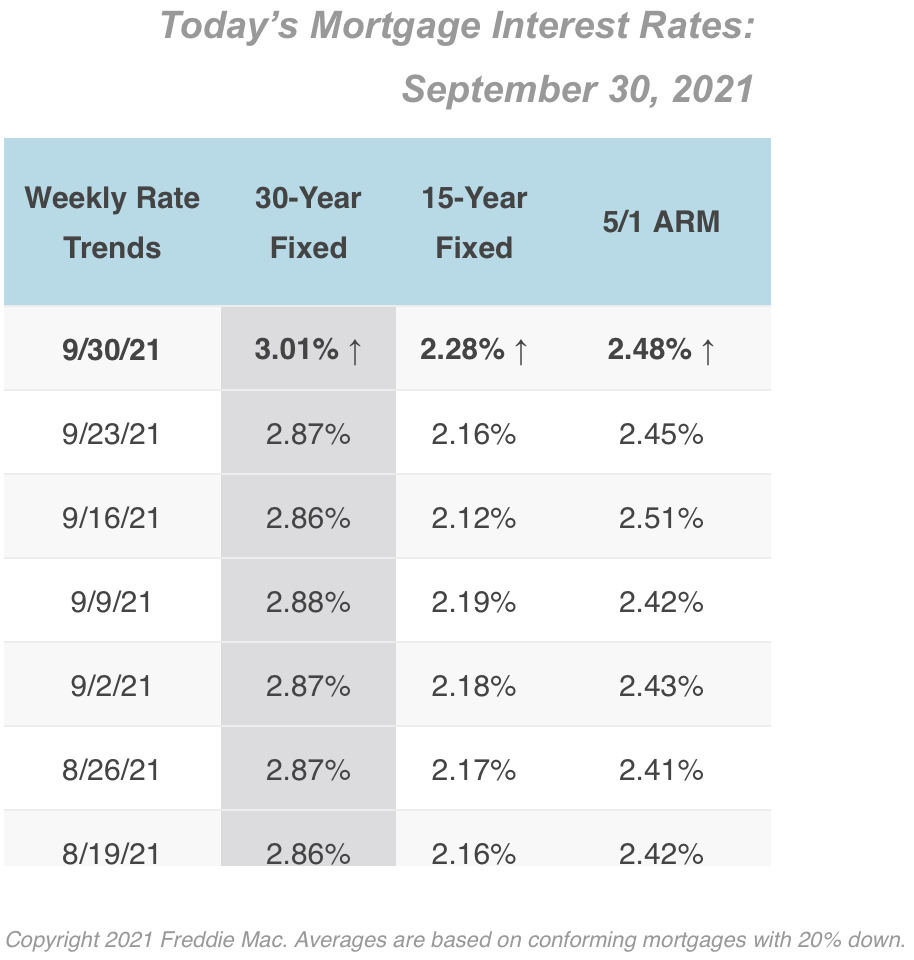 ---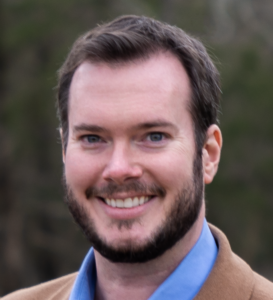 Flint Adam is an 11- year Nolensville resident and lives with his wife and children in Bent Creek. He focuses his real estate practice here in town, having served more than 150 buyers and sellers in closed Nolensville real estate transactions. Flint enjoys blogging about local real estate, traveling the world, photography, and bourbon-hunting. He is passionate about serving Nolensville and keeping it one of America's greatest small towns.