by Flint Adam, Nolensville resident & REALTOR®
It appears the madness that was 2021 real estate has peaked, and the market is finally beginning to exhale. As I look around the Nolensville marketplace today, I see something that hasn't been typical since last year – available inventory.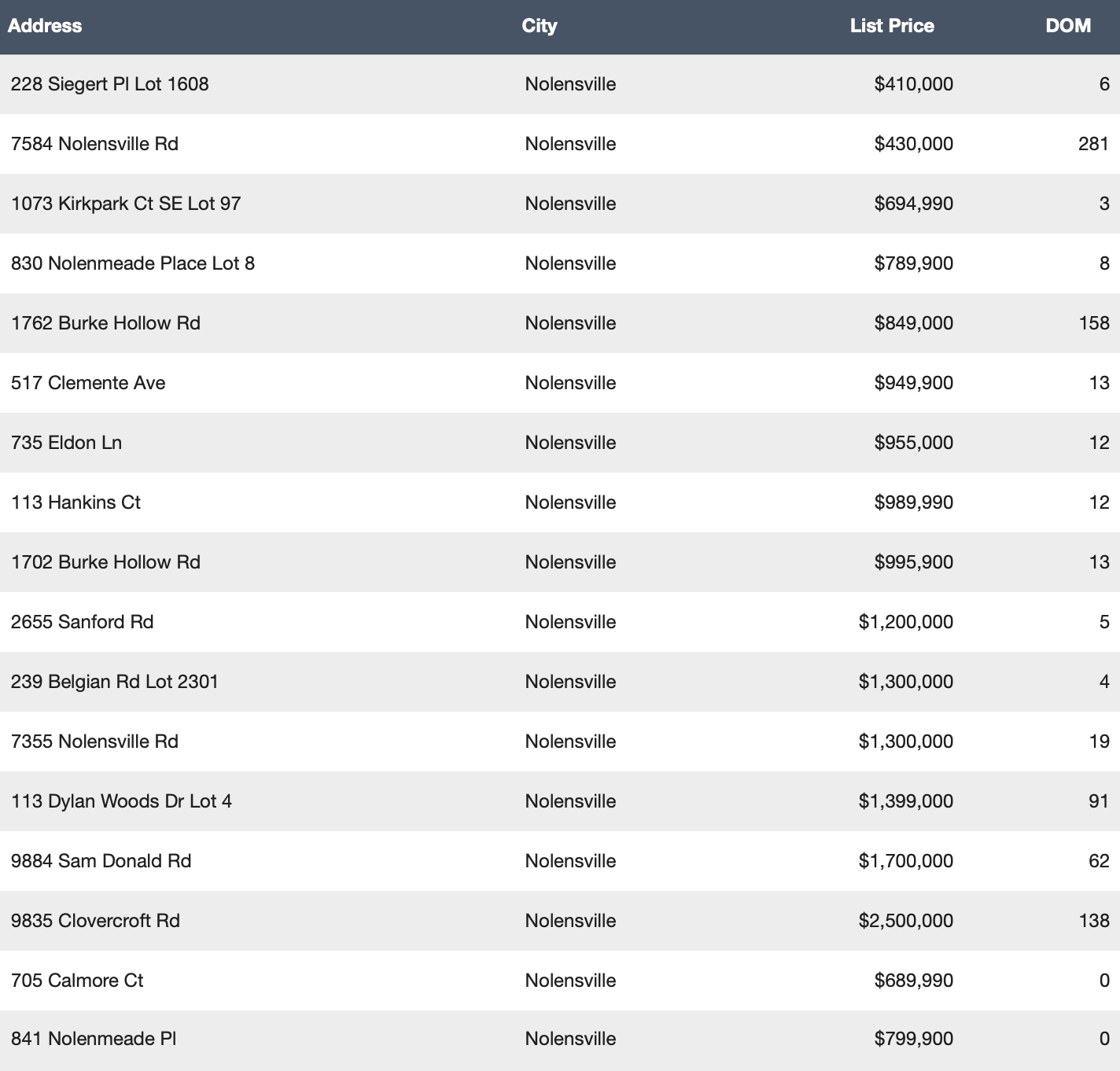 Granted, it's still not a ton of inventory, but everything you see above is a home in Nolensville you could buy and move into in the next sixty days.
The frantic and competitive buyers we saw this spring and summer have mellowed since the school year began. In fact, data shows that the height of aggressive offers peaked even before that.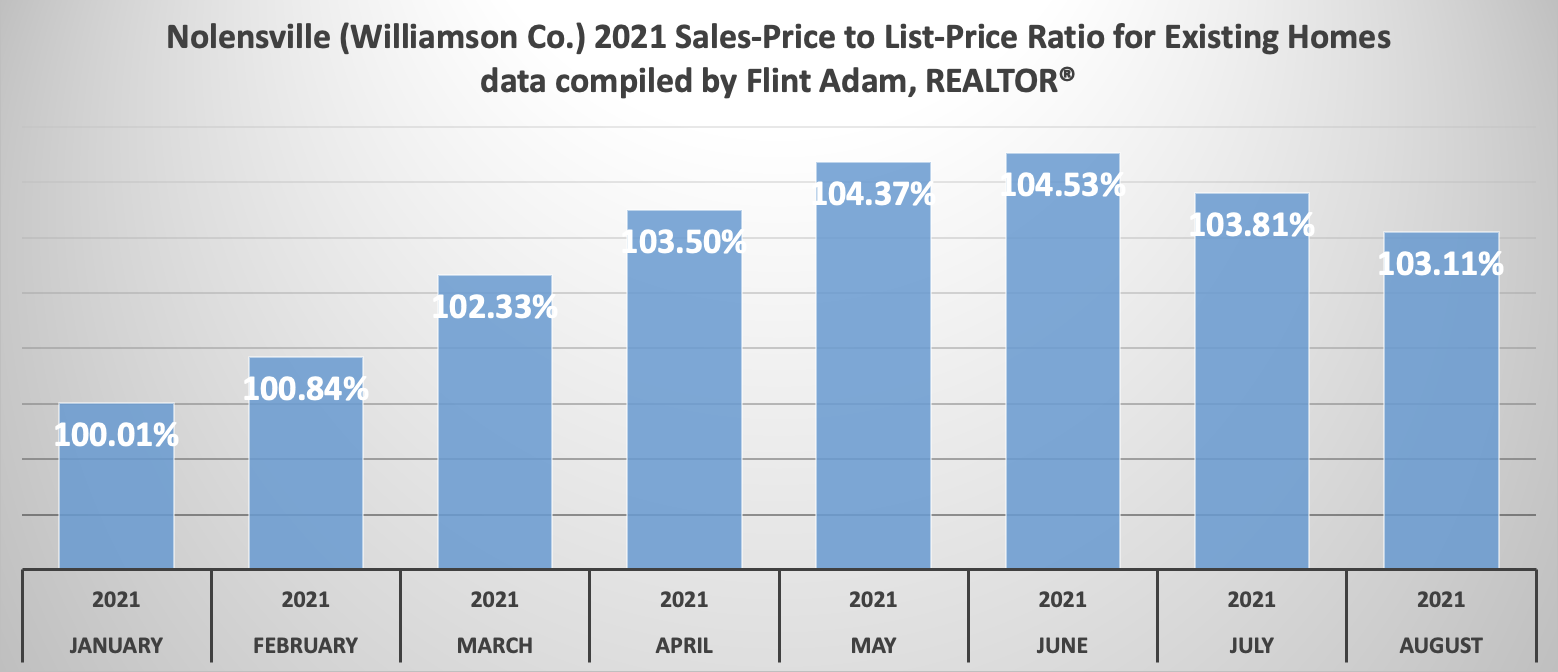 Aside from the start of school damping buyer interest, home prices have also reached levels that are more difficult to swallow. Last month, the median Nolensville home price was $706,888… almost $150,000 more than the same time a year ago.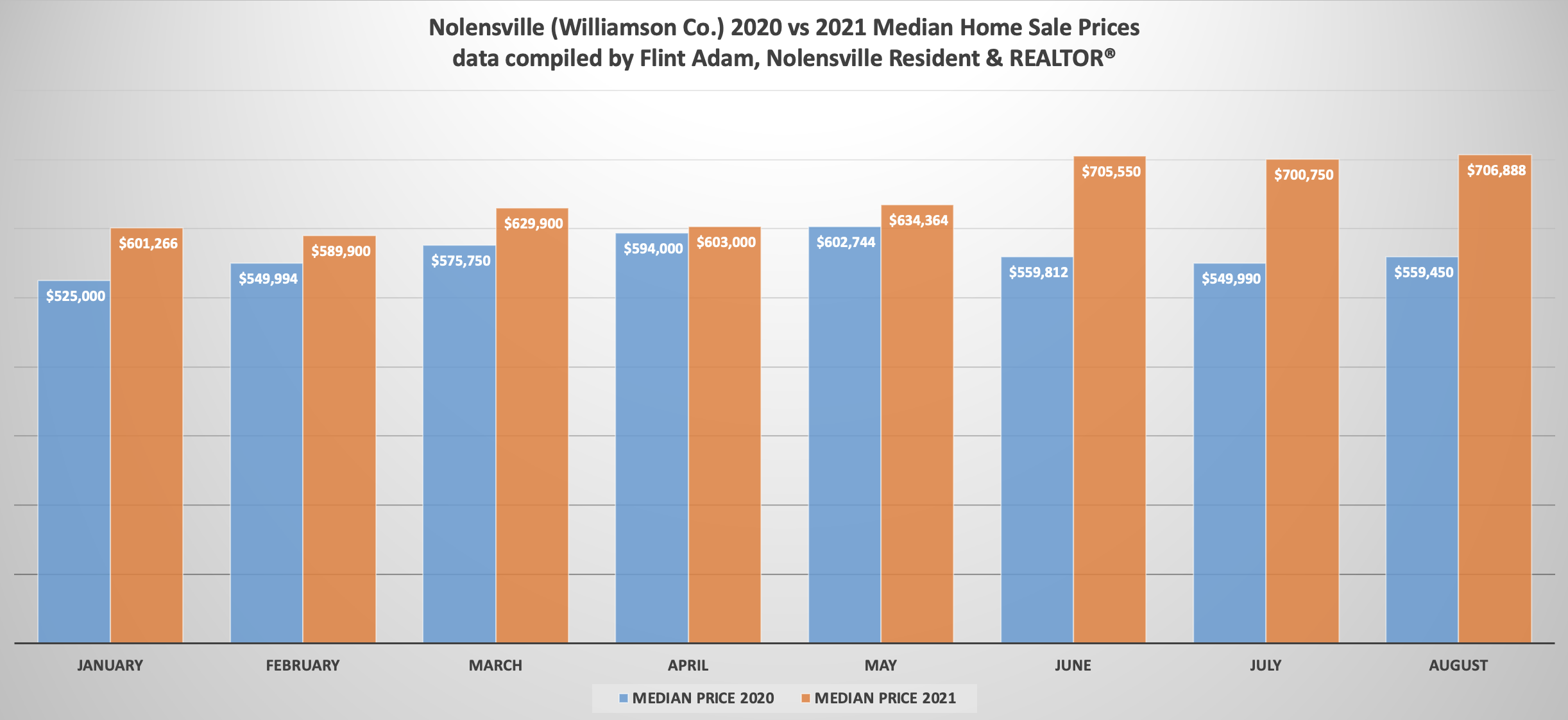 Days on market also hit their highest level since February, more than doubling from the month before. Expect numbers back into the teens when September sales figures come out.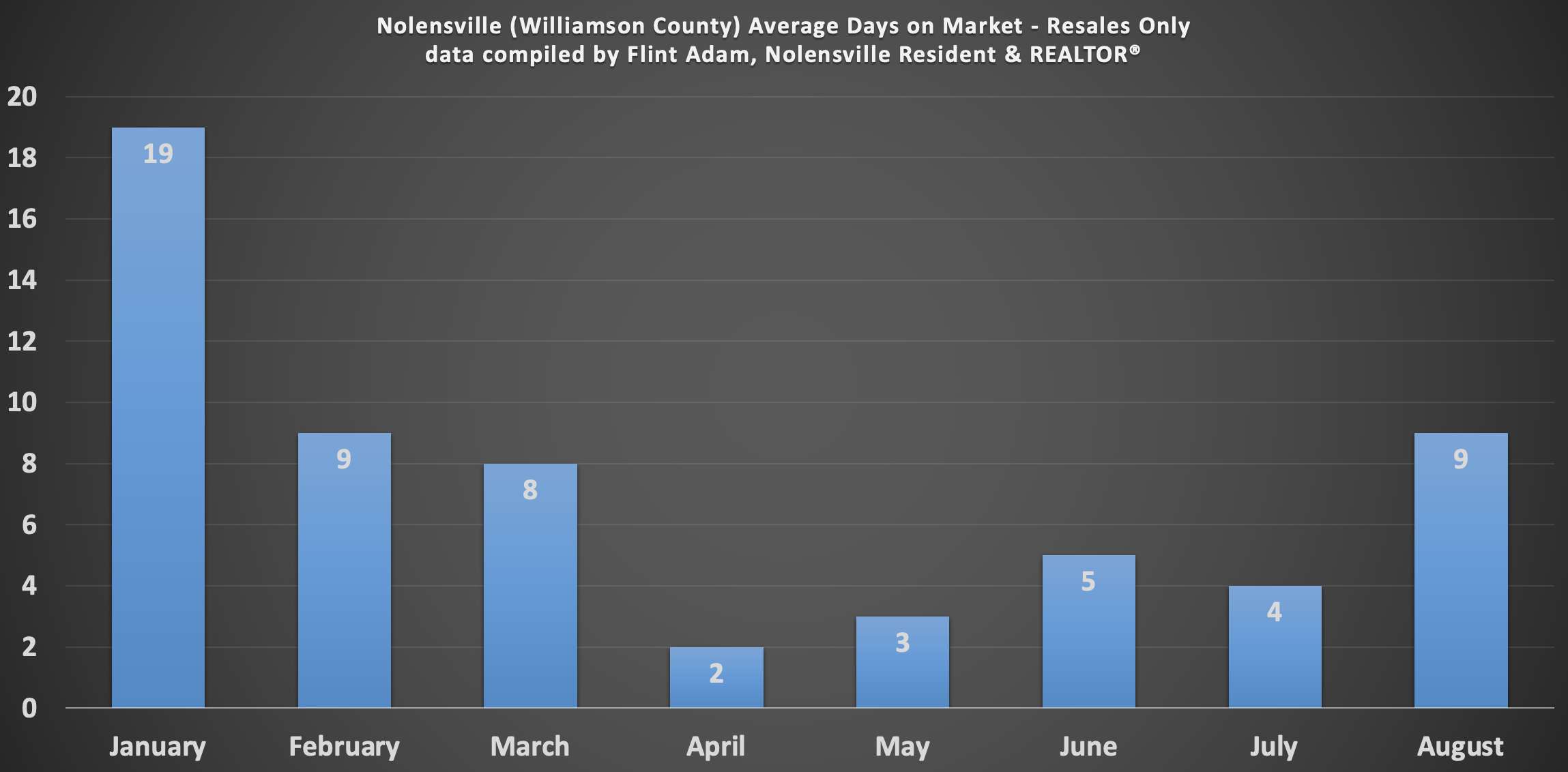 None of the above-mentioned data means the world is ending. We're still in a seller's market. There remains low inventory. Mortgage rates are still ridiculously low. Sellers just need to realize that multiple offers and opening weekend contracts will no longer be guaranteed.
August 2021 sales stats vs. August 2020:
44 Nolensville (Williamson Co.) homes sold… down from 70 (

-37.14%

)
The average sales price was $720,259… up from $582,414 (

+23.67%

)
The average days on market was 9… down from 26 (

-17 days

)
The list-price-to-sales-price ratio was 103.11%… up from 99.74% (

+3.38%

)
16 of the 44 homes (36%) sold were new construction
The lowest price sale was 240 Dobson Branch Ct. in Bent Creek for $391,400.
The highest price sale was 2001 Autry Drive in Scales Farmstead for $1,160,000.
And here are some of the crazy facts:
When we eliminate new construction and larger acreage properties and look solely at subdivision resales (27 total), some extraordinary figures come to light:

The average sales-price to list-price ratio grows to 104.52%
19 of the 27 sales (70%) are above asking-price… anywhere from $5,000 to $96,000
The average overage of the above-asking price sale is $46,029
All-cash purchases make up 7% of sales
The average days on market remains at 6
1 of the 28 resales had a contract fall through before selling
4 of 27 resales had to price-reduce before going under contract
*Note: The information above cites Williamson County sales data for Nolensville, Tennessee. There is, of course, a small percentage of Nolensville homes that exist in Davidson and Rutherford counties, but for continuity in my blogging I reference only Williamson County statistics.
---
Williamson County Home Sales Stats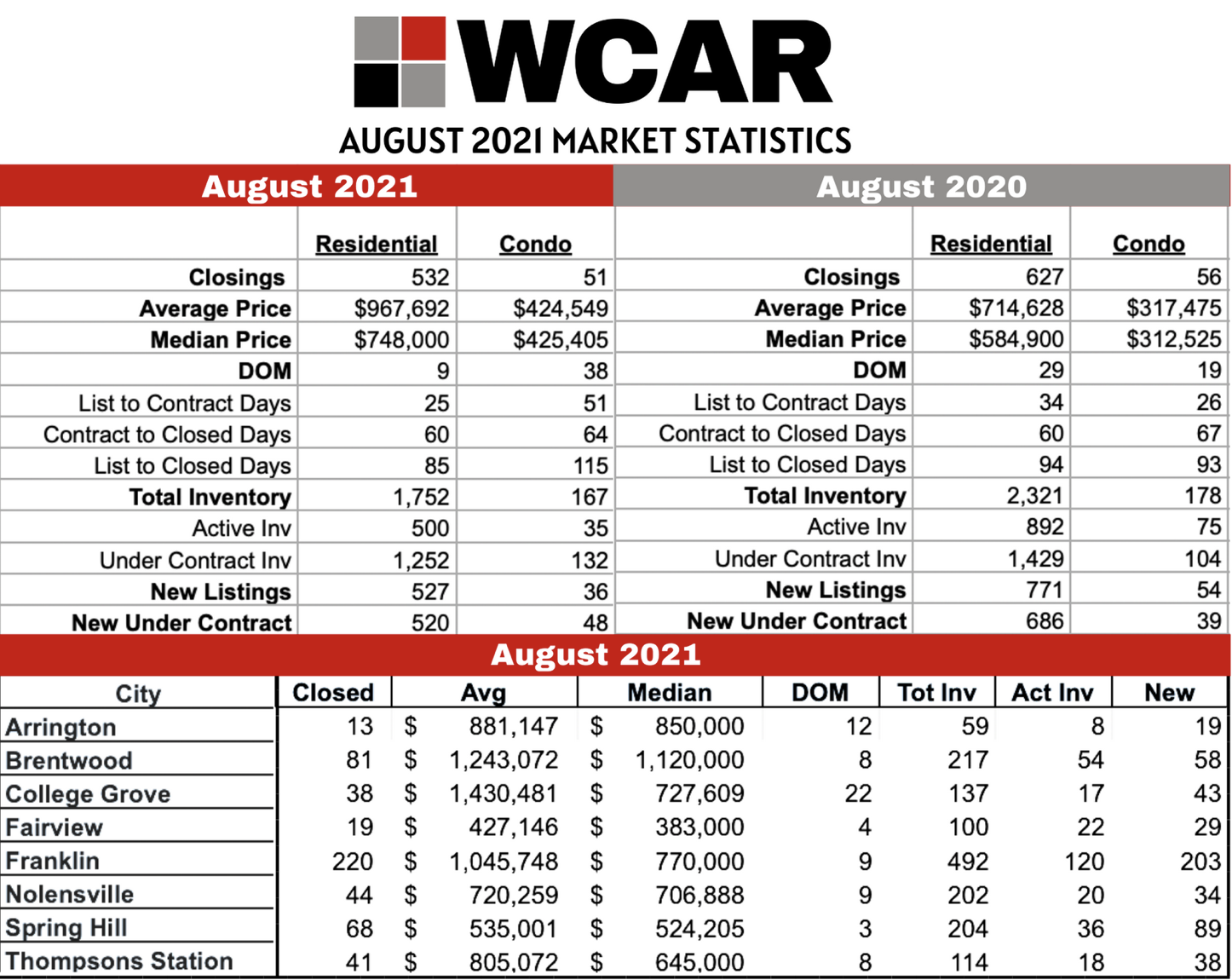 Williamson County is still in an inventory deficit, but the numbers are looking better than they were a few months ago.
Consider our active inventory at the end of August… exactly 500 homes were available for purchase. A year ago, that number was 892, so we have 44% less housing available for purchase than we did a year ago.
Go back to June, though, and the county was at a 62% year-over-year deficit in housing. August brought an improvement… but we still have a ways to go.
Where Does It Go From Here?…
Reports have been coming in from across the country of softening real estate markets. I began noticing a shift in some neighboring counties back in July and knew it was just a matter of time before Williamson County followed suit.
"Softening" does not mean cratering, though, folks.
There is always an ebb and flow in the real estate market. Right now, we have a new school year underway… we just completed a holiday weekend… coronavirus numbers are on the uptick… and home prices are at all-time highs.
This is a time of year when we typically see a pullback in market activity, so I would consider any growth of inventory right now to not only be normal… but a welcome sign of stabilization.
Interested in up to date Nolensville TN real estate sales figures? I'll email you an HOURLY UPDATED look at Nolensville real estate activity including what has gone pending, price-reduced, and withdrawn. Just shoot me an email with your name and preferred email address to flint@theguidehome.com
---
Mortgage Rates – 9/8/2021

This section courtesy of FoxBusiness.com –
Today's 15-year mortgage refinance rates dipped down to just 2% today — the lowest in 22 days. This shorter term could provide exceptional interest savings for homeowners looking to refinance who can manage a higher monthly payment. For homeowners who want to save on interest but maintain a smaller monthly payment, a 20-year term is also a good deal. Rates for this term have held firmly at 2.500% for the past seven business days.
---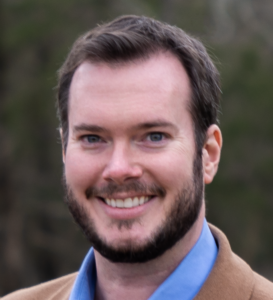 Flint Adam is an 11- year Nolensville resident and lives with his wife and children in Bent Creek. He focuses his real estate practice here in town, having served more than 150 buyers and sellers in closed Nolensville real estate transactions. Flint enjoys blogging about local real estate, traveling the world, photography, and bourbon-hunting. He is passionate about serving Nolensville and keeping it one of America's greatest small towns.