by Flint Adam, Nolensville resident & REALTOR®
The first two months of 2023 brought a mixed bag of real estate news. Sales bounced in January as mortgage rates dropped to their lowest figures since September of last year. Meanwhile, new construction led the way with strong months in December and January as builders dropped prices and incentivized buyers and their real estate agents.
Then, February came. A hotter than expected inflation report, and a stronger than expected employment report, led to concerns the Fed will not only continue hiking interest rates for the foreseeable future, but perhaps do so stronger than expected. That led to another bounce in mortgage rates, and by the end of February the 30-year fixed mortgage was back up to around 7%.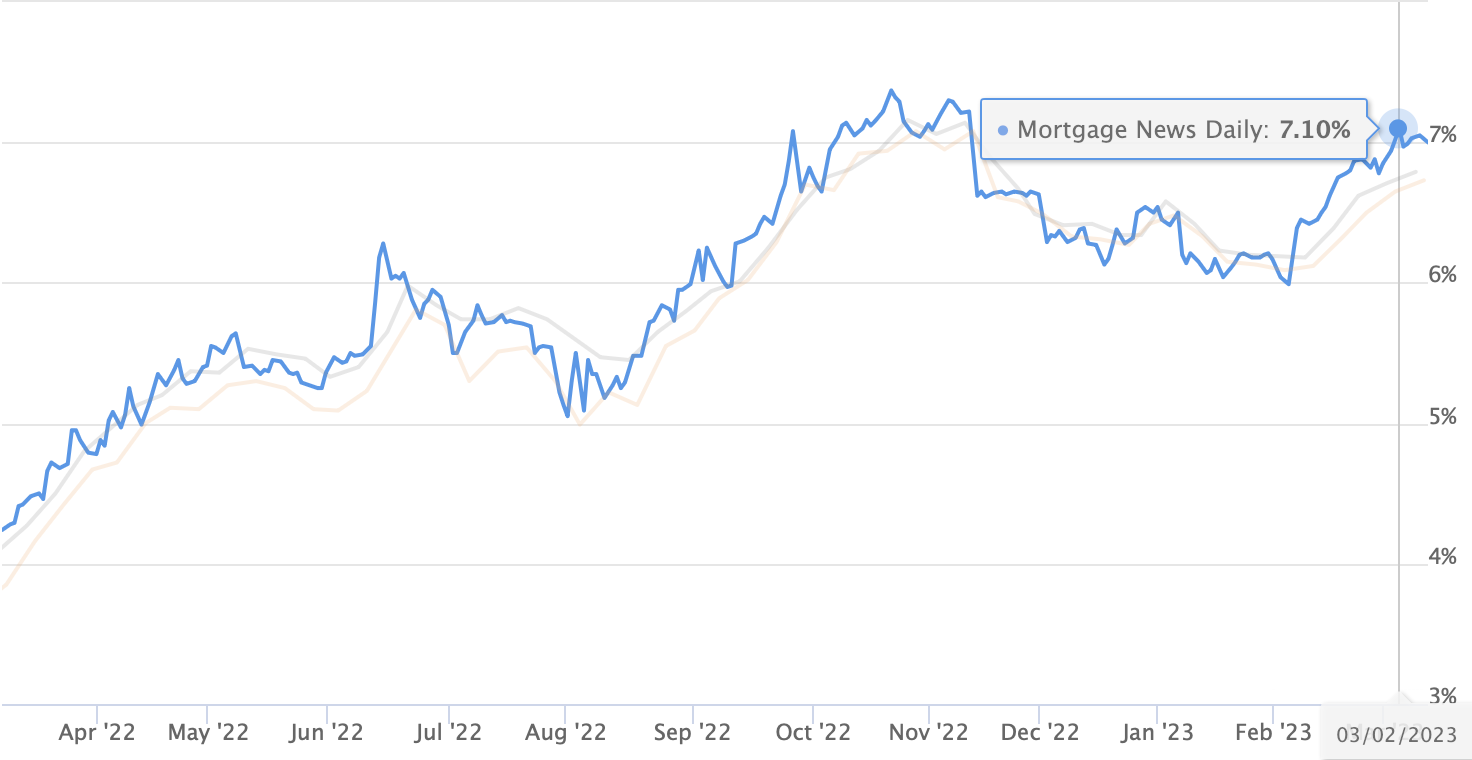 These 7% mortgage rates are tough to swallow. The market is still moving… but it's not exactly swift. In fact, across the U.S., new mortgage applications recently hit the lowest level in twenty eight years. High rates and high home prices are to blame.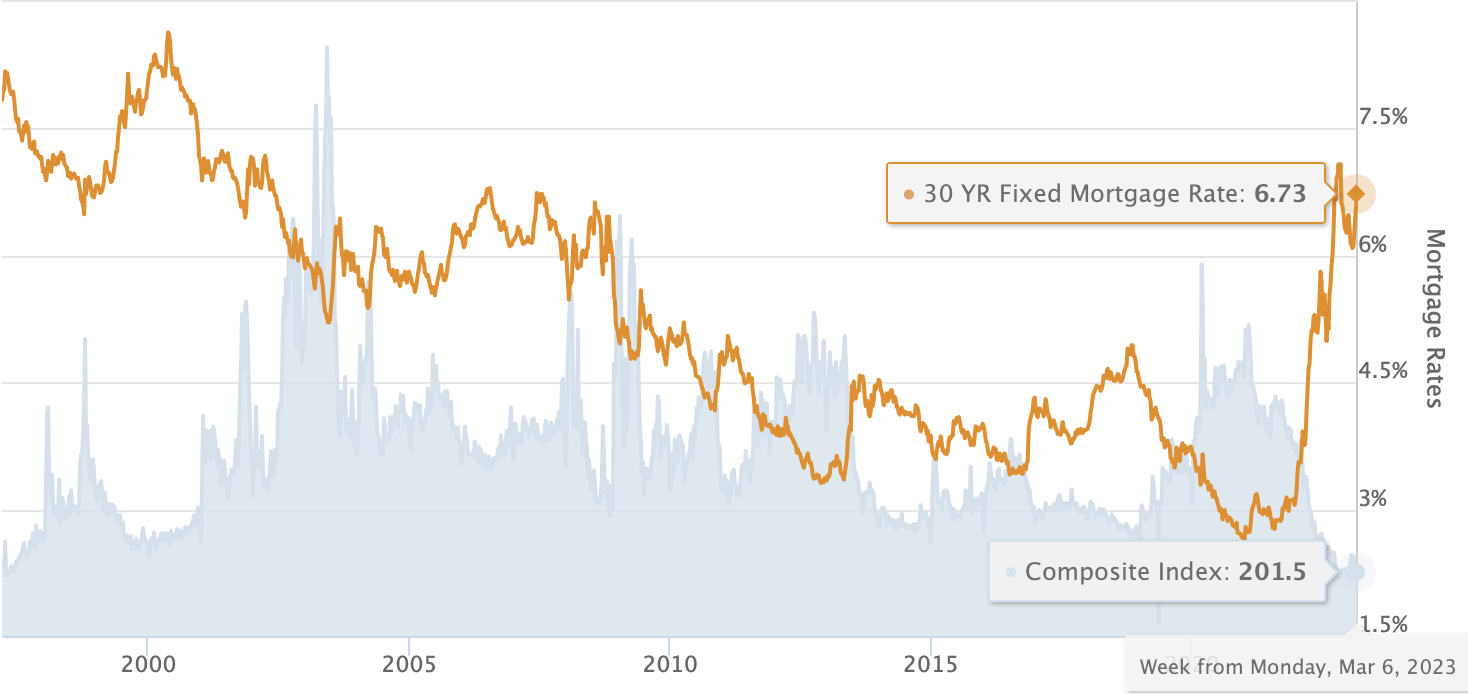 The new mortgage application composite index, shown in blue, above, illustrates mortgage demand over the years. You'd have to travel back to 1997 to find scores as low as we have seen so far this year. It has been even worse than when the real estate market cratered in 2008/2009.
Still, home sales are happening – especially in Greater Nashville.
Zillow just ranked Nashville the number-5 hottest real estate market for 2023, and Williamson County remains a go-to destination for anyone looking this way. In fact, I listed a home in Summerlyn for $925,000 just a couple weeks ago, and we had multiple offers and went under contract in two days, so there are still reminders of exceptional interest in the area. But don't expect tales like that across the board. It's much more typical for a home to sit a couple months on market and price reduce one or two times before it sells right now.
Among 24 currently active, Nolensville (Williamson Co.), existing home sales, the average days on market is 56. Meanwhile, 13 of the listings (54%) have price-reduced.
But hidden below those stats is a very positive sign: there are currently 29 pending, existing home sales here in town… 18 of them have gone pending in the past month – even with interest rates rocketing back up to 7% and builders sitting on inventory.
So, despite challenging home prices, more inventory than we have seen the past couple years, and the highest interest rates we've seen in fifteen years… the market is still moving! That is something to feel optimistic about.
Now, let's look at last month in detail.
February 2023 Nolensville Real Estate In Depth…
Let's begin with the Nolensville (Williamson Co.) existing home sales market. This is the best barometer of what is actually happening out there as resales typically make up the majority of market activity and also offer the most timely data.
I created the chart, below, to illustrate the sales-price to list-price ratio of closed, existing home sales in Nolensville throughout 2022 (blue) and so far in 2023 (gray). You may click the graphic to view a larger copy.
The red line represents 100%… or homes selling at asking price. The first seven months of 2022 were exceptional for sellers as the market was paying well above asking-price to secure a home. In fact, during March and April of last year, a buyer paid more than 6% above asking price to get a home in Nolensville. In April 2022, that figure worked out to about $48,000 above asking price.
The tide turned midway through 2022, though, and by August buyers were purchasing homes below asking price – a trend that has continued seven straight months now.
The total number of properties sold last month in Nolensville (Williamson Co.) was 24. This is down 25% year-over-year and the lowest figure since 16 properties sold in February 2015.
Meanwhile, January's 19 home sales were 32% lower year-over-year (28 last year), and were the fewest number of homes sold for that month since January 2013 (16 home sales). I don't have inventory numbers to compare 2013 to 2023, but we all know there are exponentially more homes in Nolensville today than there were ten years ago, so that figure should carry a little more weight.
Nolensville Median Home Prices Are Coming Down…
The chart and graph, below, show Nolensville's (Williamson Co.) median home prices each month over the past year. The numbers are fairly consistent within a 5% swing through much of last year until a big pop happened in November (a lot of pricey, new construction sales closed that month while fewer existing home sales closed).
However, median prices finally began falling in December, and have been tracking downward  in roughly $30,000 increments over the past couple months.
| | |
| --- | --- |
| Month | Median Price |
| Feb 2022 | $862,223 |
| Mar 2022 | $855,000 |
| Apr 2022 | $854,900 |
| May 2022 | $846,278 |
| Jun 2022 | $884,900 |
| Jul 2022 | $867,447 |
| Aug 2022 | $895,822 |
| Sep 2022 | $890,000 |
| Oct 2022 | $893,453 |
| Nov 2022 | $1,049,900 |
| Dec 2022 | $830,500 |
| Jan 2023 | $799,365 |
| Feb 2023 | $769,500 |
Before January 2023, the last time median home prices in Nolensville (Williamson Co.) fell below $800,000 was January 2022. February's median sold home price of $769,500 is the lowest we have seen since the explosion in home sales (and prices) began just over a year ago.
Notice, though, that I don't say it's the most affordable. There's a key difference between now and January 2022, when median home prices here were $688,884. Mortgage rates.
According to Mortgage News Daily, yesterday's 30-year fixed mortgage rate was an even 7.00%. If we use last month's median home price of $769,500… and assume a 20% down payment… the mortgage + interest payment would be $4,095/month.
Go back to January 2022 and that median price of $688,884… a 20% down payment… AND the 3.64% 30-year, fixed interest rate from January 10th… and the mortgage + interest payment was $2,517/month.
Big difference.
Nolensville Housing Inventory is Sharply Higher (But Don't Freak Out)…
This next number, at first, seems a little shocking. In February of 2022, housing inventory dried up and, here in Nolensville (Williamson County), there were only 11 homes available for purchase by the end of that month.
Fast forward one year, and 70 homes were available at the end of last month. That's a 536% year-over-year increase.
However, that is comparing apples to oranges. February 2022 represented the beginning of a never-before-seen evaporation of housing inventory and run-up in home prices. If we go back to February 2020, which was right before COVID began wrecking the world, Nolensville's available housing inventory was 134 units… almost twice as much as there is today!
So, we are *still* in a housing shortage, believe it or not. We are just in a very unique situation where we are also in an affordability crunch. This leads me to believe that when interest rates finally settle back down and the economy stabilizes, we are going to see another strong run in real estate. There just isn't enough product out there.
February 2023 vs. February 2022 Nolensville Home Sales:
24 Nolensville (Williamson Co.) homes sold… down from 32 (

-25%

)
The median sales price was $769,500… down from $862,223 (

-10.75%

)
The average days on market was 35… up from 11 (

+24 days

)
The sales-price to list-price ratio was 98.70%… down from 103.12% (

-4.42%

)
9 of the 24 homes (38%) sold were new construction
The lowest price sale was 917 Timberside Dr. in Stonebrook for $534,000.
The highest price sale was 1021 Annecy Pkwy. in Annecy for $1,785,958.
Deeper Dive:
When we eliminate new construction and larger acreage properties and look solely at subdivision resales (14 total), some interesting figures come to light:

The median sales price becomes $742,500
The average sales-price to list-price ratio falls to 97.32%
0 of the 14 sales (0%) is above asking-price
9 of the 14 sales sold (64%) below asking-price
Two homes sold for all-cash
The average days on becomes 58
0 of the resales had a contract fall through before selling
10 of the resales (71%) had to price-reduce before going under contract
*Note: The information above cites Williamson County sales data for Nolensville, Tennessee. There is, of course, a small percentage of Nolensville homes that exist in Davidson and Rutherford counties, but for continuity in my blogging I reference only Williamson County statistics.
Williamson County Sales Stats…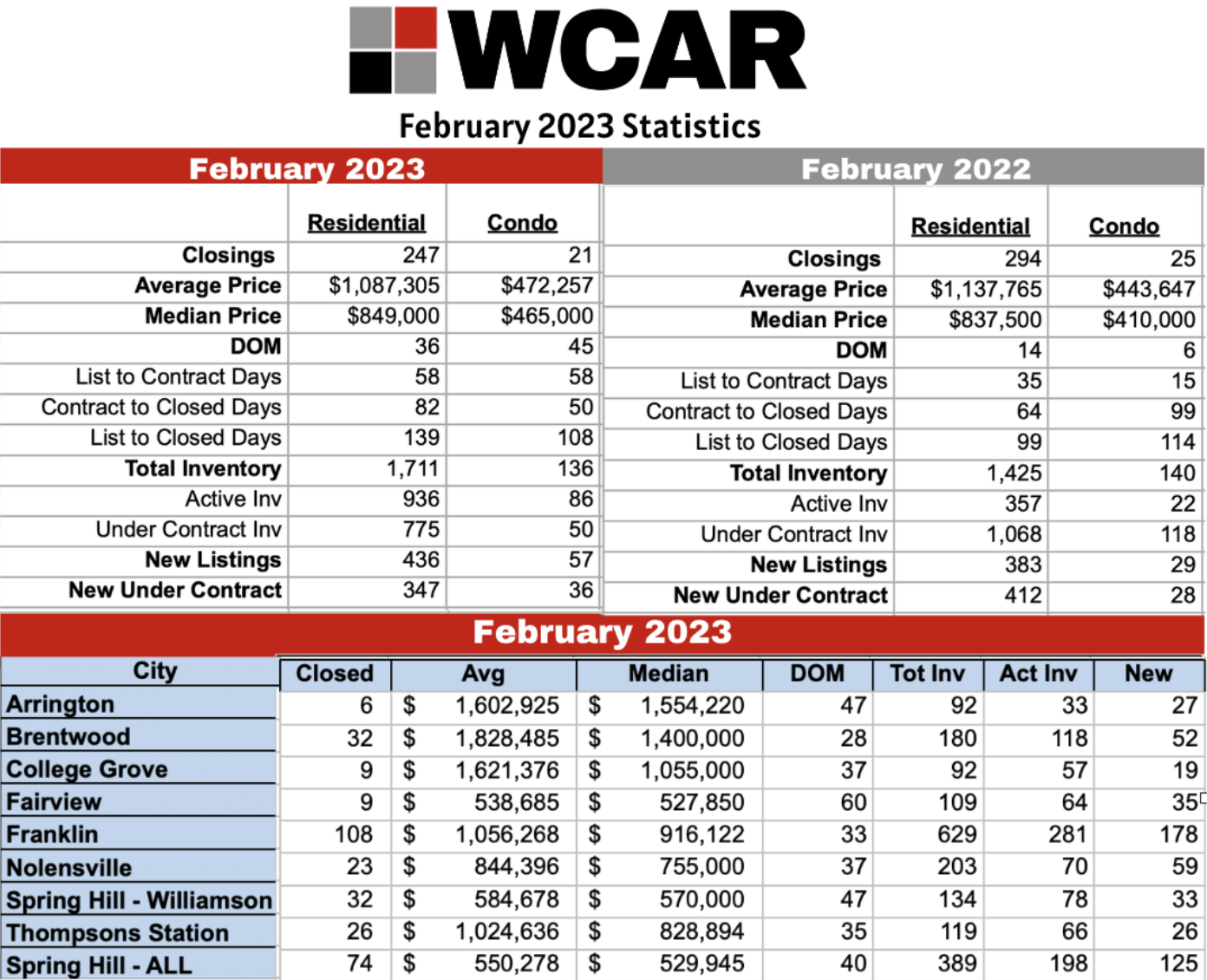 One more Nolensville home sale was reported after WCAR completed their monthly recap, above. All of my numbers in this blog are based off of the complete data of 24 sales.
Like Nolensville, Williamson County housing inventory had a sharp, year-over-year gain in February. There were 2.6x more homes available last month than the year before. Meanwhile, new, pending home sales also dropped 16% year-over-year, while the median home price settled to $849,000… a little more than 1% higher than the median price from the year before.
Greater Nashville Sales Stats (includes Williamson Co.)…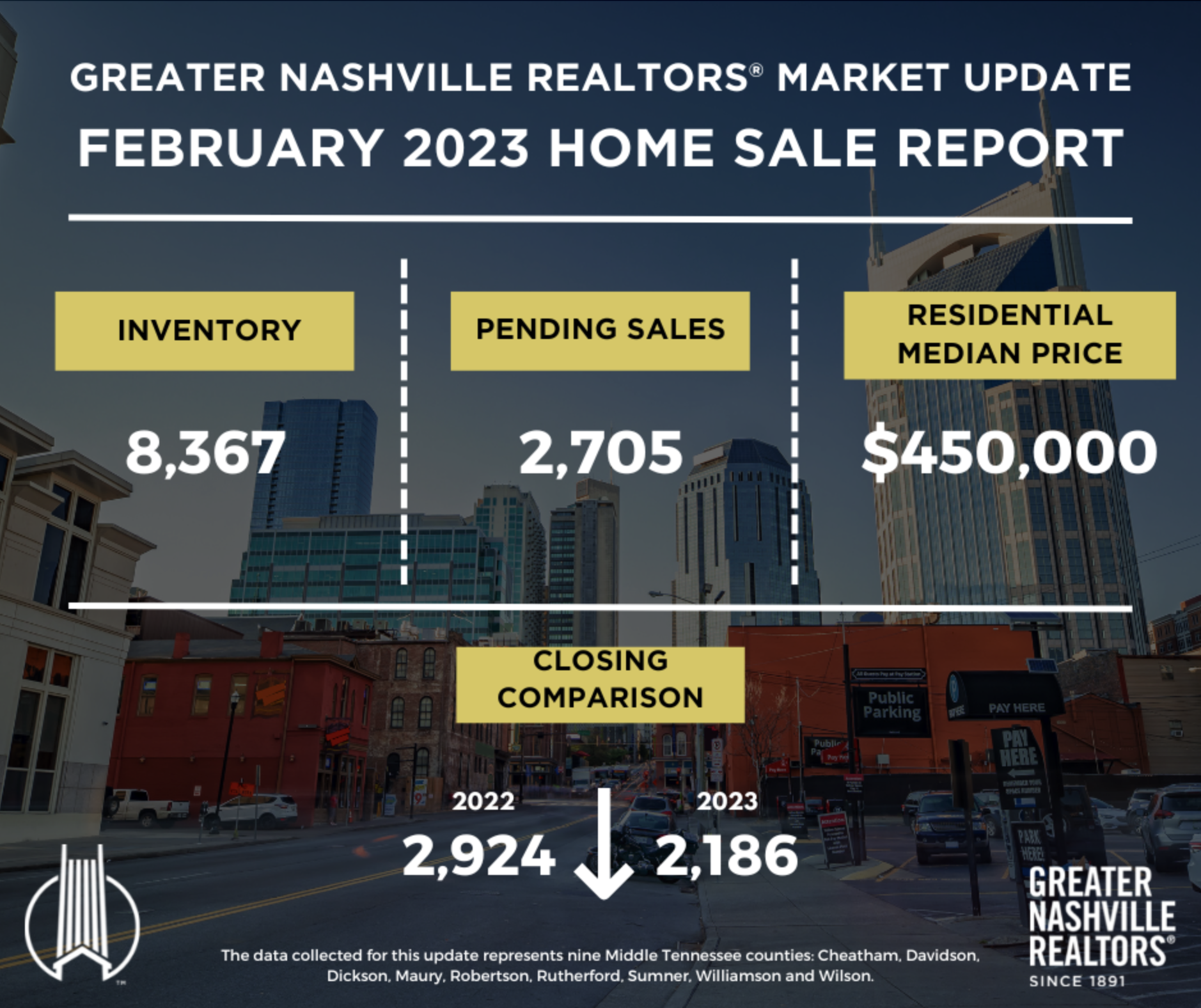 Greater Nashville housing inventory grew almost 2.3x year-over-year, while the median residential price was almost flat… moving to $450,000 from $446,175 in February 2022.
In Conclusion…
The market has stabilized. There are as many Greater Nashville homes available today as there were in November of 2020. The median value of a Nolensville home is virtually the same today as it was in January 2022, largely eliminating gains from the past year.
I am hopeful, too, that mortgage rates have gone about as high as they're going to go. If they can begin heading back down to 6% then the real estate market should improve. Buyers will have their best opportunity since COVID arrived to purchase a home. That's good for everybody!
If you're interested in buying or selling, it's time you speak with a veteran professional who doesn't panic in market shifts and can put together an action plan that will guide you to success.
Give me a call at 615-500-6393 or email me at flint@theguidehome.com and let's chat about your goals. It may be best for you to stay put, and if so – I'll give you that honest opinion. But if there's a window of opportunity, I'm going to help you open it right on up.
Interested in up to date Nolensville TN real estate sales figures? I'll email you an HOURLY UPDATED look at Nolensville real estate activity including what has gone pending, price-reduced, and withdrawn. Just shoot me an email with your name and preferred email address to flint@theguidehome.com
---
The Latest on Mortgage Rates…
3/10/2023 Commentary by Nolensville resident, Jesse Alvarez, with The Mortgage Exchange
Federal Reserve Chairman Jerome Powell announced earlier this week that rates would be heavily data dependent.  This caused markets to price in a peak Fed Funds Futures rate of 5.75% if it holds true.  Todays Fed Funds Rate is 4.57%.  Most of the data in the last month has shown inflation continuing to be pretty stubborn, until today.  Powell pointed at today's monthly unemployment numbers and next week's inflation reports as some of the upcoming data that could cause him to back off a little.  Well, today's data showed the lowest monthly wage increase in a year and the highest Labor Participation Rate since the beginning of the Pandemic.  Couple that with the news out west that Silicon Valley Bank has failed, and it makes me wonder if rates could get a big breather here over the next couple months.
Mortgage rates are still hovering just above 7% for most people as of this writing.  And it seems like market forces are trying to keep that as peak mortgage rates for this cycle.  Since the market has already priced in another 0.75% to 1% worth of rate hikes because of Chairman Powell's speech, it would take a lot to get mortgage rates to hit 7.5%.  As of right now I just don't see that happening, barring some huge inflation surprises in the near future.  I do see a small glimmer of hope that the next couple months of inflation come in as expected, or slightly lower, and help to pull mortgage rates back to the low 6% range early in the summer.  Maybe its just wishful thinking…
---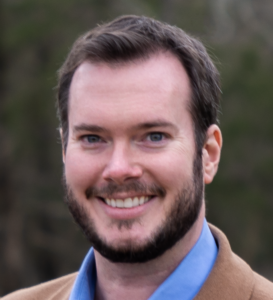 Flint Adam is a 13- year Nolensville resident and lives in Bent Creek. He focuses his real estate practice here in town, having served almost 200 buyers and sellers in closed Nolensville real estate transactions. Flint enjoys blogging about local real estate, traveling the world, photography, and hiking. He is passionate about serving Nolensville and keeping it one of America's greatest small towns.