by Flint Adam, Nolensville resident & Realtor®
Monday, March 7, 2016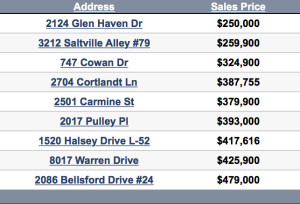 The temperature is warming and so is the real estate market. Buyers are emerging with the spring bloom, and sellers are readying homes for market (thank the Lord!)
Inventory remains an issue for Nolensville real estate. Hey – there are folks ready to move here, the problem is we all love the community so much it's hard to get anyone to move!
Consider that out of the 76 homes that have closed so far this year in Nolensville (including Davidson, Rutherford, and Williamson County), only 23 have been resales. (Just 30%!)
And there remains a shortage of the most affordable homes in our town – think prices $300,000 and below. Pickins are slim!
I'll take a deeper dive into sales activity so far in my Nolensville February 2016 recap – should have that out to you tomorrow. In the meantime…here is your breakdown of Nolensville TN single-family-residential transactions for the week ending 3/7/2016 as reported on MLS:
– Total sales closed: 9 (2 Davidson Co., 7 Williamson Co.)
– Highest closing price: $479,000 – 2086 Bellsford Drive in the Summerlyn neighborhood.
– Number of new construction homes sold: 5
– Number of existing (resale) homes sold: 4
– Avg. Days on Market for the existing (resale) homes sold: 56
---
Nolensville & State Leaders Discuss Traffic Woes…
You might have noticed on Nolensville 411 last week talk about a traffic workshop featuring Sen. Jack Johnson, Rep. Glen Casada, and Metro Planning Organization Director Michael Skipper.
It was a good think-tank and offered the public an opportunity to speak up about their concerns regarding Nolensville's traffic and roads. Here's a recap of the meeting in case you missed it.
---
Tennessee is a Home-Flippers Paradise…
A new report from RealtyTrac found that Tennessee ranked in the top-5 nationally in 2015 for the number of flipped homes. An article in Money Magazine made note of the fact that last year was the first time we've seen growth in house-flipping since before the housing crisis began. Read the article here.
---
Check Out the Daily Hot Sheet
If you haven't gone digging around my website, I encourage you to do so. I've got some cool search features, including the 'Hot Sheet'. This is where you can see Nolensville homes that have been listed on MLS within the past 48-hours.
If that's not fast enough for you, shoot me a quick message and I'll put you on a daily notification email that will let you know about every new listing, sale, and price change here in Nolensville. This is a great tool for those of you considering buying or selling – it pays to know what's happening in the market!
---
Words of Wisdom…
These words are not mine, but I'm always seeking and sharing inspiration:
"Well done is better than well said."
~Benjamin Franklin
---
I'm a Nolensville TN resident… I'm a Nolensville TN Realtor®… and I always offer a complimentary, no commitment, no pressure Comparative Market Analysis for my neighbors. Please let me know how I may assist you in the sale or purchase of a Nolensville property.