by Flint Adam, Nolensville resident & Realtor®
Monday, February 22, 2016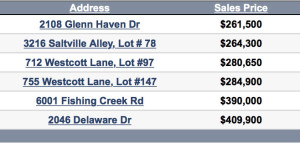 Residential real estate closings last week were all about Davidson County.
Here is your breakdown of Nolensville TN single-family-residential transactions for the week ending 2/21/2016 as reported on MLS:
– Total sales closed: 6 (4 Davidson Co., 2 Williamson Co.)
– Highest closing price: $409,900 – 2046 Delaware Drive in Winterset Woods (congratulations, John Baroni!)
– Number of new construction homes sold: 3
– Number of existing (resale) homes sold: 3
– Avg. Days on Market for the existing (resale) homes sold: 64
---
22% Home Price Increase in Nashville?!!…
That's right – according to data cited in an article by the Nashville Post, Nashville's median year-over-year price in January jumped a staggering 22%! It speaks to how impressive the real estate market is throughout Greater Nashville, but the flip-side is homes are becoming less affordable for buyers.
With 30-year mortgage interest rates still below 3.70%, it remains an excellent time to take out a loan or refinance… but when interest rates finally go up, that – with today's home prices – will hurt.
---
Year-Round Curb Appeal in 6 Easy Steps…
Hey – you never know when you might need to sell… or maybe you just want your home to look really good all year 'round! Here's an article with 6 steps to help keep your home looking fresh!
---
What a Value in Bent Creek!…
If you have friends or family seeking a great value in Nolensville – specifically Bent Creek – have them check out my listing at 4549 Sawmill Place. This home has over 2,600sf with 4BR and a nice, fenced back yard. It's at the neighborhood's most affordable price point (excluding town homes and 55+ condos) and comes with a one-year home warranty. Check it out!
---
Words of Wisdom…
These words are not mine, but I'm always seeking and sharing inspiration:
"Good, better, best. Never let it rest. 'Til your good is better and your better is best."
~St. Jerome
---
I'm a Nolensville TN resident… I'm a Nolensville TN Realtor®… and I always offer a complimentary, no commitment, no pressure Comparative Market Analysis for my neighbors. Please let me know how I may assist you in the sale or purchase of a Nolensville property.