by Flint Adam, Nolensville resident & Realtor®
Monday, January 4, 2016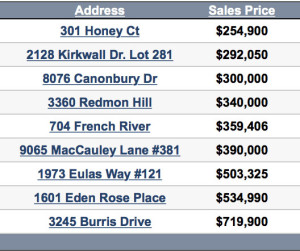 The bridge week between 2015-2016 brought 9 more Nolensville closings, and December 2015 unofficially ended with 57 closings (Williamson, Davidson, and Rutherford County closings).
I'll have a full recap of December's sales activity – along with my 2015 Nolensville real estate review – in the coming days.
In the meantime, though, here is your breakdown of Nolensville TN single-family-residential transactions for the week ending 1/3/2016 as reported on MLS:
– Total sales closed: 9 (3 in Davidson County / 6 in Williamson County)
– Highest closing price: $719,900 – 3245 Burris Drive in the Sherwood Green neighborhood.
– Number of new construction homes sold: 6
– Number of existing (resale) homes sold: 3
– Avg. Days on Market for the existing (resale) homes sold: 69
---
Nashville a Top Destination…
You might have seen this Tennessean article making the rounds on Facebook the past few days, but in case you haven't, here it is again. Travel + Leisure Magazine says Nashville is the #1 travel destination in the world in 2015!
It's yet another nod that Music City has garnered in recent years as one of the hottest locations on the map. The trickle down effect through Nashville's suburbs has certainly been impressive, too – and Nolensville is no exception as the town just marked its number one year of residential sales ever!
---
20 Tips to Get Your Credit in Check in 2016…
If you're thinking about buying a new home in 2016, you'll want your credit as tip-top as possible. With that in mind, here is an article with 20 tips that will help you out!
---
Open Houses in Nolensville…
I'm sure many of you have friends and family interested in moving to Nolensville. Help them out by sharing this link with the latest Open Houses in our town? It's auto-updated through MLS, so if you're a home owner who would like to have your Open House included, make sure your agent adds it into your MLS listing.
And if you know anyone looking for homes right now, I have listings in Bent Creek and Burkitt Place they should check out. Check out my Featured Listings for the details!
---
Words of Wisdom…
These words are not mine, but I'm always seeking and sharing inspiration:
"The best preparation for tomorrow is doing your best today."
~H. Jackson Brown, Jr.
---
I'm a Nolensville TN resident… I'm a Nolensville TN Realtor®… and I always offer a complimentary, no commitment, no pressure Comparative Market Analysis for my neighbors. Please let me know how I may assist you in the sale or purchase of a Nolensville property.