by Flint Adam, Nolensville resident & Realtor®
Monday, December 28, 2015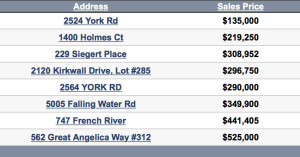 Even with the shortened holiday week, Nolensville still managed to squeeze out 8 more residential sales, bringing December's tally so far to 48 (Williamson, Davidson, and Rutherford County closings).
The town has now logged a total of 570 MLS-reported closings in 2015 – a record number. Here is some perspective: in all of 2004 the total was 77. Nolensville's housing boom has been epic.
Here is your breakdown of Nolensville TN single-family-residential transactions for the week ending 12/27/2015 as reported on MLS:
– Total sales closed: 8 (1 in Davidson County / 1 in Rutherford County / 6 in Williamson County)
– Highest closing price: $525,000 – 562 Great Angelica Way
– Number of new construction homes sold: 4
– Number of existing (resale) homes sold: 4
– Avg. Days on Market for the existing (resale) homes sold: 159
---
Nashville a Top Real Estate City…
According to Forbes, America is suffering from the deepest undersupply of housing since the end of World War II. In that same article, the publication named the U.S. cities doing the most to address the housing shortage – and Nashville makes the top-10.
---
No End in Sight to Nashville's Success…
Meanwhile, the Tennessean just published an article trumpeting Nashville's continued economic success – and there are no signs of slowing down. The local housing recovery has also shown sales levels not achieved since 2007!
---
Happy New Year…
This marks my final post of 2015. What a year, folks. Nolensville is closing out its most successful year of real estate sales ever – approaching almost 600 closings!
From my family to yours, have a safe New Year's Eve and a blessed 2016.
---
Words of Wisdom…
These words are not mine, but I'm always seeking and sharing inspiration:
"The new year stands before us, like a chapter in a book, waiting to be written. We can help write that story by setting goals."
~Melody Beattie
---
I'm a Nolensville TN resident… I'm a Nolensville TN Realtor®… and I always offer a complimentary, no commitment, no pressure Comparative Market Analysis for my neighbors. Please let me know how I may assist you in the sale or purchase of a Nolensville property.