by Flint Adam, Nolensville resident & Realtor®
Monday, December 21, 2015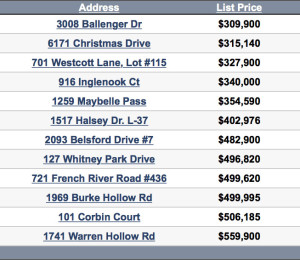 Residential sales in Nolensville held steady in the third week of December, with a mix of new construction and existing homes closing at an even dozen.
Three properties closed above $500,000.
Here is your breakdown of Nolensville TN single-family-residential transactions as reported on MLS:
– Total sales closed: 12 (1 in Davidson County / 11 in Williamson County)
– Highest closing price: $540,000 – 1741 Warren Hollow Road
– Number of new construction homes sold: 8
– Number of existing (resale) homes sold: 4
– Avg. Days on Market for the existing (resale) homes sold: 69
---
Interest Rates Lifting…
The big economic news last week was the Fed raising interest rates for the first time since 2006. According to a New York Times article, the U.S. government believes our economic recovery is strong enough now that they can reduce artificial means of boosting it. This means mortgage interest rates will soon begin following suit, and by some estimates, we may see four additional rate hikes throughout 2016.
The historically low mortgage interest rates we have enjoyed these past several years will soon disappear, though it's my expectation they'll remain below 5% through 2016.
---
Old Furniture Made New Again…
Here's a great article on turning old furniture into standout pieces. My wife and I recently did this with three old, boring pieces. Nolensville's own Audrey Confer (give her a shoutout on Nolensville 411) did a GREAT job painting and distressing our furniture and making it really stand out! Now it looks like we have new Pottery barn furniture. Great job, Audrey!
---
Merry Christmas and Happy Holidays…
Next time I write, we'll be through Christmas and on our way to New Year 2016! I can hardly believe this year is over, andI'm sure many of you can relate. Nolensville TN continues growing by leaps and bounds – what do you see as the most exciting developments and biggest challenges we face in 2016? Shoot me an email with your thoughts and I'll use them for new blogs in 2016.
---
Words of Wisdom…
These words are not mine, but I'm always seeking and sharing inspiration:
"Christmas is not a time nor a season, but a state of mind. To cherish peace and goodwill, to be plenteous in mercy, is to have the real spirit of Christmas."
~Calvin Coolidge 
---
I'm a Nolensville TN resident… I'm a Nolensville TN Realtor®… and I always offer a complimentary, no commitment, no pressure Comparative Market Analysis for my neighbors. Please let me know how I may assist you in the sale or purchase of a Nolensville property.