by Flint Adam, Nolensville resident & Realtor®
Monday, December 14, 2015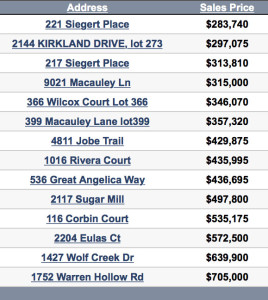 Residential sales in Nolensville jumped the second week of December with 14 closings. New construction led the way.
Four of the closings had sales prices of $535,175 or higher.
Here is your breakdown of Nolensville TN single-family-residential transactions as reported on MLS:
– Total sales closed: 14 (4 in Davidson County / 10 in Williamson County)
– Highest closing price: $705,000 – 1752 Warren Hollow Road
– Number of new construction homes sold: 10
– Number of existing (resale) homes sold: 4
– Avg. Days on Market for existing (resale) homes sold: 117
---
Nashville Home Sales Decline…
For the first time in over a year, monthly home sales declined in the greater Nashville area. The Tennessean has a write-up published a few days ago.
A lack of inventory is blamed for the 3% year-over-year drop in sales. I'll have a recap of Nolensville's (and Williamson County's) November sales coming up tomorrow.
---
Too Expensive to Sell?…
Here's an interesting story that recently aired on WKRN Channel 2 in Nashville. Some area homeowners say one of the pitfalls of our booming real estate market is even though they need to upsize their homes… they can't afford to sell and stay in the same neighborhood.
According to the report, the average price of a Davidson County home has jumped 35% since 2011.
---
Holiday Gift Idea: A Better Home Deal?…
Realty Times published an article arguing that buyers willing to house hunt during the holidays have greater leverage negotiating deals. The article goes on to say that sellers who stay on the market this time of year are more motivated to sell and more willing to negotiate – meaning better deals for buyers.
---
Words of Wisdom…
These words are not mine, but I'm always seeking and sharing inspiration:
"This is my wish for you: peace of mind, prosperity through the year, happiness that multiplies, health for you and yours, fun around every corner, energy to chase your dreams, joy to fill your holidays!"
~ D.M. Dellinger
---
I'm a Nolensville TN resident… I'm a Nolensville TN Realtor®… and I always offer a complimentary, no commitment, no pressure Comparative Market Analysis for my neighbors. Please let me know how I may assist you in the sale or purchase of a Nolensville property.