by Flint Adam, Nolensville resident & Realtor®
Monday, January 18, 2016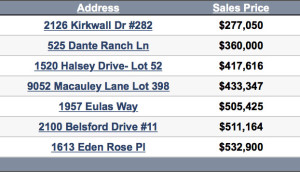 New construction ruled the week with the lion's share of closings.
Here is your breakdown of Nolensville TN single-family-residential transactions for the week ending 1/17/2016 as reported on MLS:
– Total sales closed: 7 (2 Davidson Co. and 5 in Williamson Co.)
– Highest closing price: $532,900 – 1613 Eden Rose Place in the Brittain Downs neighborhood.
– Number of new construction homes sold: 6
– Number of existing (resale) homes sold: 1
– Avg. Days on Market for the existing (resale) homes sold: 179
---
2015 Year in Review…
In case you missed it, I published my 2015 Year in Review last week. It can be found here. It was a record-setting year for Nolensville real estate, but can we do it again? I'll share my thoughts in an upcoming 2016 Predictions blog.
Meanwhile, the Tennessean just had a write-up calling Middle Tennessee's real estate in 2015 a 10 out of 10!
---
Big Local Land Deal…
Big-time developer Ardalan Afrakhteh recently completed a 121-acre land-purchase in eastern Williamson county off Clovercroft Road and near Wilson Pike. I'm doubting his plans are simply preserving pastureland and trees.
---
Words of Wisdom…
These words are not mine, but I'm always seeking and sharing inspiration:
"Try to be a rainbow in someone's cloud."
~Maya Angelou
---
I'm a Nolensville TN resident… I'm a Nolensville TN Realtor®… and I always offer a complimentary, no commitment, no pressure Comparative Market Analysis for my neighbors. Please let me know how I may assist you in the sale or purchase of a Nolensville property.