by Flint Adam, Nolensville resident & Realtor®
Monday, November 30, 2015
From my family to yours, I hope you had a wonderful Thanksgiving!
The holiday week kept real estate sales to a minimum – there were only 4 reported on MLS – but November 2015 will still go down as a solid month of sales overall. I'll have more on that in my upcoming November recap in a few days.
Here is your breakdown of Nolensville TN single-family-residential transactions as reported on MLS:

– Total sales closed: 4 (all in Williamson County)
– Highest closing price: $487,563 – 8038 Warren Drive in the Bent Creek neighborhood
– Number of new construction homes sold: 3
– Number of existing (resale) homes sold: 1
– Avg. Days on Market for existing (resale) homes sold: 99
I received an email last week from a Nolensville woman asking about a recent sale she knew about that I did not show. I looked up the house and found that it was still displaying as under contract on MLS. It's up to the listing brokerage to update the status of transactions on MLS. As of today, that home still hasn't been updated, so for the purposes of this blog, I will not include it – or any other properties – not reported as closed on MLS.
---
Are Interest Rates About to Jump?…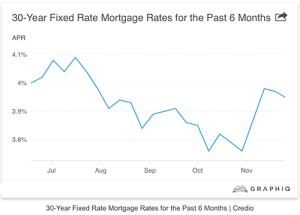 30-year fixed mortgage interest rates have been below 4% for much of the year, but buyers may soon face a spike.
A recent article in the Washing Post cites the Fed's likelihood of raising interest rates in December as having a big impact on home buyer's budgets.
Interest rates already jumped .25% earlier in November mainly on speculation of a Federal rate-hike.
According to the article, it's possible we'll see 30-year fixed rates reaching almost 5% by the end of 2016 – the highest figure since the recession began.
---
Black Friday/Cyber Monday Home Transformation…
The post-Thanksgiving sales aren't just about electronics – it's also an excellent opportunity to save cash and transform your house at the same time.
There are numerous sales going on at the likes of Ashley Furniture, Pottery Barn, and Rooms to Go – to name just a few – that can add some real pizzaz to your home while sparing your wallet a few dollars.
---
Words of Wisdom…
These words are not mine, but I'm always seeking and sharing inspiration:
"Be thankful for what you have; you'll end up having more. If you concentrate on what you don't have, you will never, ever have enough."
~Oprah Winfrey
---
I'm a Nolensville TN resident… I'm a Nolensville TN Realtor®… and I always offer a complimentary, no commitment, no pressure Comparative Market Analysis for my neighbors. Please let me know how I may assist you in the sale or purchase of a Nolensville property.