by Flint Adam, Nolensville resident & Realtor®
Monday, November 23 , 2015
Today, I'm rolling out a new feature – a brief, weekly update on Nolensville's real estate activity with a few other real estate tidbits thrown in for good measure.
Whereas my monthly recap focuses on overall numbers, trends, and outlooks… this weekly summary will highlight individual sales. I'll also expand beyond the Williamson County border and showcase Nolensville sales in both Davidson and Rutherford counties.
So, without further adieu, a breakdown of Nolensville TN single-family-residential transactions as noted in MLS: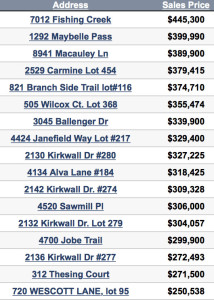 – Total sales closed: 17 (10 Davidson County) / (7 Williamson County)
– Highest closing price: $445,300 – 7012 Fishing Creek Drive in the Bent Creek neighborhood.
– Number of new construction homes sold: 13
– Number of existing (resale) homes sold: 4
– Avg. Days on Market for existing (resale) homes sold: 57
I consider the existing (resale) homes a better indicator of market momentum because their sales timeline is much more narrow than new construction, which can take 6 months or so to close.
However, new construction remains an excellent indicator of overall market health, and with roughly 76% of this week's transactions coming from new construction, the market obviously remains robust – even as we move into the traditionally "slower" real estate season.
---
Historic Property Value Increase…
The Greater Nashville area remains one of the nation's hottest real estate markets. The National Association of Realtors has released its 3rd Quarter review of metropolitan median area prices, and Music City is up 9% year-over-year.
The median home price for Metro Nashville is $209,100.
Meanwhile, The Tennessean just published an article (read it here) about Nashville's property values increasing at a 'historic' clip.
---
Townhomes Back In Demand?…
Nolensville doesn't have many of them, but townhomes are making a resurgence in the national picture. According to the National Association of Home Builders, single-family attached starts are up 30 percent compared to a year ago. That marks the fastest pace of construction since the fourth quarter of 2007.
Townhomes tend to sell better in areas with favorable "walkability" to nearby shopping and dining. As great a place as Nolensville is to live, "walkability" is not its strong suit. Even so, there is an appetite to live here and townhomes represent a more affordable entry-point for home buyers.
I expect Bent Creek's niche of townhomes will re-sell well in 2016, but the larger inventory of newly built townhomes on the north side of town (think Burkitt Springs) may temper re-sales there.
---
The Rental Market is En Fuego…
A recent article by the Nashville Business Journal states that Nashville is the #6 rental market in the country, and top-dog in the southeast. Music City's rising rental prices, low days on market, and low vacancy rate make for a bullish outlook for several quarters to come.
Small-time investors are having a difficult time scooping up opportunities, though, as several large-scale holding companies are devouring inventory. It's happening here in Nolensville, too.
If there's a caveat to this practice, though, it's the effect on neighborhood appraisals. These holding companies make all-cash offers on homes as soon as they hit the market. The offers are often 5-7% below list price, but some sellers take it rather than let the natural real estate market forces do their job.
We then wind up with homes sold below-market-value… and that can affect subsequent appraisals.
---
Words of Wisdom…
These words are not mine, but I'm always seeking and sharing inspiration:
"Your work is going to fill a large part of your life, and the only way to be truly satisfied is to do what you believe is great work. And the only way to do great work is to love what you do. If you haven't found it yet, keep looking. Don't settle. As with all matters of the heart, you'll know when you find it."
~Steve Jobs
---
I'm a Nolensville TN resident… I'm a Nolensville TN Realtor®… and I always offer a complimentary, no commitment, no pressure Comparative Market Analysis for my neighbors. Please let me know how I may assist you in the sale or purchase of a Nolensville property.