by Flint Adam, Nolensville resident & Realtor®
Monday, January 11, 2016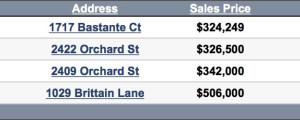 Residential real estate sales during the first full-week of January were meager, with only four Nolensville properties closings.
Here is your breakdown of Nolensville TN single-family-residential transactions for the week ending 1/10/2016 as reported on MLS:
– Total sales closed: 4 (all in Williamson County)
– Highest closing price: $506,000 – 1029 Brittain Lane in the Brittain Downs neighborhood.
– Number of new construction homes sold: 1
– Number of existing (resale) homes sold: 3
– Avg. Days on Market for the existing (resale) homes sold: 76
---
Mortgage Rates Remain… Awesome?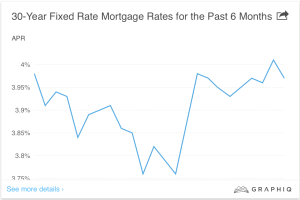 Despite the Fed's December rate hike – the first in almost a decade – mortgage interest rates are still pretty darn great! As the graph to the right illustrates, the average rate for a 30-year loan on January 7th was 3.97% … in sync with the 3.98% rate we saw on July 30th last year.
The best time to have locked in a rate was last October… a 30-year loan could have been nabbed for 3.76% while a 15-year loan was as low as 2.98%.
Even so – today's rates remain near their historical lows. That's not expected to remain the case, though, as the Fed has indicated that incremental rate hikes are possible throughout 2016.
---
Personality and Home-Buying…
A new study titled "Real Estate and Personality" from the Journal of Behavioral and Experimental Economics illuminates the relationship between personality and home-buyer decisions, suggesting "that a person's personality traits are predictive of his or her real estate decisions."
One takeaway from the study: neurotic people make great homeowners. Go figure.
---
New Listing Video…
In case you missed it, I've posted my latest listing video for 4549 Sawmill Place in Nolensville's Bent Creek community. This is an excellent opportunity to buy under $330,000 – check it out!
---
Words of Wisdom…
These words are not mine, but I'm always seeking and sharing inspiration:
"What you do today can improve all your tomorrows."
~Ralph Marston
---
I'm a Nolensville TN resident… I'm a Nolensville TN Realtor®… and I always offer a complimentary, no commitment, no pressure Comparative Market Analysis for my neighbors. Please let me know how I may assist you in the sale or purchase of a Nolensville property.