by Flint Adam, Nolensville resident & Realtor®
Wednesday, February 8, 2017

How do you follow up a record year of real estate sales? Begin the following year with a record January – that's how.
Nolensville fell in line with the trend across Williamson County and set a record number of home sales last month.
42 single-family homes closed in Nolensville (Williamson County) in January 2017. That's 14 more than last January's 28 sales, an increase of 50% year-over-year.
Even more impressive (or intimidating, depending on your perspective,) is the 12% jump in median sales price. ($426,898 in January 2016 to $479,868 in January 2017).
If you look at the graph to the left, (click to enlarge), you'll see that only one home sold below $350K – that was 5031 Burke Trail in Bent Creek for $327,500.
Prices will jump more beginning March 1 when the first half of a new impact fee is levied on new construction throughout Williamson County.
The second half of that impact fee comes September 1, and will take new home prices across the county to heights unimaginable only a few years ago.
Prospective buyers would best help themselves by committing to making a purchase, and starting the process soon. In addition to quickly rising prices, industry experts forecast that interest rates will continue moving upward – to around 5% on a 30-year conventional loan by year's end.
If a buyer must first sell their home in order to purchase their next one, it's a prudent move to go ahead and speak with a real estate professional about pricing and marketing.
There is a lot of strategy needed in the current real estate climate. Navigating low-inventory, escalating prices and interest rates, competition among buyers and sellers – and the sometimes inaccurate expectations of both.
Breakdown of Sales Figures
Here is a breakdown of Nolensville's single-family residential sales figures for the month of January 2017.
This data comes from my own research along with data provided by the Williamson County Association of Realtors. Keep in mind these figures do not include For Sale By Owner or Nolensville properties outside of Williamson County:
Single-Family Homes Closed: 

42… same as 42 in December 2016

Median Sold Price: 

$479,868… up from $479,651 in December 2016

Avg. Days on Market: 

39… down from 47 in December 2016

Inventory: 

107

Pending: 

25

Number of new construction sales: 

30… up from 25 in December 2016

Existing home sales: 

12… down from 17 in December 2016

Median Sales Price/Square Foot: 

$156.48/sf

Average Year Built: 

2013
The highest selling price last month was at 9428 Holstein Drive in The Farm at Clovercroft. It sold for $683,310.
*Note: The above information cites Williamson County sales data for Nolensville, Tennessee. There are, of course, a percentage of Nolensville properties that also exist in Davidson and Rutherford counties, but for the purpose of this blog I am focusing on Williamson County since a majority of Nolensville addresses fall within this geographic area.
---
Nolensville's Residential Sales Numbers are Insane…
Since I began this blog in 2014, it's been pretty fun watching the evolution of Nolensville's sales-figures.
That's around the time we saw the local real estate market begin its true ascent out of the depths of the housing crisis. New construction, especially, began rebounding around this time and has become a larger and larger part of Nolensville's growth the past three years – generally averaging around 60%-65% of all sales.
As we begin a new year, look at the graph below and notice the profound difference in January 2017 sales compared to 2014, 2015, and 2016.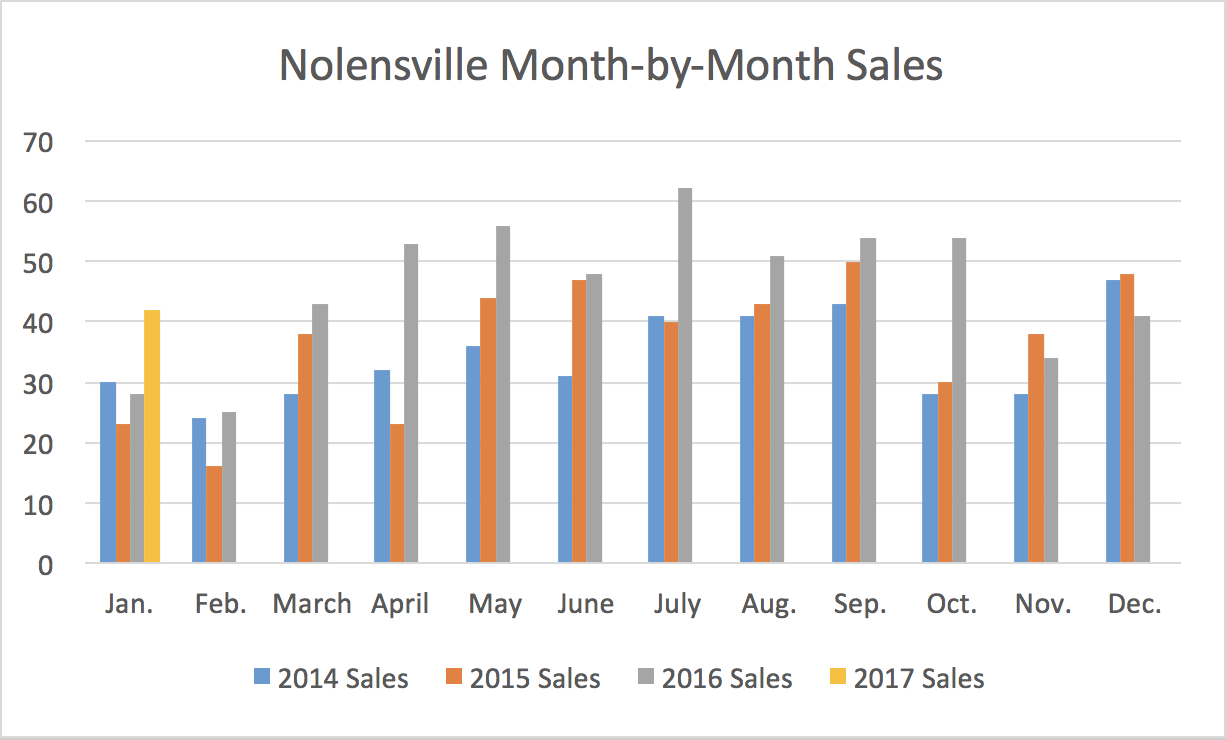 Meanwhile, the year-over-year sales chart is off to a strong start – 50% higher than we began in January 2016… and look how last year ended up. A staggering 549 single-family-residential sales across Williamson County Nolensville.

Can we set a new record this year? There are several factors in favor of that:
an estimated 70 to 100 people move to Greater Nashville each and every day
Williamson County's school system remains a huge draw
Corporate re-locations and overall job-creation in Williamson County remains high
But we face challenges – and as I wrote last month, we could be nearing the ceiling of hectic growth:
an average price point nearing half a million dollars will squeeze out many potential buyers
additional impact fees rolling out on new construction this year will take prices even higher
rising interest rates will shorten your dollar's ability
I still think the second-half of 2017 could get interesting in local real estate. No, I'm not predicting a melt down like 2008, but I feel the brakes will be tapped and a leveling-off can't be far away.
Interested in up to date Nolensville TN real estate sales figures? I'll email you an HOURLY UPDATED look at Nolensville real estate activity including what has gone pending, price-reduced, and withdrawn. Just shoot me an email with your name and preferred email address to flint@homesaroundnashville.com
---
Williamson County Home Sales Set (Another) January Record…
(The following comes from the Williamson County Association of REALTORS®) – Total home closings in Williamson County forged ahead two percent in January 2017 to the highest number on record in the first month of a year. The total number of closed home sales increased to 332 for the month compared to 325 in January 2016.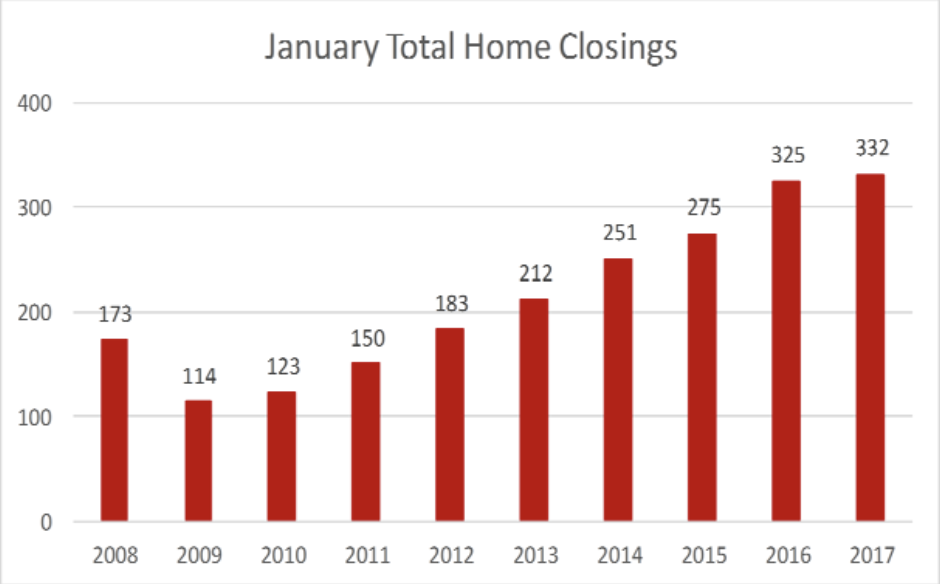 The median sales price for a single-family home in January 2017 increased six percent to $445,627 from $420,372 for the same period last year, which was previously the record. January also marked the eleventh consecutive month the median sales price for a single-family-home surpassed $400,000.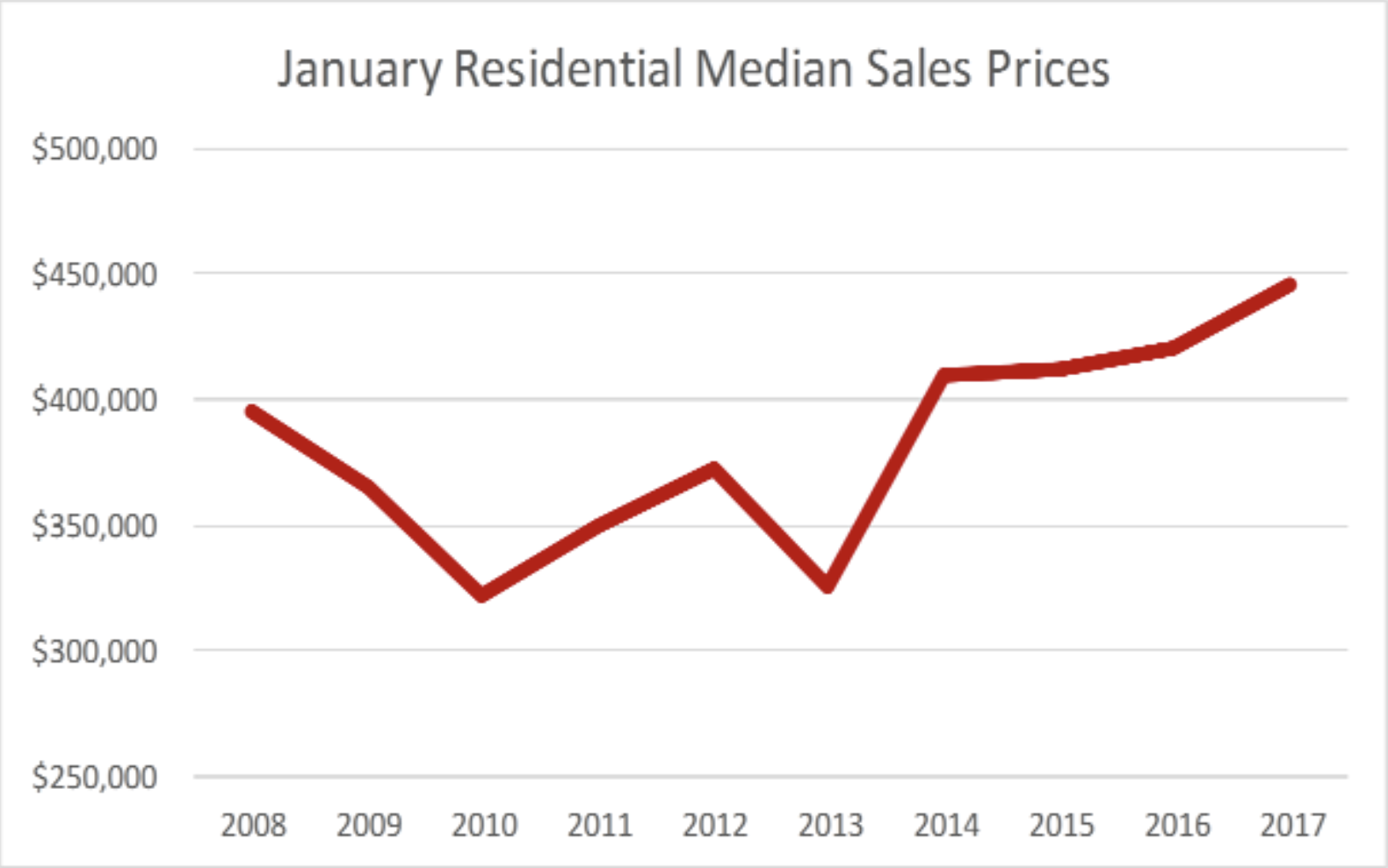 Total available residential inventory in Williamson County stood at 1,303 units at the end of January indicating a four-month supply of housing in the area.
---
Mortgage Rates – Rising, Rising…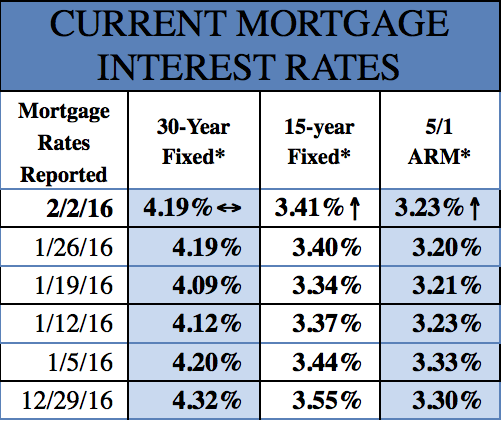 From My Mortgage Insider.com: After of week of both positive and negative economic news, mortgage rates ended up staying at their current levels.
Over the past week, the average mortgage rate was 4.19%, exactly what it was for the previous week.
Despite the conflicting news in the economic market, home buyers should be aware that mortgage rates are still relatively low for their current levels.
Also, mortgage rates are bound to rise over the coming months. The market is still adjusting to President Trump's economic policies and his impact on the market. Once that happens, rates should start to rise.
The Fed is also likely going to raise their rate at least twice this year. Every time the Fed raises their rate, the market reacts.
Fortunately for mortgage rates, yesterday's Fed meeting ended with the decision to keep rates where they are, another factor that led to keeping rates where they are.
One thing that home buyers should keep in mind is that home prices are still rising. The lower mortgage rates stay, the more affordable home buying becomes. But homes are gradually becoming more expensive.
---
New Addition to My Nolensville Real Estate Practice:
You know me for my Nolensville-focused real estate practice. In fact, I've helped almost 50 buyers and sellers close on Nolensville real estate sales! Last month, I added a new piece to my business – DAC Custom Homes.
I'm very excited to list the remaining DAC lots in Bent Creek… and some lots in Benington. DAC also has lots in the upcoming Burberry Glen neighborhood off Rocky Fork Road in Nolensville. I'll share more on that project in the coming months.
Call or email me if you're interested in learning more about building with this amazing custom-home builder.
I also have a brand new Bent Creek listing at 3259 Locust Hollow. Check out the video, below, to learn more!
---
I'm a Nolensville TN resident… I'm a Nolensville TN Realtor®… and I always offer a complimentary, no commitment, no pressure Comparative Market Analysis for my neighbors. Please let me know how I may assist you in the sale or purchase of a Nolensville property.