by Flint Adam, Nolensville resident & Realtor®
Monday, April 11, 2016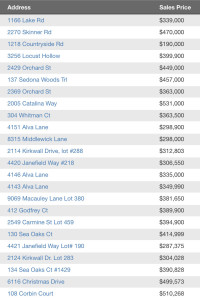 Well, I kind of got crushed-busy last week and completely missed my scheduled blogging. I know, I know… should have just woken up earlier, right?
I'm here to make amends and give you a double-dip blog: a brief update on activity from the start of April in Nolensville… and then a proper monthly recap for the action that happened in March.
This is the time of year when real estate starts heating up, and all you need to do is look at the closing reports to see the evidence! Nolensville is en fuego through the first 10 days of April.
Here is your breakdown of Nolensville TN single-family-residential transactions for April 1st – 10th as reported on MLS:
– Total sales closed: 24 (10 Davidson Co., 2 Rutherford Co., 12 Williamson Co.)
– Highest closing price: $531,000 – 2005 Catalina Way in the Catalina neighborhood.
– Number of new construction homes sold: 15
– Number of existing (resale) homes sold: 9
– Avg. Days on Market for the existing (resale) homes sold: 62
Interested in up to date Nolensville TN real estate sales figures? I'll email you a daily update on Nolensville real estate complete with new listings, what has gone pending, and recent sales. Just shoot me an email with your name and preferred email address to flint@homesaroundnashville.com
---
So, let's shift now to the March 2016 recap, and the numbers are no less impressive here. New home construction is really leading the way so far this year. We have new(er) neighborhoods like Summerlyn, Sherwood Green Estates, Whitney Park, and the Farm at Clovercroft, to name just a few. Builders are building as fast as they can and in most cases, buyers are scooping them right up.
Through April 10th, there have been 144 Nolensville closings recorded in MLS for Williamson, Davidson, and Rutherford county addresses. An astounding 97 of those – or 67% – have been new construction closings.
The sub-$400,000 market remains the most competitive, but there have already been eight new home construction closings above the $600,000 mark in Nolensville so far this year. Astounding!
The resale market, though, has been interesting to watch. Days on market has been a little longer than I would expect given the general lack of inventory. For instance, there are only 5 existing homes available for resale under $400,000 in Nolensville right now… yet 3 of the 5 have already been on the market over a month, and the other two are approaching two weeks.
In the grand scheme that's not long at all, but given Nolensville's recent history of fast-moving product, it leads me to believe a notable percentage of the buyer-pool is opting to go with new construction rather than buy used… even if it means waiting several months for the home to be built.
Now, it's also early April, and while real estate is heating up, many people are bound to the school year. Activity in the resale market should pick up steam as we head into summer.
As most of my readers will know, I cite only Williamson County sales figures for my monthly recap. The majority of Nolensville is in Williamson County, and since that's how I began my monthly reporting back in 2014, it makes sense to stick with the formula for consistency-sake.
This data comes my own research along with data by the Williamson County Association of Realtors. Keep in mind these figures do not include For Sale By Owner or Nolensville properties outside of Williamson County:
Single-Family Homes Closed: 

42… up from 25 in February

Median Sold Price: 

$428,690… up from $409,900 in February

Avg. Days on Market: 

46… same as February

Inventory: 

161

Pending: 

38

Number of new construction sales: 

26… up from 18 in February

Existing home sales: 

16… up from 7 in February

Median Sales Price/Square Foot: 

$140.40/sf

Average Year Built: 

2011

Through the first quarter, Nolensville residential home sales are up 23% compared to last year. We are in line for a massive year of sales considering all the new construction coming online, and the resale market that's expected to bloom in the coming months. If we can keep our current pace, there will be well over 500 sales this year in Nolensville. Unreal!
So, what could temper that enthusiasm? There are a few possible variables:
the Fed raising interest rates, making it more expensive for buyers to borrow
a continued labor shortage and rising materials costs, slowing new construction
existing homeowners fearful of selling due to a competitive buyer market, inventory shortage, and price appreciation
---
Williamson County Sales Are Strong…
Meanwhile, residential home sales in Williamson County rose 5.4 percent in March to the strongest in a decade, according to the monthly market report released by the Williamson County Association of REALTORS®.  The total number of closed home sales were 448 compared to 425 in March 2015.
First quarter numbers for residential home sales in 2016 were up 10.3 percent to 1,053 closings compared to 955 closings for the first quarter of 2015.
The median sales price for a single-family home rose 5.9 percent from the same period last year.  In March 2016, the median sales price for a single-family home was $433,850, compared to $409,691 in 2015.
---
Mortgage Rates Remain Low…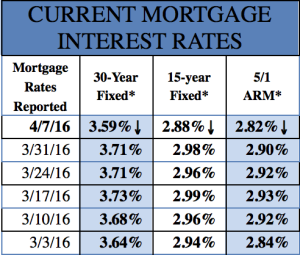 Last week, mortgage rates hit a new low for 2016, tying 2015's low rate of 3.59% for a 30-year mortgage.
What a great time to borrow money, and if your budget allows, take advantage of those 15-year fixed rates. You'll save a ton on interest over the life of the loan and build up home equity far faster!
---
 My Newest Nolensville Listing…
I have a couple of Nolensville listings not under contract yet… one at 3275 Burris Drive in Sherwood Green Estates, and another one at 1820 Erlinger Drive in Winterset Woods.
If you know anyone interested in moving to the area, please have them check out these great homes. Here is the video for my Erlinger Drive listing:
---
I'm a Nolensville TN resident… I'm a Nolensville TN Realtor®… and I always offer a complimentary, no commitment, no pressure Comparative Market Analysis for my neighbors. Please let me know how I may assist you in the sale or purchase of a Nolensville property.
Note: The above information cites Williamson County sales data for Nolensville, Tennessee. There are, of course, a handful of Nolensville properties that also exist in Davidson and Rutherford counties, but for the purpose of this article I am focusing on Williamson County since a majority of Nolensville addresses fall within this geographic area.