by Flint Adam, Nolensville resident & Realtor®
Monday, June 6, 2016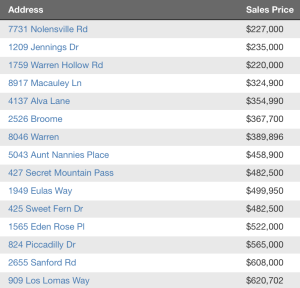 May wrapped up on a strong note and the past week, which crossed severals into June, brought fifteen more Nolensville residential sales to the closing table.
Here is your breakdown of Nolensville TN residential transactions as reported on MLS:
– Total sales closed: 15 (2 Davidson Co., 1, Rutherford Co., 12 Williamson Co.)
– Highest closing price: $620,7802 – 909 Los Lomas Way in the Catalina subdivision.
– Number of new construction homes sold: 5
– Number of existing (resale) homes sold: 10
– Avg. Days on Market for the existing (resale) homes sold: 59
---
Will Rising Home Prices Stabilize Soon…
Global real estate research firm, CoreLogic, seems to think that we're nearing the end of bullish, yearly price-increases and may soon find tempered growth the new norm.
---
Yellen Says Rate-Hikes Will Be Tied to Inflation…
Meanwhile, Janet Yellen, chair of the Board of Governors of the Federal Reserve System, says we shouldn't expect rate hikes until inflation trends show the economy can handle them.
---
Words of Wisdom…
These words are not mine, but I'm always seeking and sharing inspiration:
"Doing what you like is freedom. Liking what you do is happiness." —Frank Tyger
---
I'm a Nolensville TN resident… I'm a Nolensville TN Realtor®… and I always offer a complimentary, no commitment, no pressure Comparative Market Analysis for my neighbors. Please let me know how I may assist you in the sale or purchase of a Nolensville property.