by Flint Adam, Nolensville resident & Realtor®
Tuesday, May 31, 2016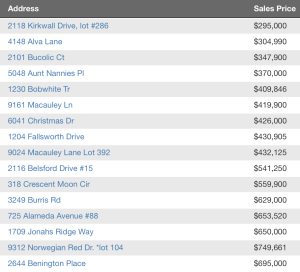 I hope you enjoyed the Memorial Day holiday! This week's blog is a day late because yours truly was enjoying some sun with the family at the Bent Creek pool.
Hard to believe the kids are out of school and summertime is kicking off – time flies, my friends! Nolensville homes also flew off the market again during the week ending May 29th.
Sixteen more single-family home sales closed bringing our May tally to over 60 sales!
Here is your breakdown of Nolensville TN residential transactions as reported on MLS:
– Total sales closed: 16 (3 Davidson Co., 13 Williamson Co.)
– Highest closing price: $749,661 – 9312 Norwegian Red Drive in the Farm at Clovercroft subdivision.
– Number of new construction homes sold: 10
– Number of existing (resale) homes sold: 6
– Avg. Days on Market for the existing (resale) homes sold: 69
---
Nashville Top-30 Fastest-Selling U.S. Cities…
The Nashville Post recently had an article stating that Nashville is the 29th fastest-selling real estate market in the country.
---
Front Yard Landscaping Tips for Wowing Buyers…
Adding a little wow-factor to your front yard can help differentiate your home from others on the market. Here are some thoughts on what you can do to spruce things up a bit.
---
Words of Wisdom…
These words are not mine, but I'm always seeking and sharing inspiration:
"Strive not to be a success, but rather to be of value." –Albert Einstein
---
I'm a Nolensville TN resident… I'm a Nolensville TN Realtor®… and I always offer a complimentary, no commitment, no pressure Comparative Market Analysis for my neighbors. Please let me know how I may assist you in the sale or purchase of a Nolensville property.