by Flint Adam, Nolensville resident & Realtor®
Monday, May 23, 2016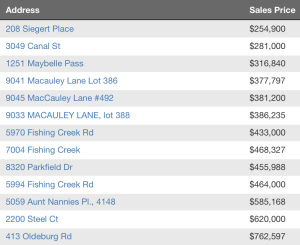 Thirteen more Nolensville home sales closed last week in what is shaping up to be another fine month of real estate sales for our town.
Here is your breakdown of Nolensville TN residential transactions as reported on MLS:
– Total sales closed: 13 (3 Davidson Co., 10 Williamson Co.)
– Highest closing price: $762,597 – 413 Oldeburg Road in the Benington neighborhood.
– Number of new construction homes sold: 7
– Number of existing (resale) homes sold: 6
– Avg. Days on Market for the existing (resale) homes sold: 101
---
Nashville May Now Be Bigger Than Memphis…
Nashville has been called an "It City" for several years now, and more evidence may now be at hand: as The Nashville Business Journal reports, recent Cenus data and growth trends suggest Nashville may now be back on top – a position Music City hasn't been in since 1900.
---
Single Women A Growing Force In Real Estate Purchasing…
I've seen recent National Association of Realtors data supporting this trend, and now a writeup by The Tennessean focuses on one of the industry's growing home-buyer demographics – the single woman.
---
Words of Wisdom…
These words are not mine, but I'm always seeking and sharing inspiration:
"It is never too late to be who you might have been." — George Eliot
---
I'm a Nolensville TN resident… I'm a Nolensville TN Realtor®… and I always offer a complimentary, no commitment, no pressure Comparative Market Analysis for my neighbors. Please let me know how I may assist you in the sale or purchase of a Nolensville property.