by Flint Adam, Nolensville resident & Realtor®
Monday, May 16, 2016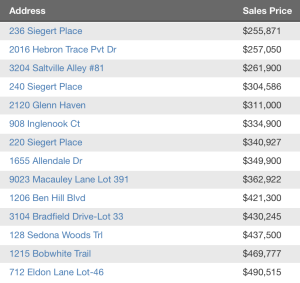 Fourteen homes closed in Nolensville, Tennessee during the week ending May 15th. Prices ranged from $253,627 to $490,515.
Here is your breakdown of Nolensville TN residential transactions as reported on MLS:
– Total sales closed: 14 (3 Davidson Co., 2 Rutherford Co., 9 Williamson Co.)
– Highest closing price: $490,515 – 712 Eldon Lane in the Summerlyn neighborhood.
– Number of new construction homes sold: 9
– Number of existing (resale) homes sold: 5
– Avg. Days on Market for the existing (resale) homes sold: 67
---
Nashville Home Prices Break Record For 2nd Straight Month…
The Tennessean recently reported that Nashville home prices have hit record territory in back to back months. Limited inventory and excessive demand in Music City has created a perfect storm.
---
Local Real Estate is Hotter Than Memphis BBQ…
It must have been a slow news day in Memphis because reporters there are even writing about Middle Tennessee's real estate boom!
---
Words of Wisdom…
These words are not mine, but I'm always seeking and sharing inspiration:
"Do your work with your whole heart, and you will succeed – there's so little competition." ~Elbert Hubbard
---
I'm a Nolensville TN resident… I'm a Nolensville TN Realtor®… and I always offer a complimentary, no commitment, no pressure Comparative Market Analysis for my neighbors. Please let me know how I may assist you in the sale or purchase of a Nolensville property.