by Flint Adam, Nolensville resident & Realtor®
Monday, April 25, 2016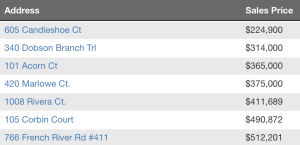 Seven Nolensville single-family homes closed out in MLS last week bringing the April 2016 total so far to forty-seven (includes Williamson, Davidson, and Rutherford county Nolensville addresses).
During the same time frame last year, only twenty-four such closings had occurred!
Sales prices last week ranged from $224,900 to $501,500.
Here is the breakdown as reported on MLS:
– Total sales closed: 7 (all in Williamson Co.)
– Highest closing price: $501,500 – 766 French River Road in Arrington Retreat
– Number of new construction homes sold: 3
– Number of existing (resale) homes sold: 4
– Avg. Days on Market for the existing (resale) homes sold: 38
---
Rising Prices Hinder First-Time Homebuyers…
I've been touching on this subject for a while, and yesterday's Tennessean article further elaborates on the point. This recent run-up in home sale prices around Greater Nashville has been awesome for sellers, but buyers are sweating through sometimes intense competition. It's even harder for those first-timers who not only have competition among peer buyers, but investors are scooping up many of the best properties in all-cash transactions.
---
Mt. Juliet Ranks Among Nation's Top Boom Towns…
I mention this A.) because it's Middle Tennessee real estate, and B.) because I've recently assisted some Nolensville folks who wound up relocating to the "City Between the Lakes".  Mt. Juliet is booming and Realtor Magazine ranks it the 16th fastest-growing city in America. Check out this article for more.
---
Words of Wisdom…
These words are not mine, but I'm always seeking and sharing inspiration:
"Our doubts are traitors, and make us lose the good we oft might win, By fearing to attempt." ~ William Shakespeare
---
I'm a Nolensville TN resident… I'm a Nolensville TN Realtor®… and I always offer a complimentary, no commitment, no pressure Comparative Market Analysis for my neighbors. Please let me know how I may assist you in the sale or purchase of a Nolensville property.