by Flint Adam, Nolensville resident & Realtor®
Monday, April 18, 2016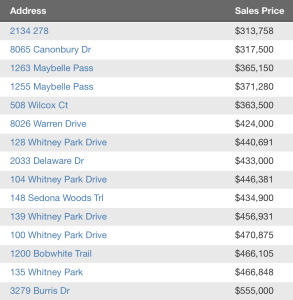 The week ending April 17th was another strong one for home sales in Nolensville, Tennessee.
Fifteen single-family homes closed for sale prices between $313,758 and $555,000.
Here is your breakdown of Nolensville TN single-family-residential transactions for the week ending 4/17/2016 as reported on MLS:
– Total sales closed: 15 (3 Davidson Co., 12 Williamson Co.)
– Highest closing price: $555,000 – 3279 Burris Drive in the Sherwood Green Estates neighborhood.
– Number of new construction homes sold: 11
– Number of existing (resale) homes sold: 4
– Avg. Days on Market for the existing (resale) homes sold: 55
---
Nashville Faces Affordability Crisis…
Here's an interesting article in Saturday's Tennessean penned by the current President of the Nashville Association of Realtors. Despite record area-home sales in March, there is a concern that affordability is a looming problem.
---
Inventory Shortage Noted in Greater Nashville…
Money Magazine has an article in its most recent issue citing the hottest real estate markets for the next five years. Notably absent from their list is Nashville – but there is a Music City reference: National Association of Realtors chief economist Lawrence Yun is quoted as saying Nashville is is an area with housing shortages.
---
Words of Wisdom…
These words are not mine, but I'm always seeking and sharing inspiration:
"I have no special talents. I am only passionately curious." ~ Albert Einstein.
---
I'm a Nolensville TN resident… I'm a Nolensville TN Realtor®… and I always offer a complimentary, no commitment, no pressure Comparative Market Analysis for my neighbors. Please let me know how I may assist you in the sale or purchase of a Nolensville property.