by Flint Adam, Nolensville resident & Realtor®
Monday, March 28, 2016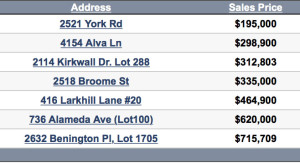 Nolensville residential home sales remained strong through the third full week of the month, but they were driven mostly by new home construction.
Here is your breakdown of Nolensville TN single-family-residential transactions for the week ending 3/27/2016 as reported on MLS:
– Total sales closed: 7 (2 Davidson Co., 5 Williamson Co.)
– Highest closing price: $715,709 – 2632 Bennington Place in the Benington neighborhood.
– Number of new construction homes sold: 5
– Number of existing (resale) homes sold: 2
– Avg. Days on Market for the existing (resale) homes sold: 45
---
Create a Backyard Oasis…
With spring underway and outdoor living back on people's minds, here are some ideas for creating your own little, backyard oasis.
---
6 Ways Landscaping Increases Home Value…
On that same note, here's another little diddy on how landscaping can really create some nice curb appeal for your home.
---
Words of Wisdom…
These words are not mine, but I'm always seeking and sharing inspiration:
"If we did all the things we are capable of, we would literally astound ourselves." ~Thomas A. Edison

---
I'm a Nolensville TN resident… I'm a Nolensville TN Realtor®… and I always offer a complimentary, no commitment, no pressure Comparative Market Analysis for my neighbors. Please let me know how I may assist you in the sale or purchase of a Nolensville property.