by Flint Adam, Nolensville resident & Realtor®
Monday, March 21, 2016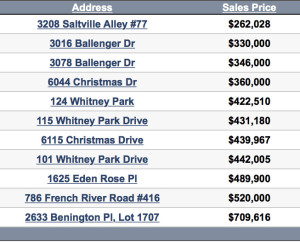 Last week was a big one for Nolensville real estate as 11 residential sales closed.
Continuing a 2016 trend, over 70% of those sales last week were new construction… a number that closely mirrors the overall 2016 new construction/existing homes split.
It's an interesting stat to keep an eye on – and could possibly have greater implications. (See the next story down for more).
Here is your breakdown of Nolensville TN single-family-residential transactions for the week ending 3/20/2016 as reported on MLS:
– Total sales closed: 9 (2 Davidson Co., 7 Williamson Co.)
– Highest closing price: $709,616 – 2633 Bennington Place in the Benington neighborhood.
– Number of new construction homes sold: 8
– Number of existing (resale) homes sold: 3
– Avg. Days on Market for the existing (resale) homes sold: 73
---
NAR Says Existing Home Sales Tumbled in February…
This story just came out today and is an important one to keep an eye on. Nationally, existing home sales dropped 7.1% in February. The northeast was hardest hit, where sales fell a whopping 17.1% – massive!
The south fared the best across regions, dropping only 1.8% in February… but there are trouble signs all around us, headlined by a lack of affordable inventory. Read more here.
---
Williamson County Job-Growth Shines…
While existing home sales have taken a tumble, job-growth in Williamson County remains bullish. In fact, the county had the highest percentage of job growth compared to other large counties in the nation in 2015, according to the Bureau of Labor Statistics and the U.S. Department of Labor. Read more here.
---
Words of Wisdom…
These words are not mine, but I'm always seeking and sharing inspiration:
"Be brave enough to live life creatively. The creative place where no one else has ever been." ~Alan Alda

---
I'm a Nolensville TN resident… I'm a Nolensville TN Realtor®… and I always offer a complimentary, no commitment, no pressure Comparative Market Analysis for my neighbors. Please let me know how I may assist you in the sale or purchase of a Nolensville property.