by Flint Adam, Nolensville resident & Realtor®
Monday, March 14, 2016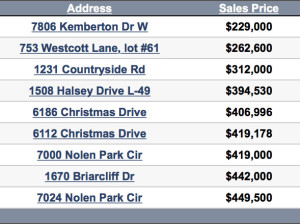 We're off to a solid start for Nolensville residential home sales halfway through the month of March.
Another 9 single family homes were closed out in MLS last week ranging from the lower $200s to about $450K.
More than half the sales were new construction, continuing the familiar theme. In all of Nolensville (Davidson, Rutherford, and Williamson County) so far this year, only 27 out of 85 (or roughly 32%) of all sales have been existing homes.
I expect this figure to change somewhat as we head into the late spring/summertime months when many existing homeowners are more prone to come on the market. Even so, we could be looking at near-60% new construction sales by year's end.
By my count, we've got something like 53 existing, single-family homes available in Nolensville today. That's excluding unfinished new construction, 55+ living, and properties priced over $1,000,000. I'm keeping this within the more 'normal' parameters of home buying in the area. Not a ton of inventory… especially in the under $350K-category – there are 7 available.
Here is your breakdown of Nolensville TN single-family-residential transactions for the week ending 3/13/2016 as reported on MLS:
– Total sales closed: 9 (2 Davidson Co., 7 Williamson Co.)
– Highest closing price: $449,500 – 7024 Nolen Park Circle in the Nolen Park neighborhood.
– Number of new construction homes sold: 5
– Number of existing (resale) homes sold: 4
– Avg. Days on Market for the existing (resale) homes sold: 44
---
Nolensville Hires Retail Consulting Firm…
In case you missed it, the town of Nolensville recently hired a retail consulting firm to help recruit new businesses to move into the area. Commercial tax dollars are important for any growing community, and it's the natural next step for Nolensville to put emphasis on. The population is large enough now that it's viable for a growing number of small businesses to do well here. Read more here.
---
Another Corporate Relocation to Williamson County…
Fast-food chain Hardee's/Carl's Jr. is relocating its corporate headquarters to the Franklin/Cool Springs area from St. Louis.  It's a safe-bet we'll, in turn, see some of those folks eye Nolensville for their new homes in the next year or so. Read more in the St. Louis Business Journal.
---
Get Your No-Obligation Home-Value Consultation…
Many of you are on the fence about possibly selling your home this year. It's a great time to be a seller and maximize the equity in your property. I'm happy to visit with you and put together a no-obligation, home-value consultation for you if you're interested in learning more about what's happening in the market and what your home could possibly sell for. You can reach me at 615-500-6393.
---
Words of Wisdom…
These words are not mine, but I'm always seeking and sharing inspiration:
"Nurture your minds with great thoughts. To believe in the heroic makes heroes." ~Benjamin Disraeli
---
I'm a Nolensville TN resident… I'm a Nolensville TN Realtor®… and I always offer a complimentary, no commitment, no pressure Comparative Market Analysis for my neighbors. Please let me know how I may assist you in the sale or purchase of a Nolensville property.