by Flint Adam, Nolensville resident & Realtor®
Friday, July 8, 2016

My wife gets on my case, often saying that I work too much. I guess in this instance I have to agree, as I'm writing this article from the 17th floor of a beachfront condo in Pensacola, Florida.
I'm taking one for the team here, as I neither tan nor do well in the heat; but, everyone else in the Adam household does just fine here, so I'm sucking it up… by letting them play on the beach while I stay in the air conditioning and nerd out over Nolensville real estate.
So, there is less than one month left until classes resume in Williamson County Schools. The brand new Mill Creek Elementary, Mill Creek Middle, and Nolensville High schools also open their doors for the first time!
The approaching school bell is usually the harbinger for a flurry of activity in the Nolensville real estate market. It will be interesting to see if this month plays out at the same torrid pace we saw during July 2015. Heading into this month, there were 82 pending homes in Nolensville (Williamson Co.), so it's reasonable to expect a wild July.
June 2016, meanwhile, continued the stretch of strong sales we've enjoyed throughout this calendar year – as 47 transactions reached the closing table. You can view them by clicking on the graphic to the left.
That total is off slightly from May's incredible 55 closings, but strong nonetheless. Halfway through 2016, 251 Nolensville homes have closed compared to 193 through the same time-period during a record-setting 2015. That's a remarkable 30% increase in home sales.
Meanwhile, the median price point in town has increased from $397,365 in June 2015 to $459,900 in June 2016, an almost 16% rise.
106 of the homes sold so far this year are re-sales… or roughly 42%. This figure is more or less where the market has sat for a while, and speaks volumes about the pull of new construction in Nolensville. I've witnessed that, myself, as most of the buyers I've worked with this year are building new.
You'll have to forgive me this month as I'm unable to include my usual graphs of the past 3 years of activity in town – those Excel spreadsheets are on my home computer and I'm working off the 'ol Macbook today.
Anywho, let's go ahead and break down June 2016's single-family residential sales numbers…
This data comes from my own research along with data by the Williamson County Association of Realtors. Keep in mind these figures do not include For Sale By Owner or Nolensville properties outside of Williamson County:
Single-Family Homes Closed: 

47… down from from 55 in May

Median Sold Price: 

$459,900… up from $458,900 in May

Avg. Days on Market: 

61… down from 67 in May

Inventory: 

162

Pending:

82

Number of new construction sales: 

25… down from 26 in May

Existing home sales: 

22… down from 29 in May

Median Sales Price/Square Foot: 

$149.72/sf

Average Year Built: 

2012
Interested in up to date Nolensville TN real estate sales figures? I'll email you a daily update on Nolensville real estate complete with new listings, what has gone pending, and daily sales. Just shoot me an email with your name and preferred email address to flint@homesaroundnashville.com
---
Williamson County Home Sales Take Double-Digit Dive…
As good as Nolensville's sales numbers were, the county as a whole took a noticeable step back in June as single-family residential and condominium closings dropped to 594 from 667 a year earlier… an 11% year-over-year drop.
The median sales price for a single-family home, though, jumped 12.7% across Williamson County – leaping from $407,000 in June 2015 to $459,000 in June 2016.
Inventory remains tight as only 1,821 total residential units were available in the county at the end of June – indicating a less than 3-month supply. A 6-month supply is considered a normal/healthy real estate market.
Year-to-date closings in Williamson County now stand at 2,653… which is a 4% increase over the 2,561 closings for the same period last year.
WCAR released as statement regarding June's lagging numbers:
"While there still is a pent-up demand for homes and attractive interest rates, the continued lack of inventory combined with rising prices, may result in a slowing of sales as we move through the summer months", according to David Logan, President of the Williamson County Association of REALTORS®.
"Much of the current unsold inventory is in a price range of over $600,000." added Logan, "while the current pending and closed properties are at the $460,000 price range.
Total available residential inventory stood at 1,742 units at the end of June 2016. "While the numbers show a 3-month supply, approximately one-third of those are already under contract, thereby leaving only a 2-month supply for potential buyers to actually consider for purchase," said Logan. "With all-time high prices and a record low inventory, in Williamson County, this creates a 'perfect storm' for sellers. Anyone considering selling their home should take advantage of these unusual market conditions."
---
Mortgage Rates – Still Awesome Despite Strong Jobs Report…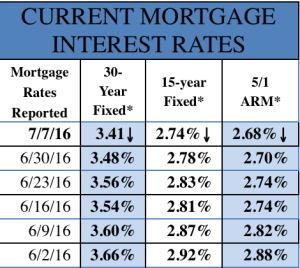 Despite today's strong employment headlines, mortgage rates are holding steady and are hovering near their lowest levels of the year.
What a great time to borrow money, and if your budget allows, take advantage of those 15-year fixed rates. You'll save a ton on interest over the life of the loan and build up home equity far faster!
---
I Have Earned A New Certification…
Continuing education is so important to my business-model. Over the past few years I have invested over 140 classroom hours to my real estate book of knowledge. This has translated into designations and certifications that are highly respected within my industry like: Accredited Buyer Representative, Certified Residential Specialist, Graduate Realtor Institute, and ePRO.
This week, I completed the coursework to become a certified Pricing Strategy Advisor or PSA. This is a new certification that focuses on enhancing skills in pricing properties, creating CMAs (Comparative Market Analysis), working with appraisers, and guiding clients through the anxieties and misperceptions they often have about home values.
In today's marketplace, pricing homes evolves at breakneck speeds and I recognized a need to further refine my knowledge in this area. My certification delivers additional value to my clients as they can feel confident in my pricing analysis and abilities to work with appraisers.
---
I'm a Nolensville TN resident… I'm a Nolensville TN Realtor®… and I always offer a complimentary, no commitment, no pressure Comparative Market Analysis for my neighbors. Please let me know how I may assist you in the sale or purchase of a Nolensville property.
Note: The above information cites Williamson County sales data for Nolensville, Tennessee. There are, of course, a handful of Nolensville properties that also exist in Davidson and Rutherford counties, but for the purpose of this article I am focusing on Williamson County since a majority of Nolensville addresses fall within this geographic area.