by Flint Adam, Nolensville resident & Realtor®
Monday, May 9, 2016

Let's just put this out there: you remember 2015, right? It was a record year for single-family home sales in Nolensville (Williamson County). Well, through the first four months of 2016, we have 48% MORE sales than through the same period last year.
April 2016 is a big reason behind that number – it was a chart-topping month for home sales! Fifty-three single-family homes closed in Nolensville (Williamson County) – that's 230% more than April 2015's tally.
Wow. Can I say that again? Wow.
There were so many home sold I had to shrink the font on my computer so I could get a screen shot of all of them! (That garbled list to the left can actually be read through if you click on it).
It's the highest single-month of sales I've been able to dig up for Nolensville. In fact, we've hit as many as 50 only one other time – in September 2015.
(Reminder: my monthly recaps only review Nolensville single-family homes sales within the Williamson County borders. Excluded are Davidson and Rutherford County sales, town home, condo, and For Sale By Owner).
New construction has really been the market-mover in Nolensville this year – 30 of April's 53 closings (57%) were brand new – but resales finally made some noise last month as the school year winds down and families prepare for the summertime shuffle.
Until April, new construction accounted for almost 7 out of every 10 sales in Nolensville this year, but that number has now drifted closer to 6 out of every 10.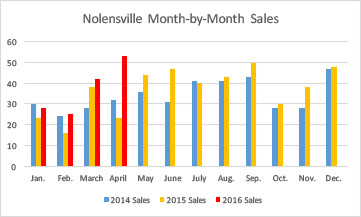 So let's go ahead and break down the numbers…
This data comes my own research along with data by the Williamson County Association of Realtors. Keep in mind these figures do not include For Sale By Owner or Nolensville properties outside of Williamson County:
Single-Family Homes Closed: 

53… up from 42 in March

Median Sold Price: 

$424,000… down from $428,690 in March

Avg. Days on Market: 

42… down from 46 in March

Inventory: 

165

Pending: 

61

Number of new construction sales: 

30… up from 26 in March

Existing home sales: 

23… up from 16 in March

Median Sales Price/Square Foot: 

$147.58/sf

Average Year Built: 

2009

Interested in up to date Nolensville TN real estate sales figures? I'll email you a daily update on Nolensville real estate complete with new listings, what has gone pending, and daily sales. Just shoot me an email with your name and preferred email address to flint@homesaroundnashville.com
---
Williamson County Home Sales Set Record…
This story isn't changing any time soon: Williamson County home sales are a force to be reckoned with.
According to the Williamson County Association of Realtors (WCAR), residential homes sales increased significantly in April 2016 to set a home sales volume record for the month of April. The total number of closed home sales for the month rose 19 percent to 474 compared to 398 in April 2015.
Year-to-date closings in Williamson County are 1,527, representing a 13 percent increase over the 1,353 closings for the same period last year.
WCAR expects the housing market in Williamson County to continue gaining momentum as we move deeper into the residential selling season.
The median sales price for a single-family home increased slightly by 1.9 percent from the same period last year. In April 2016, the median sales price for a single-family was $433,000, compared to $425,000 in 2015.
Total available residential inventory for a single-family home stood at 1,684 units at the end of April indicating inventory in Williamson County remains close to a four-month supply. A six-month supply of inventory is considered to be a balanced market.
---
Recapping Last Week's Nolensville Home Sales…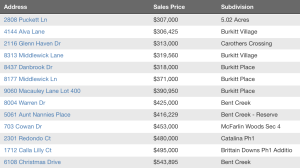 As my readers know, Monday is my weekly real estate recap for Nolensville. In this report, I tally activity from the prior week and include sales for Davidson and Rutherford County Nolensville addresses.
It was another solid week with 13 home sales closed – May is already off to a good start!
Here is your breakdown of Nolensville TN single-family-residential transactions for May 2nd through the 8th as reported on MLS:
– Total sales closed: 13 (6 Davidson Co., 7 Williamson Co.)
– Highest closing price: $543,895 – 6108 Christmas Drive in the Bent Creek neighborhood.
– Number of new construction homes sold: 5
– Number of existing (resale) homes sold: 8
– Avg. Days on Market for the existing (resale) homes sold: 74
---
Mortgage Rates Remain Low…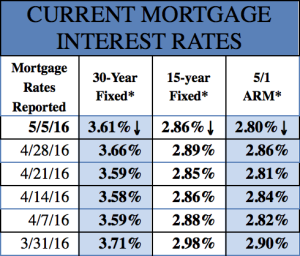 After two weeks of climbing, mortgage rates fell last week. Rates are now near their lowest levels of the year.
What a great time to borrow money, and if your budget allows, take advantage of those 15-year fixed rates. You'll save a ton on interest over the life of the loan and build up home equity far faster!
---
My Nolensville Business…
I focus my real estate practice right here in Nolensville, and I'm pleased to say that my business partner, Bill Berkley, and I have already closed out seven Nolensville real estate transactions so far in 2016 – one of them a 59 acre tract of raw land on Sam Donald Road that will become a new subdivision.
I have one Nolensville listing not currently under contract. If you know someone interested in moving here, please share with them this great home located at 616 Nevins Place.
https://www.youtube.com/watch?v=PzkyzBEoib4
---
I'm a Nolensville TN resident… I'm a Nolensville TN Realtor®… and I always offer a complimentary, no commitment, no pressure Comparative Market Analysis for my neighbors. Please let me know how I may assist you in the sale or purchase of a Nolensville property.
Note: The above information cites Williamson County sales data for Nolensville, Tennessee. There are, of course, a handful of Nolensville properties that also exist in Davidson and Rutherford counties, but for the purpose of this article I am focusing on Williamson County since a majority of Nolensville addresses fall within this geographic area.