by Flint Adam, Nolensville resident & Realtor®
2020. Where do I begin?
In what was the wildest, saddest, confusing, frustrating, and surprising year in recent memory, Nolensville's real estate market was a strange beast. Despite the many, logical reasons why the market would slow, stall, or even collapse, it instead roared and broke records along the way.
I remember thinking in January 2020 that inventory was strangely low. It wasn't absurd, by any measure, but I saw the numbers and could feel it in the pulse of the market. My expectation was that the market would balance a little by spring. I was wrong.
COVID reached Middle Tennessee by late February/early March – first appearing in Williamson County, if memory serves correct. Not long after, lockdowns began and most everything ground to a halt. Real estate was considered an essential service, so REALTORS kept on working. I had low expectations and new listings heading to market. I advised sellers that it could be a while before their homes sold. The market proved otherwise.
Spring listings moved efficiently despite virtual showings and the hurdles presented to in-person walkthroughs. Sales to List Price ratios (the price homes sold for compared to their list prices) were quite strong and days on market were low.
As we moved in to summer, housing inventory slightly improved and covid-restrictions loosened, but the marketplace was still nowhere near normal. Rounds of quantitative easing and a promise by the Fed to keep interest rates low kept the housing market frothy, and an exodus of people from high-tax states like California, Illinois, and New York sent many to Middle Tennessee.
Fall began fairly typical. The summer rush slowed down and some homes were sitting on the market a little longer, if not price-reducing. Then December came and *poof* – what remained of inventory was quickly snatched up en masse and we were left with one of the worst inventory months this nation has ever seen.
By some accounting, national home inventory was down around 40% year-over-year in December. Locally, it looked even worse. According to the Williamson County Association of REALTORS, December's available home inventory across the county decreased from 1,276 available homes in December 2019 to 456 available homes in 2020… a more than 64% decline.
Nolensville looked even worse, decreasing from 168 available homes in December 2019 to only 31 available homes in December 2020… an almost 82% decline.
As of this writing on January 11th, there are only 29 homes available for sale on MLS in Nolensville (Williamson County). Only 10 of them are resales available for a 30-day close. The rest are new construction homes with undetermined available dates.
That's a high-level view of how it played out, folks. Now, let's recap the numbers.
December Home Sales Among Best Ever…
Despite low-inventory, December 2020 went down as the third-best ever for Nolensville home sales. 65 homes closed, falling just shy of 2019's record 68 home sales… and 2018's 66 home sales.
December 2020 sales stats vs. December 2019:
65 Nolensville homes sold… down from 68 (

-4.41%

)
The average sales price was $600,721… down from $618,754 (

-2.91%

)
The average days on market was 25… down from 33 (

-8 days

)
The list-price-to-sales-price ratio was 99.74%… down from 100.77% (

-1.02%

)
35 of the 65 homes (54%) sold were new construction
The lowest price sale was 1898 Burke Hollow Rd. for $322,500.
The highest price sale was 247 Beglian Road in Benington for $1,204,373
The rest of the county numbers look as follows: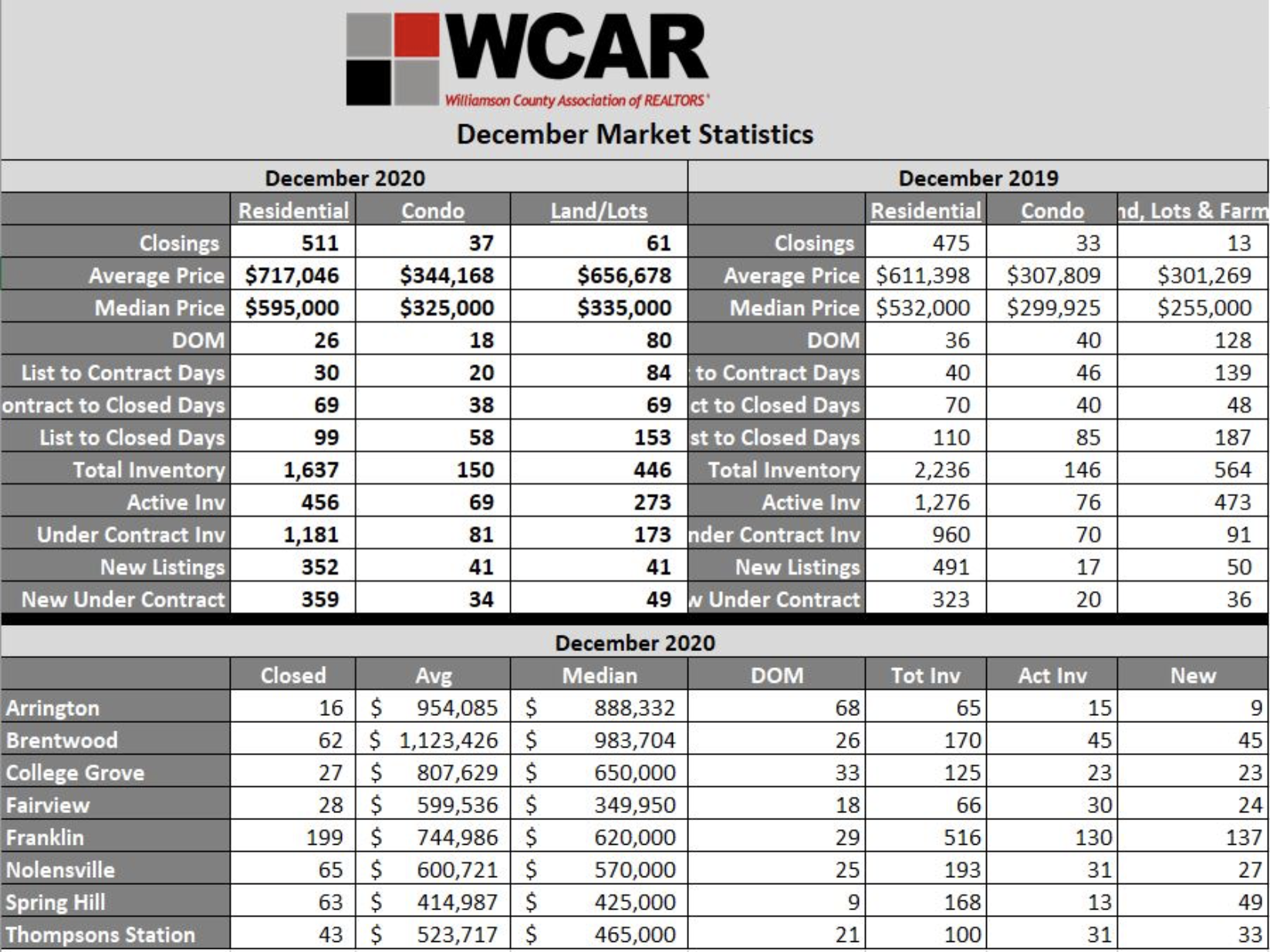 Nolensville's Best Year of Real Estate Ever…
Despite a worldwide pandemic and limited inventory, Nolensville still set a new record for the number of home sales in a calendar year.
691 homes closed in 2020, an almost 3% increase from 674 sales the year before.
363 of the homes sold (53%) were new construction.
The average sales price was $586,974…up from $565,064 in 2019
The average price per square foot was $185/sf… up from $176/sf in 2019
The average sales price/list price ratio was 99.85%… up from 99.77% in 2019
The average days on market was 27… down from 34 in 2019
The average Nolensville home sold in 2020 was 3,202sf with four bedrooms and 3.5 bathrooms and built in 2014. In 2019, the average Nolensville home was 3,225sf with four bedrooms and 3.5 bathrooms and built in 2014.
Twelve homes sold in Nolensville for more than $1,000,000. There were only sixteen Million-Dollar sales in Nolensville's history prior to 2020.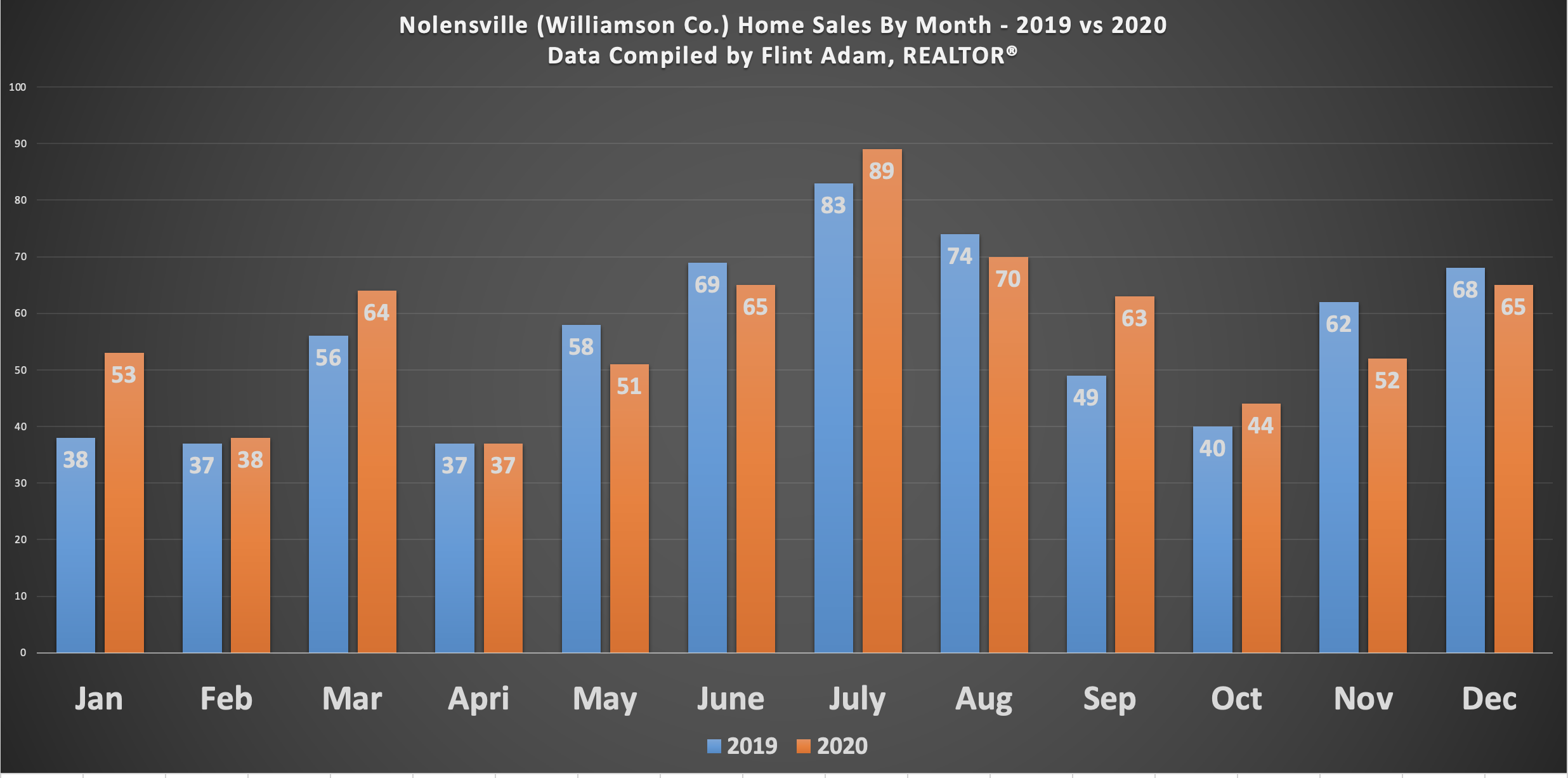 January began with a boom and first quarter sales were on a real tear – well beyond 2019's pace – until Covid took hold and slowed things down.
Year-over-year sales underperformed in the second quarter and didn't really rebound until summer, with July and September looking especially strong.
While fourth quarter numbers lagged 2019's pace, the sum total was enough to mark 2020 as the most successful year of real estate sales in Nolensville's history.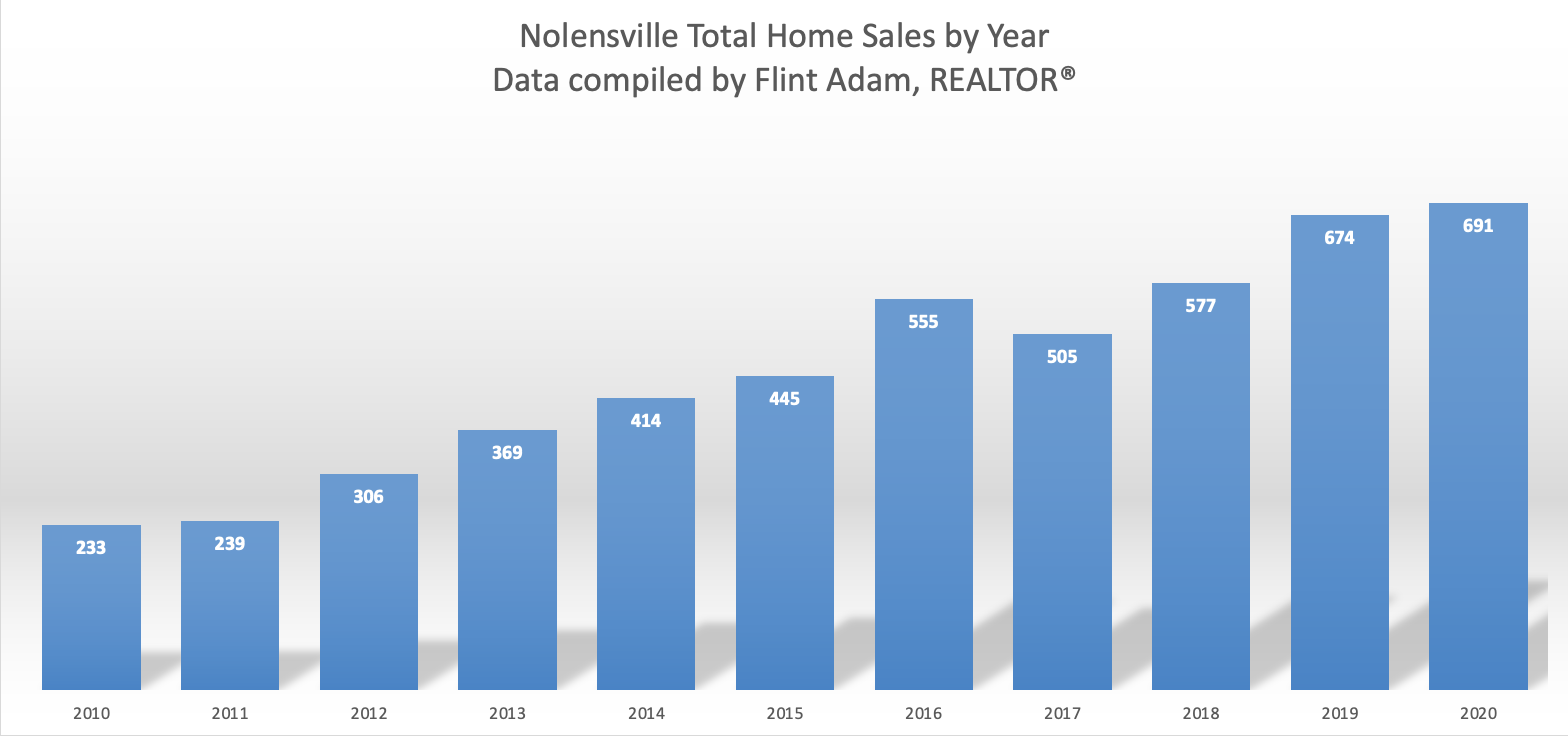 The Top-Selling New Construction Neighborhood of 2020…
This year's winner for hottest new construction neighborhood is Scales Farmstead. 69 new construction homes sold here in 2020.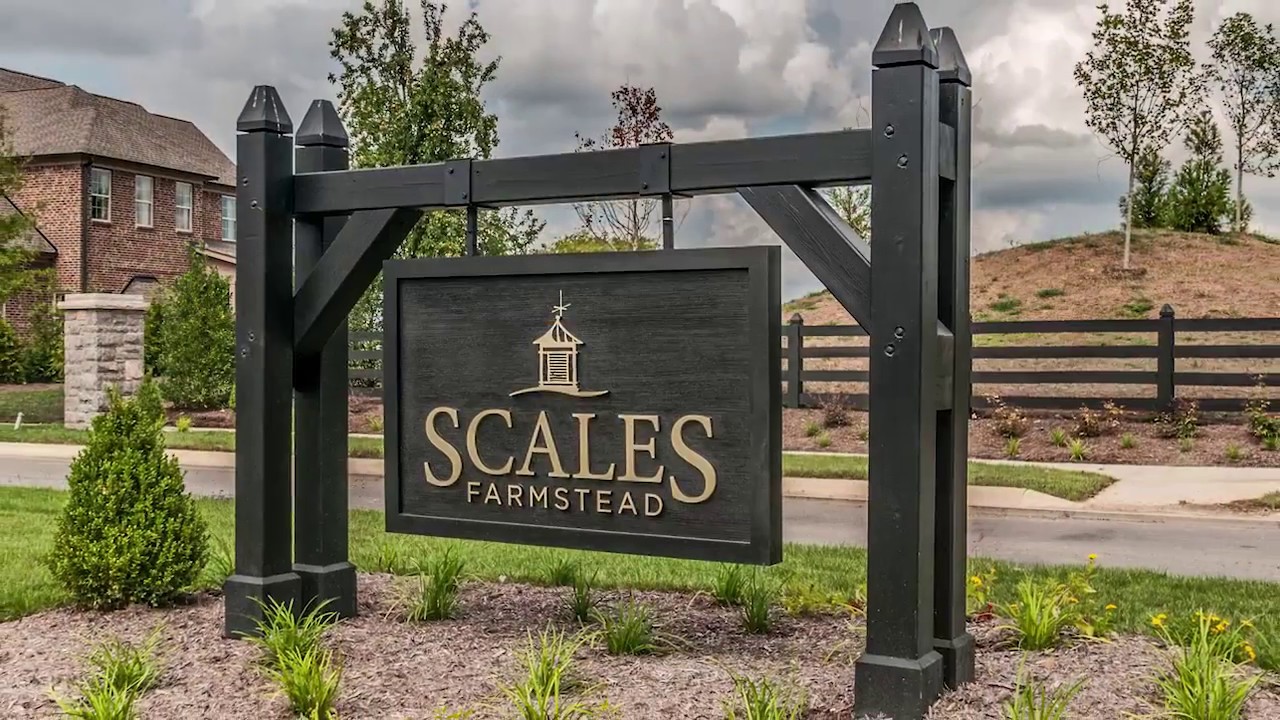 Patterson and Drees home builders cleaned up, with Hidden Valley Homes and Turnberry making some noise in here as well. KDEN and Stern Construction also built a few.
The neighborhood also saw the completion of their new community pool, and I have to say – it turned out looking pretty sweet!
The runner-up was the Nolen Mill neighborhood. Offering some of the most affordable product in town, Goodall Homes had a recipe for success as they wound up closing 42 home sales.
New Neighborhoods in 2021…
A couple new Nolensville neighborhoods will roll out the red carpet in 2021. The new Beazer Homes community, Lochridge, recently began pre-sales for their phase 1 product. The neighborhood is located off Rocky Fork Road and first phase homes will begin in the $500s.
The next big development to open will be Annecy, formerly referred to as The Henry Property. It is 175 acres in between Rocky Fork and York Roads and will feature several builders including Celebration, Drees, Turnberry and custom lots.
Pre-sales will begin soon.
Where Does the Market Go From Here?…
Low inventory, low interest rates, and high demand should keep the market churning. Should. But there's a lot of unknown.
Will the COVID-19 vaccine prove successful? Administration has only just begun, and the speed with which it can be distributed – and its overall effectiveness – remain to be seen. If the vaccine isn't the save-all everyone is hoping it is, it could negatively impact the markets (stock, job, housing).
Will mortgage rates rise? The Federal Reserve has previously promised to keep rates at all-time lows, but a new administration takes office this month and with that comes the potential for lots of change. Even if Fed rates remain the same, there are other factors that may not, and the cost of borrowing could rise. With home prices at all time highs in many places, a sudden increase in interest rates would prevent many households from being able to make a move.
Will home sellers come to market? Geez, I sure hope so, but with uncertainty in some job markets… and their own need to find replacement homes creating hangups, it's not happening fast enough. The sellers who do come to market, though, are primed to do well. Price and market your home effectively, and the market will make you a winner.
The good news is several factors remain in Greater Nashville's favor. We are a low-tax state with mild winters, great quality of life, easy access and plenty of entertainment. Our local job market remains strong and Tennessee is on the map as a go-to destination for families fleeing states with obscene taxes and housing prices.
I don't see that funnel turning off, even if there's a shift in national policy. We live in one of the greatest towns… in one of the greatest counties… in one of the best states in America. We'll do just fine.
(Note: all data cited above is for Nolensville properties within Williamson County. Excluded are the few Nolensville homes sold in Davidson and Rutherford counties).
---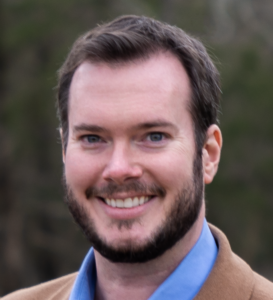 Flint Adam is a 10+ year Nolensville resident and lives with his wife and children in Bent Creek. He focuses his real estate practice here in town, having served almost 150 buyers and sellers in closed Nolensville real estate transactions. Flint enjoys blogging about real estate, traveling the world, photography, and bourbon-hunting. He is passionate about serving Nolensville and keeping it one of America's greatest small towns.