by Flint Adam, Nolensville resident & REALTOR®
*Note: The information below cites Williamson County sales data for Nolensville, Tennessee. There is, of course, a small percentage of Nolensville homes that exist in Davidson and Rutherford counties, but for continuity in my blogging, I reference only Williamson County statistics. Follow my Facebook page for Nolensville real estate data related to Davidson and Rutherford County addresses. 
Following year-over-year gains in August and September, the number of Nolensville homes sold last month dropped to an October low unseen since 2012.
Just 27 home sales were recorded last month, a 36% drop from October 2022, when 42 homes sold.
The highest mortgage rates seen since 2000 are largely at fault here. According to Mortgage News Daily, the average, fixed, 30-year mortgage has sat above the 7% mark since August 27th. Last month, that same rate hit 8.03% on October 19th before relaxing to the mid-7s in the past week.
In short, it's been very expensive to borrow, and as rates reached the upper 7s, many prospective buyers took to the sidelines.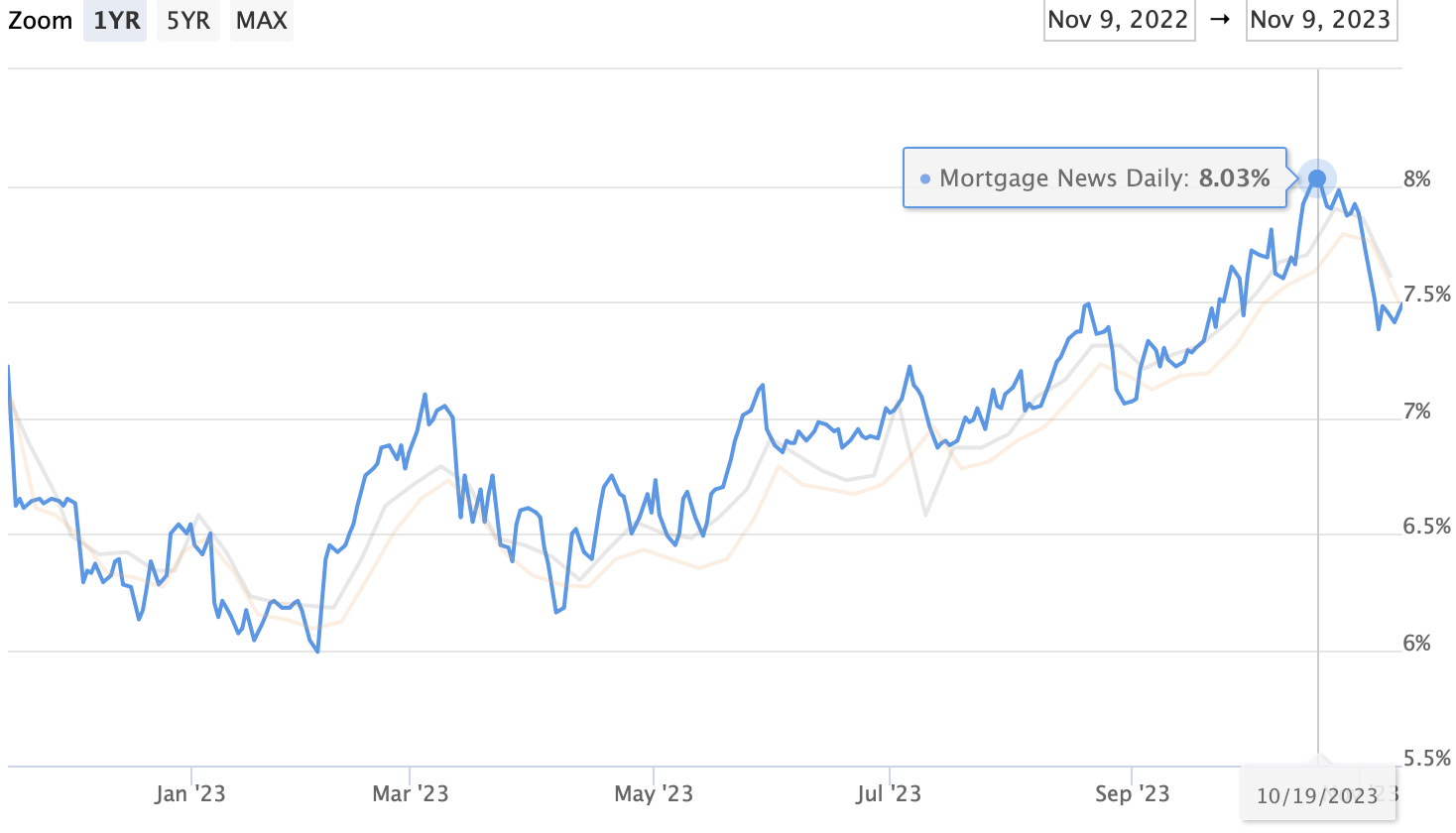 Housing Inventory Remains Low…
Back in June, Refin put together a report showing that nine out of ten American households had a mortgage rate under 6%. In fact, six out of ten households had a mortgage below 4%!
Because of these locked-in, historically low rates, many homeowners are reluctant to move. Others are buying new properties but keeping their old homes (and mortgages), and just renting them out rather than walk away from those cheap rates.
These are contributing factors in an ongoing issue of there not being enough homes for sale. Here is what housing inventory has looked like in Nolensville during the past five Septembers.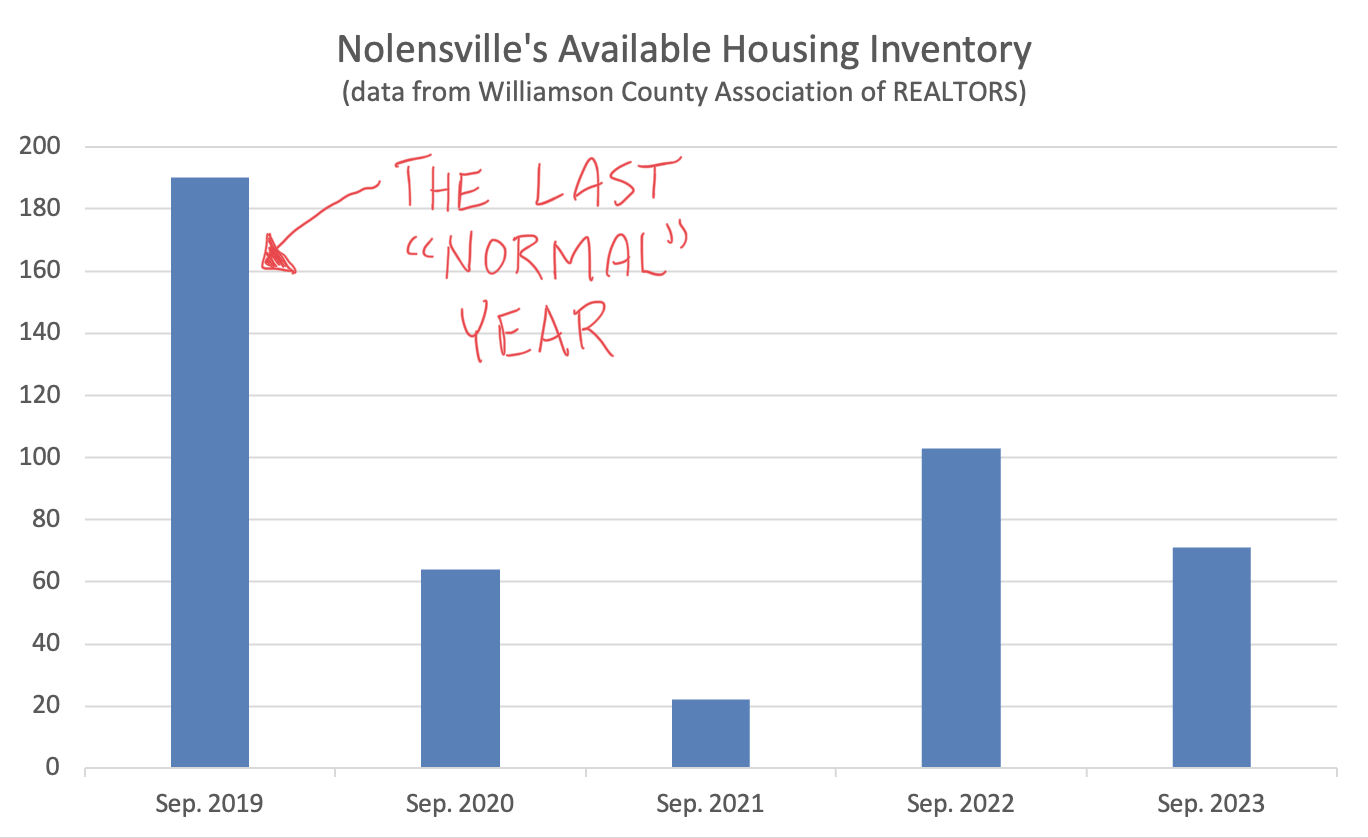 It's this overall lack of housing inventory that's helping prop up home prices in Nolensville… and around the country.
Little Housing Supply, But Even Less Affordability…
The median selling price for the 27 homes sold in Nolensville last month was $870,000. That's better than it was during the same month last year ($893,453), but still a big number… made even bigger with today's interest rates.
If you were a buyer securing a mortgage on Monday, October 2nd, you might have gotten a rate at 7.61%. Now, let's assume you bought a Nolensville house at the median price of $870,000 and put down 20%. Here's how the principal + interest payment breaks down, according to the mortgage calculator on Bankrate.com: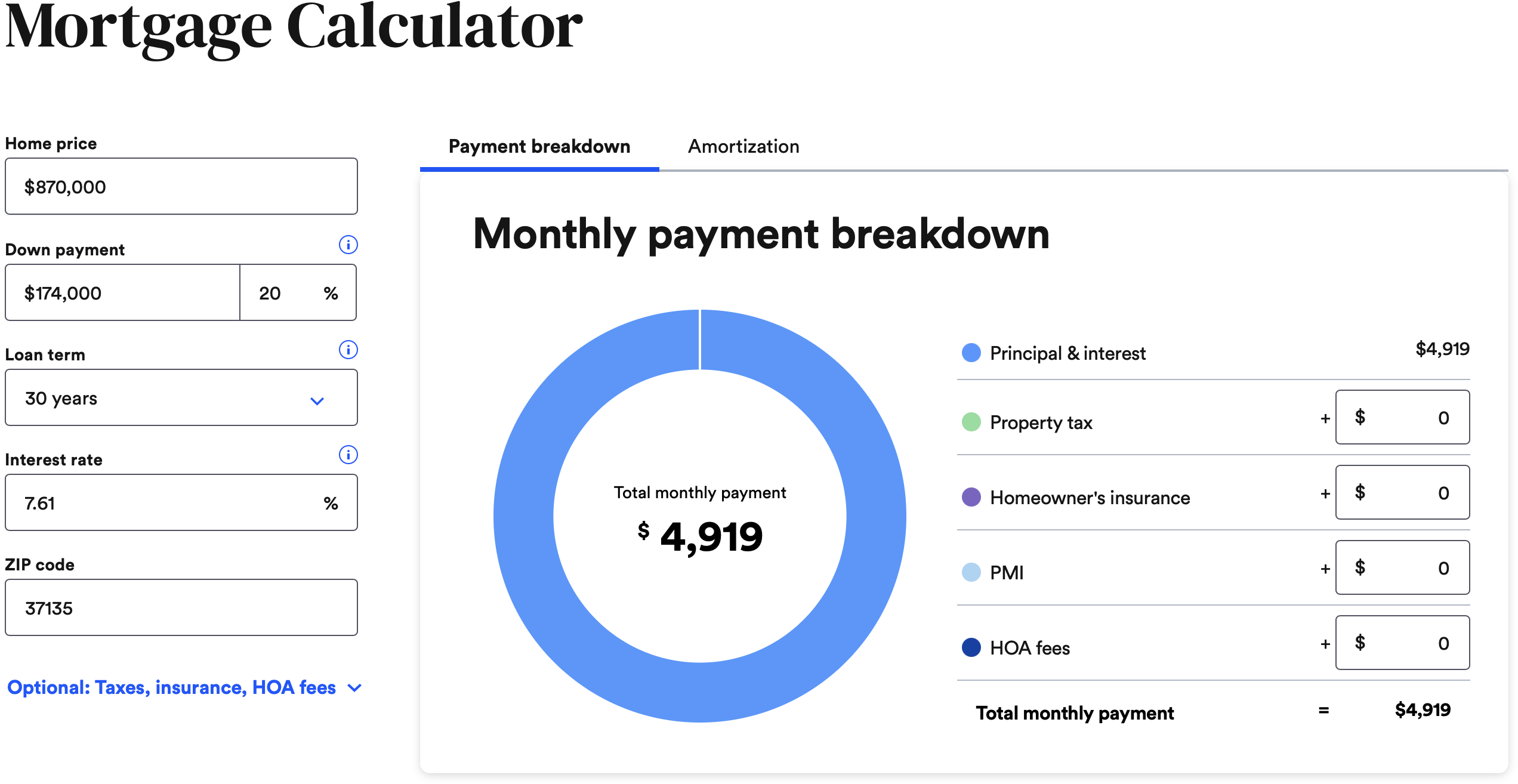 That's almost $5,000 a month… and when you add in HOA fees, property taxes and homeowner's insurance, the payment probably hits close to $5,500/month. It's these kinds of payments that have led some researchers to call today "the least affordable housing market since 1984."
Of course, mortgage interest rates don't matter if you're a cash-buyer, and according to MLS records for October, at least eleven of the twenty-seven (41%) Nolensville homes sold went to a buyer paying with greenbacks… or some vehicle other than traditional bank loans.
Price-Reductions Are Common…
Locally, we're seeing existing homes sit on the market longer and price-reduce more. As of this writing, there are 44 existing homes actively for sale in Nolensville, and 28 of them have made price-adjustments. Many of them, multiple times. Here is one example:

The above illustration shows a pretty significant change in pricing over a three month period – an 8.58% price-reduction. I decided to comb through the price adjustments for all 28 properties that changed their price at some point this year. Some of them also withdrew from MLS and re-listed with new MLS numbers and/or listing agents, so it took some work to scrub all of them. Here is what I found:
The original, average list price for all 28 properties = $1,075,356
The current (as of 11/9/2023) list price average for all 28 properties = $980,487
The average price reduction percentage for this group of homes = 8.82%
The average days on market for this group of homes (including DOM from prior MLS numbers) = 97
Averages, however, can be skewed by outlier properties. That is when we evaluate median figures, which tends to work better in real estate. Using median figures:
The original, median list price for all 28 properties = $924,950
The current (as of 11/8/2023) list price median for all 28 properties = $899,900
The median price reduction percentage for this group of homes = 2.71%
The median days on market for this group of homes (including DOM from prior MLS numbers) = 79
Below is the spreadsheet I created to organize this data.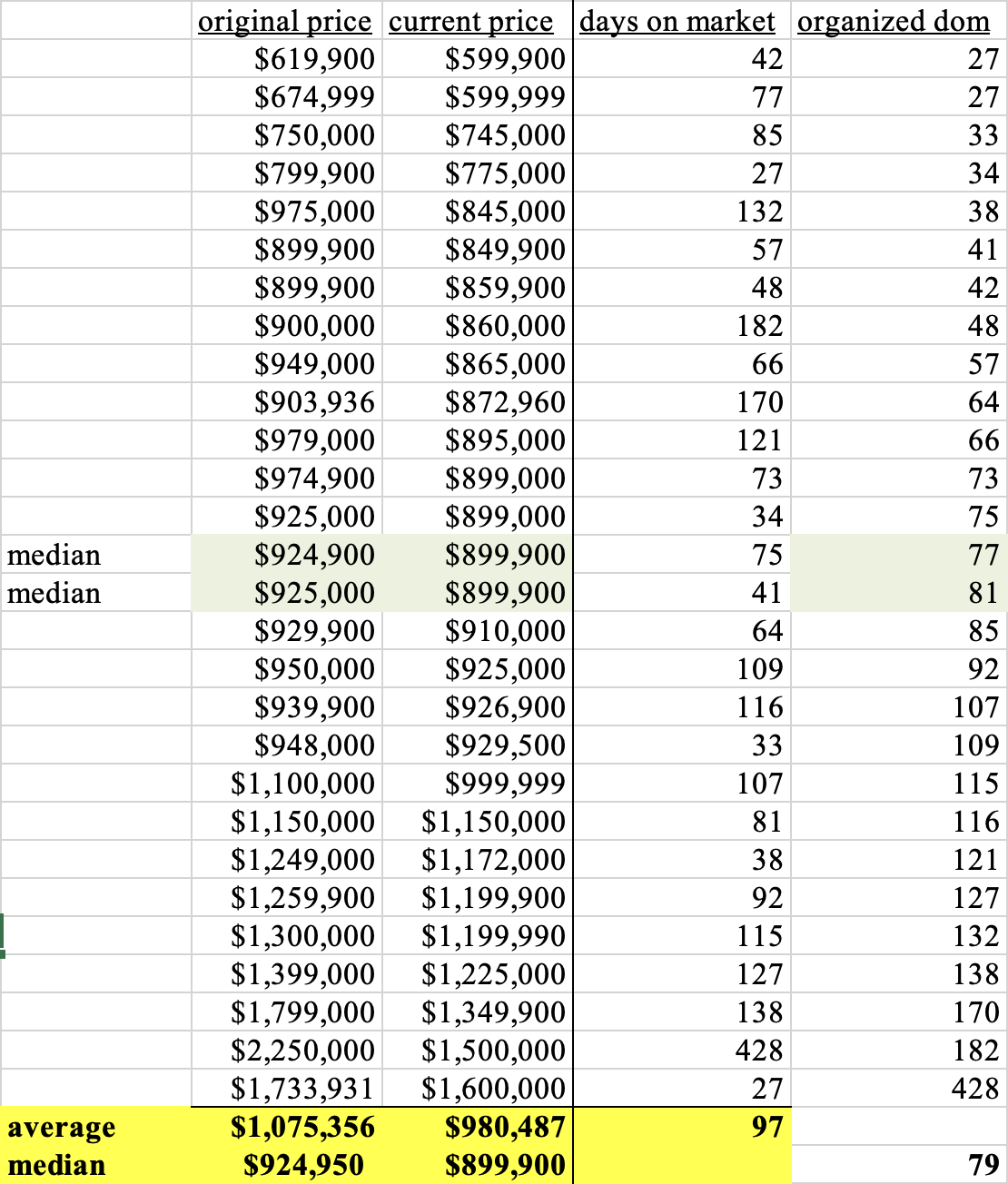 Any way you slice it, the majority of existing homes in Nolensville right now have sat on the market for two to three months and have price-reduced three to nine percent.
It's not just here, though. October ended with the highest-ever number of home sellers across America dropping their asking prices.
Builder Confidence is Waning…
Every month, the National Association of Builders releases their market index detailing sales and foot traffic. For October, the NAHB's latest report showed a fourth-straight month of seasonally-adjusted declines in sales and foot traffic here in the south.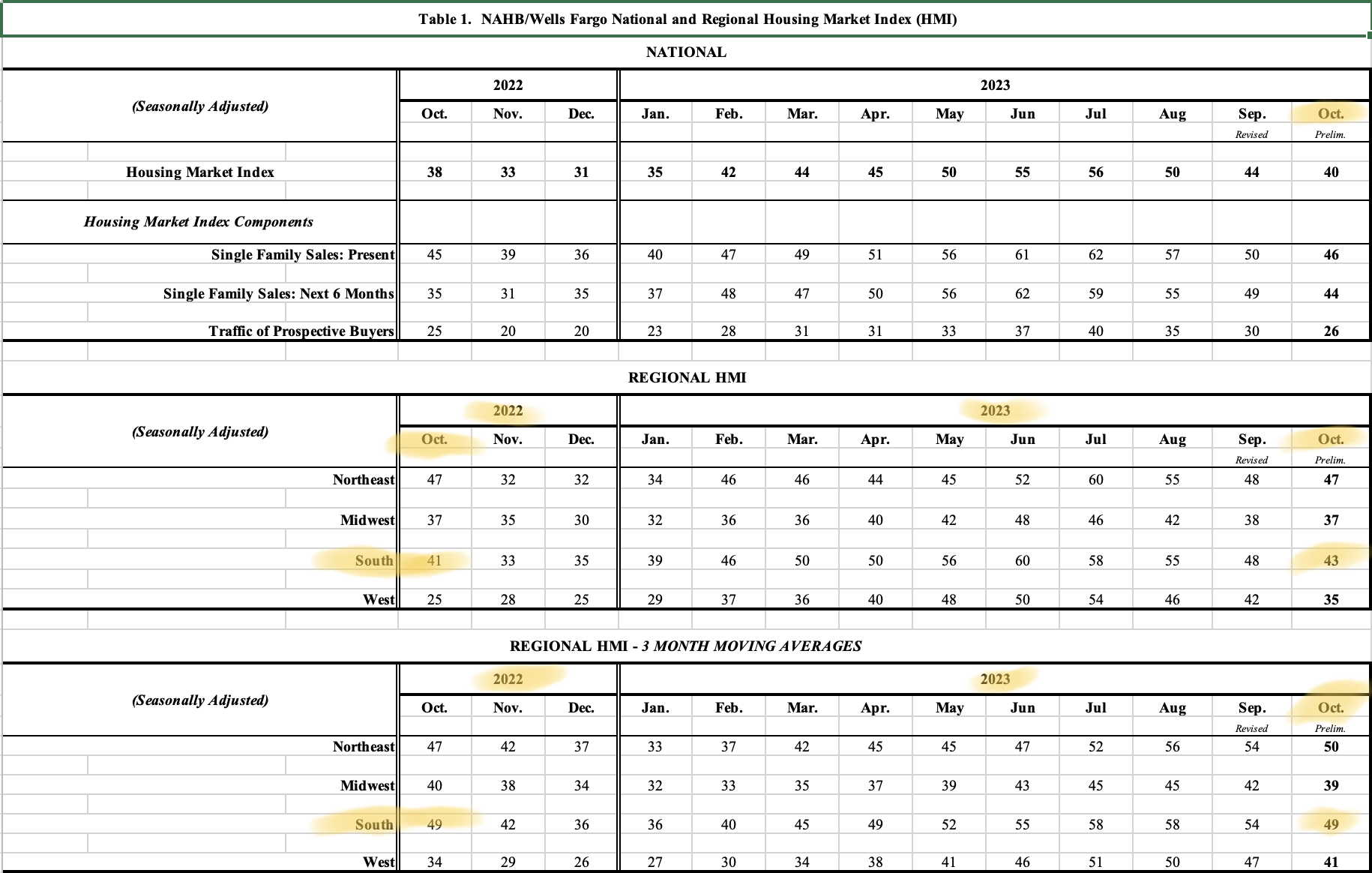 In Nolensville, builders are aggressively promoting incentives – rather than price-cuts – to move their product. Here are just a few incentives out there right now for prospective buyers:
"$22,000 in closing costs PLUS blinds throughout PLUS refrigerator or washer/dryer"
"3% of the purchase price applied to closing costs or rate buy down ($27,870)"
"$25,000 toward closing costs/prepaids!!!"
"$20,000 Buyer Incentive for this home that can close in 2023"
"MOTIVATED SELLER – Builder/lender offering up to $28K for 2-1 buydown. Rates as low as 5.5%, monthly savings of $1,380"
"Inquire about our $50,000 incentive"
If you're selling an existing home, this is some of what you're competing with right now. Trying to capture similar prices as builders are asking for today is a losing strategy. They're offering brand new, builder-warrantied product and are willing to hand over incredible incentives to get a deal done.
If you're a buyer, though… well, well, well. There is great opportunity right now, whether it's new construction OR resale… if you're capable and willing to deal with a high interest rate until you can refinance down the road. The person sitting on the opposite side of the negotiating table is almost certainly willing to bargain.
Mortgage Applications Continue Falling…
Nationally, October ended with the fewest new mortgage applications seen since 1995. This was coupled with the highest average mortgage rates seen since late 2000.

As I review the list of pending sales in Nolensville right now… and cut out new construction contracts that are less than six months old and have little chance of completing before the end of the year… I see only about thirty homes that look like they may be able to close before the end of the year.
Barring a sudden surge in newly written contracts in the next three weeks, Q4 2023 may go down as the slowest in Nolensville real estate since 2011.
But Nashville Is Where Everyone Wants To Be…
Okay, okay – here's the headline all the other REALTORS® are putting on their social media right now: "Nashville is the Number One city to watch for the third consecutive year."
It's true! We live in one of the greatest regions for quality of life (and real estate) in all of the United States. Our local housing market is stronger than many other parts of the country, and should fair better than many others if we do enter a recession in 2024 (but that is anyone's guess).
What I do know is that real estate, over the long term, is a good investment – especially around here. High mortgage rates are like low mortgage rates – they don't last forever. If you need to buy or sell a home right now, don't get lost in the timing of it all, just partner with a wise and experienced real estate agent who will guide you through today's challenging waters and help you arrive home.
October 2023 Nolensville Real Estate In Depth…
I always focus my attention on the existing home sales portion of the real estate market since it is both more timely, and less prone to huge incentives (see what the builders are offering, above) misrepresenting home value.
The selling-price to list-price ratio is a data point I have tracked for some time now. It gives us a good view of the competitiveness of the market.
A 100% ratio means sellers are getting exactly the price they are asking for. In a normal market, 100% is basically an anomaly. Pre-COVID, it was typical to see monthly SP/LP ratios in Nolensville around the 98.5% to 99.7% range.
After COVID erupted and the market went crazy with ultra-low inventory and ultra-low mortgage rates, buyers were commonly offering above asking-price to secure a purchase. You see that represented, below, in the 2022 (blue) columns that show SP/LP above 100%.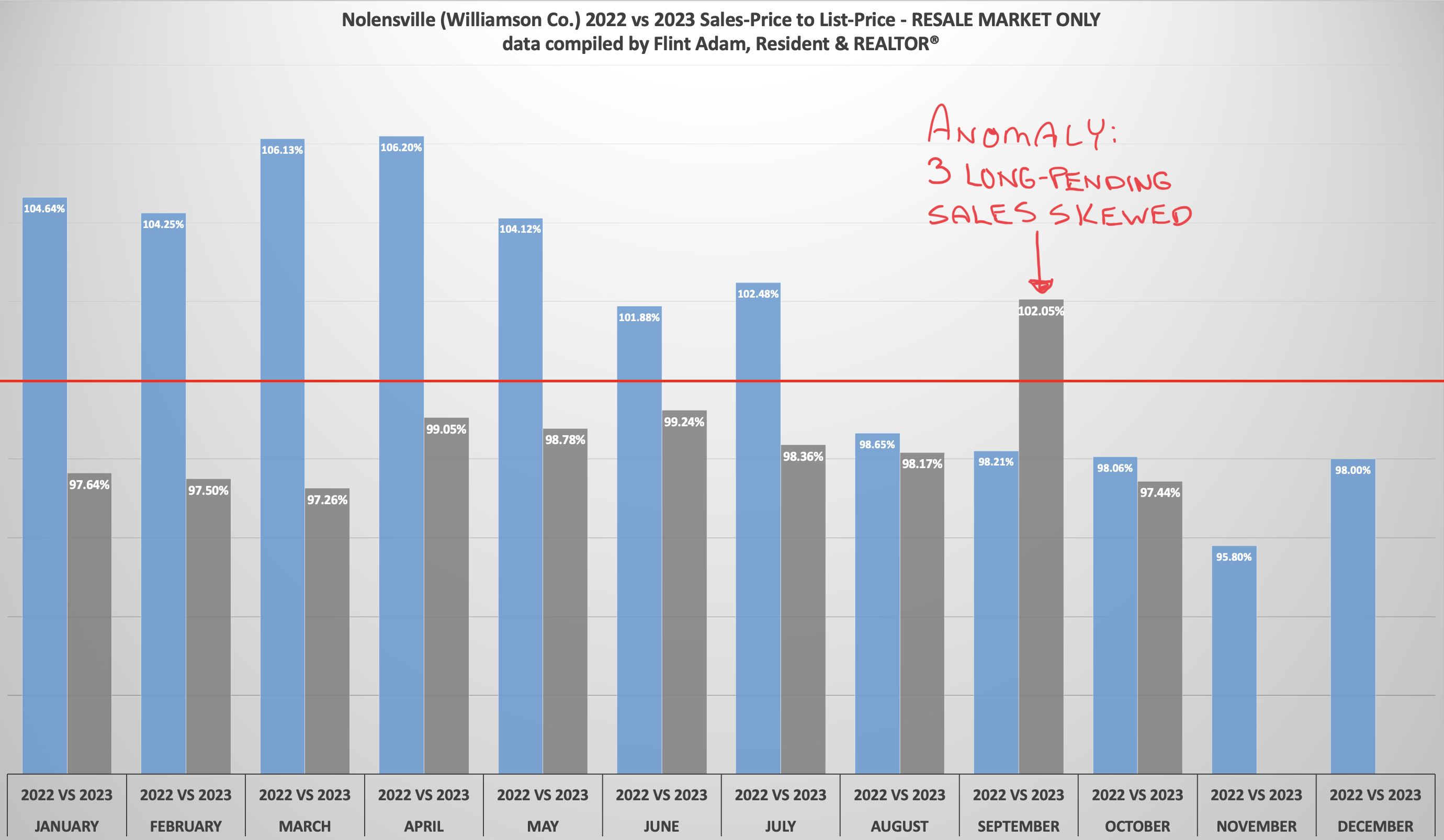 Interest rates began rising spring of 2022, and they reached a high enough value that beginning August of last year, homes were no longer selling above asking price.
Well, last month was the third-worst, selling-price to list-price ratio we have seen in Nolensville since interest rates began their meteoric rise last year. Only November 2022 (95.80% SP/LP) and March 2023 (97.26% SP/LP) were lower than last month's 97.44% SP/LP in the existing home sales portion of the market.
I must note September's goofy reading. The SP/LP ratio was completely upended because of three, larger acreage properties next to Nolensville Road that sold together. They had been under contract since early 2021 and collectively sold at a 127.7% sales-price to list-price ratio.
If you remove these three properties from the September figure, the SP/LP for the remainder of the existing home sales in Nolensville that month was an even 98%.
October 2023 vs. October 2022 Nolensville Home Sales:
27 Nolensville (Williamson Co.) homes sold… down from 42 (

-35.71%

)
The median sales price was $870,000… down from $893,453 (

-2.62%

)
The average days on market was 32… up from 17 (

+15 days

)
The sales-price to list-price ratio was 98.13%… down from 99.19% (

-1.07%

)
7 of the 27 homes (26%) sold were new construction
The lowest price sale was 240 Siegert Place in Bent Creek for $519,000.
The highest price sale was 1011 Sinatra Drive in Sinatra for $1,875,142.
Deeper Dive:
When we eliminate new construction and larger acreage properties and look solely at subdivision resales (17 total), some interesting figures come to light:

The median sales price becomes $799,900
The average sales-price to list-price ratio falls to 98.67%
1 of the 17 sales (6%) is above asking-price
11 of the 17 sales sold (65%) below asking-price
Seven homes sold for all-cash
The average days on becomes 27
2 of the resales had a contract fall through before selling
7 of the resales (41%) had to price-reduce before going under contract
Williamson County Sales Stats…
***NOTE: This is the official Williamson County Association of REALTORS® monthly recap for October. Their data, however, was recorded before a couple Nolensville home sales were logged, late. You will only see 25 home sales noted below, but my data shared earlier in this blog captures the late-recorded sales.***
It is interesting to note that single-family home sales in Williamson County dropped 8.58% year-over-year… the average, October 31st, 30-year fixed mortgage rate grew from 7.13% to 7.88% year-over-year… and days on market grew by two weeks…  but the median single-family home price STILL grew 2.86% to an even $900,000.
Dwindling home inventory has something to do with that. There were almost 21% fewer homes actively for sale at the end of October than there were the year before. Fewer new listings came to market, too, with almost 12% fewer homes listed last month than the year before.
Meanwhile, condo and town home sales surged last month, growing more than 69% compared to October 2022. The median sales price of these homes also jumped – becoming almost 10% more expensive year-over-year.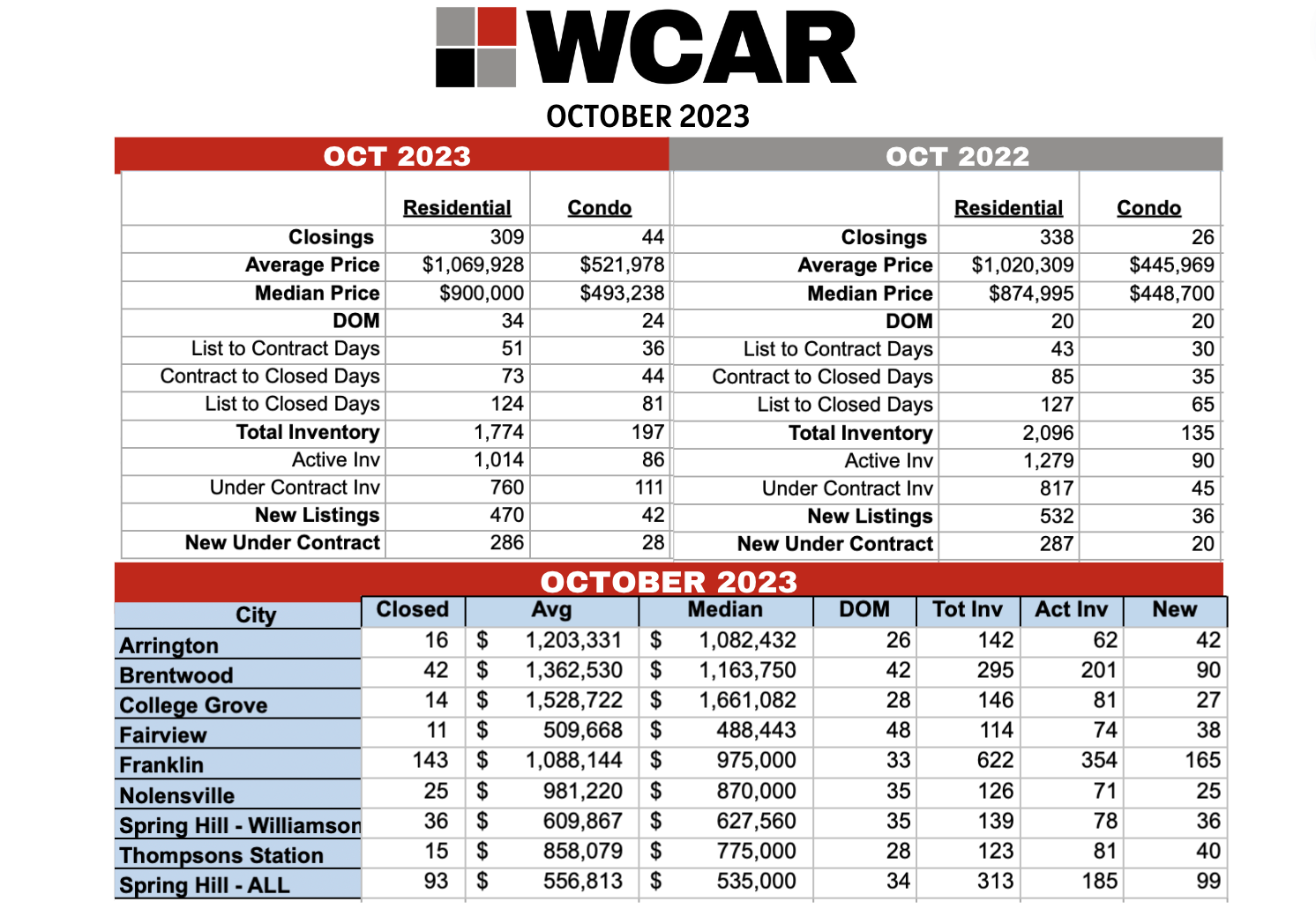 Greater Nashville Sales Stats (includes Williamson Co.)…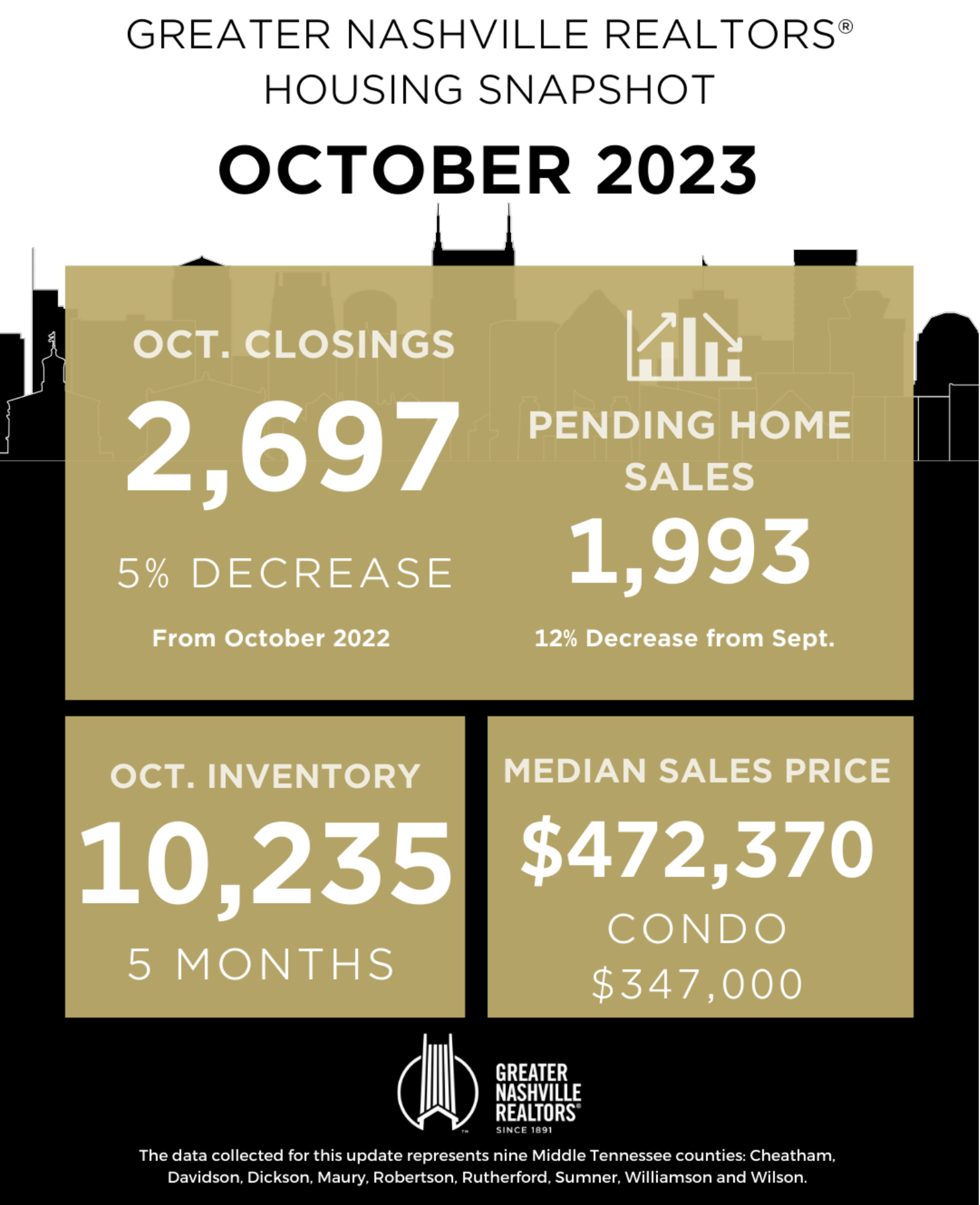 In Conclusion…
I expect the remainder of 2023 to be slow. With mortgage rates still well into the 7s, many sellers holding tough on their prices, and the holiday season approaching, I just don't see a whole lot of action taking place.
I'm hopeful that mortgage rates ease into the lower 7s by the end of the year, though. Recent economic reports show stress in the job market, and I wouldn't be surprised if spending is down this holiday season. With downbeat news on these fronts, it's possible that treasuries will relax, and mortgage rates come down with it.
We'll probably see continued price-reductions in the next couple months. Buyers have a window to negotiate with a strong hand. That said, newly listed homes that are both priced correctly and marketed well still have a chance of quickly going under contract with attractive terms. Work with a seasoned REALTOR® who has a realistic plan on how to tackle these times… and listen to them!
If you're interested in buying or selling, I am at your service. My no-obligation consultations are filled with data and offer you an opportunity to speak with a local expert before you decide on your path.
Give me a call at 615-500-6393 or email me at flint@theguidehome.com and let's chat about your goals.
Interested in up to date Nolensville TN real estate sales figures? I'll email you an HOURLY UPDATED look at Nolensville real estate activity including what has gone pending, price-reduced, and withdrawn. Just shoot me an email with your name and preferred email address to flint@theguidehome.com
---
The Latest on Mortgage Rates…
11/9/2023 Commentary by Nolensville resident, Jesse Alvarez, with The Mortgage Exchange
Over the last month, mortgage rates appeared to have finally found a ceiling right around 8% (yikes!!).  In the last week and a half, they began retreating strongly from that area and got as low as 7.4%.  That's an incredibly big move over a short period of time.  Unfortunately, a bad 30 year bond auction (longer term treasuries are the biggest cause of day to day rate fluctuation) earlier today put that downward pressure on ice as it pulled 30 year mortgage rates back up to 7.55% this afternoon.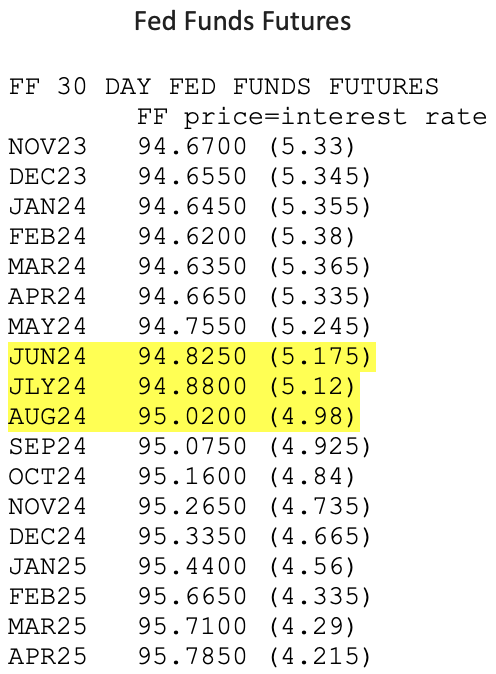 Without any economic data or major news releases scheduled for tomorrow or Monday, rates should hold fairly steady until Tuesday morning when the next major monthly inflation report gets released. The CPI report has caused some of the biggest treasury market moves over the last two years. Fingers crossed that we see some relief in this report!
To the side you will see Fed Fund Futures pricing for the next year.  These prices can change on any given day, but the data at least provides us an indication on when the major players think the Fed will move at this moment in time.  As data evolves and market conditions change, these prices will also change.  I've highlighted next summer where a 0.25% rate cut is priced in.  If that holds true, we should see rates somewhere in the 6's sometime next spring.  By February of 2025, the market has Fed Funds 1% lower than today.  Let's hope they're right!
---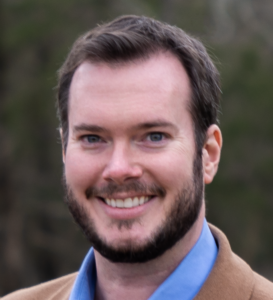 Flint Adam is a 13- year Nolensville resident and lives in Bent Creek. He focuses his real estate practice here in town, having served almost 200 buyers and sellers in closed Nolensville real estate transactions. Flint enjoys blogging about local real estate, traveling the world, photography, and hiking. He is passionate about serving Nolensville and keeping it one of America's greatest small towns.