by Flint Adam, Nolensville resident & Realtor®
Monday, November 9 , 2015
After a record-setting month, there's usually only one way to go – down.
Nolensville's October home sales dropped 40% compared to September, but still eked out a slight year-over-year gain compared to October 2014.
Let's jump right in with Nolensville's residential sales figures provided by the Williamson County Association of Realtors. Keep in mind these figures do not include For Sale By Owner or Nolensville properties outside of Williamson County:
Single-Family Homes Closed: 

30… down from 50 in September

Median Sold Price: 

$411,683… up from $395,000 in September

Avg. Days on Market: 

48… down from September's 50

Number of new construction sales: 

17… down from 23 in September

Existing home sales: 

13… down from 27 in September

Median Sales Price/Square Foot: 

$136.67/sf

Median Year Built: 

2015
Bent Creek once more led all subdivisions in sales… but just barely! There were 6 closings here.
Arrington Retreat continued its strong sales by coming in second with 5 closings. Benington, Silver Stream, and Summerlyn all tied for third with three closings each.
The average year built of the 13 existing home sales was 2005… with an average sales price of $424,146.
Meanwhile, the rest of Williamson County enjoyed another good month of sales. Countywide, the median home price was $422,000… which is 3.4% higher than the same time last year.
379 single family homes sold in Williamson County, which is an increase of 6.7% over last year's 355. Additionally, 39 condos sold – up 21.9% from the 32 sold in October 2014.
October also featured the highest median home price since at least 2005, and is the second highest median price point of 2015… falling just short of April's $425,000 mark. Dating back to December 2014, Williamson County's median home price has eclipsed $400,000 in 10 of 11 months.
Interested in up to date Nolensville TN real estate sales figures? I'll email you a daily update on Nolensville real estate complete with new listings, what has gone pending, and recent sales. Just shoot me an email with your name and preferred email address to flint@homesaroundnashville.com
---
Visualizing the Numbers…
Time now for a visual representation of our sales figures year-to-date. This is Nolensville residential sales data as reported by our local MLS (RealTracs) and only cites the Williamson County sales figures. For Sale by Owner and Nolensville homes in Davidson and Rutherford counties are not included.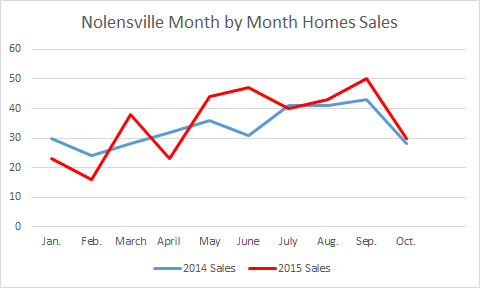 It's not uncommon to see a large drop in sales from September to October. As you'll notice in the graph to the right, 2014 followed a very similar path as sales significantly dropped from September to October last year.
There tends to be a mad rush of activity in late August as folks try buying homes before school starts. Those sales then close out in September, and October represents the beginning of the winter-time slow-down.
As the temperature drops, sales tend to follow suit. Throw in school, football, and fall activities, and there just aren't as many buyers and sellers interested in moving.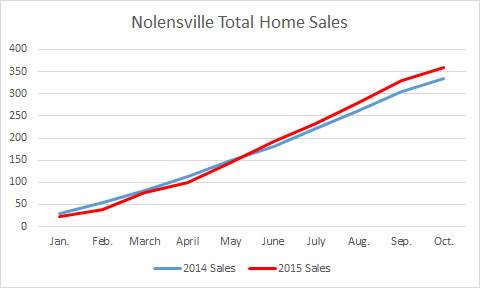 Year-over-year Nolensville sales figures, meanwhile, continued the same pace we've seen as of late with just over 7% growth over the same time period in 2014.
At least 43 homes are under contract as of this writing, but 23 of them are new construction, and its anyone's guess when they'll be complete and move-in ready.
That leaves 20 existing homes presently under contract. There have also been 9 closings so far this month (through 11/9/2015), so I wouldn't be surprised if we hit 25 to 35 closings in November.
---
The First Month of TRID
October finally brought us the new TRID (TILA / RESPA Integrated Disclosure Rule) guidelines.
As discussed in my previous blogs, TRID's main purpose is helping consumers better understand the loan process. The disclosures are simplified – which is good – but the industry changes that come with the new rules have… some growing pains.
I had my first transaction close under TRID rules in October. In this case, two lenders were involved and the second one kept making adjustments that impacted TRID guidelines. Closing was delayed multiple times as a result. Keep in mind that there must be a 3-day clear to close period before closing day now… so if anything goes wonky in that period, it resets the clock and an additional 3-day clear period must be met before closing can occur.
Make sure your Realtor and lender walk you through TRID. If you are selling and buying a house on the same day, there's a lot more at stake now so it pays to have everyone up to snuff and communicating well throughout the process.
---
Nolensville Realty Re-Launch!
You've probably noticed as you're reading this blog that there's a fresh coat of paint on this website. I have re-launched www.NolensvilleRealty.com with a new vendor and completely redesigned the website.
Check out the powerful Property Search tools including a new map-based search. Now you can literally draw an area of interest and find the real estate available. I have also opened up the search so you can view listings outside of Nolensville.
Remember, you never have to register to use this website – all of its content is available to you anonymously and free! However, if you do register, you'll be able to take advantage of saved searches and daily update tools. Check them out!
I'm also interested to hear your feedback on what I can add to this website that you'd find beneficial. Please feel free to reach out and share your feedback on how I can continue making this website better!
---
I'm a Nolensville TN resident… I'm a Nolensville TN Realtor®… and I always offer a complimentary, no commitment, no pressure Comparative Market Analysis for my neighbors. Please let me know how I may assist you in the sale or purchase of a Nolensville property.
Note: The above information cites Williamson County sales data for Nolensville, Tennessee. There are, of course, a handful of Nolensville properties that also exist in Davidson and Rutherford counties, but for the purpose of this article I am focusing on Williamson County since a majority of Nolensville addresses fall within this geographic area.