by Flint Adam, Nolensville resident & Realtor®
Tuesday, February 11, 2020
*Note: The information below cites Williamson County sales data for Nolensville, Tennessee. There is, of course, a small percentage of Nolensville homes that exist in Davidson and Rutherford counties, but for continuity in my blogging I reference only Williamson County statistics.
It sounds like a broken record, though I doubt anyone around here is tired of the tune; Nolensville just had its best January for home sales ever!
This continues a ferocious trend from 2019 when monthly home sales records were set in six different months. Last year wound up as Nolensville's best year of sales ever with 674 homes closed, a 16% year-over-year increase from 2018's record-setting number.
January 2020 did nothing to pump the brakes. 53 homes closed last month, eclipsing the previous January high (43) set in 2017 by 23%.
More impressive is the difference in Nolensville home prices between then and now:
January 2017 avg: $495,480
January 2020 avg: $613,152 (+24%)
It has surprised even me that the market can not only bear such appreciation, but thrive in it. There are contributing factors, though:
There's no slowing things down, at least in the short term.
So, without further adieu…
JANUARY 2020 NOLENSVILLE HOME SALES STATS:
Total number of sales: 53… down from 67 in December
Avg. sales price: $613,152… down from $614,886 in December
Avg. days on market: 26… down from 34 in December
Active inventory: 164… down from 168 in December
Highest price sale: 7668 Nolensville Rd. for $4,250,000
Lowest price sale: 225 Siegert Pl. for $333,000
*The above comes from the Williamson County Association of Realtors on 2/11/2020. These figures do not include For Sale By Owner or Nolensville properties outside of Williamson County.
Interested in up to date Nolensville TN real estate sales figures? I'll email you an HOURLY UPDATED look at Nolensville real estate activity including what has gone pending, price-reduced, and withdrawn. Just shoot me an email with your name and preferred email address to flint@theguidehome.com
---
JANUARY 2020 WILLIAMSON CO. SALES STATS:
---
Mortgage Rates…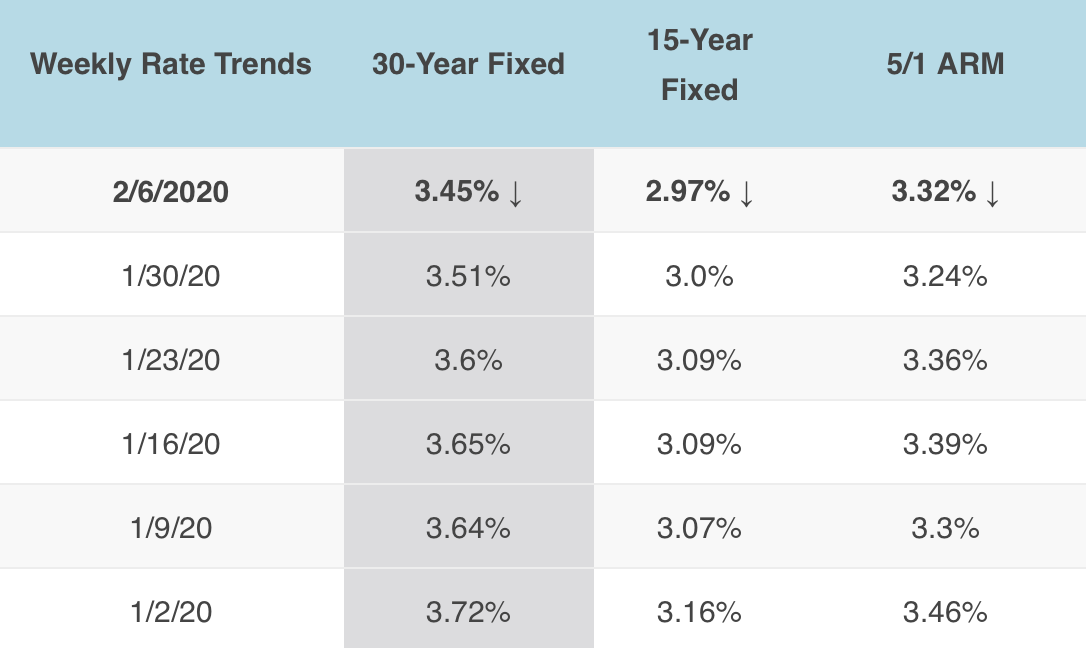 From My Mortgage Insider.com: "Mortgage applications increased this week, fueled by the drop in mortgage rates, as reported by Mortgage Bankers Association. "Rates were driven lower by investors' increased concern about the economic impact from China's coronavirus outbreak, in addition to existing concerns over trade and other geopolitical risks," said Joel Kan, MBA Associate Vice President of Economic and Industry Forecasting.
The interest rates reported below are from a weekly survey of 100+ lenders by Freddie Mac PMMS. These average rates are intended to give you a snapshot of overall market trends and may not reflect specific rates available for you.
---
Predicting the Rest of 2020…
There's little to slow down Nolensville home sales in the short term. As of this writing, 7 homes have already closed so far in February and another 38 resales are under contract, many of which will close out this month. There are another 147 new construction homes under contract and in various phases of construction.
I think it's likely we're looking at another 40+ closings this month, which would be a record for February.
The economy – both local and national – is robust, unemployment and interest rates are low, and there is a massive pipeline of home sales in the wings. With such a strong start to the year, and a mild winter (so far), we have the ingredients in place for 2020 to surpass last year and set new records.
However, I am closely watching what's unfolding in China with coronavirus.
Yes, it's on the other side of the world, but Wuhan (the epicenter of the outbreak) is a massive manufacturing hub for the semiconductor and automobile industries, and is also a steel producer. The trickle out effect of a delay in manufacturing could potentially ignite a firestorm that ripples throughout the world economy, affecting both materials and ultimately jobs.
Several countries are teetering on the brink of recession, global debt is at an all-time high, and the U.S. stock market's 11-year bull run can't last forever. A disruptive event like a lengthy work-stoppage in Wuhan, China could be the catalyst that sets a lot of balls in motion.
Perhaps the effects will be short-lived and mild – I sure hope so – but things could get interesting, and if they do I believe we'll look back to what's happening right now in China as a critical moment.
Final Thought…
If you're considering selling, perhaps now is the time to pull the trigger. Leverage your equity and position yourself to better ride out possible storms. Nobody knows what will happen tomorrow, but you can always prepare today. I am at your service!
---
I'm a Nolensville TN resident… I'm a Nolensville TN Realtor®… and I always offer a complimentary, no commitment, no pressure Comparative Market Analysis for my neighbors. Please let me know how I may assist you in the sale or purchase of a Nolensville property.