by Flint Adam, Nolensville resident & REALTOR®
*UPDATED 2/8/2021 with final stats from the Williamson County Association of REALTORS
SCHWING! (That's the sound of the Nolensville housing market right now.)
Last month, it cost an average 21% more to buy a Nolensville* home than the year before. Now that you've barfed a little in your mouth we'll continue with the rest.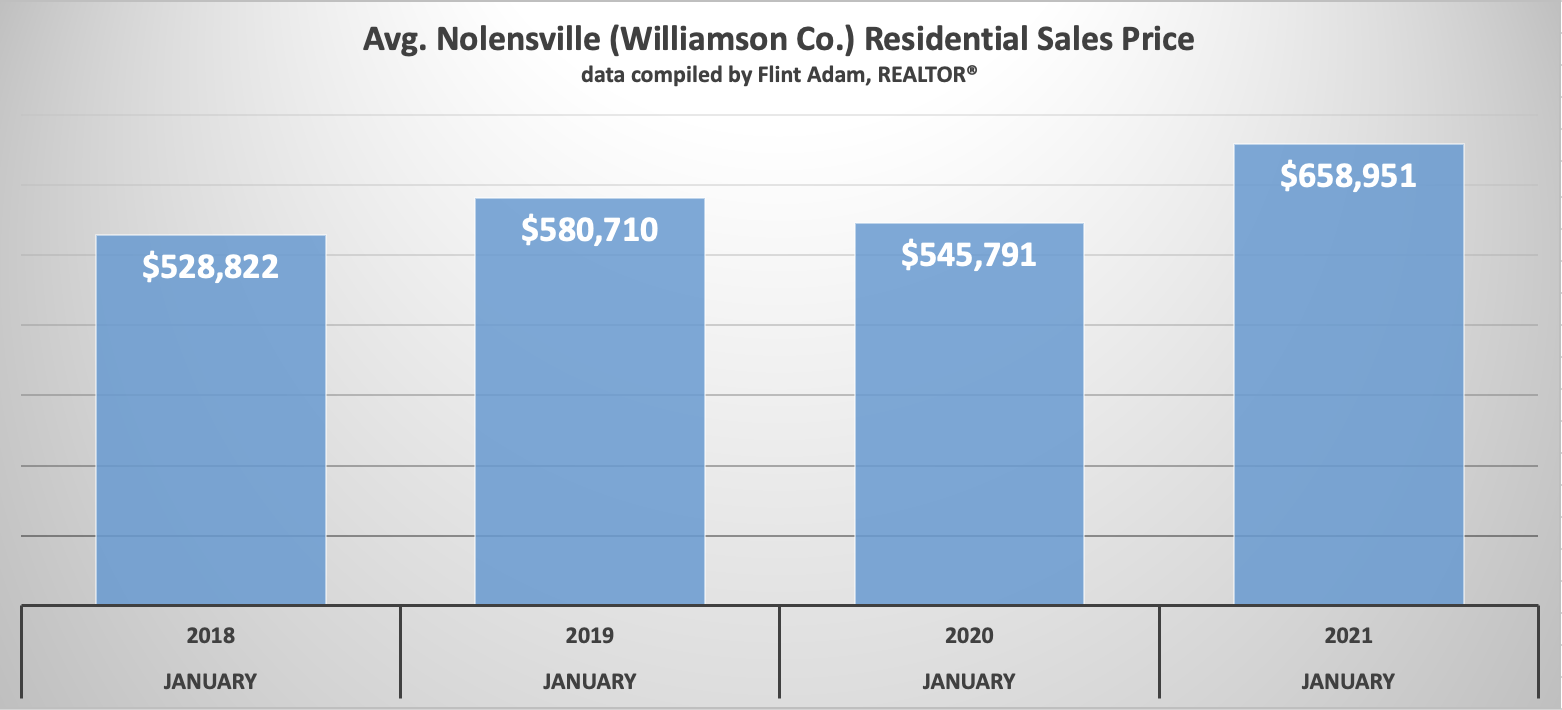 Nolensville real estate has entered unprecedented times. Never have I seen inventory so low, prices so high, and buyers chomping like frenzied piranhas at anything that comes along.
As of this writing, there are only THREE(!) subdivision homes in Nolensville* that you can purchase and move in to by the end of March. You better open your checkbook, though, because two of them are priced at $950K and above. 
The housing market was humming along pretty well during Q4 2020, and then we got into November. A surge of buyers began swallowing up inventory, and the normally low-key month of December wound up a barren wasteland of home product. As we got into January, a time of year when early-birds start shopping again, there was little to nothing for them to see! Meanwhile, the buyers who missed out on homes in December were determined to get a home in January.
This led to what has become one of the most ferocious seller's markets any local REALTOR has ever seen. I spoke with my wife's step-dad the other day – a Nashville area broker with more than fifty years of experience – and he was dumbfounded. He has never seen anything like this.
Let's get real crazy and look at the pending Nolensville resales right now… (click to expand)
I expect these kind of numbers to continue…
Interest rates remain near historical lows, builders sold out of their spec homes and it will be months until they can replenish supply, and the resale market is combative. It's a perfect storm.
When will the situation right itself? I'm not even sure. COVID-19 wrecked so many things and now we're seeing its effects come home to roost in the housing market.
I spoke with a sales agent for a national homebuilder yesterday and he says their lumber packages shot up from $40,000 to $100,000 in only six months! Another sales agent with this same builder says they've been instructed from management to accept nothing less than full asking price on every home. It's take it or leave it right now.
In another recent conversation I had with the president of a local, custom home-builder, he told me it's taking substantially longer to get many of the products he puts in homes. It's also getting harder and pricier to find land to develop lots and build homes on.  All of this reflects in the new construction purchase price.
Meanwhile, in the resale market, I've recently represented several different buyers involved in the fray. It's not uncommon to see some homes in the $500s earn purchase offers anywhere from $10,000 to $40,000 above asking-price! Many contingencies are waived or reduced.
Will this frenzy last? I can't imagine for long. As we move into spring market, more inventory should become available. And interest rates can't stay at these sub-3.00% levels forever. As they rise it will cool off the white-hot demand.
But this moment in time is ferocious. If you're a homeowner thinking of selling your house – and you're able to put it on the market in the next 30 days – you're going to be one happy camper. If you're really smart, you'll call me and we'll craft the right strategy to maximize your position.
*Note: The information above cites Williamson County sales data for Nolensville, Tennessee. There is, of course, a small percentage of Nolensville homes that exist in Davidson and Rutherford counties, but for continuity in my blogging I reference only Williamson County statistics.
---
January 2021 Recap…

On to the details of last month's home sales…
January 2021 home sales fell almost 23% year-over-year, but it had nothing to do with demand. This was an inventory issue, plain and simple.
The headliner is the 21% jump in average sales prices. Part of the equation is how much new construction sold, a full two-thirds of all the sales.
It's also becoming more and more common seeing million-dollar sales in Nolensville on the monthly sales sheets.
January 2021 sales stats vs. January 2020:

(REVISED 2/8/2021)
41 Nolensville homes sold… down from 53 a year ago (

-22.64%

)
The average sales price was $658,951… up from $545,791 (

+21%

)
The average days on market was 22… same as last year (flat)
The list-price-to-sales-price ratio was 101.14%… up from 100.14% (

+1.00%

)
27 of the 41 homes (66%) sold were new construction
The lowest price sale was 1422 Blue Grass Rd. in Stonebrook for $410,000.
The highest price sale was 110 Hadley Reserve Court in Hadley Reserve for $1,186,633
---
Williamson County Home Sales Stats

(updated 2/8/2021)
The county data is just as strong, if not more so, than what we saw happen in Nolensville last month.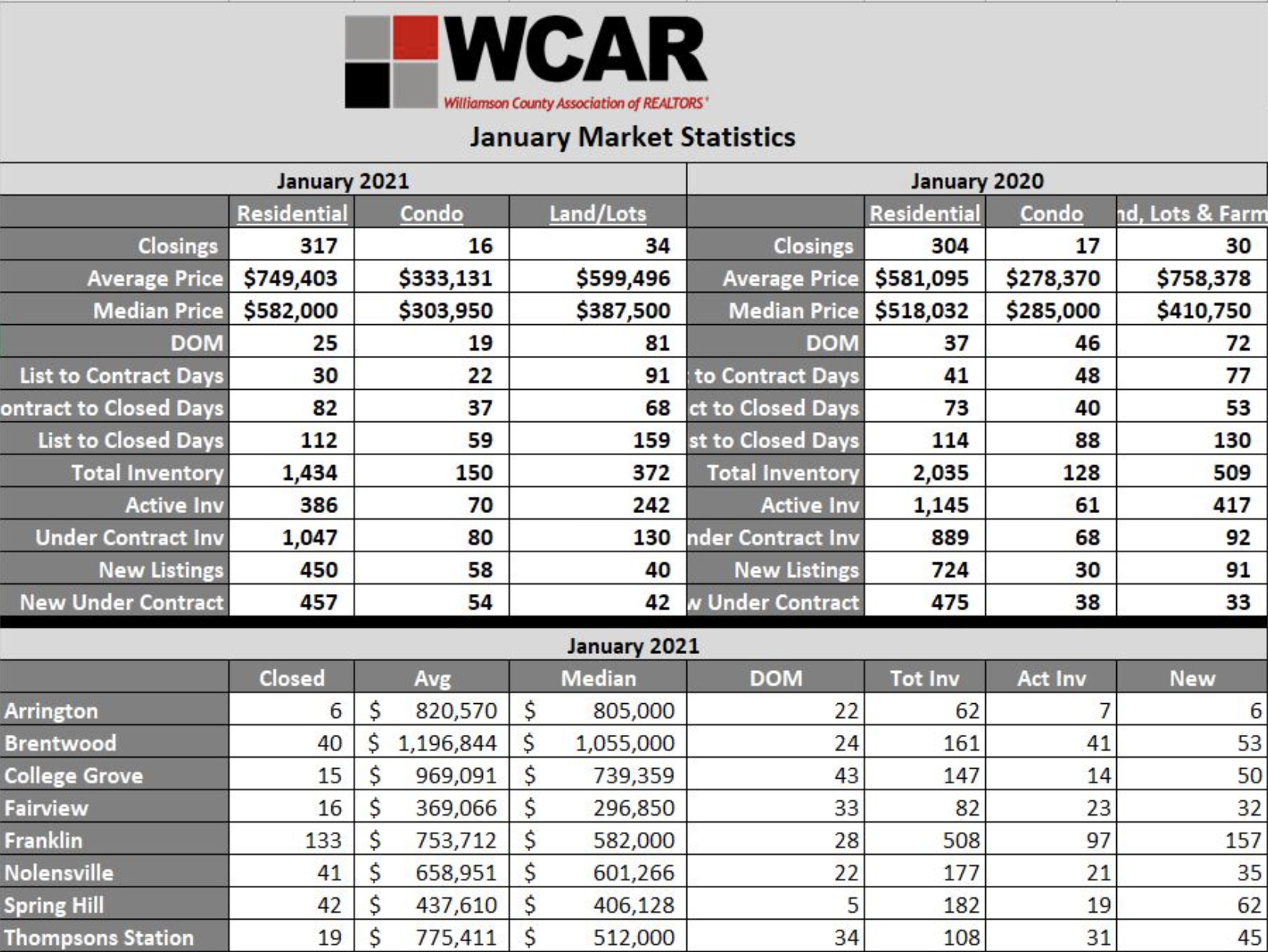 Of particular note is the extreme difference in price for the single-family (residential) portion of the market since last January. The average price of a single-family home shot up almost 29% year-over-year while the number of closed sales dipped only 4% despite significantly less active inventory (-66%)!
Under contract inventory is also down 15%, so we can expect fewer closed sales in the month ahead, too. The marketplace needs more homes for sale!
---
Where Does It Go From Here…
That graphic I showed you further up the page shows you where we're at… at least among resales. I expect Nolensville February home sales will show record-low days on market and record high list-to-sales price ratios.
We need more inventory, though. This may all sound fine and dandy, but the truth is if we can't balance out the housing supply I'm worried the oxygen will leave the room, and somebody is going to start gasping. I'll leave it to you to decide who that will be.
Interested in up to date Nolensville TN real estate sales figures? I'll email you an HOURLY UPDATED look at Nolensville real estate activity including what has gone pending, price-reduced, and withdrawn. Just shoot me an email with your name and preferred email address to flint@theguidehome.com
---
Mortgage Rates…
(UPDATED)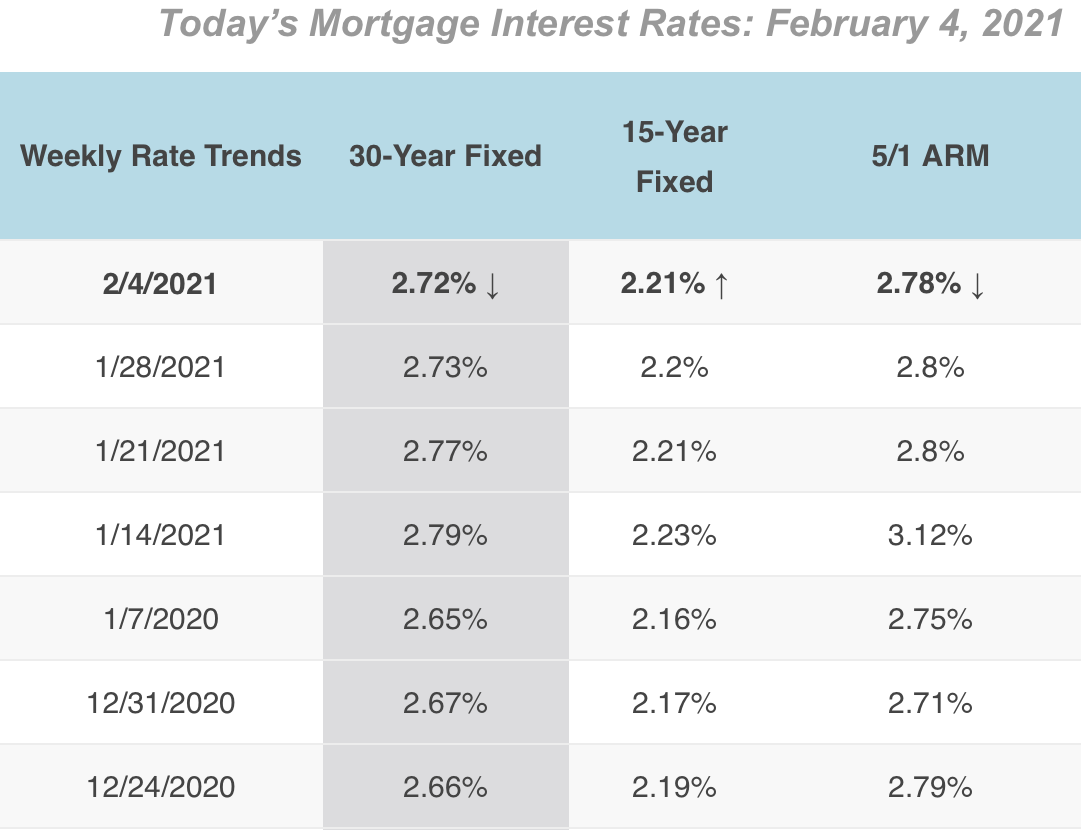 From My Mortgage Insider.com: "Mortgage applications increased last week, driven by last week's uptick in interest rates, as reported by Mortgage Bankers Association. "Average purchase loan amounts in early 2021 continue to rise across all loan types, driven by a strong pace of home sales, tight housing inventory and high home-price growth. Conventional, FHA and VA purchase loan sizes all set new survey records last week," said Joel Kan, MBA Associate Vice President of Economic and Industry Forecasting.
---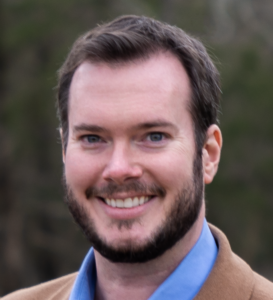 Flint Adam is a 10+ year Nolensville resident and lives with his wife and children in Bent Creek. He focuses his real estate practice here in town, having served around 150 buyers and sellers in closed Nolensville real estate transactions. Flint enjoys blogging about local real estate, traveling the world, photography, and bourbon-hunting. He is passionate about serving Nolensville and keeping it one of America's greatest small towns.