by Flint Adam, Nolensville resident & Realtor®
Sunday, February 14, 2016
'Tis the weekend of love! I hope all you sweethearts out there are staying warm and cozy with your dear one today. I'll expect calls from you in around 9 months when you need a bigger home…
Meanwhile – back to real estate reality – and a sales volume that shrunk in typical January fashion. The good news is that numbers were up year-over-year. Hopefully we can carry the trend through February!
Here are January 2016 sales stats provided by the Williamson County Association of Realtors. Keep in mind these figures do not include For Sale By Owner or Nolensville properties outside of Williamson County:
Single-Family Homes Closed: 

28… down from 48 in December.

Median Sold Price: 

$426,898… down from $443,368 in December

Avg. Days on Market: 

47… down from 52 in December

Inventory: 

132

Pending: 

33

Number of new construction sales: 

19… down from 31 in December

Existing home sales: 

9… down from 17 in December

Median Sales Price/Square Foot: 

$141.84/sf

Average Year Built: 

2010
For the first time since I started this blog, Bent Creek did not outright win the title of most neighborhood homes sold in a month. Arrington Retreat tied Bent Creek for the lead with 5 sales each! Hot on their heels was Summerlyn, which finished with 4 sales.
The average year built of the 9 existing home sales was 2002… with an average sales price of $326,361 and an average days on market of 89.
Interested in up to date Nolensville TN real estate sales figures? I'll email you a daily update on Nolensville real estate complete with new listings, what has gone pending, and recent sales. Just shoot me an email with your name and preferred email address to flint@homesaroundnashville.com
---
Williamson County Sales Rise…
It was a great January for real estate sales in the county, as year-over-year numbers rose 18% compared to January 2015 with 325 single family residence and condo closings compared to 275 a year earlier.
The median sales price for a Williamson County home in January was $420,372… which is a 2% increase year-over-year.
Meanwhile, inventory in the county finished January at a 4.5-month supply. A 6-month supply is considered a stable market. At this time it remains a "seller's market" though inventory has improved as of late. There was a 3-month supply in December 2015.
---
Visualizing Nolensville's Sales Numbers…
Time now for a visual representation of our sales figures. This is Nolensville residential sales data as reported by our local MLS (RealTracs) and only cites the Williamson County sales figures. For Sale by Owner and Nolensville homes in Davidson and Rutherford counties are not included.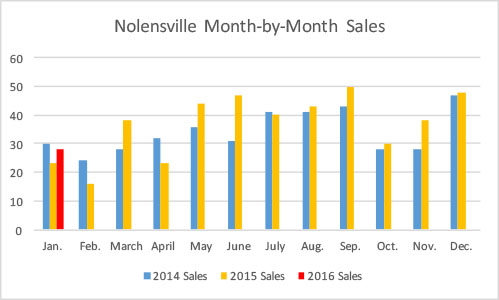 We kick off a new year and get our first glimpse into sales activity and how it compares with recent years.
The good news is January sales jumped year-over-year, and were almost as good as January 2014 (we were 2 short of matching that total).
It will be interesting to see how February plays out, though history should prepare us for the slowest month of sales of the year.
---
Mortgage Rates Finish January Down…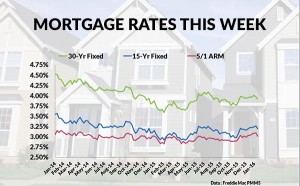 Buyers won't have any problem with this news: mortgage rates dropped the end of January with the average 30-year rate falling to 3.79% on January 28th (as reported by Freddie Mac PMMS).
The numbers have only fallen further in February with the last reporting period noting a rate of just 3.65% on a 30-year mortgage. Wow!
It's an excellent time to refinance… and of course, BUY A HOME!!!
---
I'm a Nolensville TN resident… I'm a Nolensville TN Realtor®… and I always offer a complimentary, no commitment, no pressure Comparative Market Analysis for my neighbors. Please let me know how I may assist you in the sale or purchase of a Nolensville property.
Note: The above information cites Williamson County sales data for Nolensville, Tennessee. There are, of course, a handful of Nolensville properties that also exist in Davidson and Rutherford counties, but for the purpose of this article I am focusing on Williamson County since a majority of Nolensville addresses fall within this geographic area.