by Flint Adam, Nolensville resident & Realtor®
Wednesday, May 10, 2017
Last month, *Nolensville (Williamson Co.) cracked 40 sales for the fourth time in the past five months. That's not exactly a newsflash anymore, but what is newsworthy is the year-over-year drop-off in sales for the month of April.
April 2017 saw a 21% decrease in single-family-residential sales from the prior year. The last time we saw such a dramatic drop-off… that would be another April – 2015, in fact, when sales were 28% off their year-over-year mark.
2015 wound up being fine – Nolensville would set a yearly home sales record (which would be trounced the following year), so it reasons that what we saw last month was nothing more than an aberration.
There's more evidence supporting that notion – just look at this graphic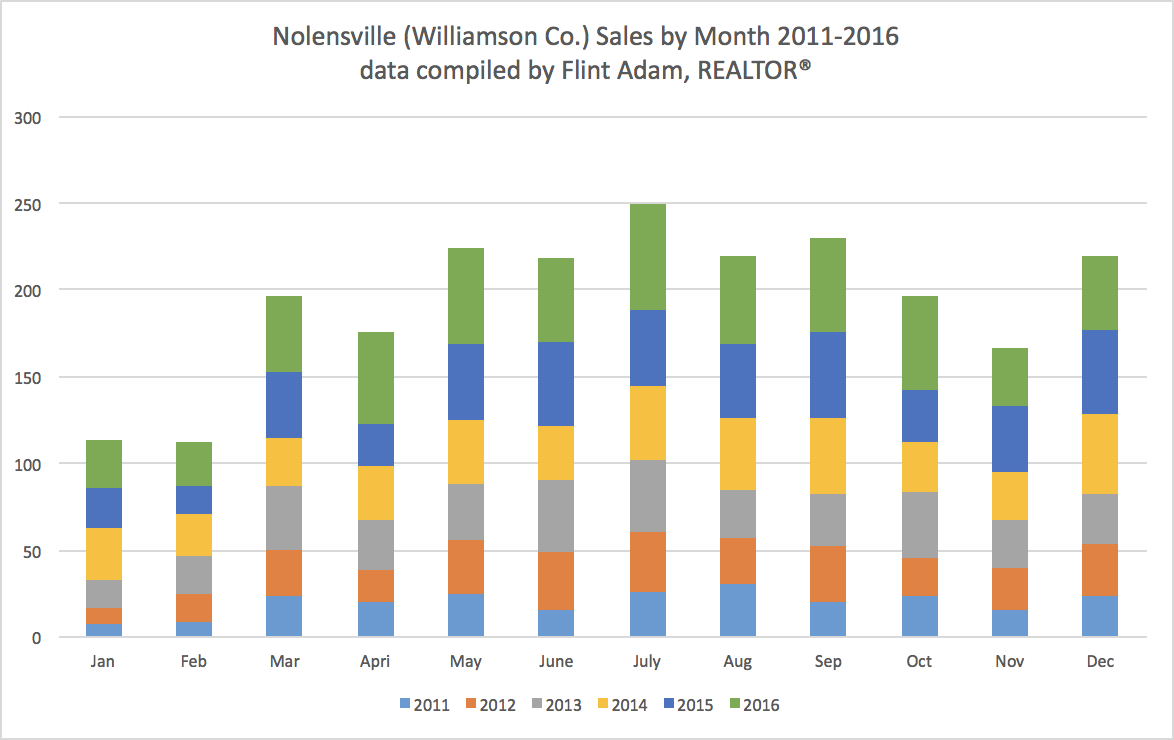 illustrating the past 5 years of monthly sales in Nolensville (click the graph to expand):
April is one of those weird months where local home sales take a dip in between otherwise strong months.
There's plenty of reason to maintain optimism – the Greater Nashville market remains hot & Williamson County as a whole was solid again last month – but there's a piece of me feeling like my predictions made at the beginning of the year could be taking hold (especially #2).
There's also this: when we last had a down April in 2015, the median sales price in Nolensville was $393,094.
In April 2017, it was $537,500. That's a big number. Bigger than Franklin, in fact, where the figure last month was $474,418.
I'm also noticing longer days on market and even some price reductions on several resales around town.
I ran a report on Nolensville (Williamson Co.) resales that are available For Sale (as of May 9, 2017) and found 46 properties. (This includes some homes outside of neighborhoods). Of those, at least 16 have had price reductions. That's about 1 out of every 3 resales.
I think there are two main factors at work:
The price of resales
The impact of new construction
Typically, resales present a greater value proposition for prospective buyers. These homes are most often available for quick move in (45 days or less) and are priced lower than new construction.
So far in 2017, there have been 55 Nolensville resales closed (excluding non sub-division homes). The average selling price was $452,571.
Meanwhile, in this same time period, there have been 99 new construction closings with an average selling price of $543,465.
So yeah, those closed resales represented a pretty good price value compared to new construction about 17% less!
But wait a minute – what about the Nolensville homes that are sitting on the market right now and haven't gone under contract…
Well, there are 36 of those at the moment (excluding non sub-division homes), and their average list price is $496,186! Hmm… suddenly that value proposition isn't quite as much – only about a 9% difference from recently closed new construction. And then the buyer may have to put in some more money for paint, renovations, etc. That's the kind of spread that would get some buyers to consider building new since it's not that much more expensive than buying used.
There's also another factor that I think many local Realtors will agree with me on – many of the folks building new construction in Nolensville… are already Nolensville residents. These are folks who have owned homes a few years, happily earned some nice equity, and are now transferring that into new construction.
However, for the non-Nolensville residents who are looking to come into our marketplace for the first time – maybe they haven't realized that same kind of equity gain – if any at all. That makes putting a significant down payment more difficult, and could also lead to more failed buyer-financing.
There is no crystal ball telling any of us how long our flush real estate market will continue, but logic tells me there are a finite number of people who can afford a half-million dollar price tag, and I feel a slow down is the natural reaction.
So what is a home seller to do?
Create value in your resale! It's imperative right now that you make your home shine if you want to stand up to new construction. Do you think your carpets need replaced? Go ahead and do them. Put up the fresh coat of paint. Do nice landscaping. Seal the driveway.
You want to create a turn-key home that is decluttered, staged, and ready for quick and easy move-in. An advantage resales can have over new construction is that it doesn't have to be a messy job site. Show some love on that house and make it look cozy and inviting. That can make a positive difference and steer a prospective buyer your way instead of new construction.
Breakdown of Nolensville's April 2017 Sales Figures
Here is a breakdown of Nolensville's single-family residential sales figures for the month of April 2017.
This data comes from my own research along with data provided by the Williamson County Association of Realtors. Keep in mind these figures do not include For Sale By Owner or Nolensville properties outside of Williamson County:
Single-Family Homes Closed: 

42… down from 43 in March 2017

Median Sold Price: 

$537,500… up from $495,903 in March 2017

Avg. Days on Market: 

51… up from 22 in March 2017

Inventory: 

192

Pending: 

44

Number of new construction sales: 

22… down from 27 in March 2017

Existing home sales: 

20… up from 16 in March 2017

Median Sales Price/Square Foot: 

$157.68/sf

Average Year Built: 

2011
The highest selling price last month was at 9138 Holstein Dr. at the Farm at Clovercroft. It sold for $798,270.
*Note: The above information cites Williamson County sales data for Nolensville, Tennessee. There are, of course, a percentage of Nolensville properties that also exist in Davidson and Rutherford counties, but for the purpose of this blog I am focusing on Williamson County since a majority of Nolensville addresses fall within this geographic area.
---
After Hot Start, Sales Leveling Near 2016's Figures…
In January, Nolensville home sales blew it out. In February – it was another strong month. March… we tied the prior year's production. April – sales sunk year-over-year. What will May bring?…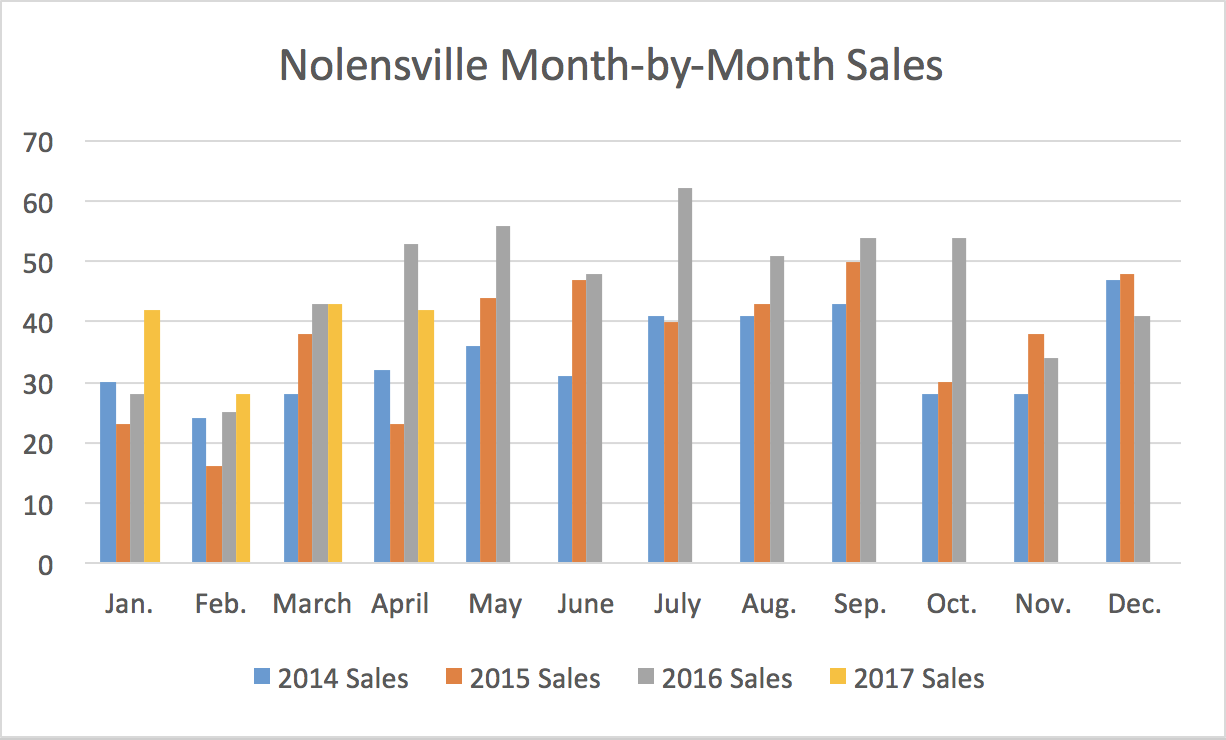 At the conclusion of the first quarter we were almost 18% ahead of last year's record-pace. One month later and that lead has dwindled to 4%.
Call it a normalizing of sales-figures. No way we could keep up the break-neck pace we launched with in January (+32%) and expect that to hold. I think we'll still hammer out another year of growth, but it may be slight.

Interested in up to date Nolensville TN real estate sales figures? I'll email you an HOURLY UPDATED look at Nolensville real estate activity including what has gone pending, price-reduced, and withdrawn. Just shoot me an email with your name and preferred email address to flint@homesaroundnashville.com
---
Williamson County Home Sales Remain Strong…
(The following comes from the Williamson County Association of REALTORS®) – Williamson County home sales maintained momentum in April with homes moving off the market at a significantly faster pace than a year ago and the median sales price setting another monthly record high.
The 471 total home closings in Williamson County in April 2017 were on pace with the previous year's 474 closings in April 2016. However, residential closings this year happened at a much faster pace with single-family homes selling on average in 49 days, which is down significantly from an average of 67 days a year ago.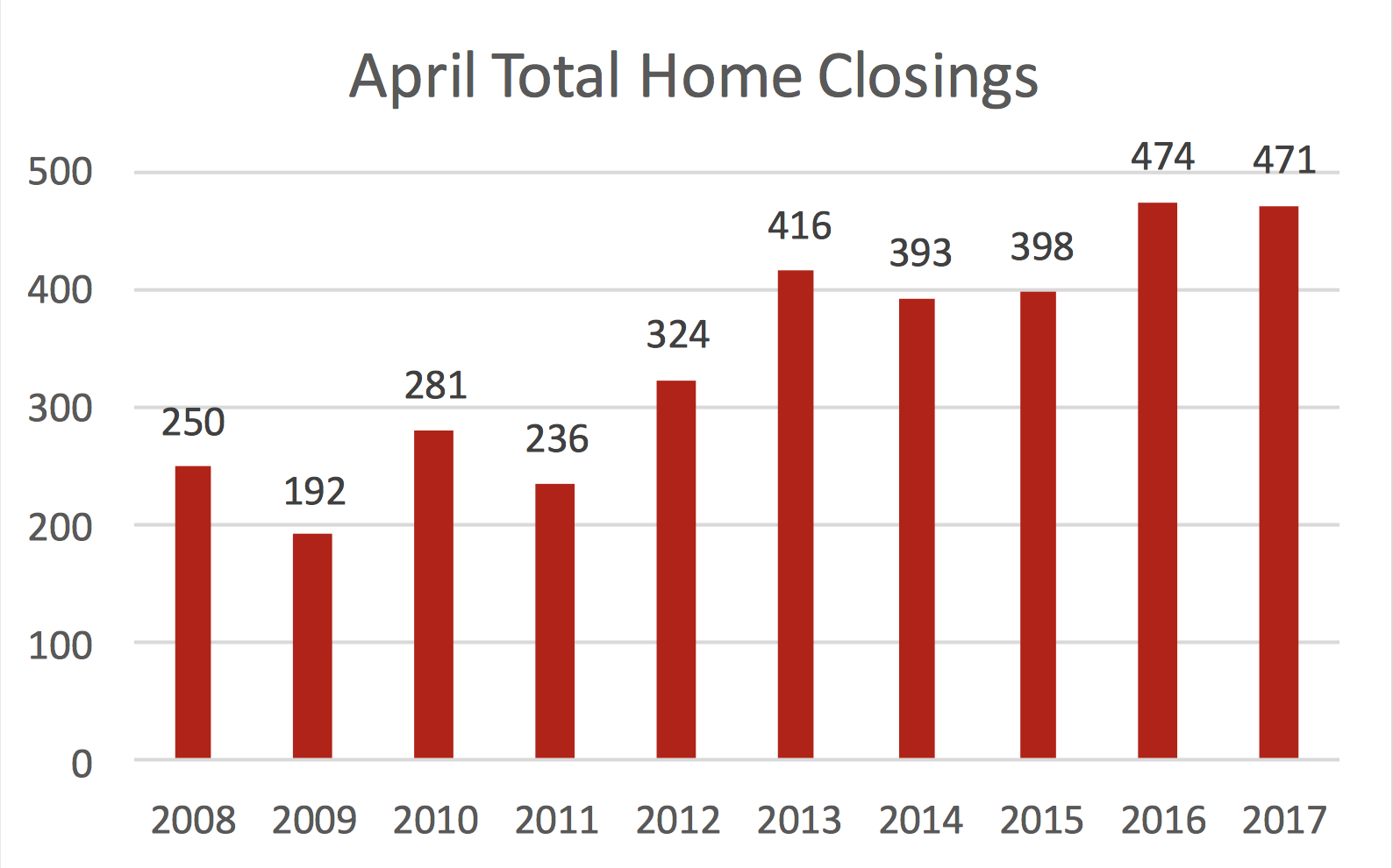 The median sales price for a single-family home increased 5.8 percent to $459,013 in March 2017 versus $433,850 for the same period last year and topped the all-time record of $459,000 set in June 2016. March also marked 13 consecutive months the median sales price for a single-family home in Williamson County was above $400,000.
On a year-to-date basis, home sales are 2.8 percent ahead of last year with 1,569 total home closings in Williamson County through April 2017 compared to 1,527 for the same period last year.
The median sales price for a single-family home increased 4.2 percent to $451,100 in April 2017 and broke the previous monthly record high of $433,000 setlastyear. Aprilalsomarked14consecutivemonthsthemediansalesprice for a single-family home in Williamson County was above $400,000.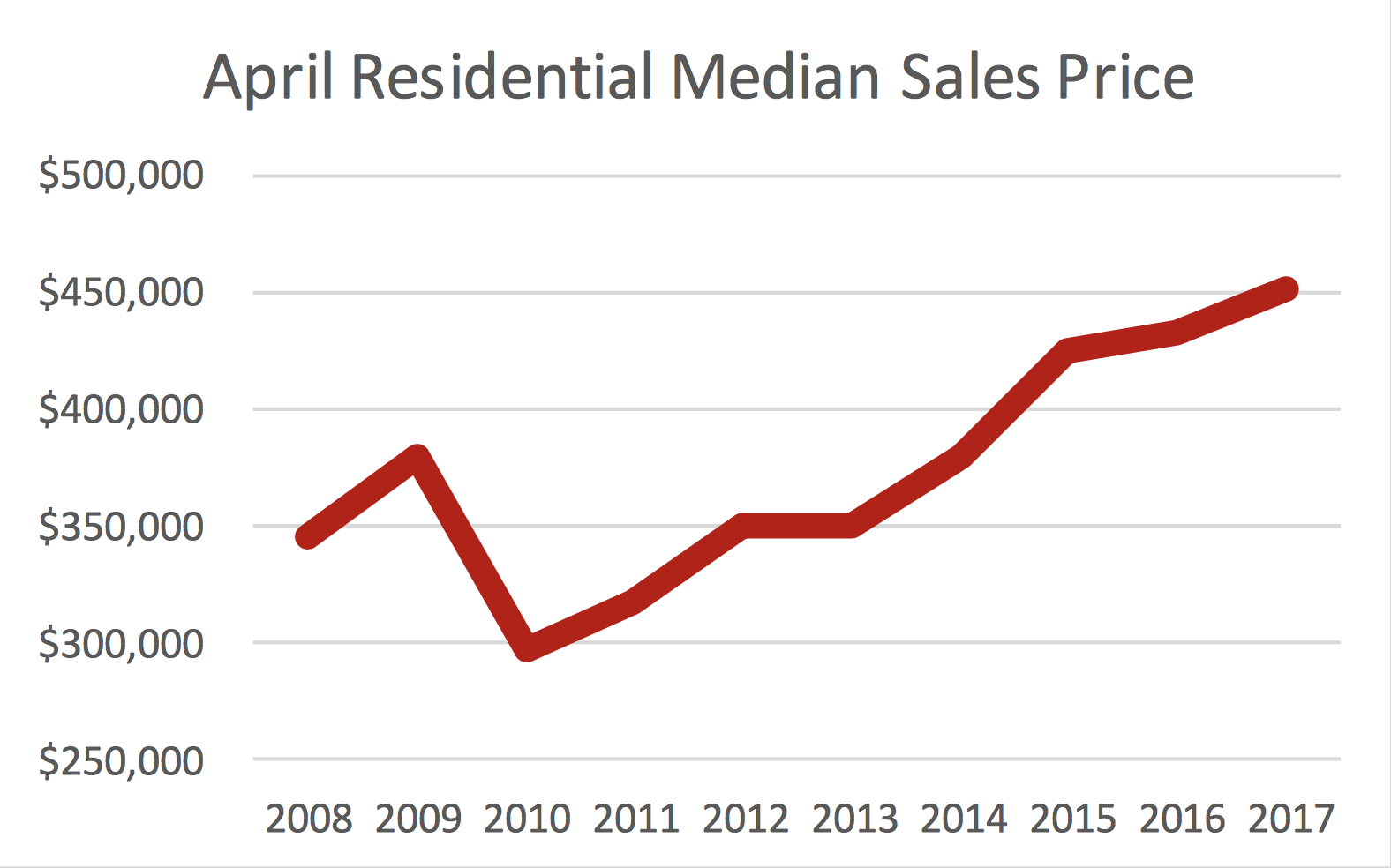 Total available residential inventory in Williamson County at the end of April increased 7.6 percent to 1,621 homes, but is still 8.7 percent lower than the 1,776 homes available a year ago.
For the month of April, single-family home inventory declined 7.3 percent from 1,684 listings in 2016 to 1561 in 2017. Condominium inventory decreased from 92 listings in 2016 to 60 in 2017, representing a 35 percent decrease.
Since 2012, closings of single-family homes have increased 51 percent and the selling price has climbed nearly 30 percent higher. Meanwhile, available inventory has dwindled by 22 percent.
---
Mortgage Rates Holding Steady…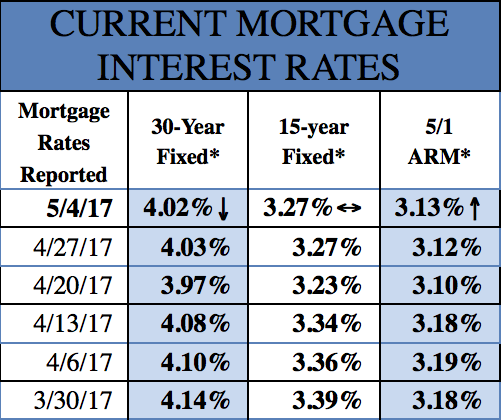 From My Mortgage Insider.com: Mortgage rates remained largely unchanged over the past week, likely caused by man investors feeling uncertain with the immediate future of the market.
This gives home buyers another chance to lock in on low rates.
Over the past week, mortgage rates dropped to 4.02%, a decrease of just 0.01% from the previous week.
The fact that mortgage rates aren't rising to higher levels should be a positive sign for many home buyers. The lower rates stay, the more affordable homes are.
Rates remained near their previous levels after some negative economic news was released. Estimated GDP growth was lower than expected, and investors pushed mortgage rates down because of it.
Also, the Fed was scheduled to meet on Tuesday and Wednesday this week, and with lower-than-expected economic indicators being released, a rate hike seemed unlikely.
All this means is that the economy is growing, but it had a poor quarter. There is plenty of evidence to suggest that the economy will continue to grow, but at a quicker pace.
When that happens, mortgage rates will still be near their current-low levels.
---
New Addition to My Nolensville Real Estate Practice:
You know me for my Nolensville-focused real estate practice. In fact, I've helped almost 50 buyers and sellers close on Nolensville real estate sales! Last month, I added a new piece to my business – DAC Custom Homes.
I'm very excited to list the remaining DAC lots in Bent Creek… and some lots in Benington. DAC also has lots in the upcoming Woods at Burberry Glen neighborhood in Nolensville. I'll share more on that project in the coming months.
Call or email me if you're interested in learning more about building with this amazing custom-home builder.
I also have a great Bent Creek listing at 4524 Sawmill Place. Check out the video, below, to learn more!
---
I'm a Nolensville TN resident… I'm a Nolensville TN Realtor®… and I always offer a complimentary, no commitment, no pressure Comparative Market Analysis for my neighbors. Please let me know how I may assist you in the sale or purchase of a Nolensville property.