by Flint Adam, Nolensville resident & REALTOR®

The effects of low housing-inventory are becoming more pronounced in Nolensville. February closings dipped 29% year-over-year while sales-prices rose almost 12%.
Those are the numbers, and here is the reality: it is extremely difficult being a buyer right now.
Over the past 75 days I have shown listing after listing with familiar results… dozens of interested buyers, multiple offers, above-asking-price deals, and very few contingencies. There has never been a time quite like it in local real estate.
That isn't to say it's unmanageable. I've worked with seven different buyers so far this year and have gotten every one of them in a home. It didn't happen without bruises and battered teeth, though… and a LOT of time and effort.
Let's look at the landscape.
February 2021 Recap…
Inventory isn't improving. In fact, it's dire. In February 2020, there were 134 homes available for purchase in Nolensville. One year later, that number dipped to 21 – much of it new construction that can't be moved in to for months. That's an 84% drop in Nolensville housing inventory! Stunning.
There are growing concerns in the industry about what the near-term future holds. While demand remains red hot, housing-related companies like Home Depot are declining to give guidance on their company's expectations for the rest of the year. They really don't know how all of this is going to pan out.
Policy makers are increasingly alarmed about affordability issues, and rising interest rates will soon add to the difficulty of purchasing or refinancing a home.
Not to mention the supply-chain issues and price markups affecting the new construction industry. All of this has led to an all out battle in the housing market at present.
Meanwhile, an influx of out-of-state buyers with lots of cash is recreating our marketplace. It's a frenzy.
February 2021 sales stats vs. February 2020:
27 Nolensville homes sold… down from 38 a year ago (

-28.95%

)
The average sales price was $599,934… up from $536,735 (

+11.77%

)
The average days on market was 15… down from 26 (

-11 days

)
The list-price-to-sales-price ratio was 100.58%… up from 99.53% (

+1.05%

)
13 of the 27 homes (48%) sold were new construction
The lowest price sale was 3000 Ballenger Dr. in Ballenger Farms for $275,000.

Note: this was a special-case sale among family members and not representative of true market value

The highest price sale was 9133 Holstein Dr. in The Farm at Clovercroft for $910,000
And here are some crazy facts:
12 of the 14 resales closed last month spent 0 to 6 days on market.
7 of those 14 resales sold above asking-price… at an average $16,859 surplus.
Let that last figure sink in. Half of the homes sold got ridiculous prices above-asking. Another half either sold at asking or below.
While it may seem fair to assess that "everything is selling these days", you may be leaving significant cash on the table if you aren't employing the right strategies. If you're a seller, leveraging today's market begins with having the right advice from a knowledgeable real estate agent.
So… What's Available for Purchase?
I was going to write a paragraph about what you can buy in Nolensville right now and move into in the next 30 days… but there's only one listing.
I do see a Coming Soon property in Benington hitting the market this weekend, but it'll set you back a cool $1.3M.
Otherwise, that's it folks. So let's do another fun exercise…
Nolensville PENDING Home Resales…

That list is, in fact, as ridiculous as it looks. 32 pending sales averaging out to only 2 days on market each. The March sales recap is going to be the most extreme any of us has ever seen… both on selling prices and days on market.
*Note: The information above cites Williamson County sales data for Nolensville, Tennessee. There is, of course, a small percentage of Nolensville homes that exist in Davidson and Rutherford counties, but for continuity in my blogging I reference only Williamson County statistics.
---
Williamson County Home Sales Stats

If the prior section wasn't silly enough for you, check out the county data…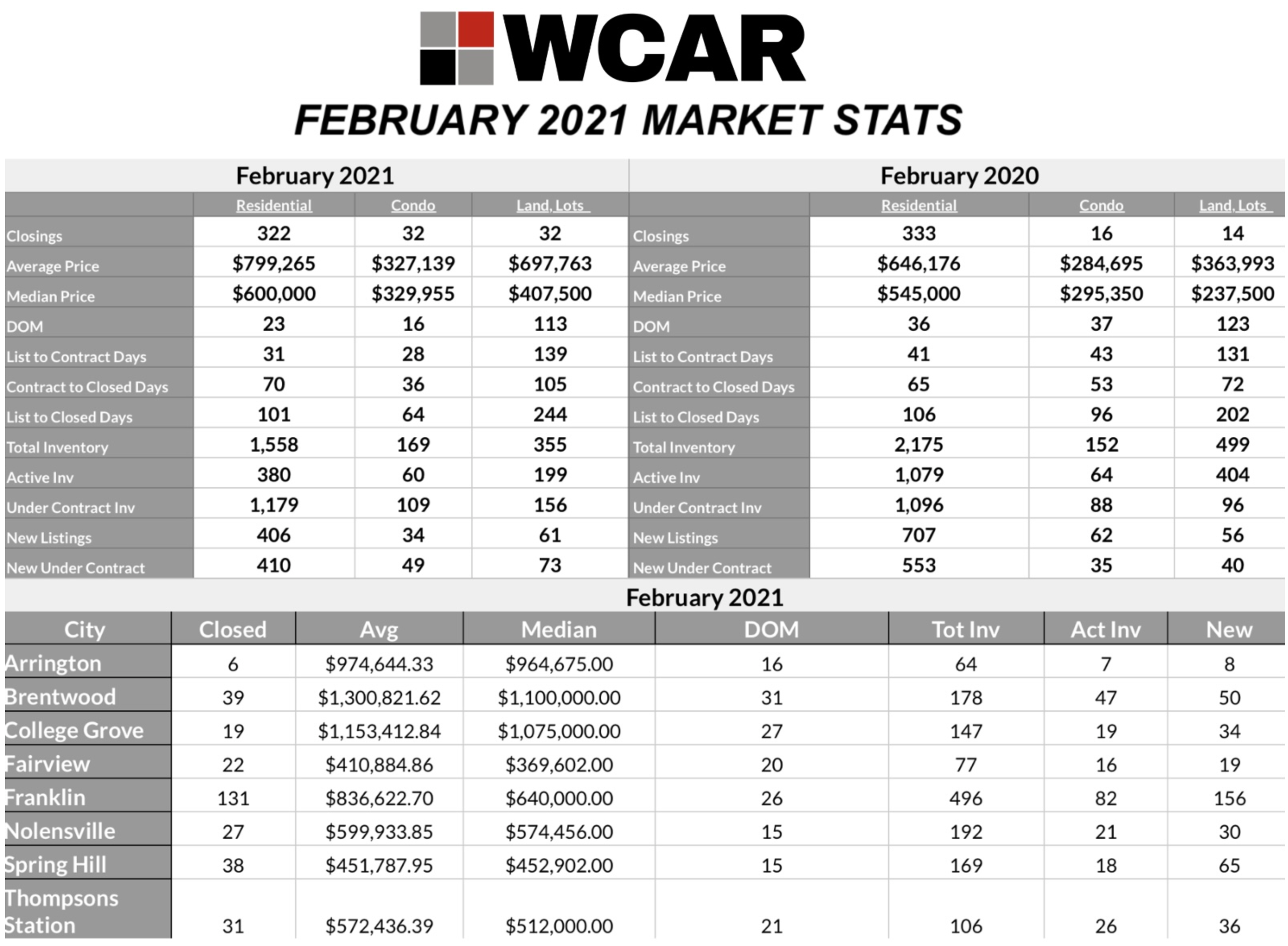 There were 65% fewer homes For Sale across Williamson County than during February 2020. And how about the average(!) selling price in Brentwood last month? $1.3 million!! That makes Nolensville's $600K seem downright quaint, doesn't it?
---
Where Does It Go From Here…
There are a few assumptions I feel pretty confident about: home prices will continue rising… mortgage rates will continue rising… and slowly but surely, inventory levels will begin rising.
We haven't even hit spring market yet. Typically, home inventory increases after spring break and really gets moving once the school year ends. I believe overall inventory will improve, but we'll remain in a shortage for the near-term.
The script could flip, though, if interest rates shoot up. Our country continues investing in stimulus packages, and more and more economists are concerned that inflation could rear its head this summer as we emerge from the worst of the pandemic and people begin spending again.
I have no crystal ball, but what I see right now is a wild market where sense has been thrown out the window and buyers are frenzied trying to get inside homes. It surely can't go on forever, and at some point a correction will occur, but my expectation is it will be mild.
Interested in up to date Nolensville TN real estate sales figures? I'll email you an HOURLY UPDATED look at Nolensville real estate activity including what has gone pending, price-reduced, and withdrawn. Just shoot me an email with your name and preferred email address to flint@theguidehome.com
---
Mortgage rates continue their upward trend… rising from a low of 2.65% for a 30-yr fixed on January 7th. With each passing week it becomes more expensive to borrow money. If you're thinking about buying OR selling, it's best to move quickly before rates make it more difficult to do either.
---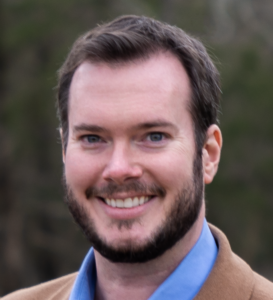 Flint Adam is a 10+ year Nolensville resident and lives with his wife and children in Bent Creek. He focuses his real estate practice here in town, having served around 150 buyers and sellers in closed Nolensville real estate transactions. Flint enjoys blogging about local real estate, traveling the world, photography, and bourbon-hunting. He is passionate about serving Nolensville and keeping it one of America's greatest small towns.