by Flint Adam, Nolensville resident & Realtor®
Thursday, November 10, 2016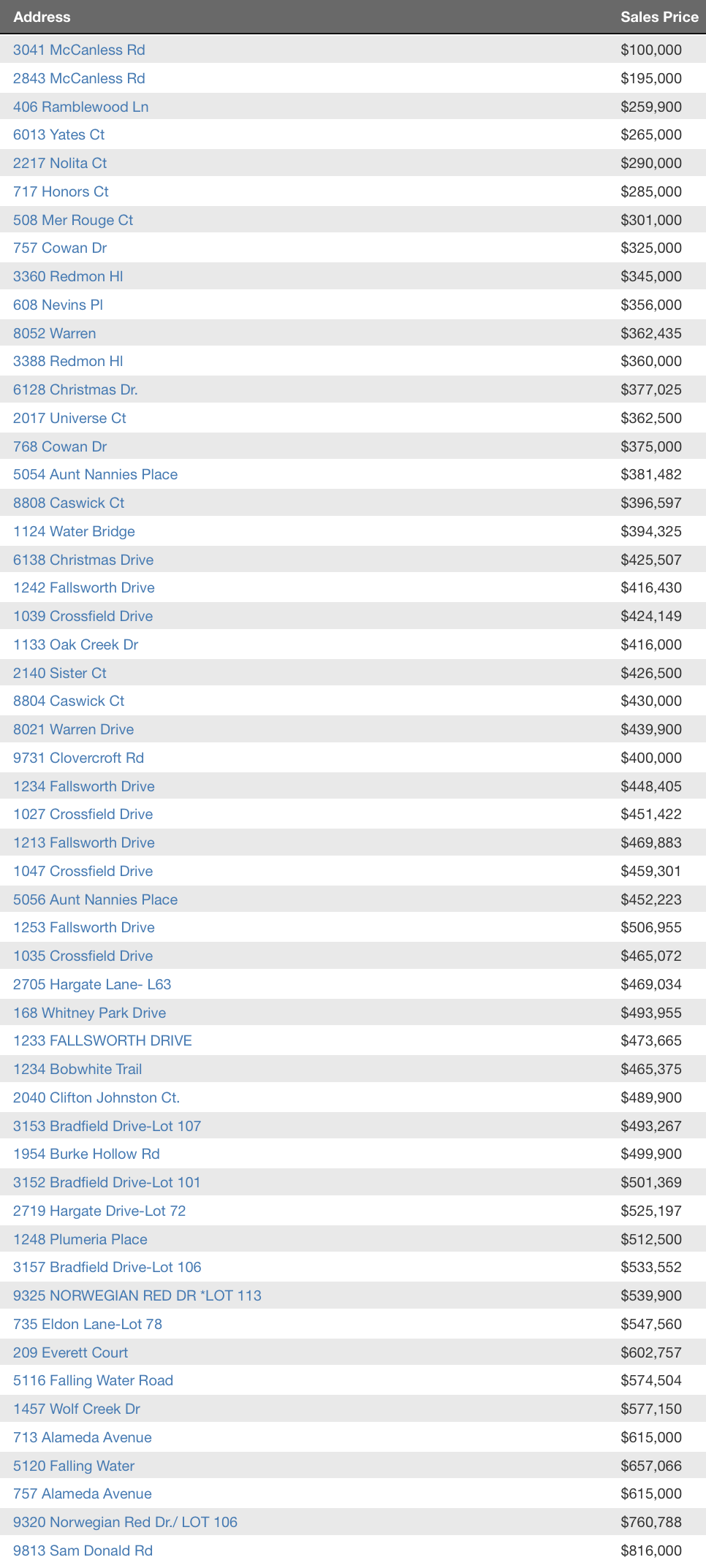 There is no slowing down Nolensville's historic rate of home sales in 2016. Already, we are an amazing 30% above* last year's record-sales numbers through the same January – October time period.
October 2016 was a particularly dominating month – almost doubling the individual sales figures from October 2015 and 2014. New construction remained the biggest seller last month, accounting for about 60% 0f all transactions.
The median Nolensville home price, meanwhile, reached $449,914 – more than 9% higher than October 2015's median price of $411,683.
It remains a great time to be the seller of an accurately priced, well-marketed home under $400,000. However, the $500,000+ range of residential resales has seen days on market (DOM) noticeably grow, and price-reductions are a consistent theme.
Competition also remains heated among buyers – especially in the sub-$350K range – where multiple offers aren't uncommon.
<—Click the graphic to the left to view Nolensville homes sold in October 2016.
Breakdown of Sales Figures
Here is a breakdown of Nolensville's single-family residential sales figures for the month of October 2016.
This data comes from my own research along with data provided by the Williamson County Association of Realtors. Keep in mind these figures do not include For Sale By Owner or Nolensville properties outside of Williamson County:
Single-Family Homes Closed: 

54… same as 54 in September

Median Sold Price: 

$449,914… up from $469,795 in September

Avg. Days on Market: 

48… up from 47 in September

Inventory: 

98

Pending: 

56

Number of new construction sales: 

32… up from 30 in September

Existing home sales: 

22… down from 24 in September

Median Sales Price/Square Foot: 

$145.35/sf

Average Year Built: 

2008
The highest selling price last month was a home on 15-acres on Sam Donald Road. It sold for $816,000. Its original list price was $886,500.
*Note: The above information cites Williamson County sales data for Nolensville, Tennessee. There are, of course, a percentage of Nolensville properties that also exist in Davidson and Rutherford counties, but for the purpose of this blog I am focusing on Williamson County since a majority of Nolensville addresses fall within this geographic area.
---
Nolensville's Residential Sales Numbers are Insane
It's pretty amazing to look at the graphics below.
October 2016 marks one of the biggest disparities of any month of sales when compared to the previous two years. Seriously – just look at that graph!
It's also interesting what a strong month October 2016 was considering it traditionally is a month where sales really drop off before rebounding somewhat in November and December.
Also notable were April and July 2016. So three of this year's four quarters had a month where sales shocked – and catapulted overall yearly totals.
Here is a look at the month-by-month sales-trend over the past three years for Nolensville (Williamson Co.) Another impressive stat is our town has met or exceeded the year-over-year residential sales volume every month so far in 2016.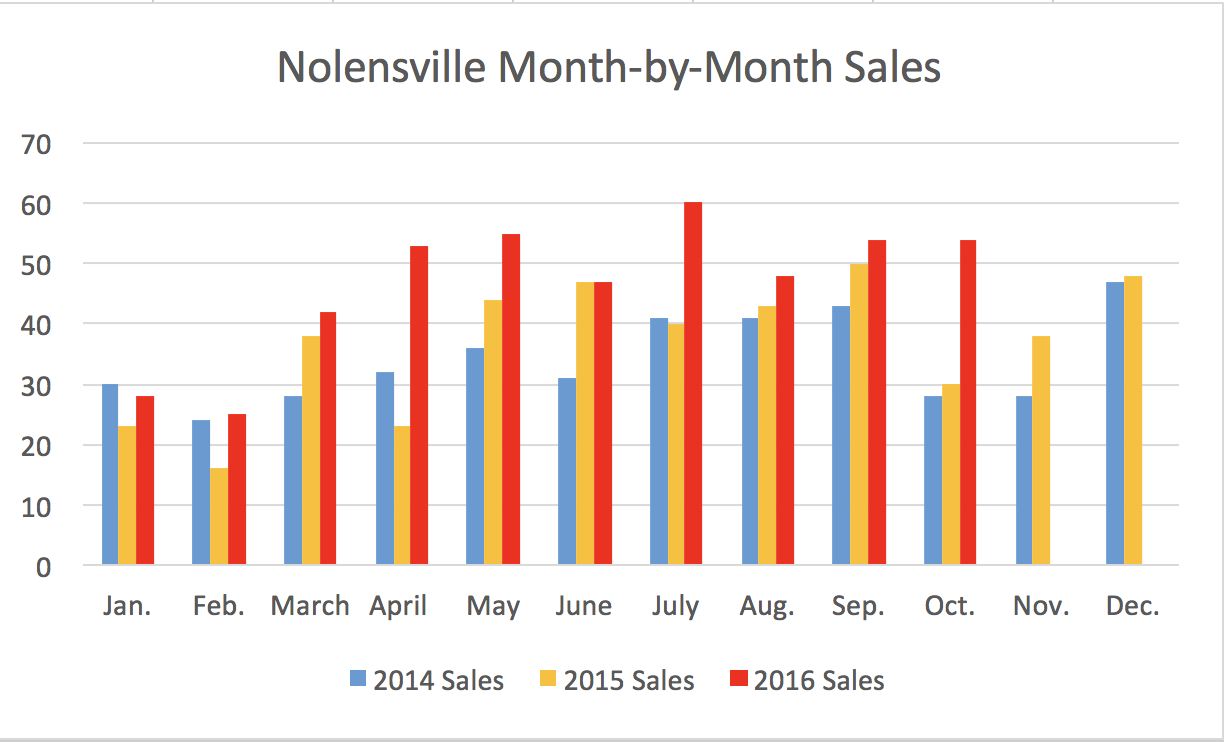 Meanwhile, Nolensville remains on an amazing overall sales-pace, selling 469 Williamson County addresses through October 31st. We have already eclipsed the TOTAL sales numbers from all of 2015… and we still have two more months of sales to go.

Interested in up to date Nolensville TN real estate sales figures? I'll email you an HOURLY UPDATED look at Nolensville real estate activity including what has gone pending, price-reduced, and withdrawn. Just shoot me an email with your name and preferred email address to flint@homesaroundnashville.com
---
Williamson County Home Sales Remain Strong…
(The following comes from the Williamson County Association of REALTORS®) – Total residential closings in Williamson County rose 22.7 percent in October 2016. The total number of closed home sales were 513 for the month compared to 418 in October 2015.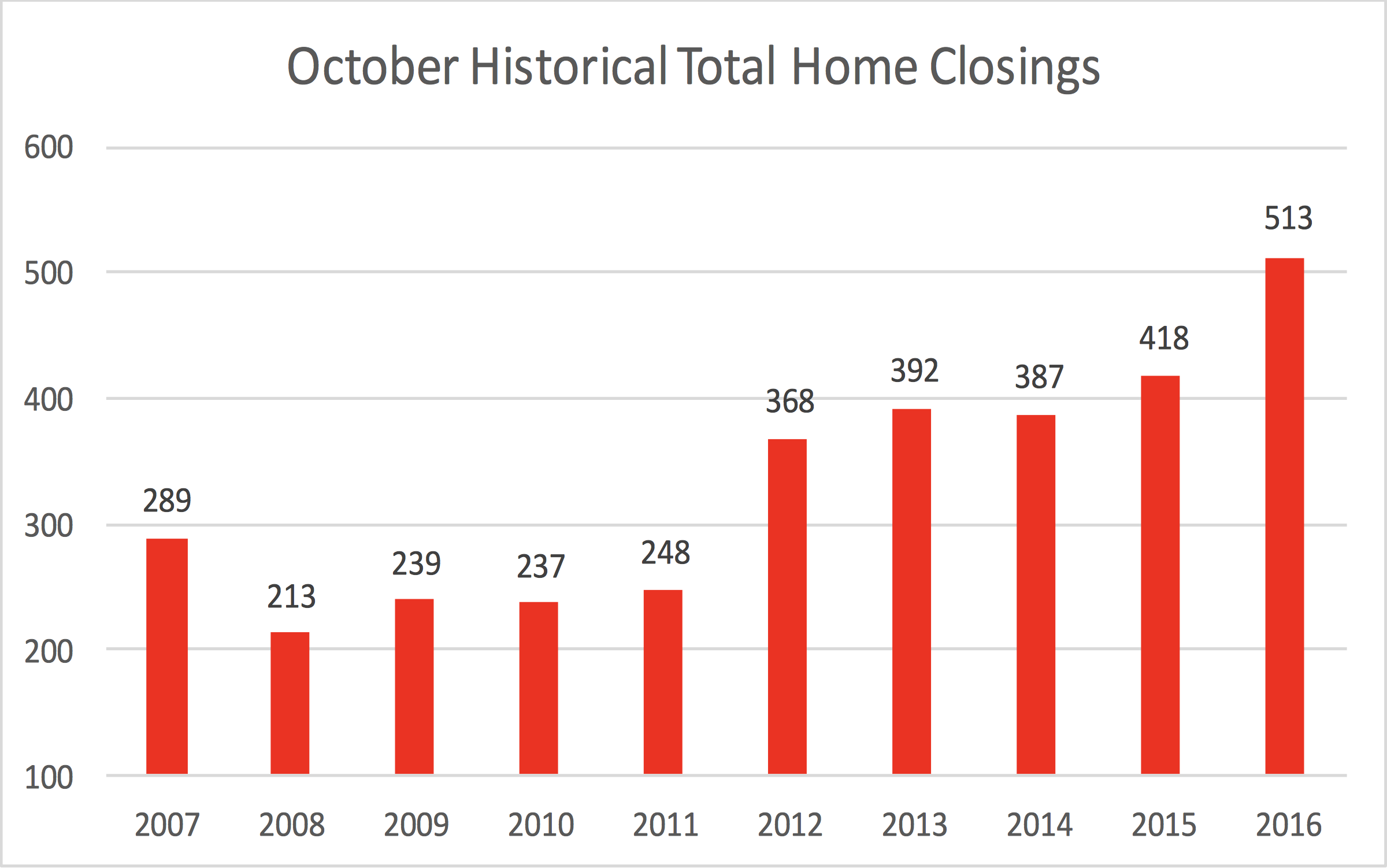 The median sales price for a single-family home rose 3.2 percent to $435,384 in October 2016, compared to $422,000 for the same period last year.  October marked the eighth consecutive month the median sales price for a single-family home surpassed $400,000.
Year-to-date total home sales in Williamson County are 4,829 an increase of 2.7 percent over the 4,703 closings for the same period last year.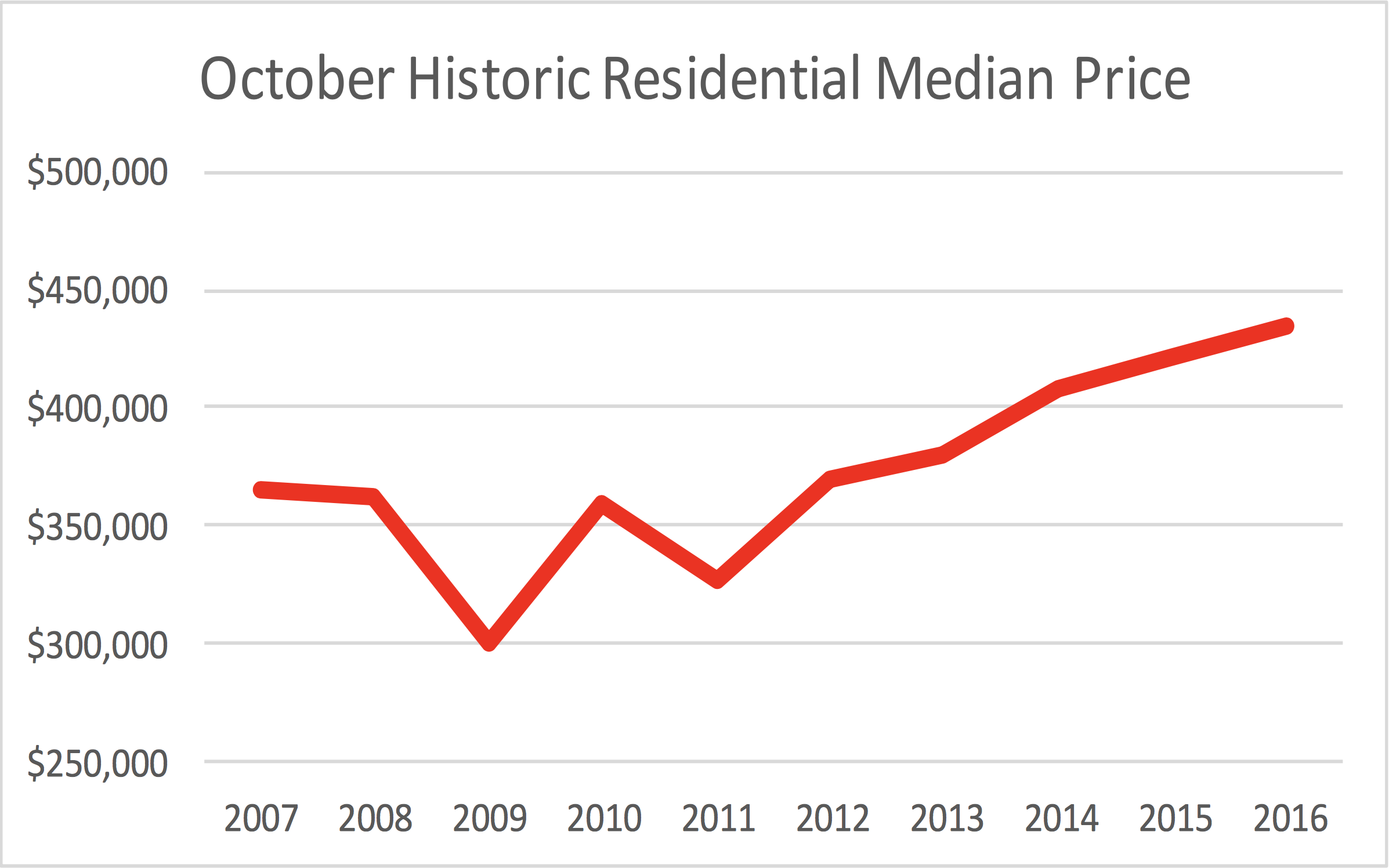 Total available residential inventory in Williamson County stood at 1,459 units at the end of October, indicating a slightly less than three-month supply of available homes. A six-month supply is considered a balanced market.
For the month of October, available inventory declined for both single-family homes and condominiums.  Single-family home inventory declined 19.7 percent from 1,721 in 2015 to 1,382 listed homes in 2016, while condominium inventory decreased 14.4 percent from 90 in 2015 to 77 listings in 2016.
---
What a Trump Presidency Means for Real Estate
Love him or hate him, Donald Trump is the President-Elect. There was quite a bit of uncertainty in the stock market on election night, but since winning the nomination, the markets have regulated (and even gained). A question many home buyers and sellers have had, though, is what impact a Trump presidency will have on real estate.
Probably not much, to begin with.
However, we know from the Republican Platform 2016 that he plans on limiting the Federal Government's reach in real estate.
A Trump presidency may be good for home buyers struggling to save for a down payment because he's promised tax cuts. This would – in theory – leave buyers with more money to save towards buying a home.
However, Trump has also discussed shrinking government programs, and this could impact Fannie Mae and Freddie Mac… even FHA programs. This could greatly affect many potential homebuyers.
There is a lot that remains to be seen. Mr. Trump has not yet taken office, and it's not unprecedented for a President-Elect to not deliver on campaign promises.
---
Mortgage Rates – Rising After the Election.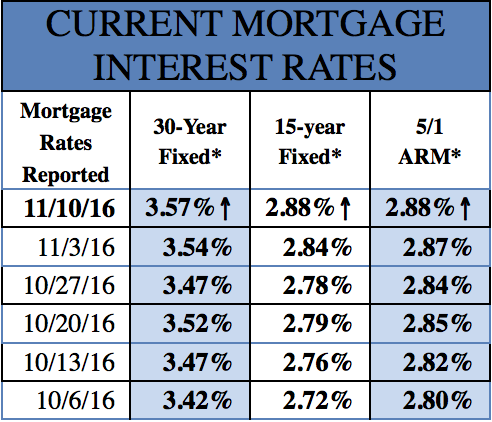 From My Mortgage Insider.com: Even though the market responded negatively on Tuesday night, mortgage rates continued to rise over the past week.
Over the past week, the 30-year fixed rate mortgage increased to 3.57%, a slight bump up from the previous week. This is the highest the 30-year fixed rate has been since early June.
This is somewhat of a surprise, especially since markets began to dip after Donald Trump won the election. Market's expected Hillary Clinton to win, and the surprise come-from-behind victory of Trump rattled markets.
Now that the election is over, mortgage rates are primed to begin rising. Barring a major economic event, the market is likely going to climb higher. Mortgage rates are bound to follow.
---
Great Buy In Nolensville's Benington Neighborhood and Burkitt Place:
Check out my listing at 1508 Pumpkin Ridge Court in Nolensville's Benington neighborhood! There is not a better value in the neighborhood – either on a price/square foot valuation or overall listing price.
This home also includes a 1-year home warranty and is the ONLY home in the neighborhood priced under $600,000. It's a beautiful, 4,200sf home with a private backyard backing up to woods. Call me today at 615.500.6393 to schedule a showing. Open House this Sunday, November 13th from 2PM-4PM!
There is also my listing at 8828 Caswick Court in Nolensville's Burkitt Place neighborhood. This is a spacious 5-bedroom home that backs up to woods and has only one adjacent neighbor to the left. On the right side of the home is natural preserve, and it sits on a cul-de-sac. Call me to schedule a showing – 615.500.6393!
---
I'm a Nolensville TN resident… I'm a Nolensville TN Realtor®… and I always offer a complimentary, no commitment, no pressure Comparative Market Analysis for my neighbors. Please let me know how I may assist you in the sale or purchase of a Nolensville property.