by Flint Adam, Nolensville resident & Realtor®
Monday, August 22, 2016
Right around this time of year, potential Nolensville home sellers begin asking me this question: "Is it still a good time to sell even though school has started?"
Well, now – why don't we break out the 'ol stats sheet and answer this with some data?
In researching this topic, I dug into MLS stats from the past five years in Nolensville and focused on the town's Williamson County addresses (as they make up the bulk of our town, and would arguably feel the greatest impact of the school year).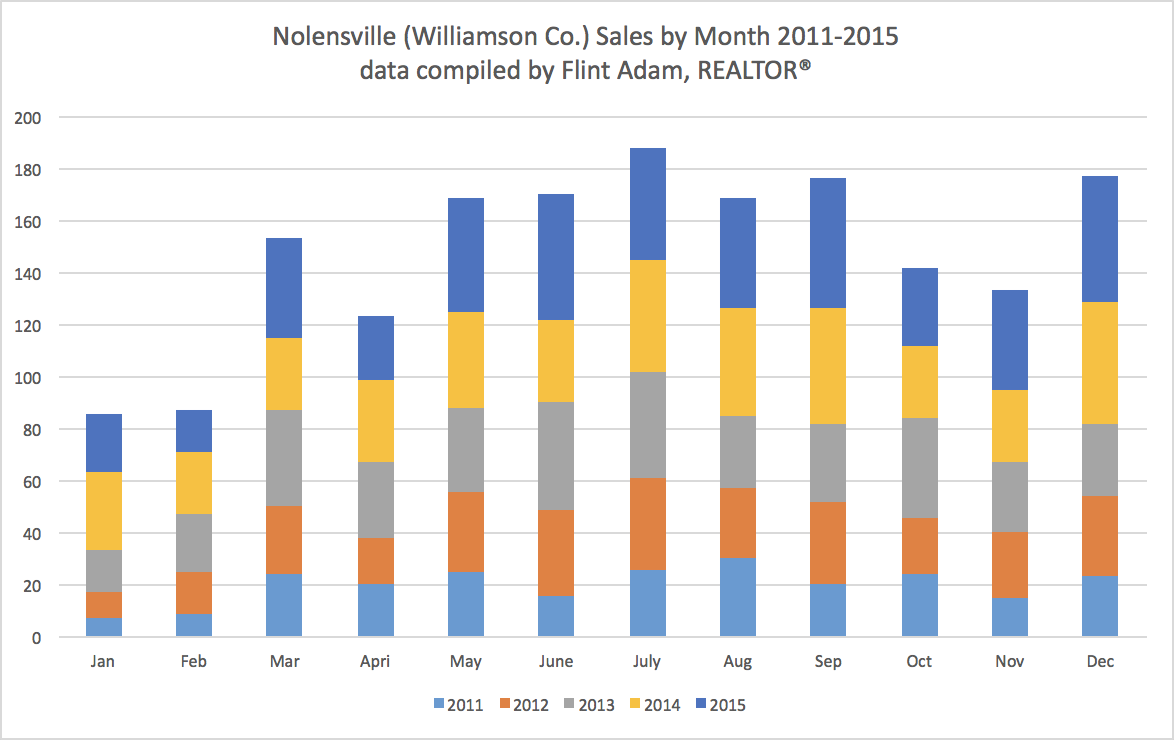 The graph I produced, above, shows the month-by-month breakdown of Nolensville home sales from 2011-2015, but it also groups the numbers into monthly totals over the years. This better represents how each month fairs over the long-term.
Key Takeaways…
July is historically the strongest month for home sales in Nolensville
The May through September period represents the strongest stretch of home sales in an average year
December is surprisingly the second strongest home sales month of the year, though new construction (67%) makes up the bulk of activity
January and February are about half as active as the peak selling season
REAL ESTATE SALES HAPPEN YEAR-ROUND!
Yes, check that final bullet point one more time – it's how I typically reply when asked the question about listing after the school year has begun. There is an ebb and flow of real estate activity throughout the year, and the summer months are obviously hotter due to school being out of session and the nicer weather. However, there are folks ready to move during every season, so you aren't doomed with a list-date in September… but you will need to manage your expectations!
The Challenges of Listing Later in the Year…
Now that we've established that real estate sells year-round, let's dial back the euphoria and manage some expectations: listing in September is not like listing in May.
There is a lot of buyer and seller motivation heading into late spring and throughout the summer months. School is ending, the weather is warming up, and people are ready to move!
Once fall hits, there's football and festivals to contend with on the weekends  (which are typical prime days of the week for real estate traffic). And when the holidays come around… well, people are making travel plans, shopping for gifts, and readying for colder weather.
As you look at the graph above again, keep in mind that in today's real estate market – and assuming optimal circumstances like a well-priced, well-maintained, subdivision home in Nolensville – you're probably still looking at about 70 days from the day you list to the day you close on a home sale. (That average will also lengthen somewhat during the off-peak months and for homes priced above $500K.)
This means the slower sales activity we noted in January and February likely originated with listings that came to market in October, November, and December.
Selling This Year? Get Listed Soon…
In a nutshell: if you're planning on selling this year, I would advise that you try and hit the market in the next few weeks. This is the optimal window in the time we have remaining this year to maximize buyer-traffic. You're not out of luck if you wait until later, but you will need to be prepared for a longer stay on market.
Oh, and make sure you don't whiff on pricing… that could really cause some delays. I've previously noted the abundance of price-reductions that have occurred in Nolensville this summer. Substantially over-pricing during off-peak months can really sink your marketing and ultimately lead to a failed listing.
I'm a Nolensville resident and Realtor®, and I'm available to answer your questions if you're considering buying or selling real estate.
---
NEW NOLENSVILLE LISTING – 1508 Pumpkin Ridge Ct. in Benington
This is my latest Nolensville listing: 1508 Pumpkin Ridge Ct. in our town's top-shelf neighborhood, Benington! (Click on the photo to watch the narrated video I produced).
It's one of Newmark's esteemed Fredrick Harris Estate Homes line, and is priced at a neighborhood-friendly $599,995.
Check out photos and details by clicking here, and call me to schedule a personal showing!
---
Flint Adam and his family live in Nolensville's Bent Creek community and he proudly focuses his real estate practice right here in town. Call him today at 615-500-6393 and discuss how he can help solve your real estate buying and selling needs.