by Flint Adam, Nolensville resident & Realtor®
Tuesday, March 7, 2017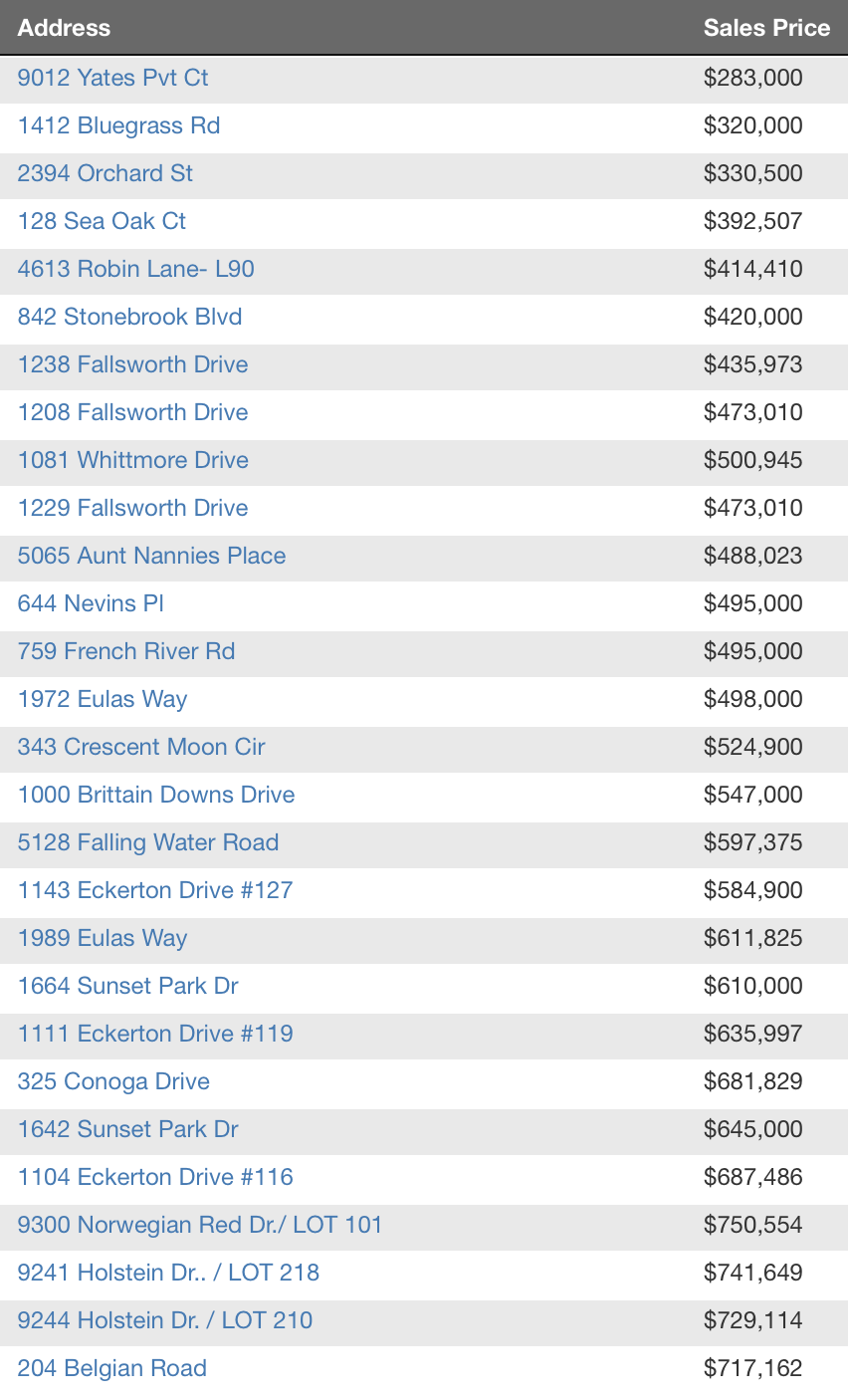 *Nolensville home sales set another record in February, despite the typical slow-down for this time of year.
The previous February sales-record was set in 2007, when 27 Nolensville (Williamson Co.) homes closed. However, there is quite a difference in the median home price between now and then:
2007 Nolensville median home price: $343,364
2017 Nolensville median home price: $512,923
That's a 49% increase in median sales price.
It's also noteworthy that 2007 was the year the Financial Crisis began. While there were a host of factors that went into creating the worst economic free fall since The Great Depression, much of it can be attributed to the real estate market, specifically:
the subprime lending market
growth of the housing bubble
easy credit conditions
weak and fraudulent underwriting practices
predatory lending
deregulation
increased debt burden or over leveraging
That's just naming a few. There were plenty of other factors at play, but the housing market was a tipping point. If you haven't read The Big Short, or at least seen the movie, you should pick up a copy and get a quick and entertaining breakdown of what went wrong 10 years ago.
That quick history lesson aside, real estate continues its boomtown trend here in Nashville.
The bulk of sales last month (68%) were new construction, which is expected. The past few years we've been hovering around an average 60%-65% new construction tilt. Buyers are ready to begin seeing more resales, though.
There's a bit of an unwritten rule around here that resales really get cranking after March Madness concludes. The early bird sellers already began hitting the market in February and this first week of March, but the action should really get underway in about another month.
Jumping topics – how about home prices in February? 10 sales (36%) closed in the $600K+ category. Granted, all of them were new construction, but it further illustrates the direction this town is going. My belief is by the end of 2017, we'll be staring at average new construction home prices in Nolensville near-$500,000.
That's a big number – one I take seriously. I believe it also means resales will become a very important piece of the puzzle moving forward. There remains a large audience who would love to live in Nolensville, but more and more I'm hearing people say they are priced out. Resales are their best opportunity to move here and fit their budget.
Breakdown of February Sales Figures
Here is a breakdown of Nolensville's single-family residential sales figures for the month of February 2017.
This data comes from my own research along with data provided by the Williamson County Association of Realtors. Keep in mind these figures do not include For Sale By Owner or Nolensville properties outside of Williamson County:
Single-Family Homes Closed: 

28… down 33% from 42 in January 2017

Median Sold Price: 

$512,923… up 7% from $479,868 in January 2017

Avg. Days on Market: 

37… down from 39 in January 2017

Inventory: 

127

Pending: 

35

Number of new construction sales: 

19… down from 30 in January 2017

Existing home sales: 

9… down from 12 in January 2017

Median Sales Price/Square Foot: 

$160.34/sf

Average Year Built: 

2013
The highest selling price last month was at 9300 Norwegian Red Dr. at the Farm at Clovercroft. It sold for $750,554.
*Note: The above information cites Williamson County sales data for Nolensville, Tennessee. There are, of course, a percentage of Nolensville properties that also exist in Davidson and Rutherford counties, but for the purpose of this blog I am focusing on Williamson County since a majority of Nolensville addresses fall within this geographic area.
---
Nolensville Gearing Up For Another Record Year of Sales…
February is historically the slowest month of Nolensville home sales. That said, if 28 sales is the worst month we have this year… well, it's going to be quite a year in real estate.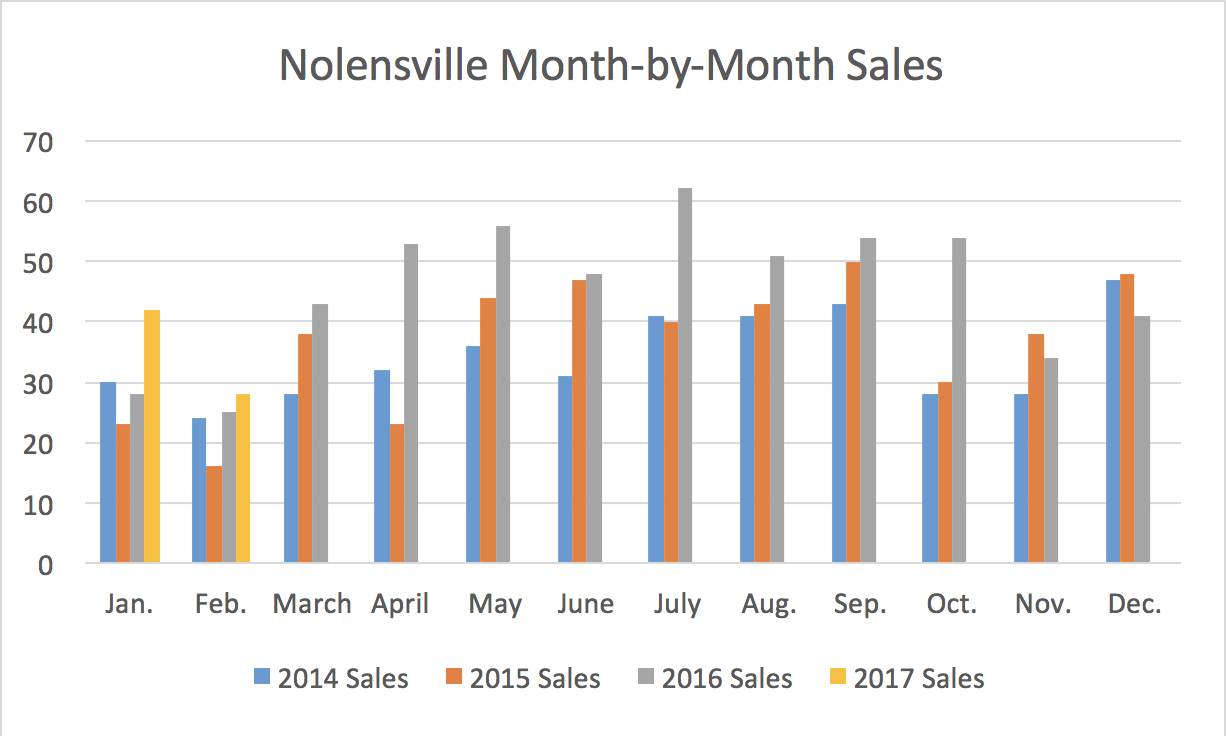 So far, we are 32% ahead of last year's record-pace of home sales in Nolensville. If we maintained that pace through year's end, we would finish with around 725 home sales. Keep in mind, last year's record-setting number was 549.
No, I don't think that pace will be kept up. Yes, I do believe we'll break 600. Heck, 650 might not even be out of the question.

What impact, though, will Williamson County's new educational impact fee have? Will it – along with rising home prices and mortgage rates – put the brakes on growth? We'll see…
Interested in up to date Nolensville TN real estate sales figures? I'll email you an HOURLY UPDATED look at Nolensville real estate activity including what has gone pending, price-reduced, and withdrawn. Just shoot me an email with your name and preferred email address to flint@homesaroundnashville.com
---
Williamson County Home Sales Set (Another) February Record…
(The following comes from the Williamson County Association of REALTORS®) – Williamson County home sales remained robust and the median sales price for a single-family home continued at record highs in February 2017. Total home closings in Williamson County in February 2017 climbed to an all-time monthly high of 320, which was an increase of 14.3 percent compared to 265 closings in February 2016.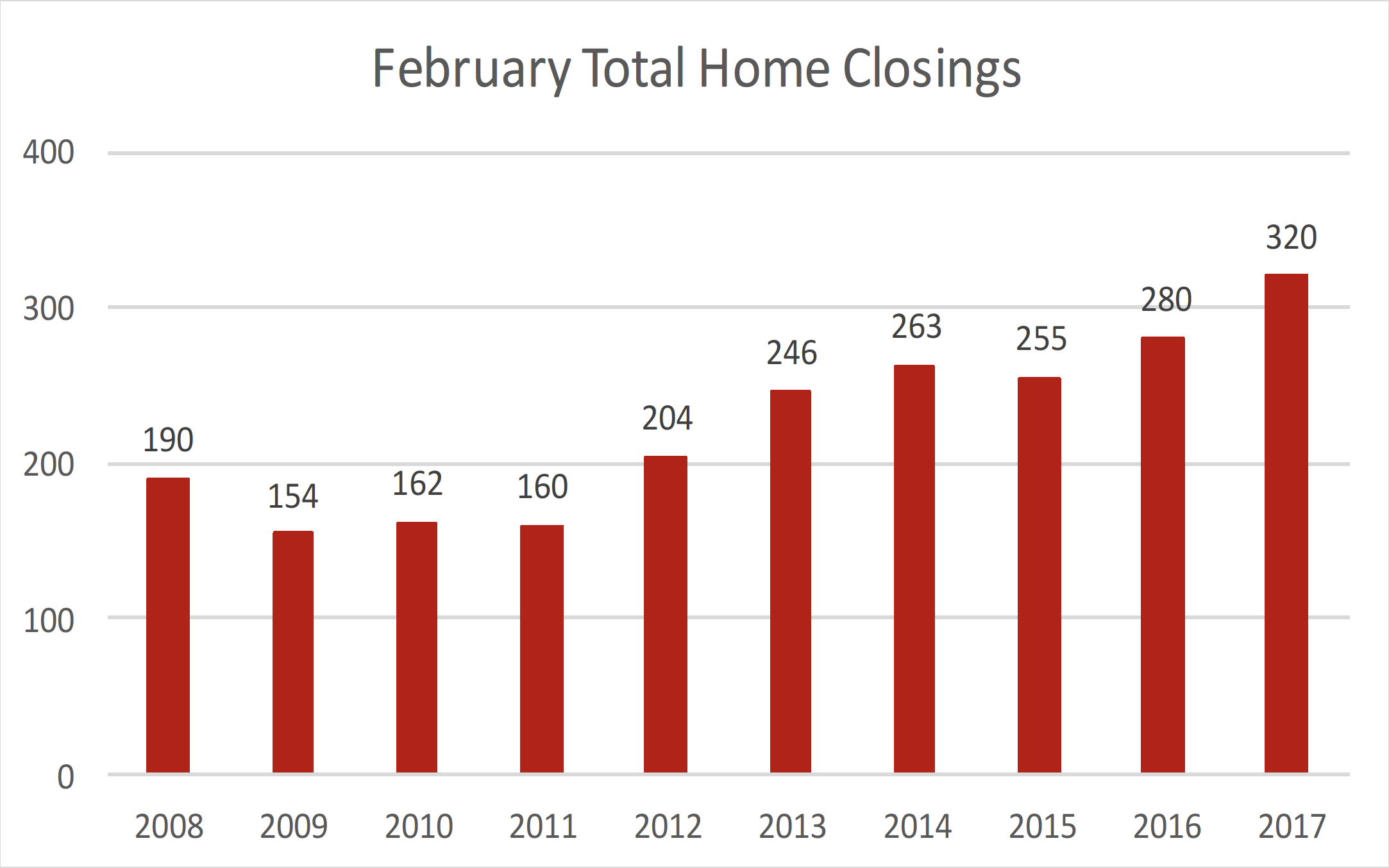 The median sales price for a single-family home increased 12.5 percent to $447,868 in February 2017 versus $396,970 for the same period last year.  This February's median sales price set a record high for the month.  February also marked 12 consecutive months the median sales price for a single-family home in Williamson County topped $400,000.
Year-to-date closings through February 2017 in Williamson County were 652, representing a 7.8 percent increase over the 605 closings for the same period last year.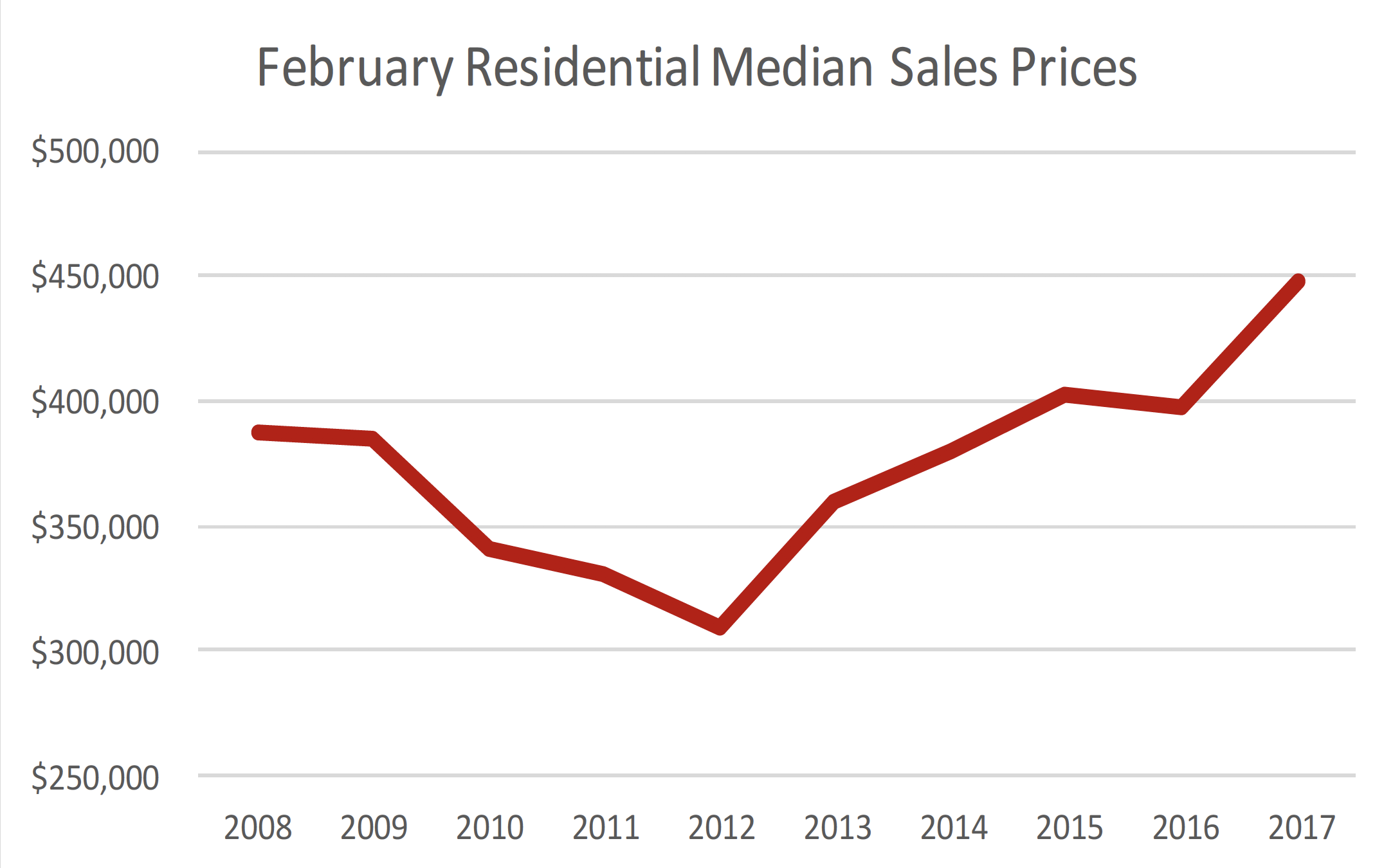 Total available residential inventory in Williamson County stood at 1,369 units at the end of February indicating a four-month supply of housing in the area. Compared to the same period last year, total available inventory is down 14.6 percent.
---
Mortgage Rates – Rising After the Election.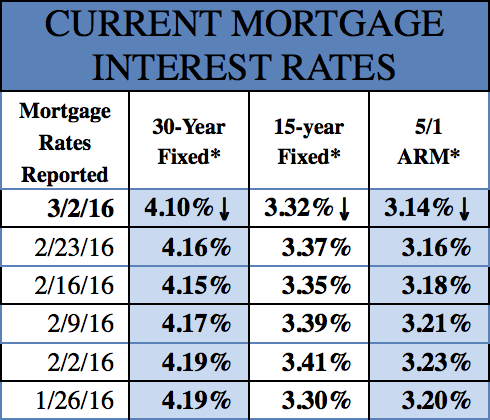 From My Mortgage Insider.com: After a few weeks of breaking a historical trend, mortgage rates are heading back to toward their normal ways.
Fortunately for home buyers, this means that mortgage rates are dropping.
Over the past week, rates dropped by an average of six basis points (0.06%). This leaves the average rate at 4.10%, the lowest level since mid-January.
For the past few weeks, mortgage rates were holding relatively even. While this doesn't seem odd, it was happening despite plenty of evidence that rates should have been lowering.
Now that rates are on their way back down, it seems that they're getting back to their old ways. This is good news, since mortgage rates were largely unpredictable over the past few weeks.
So far, 2017 hasn't been as bad for home buyers as it looked like it was going to be. Mortgage rates started the year high, but they've since dropped to much lower levels.
While current rates are still higher than they were a year ago, home buyers might find that rates are more friendly for purchasing a house than they were just a few months ago.
---
New Addition to My Nolensville Real Estate Practice:
You know me for my Nolensville-focused real estate practice. In fact, I've helped almost 50 buyers and sellers close on Nolensville real estate sales! Last month, I added a new piece to my business – DAC Custom Homes.
I'm very excited to list the remaining DAC lots in Bent Creek… and some lots in Benington. DAC also has lots in the upcoming Woods at Burberry Glen neighborhood in Nolensville. I'll share more on that project in the coming months.
Call or email me if you're interested in learning more about building with this amazing custom-home builder.
I also have a great Bent Creek listing at 3259 Locust Hollow. Check out the video, below, to learn more!
---
I'm a Nolensville TN resident… I'm a Nolensville TN Realtor®… and I always offer a complimentary, no commitment, no pressure Comparative Market Analysis for my neighbors. Please let me know how I may assist you in the sale or purchase of a Nolensville property.