by Flint Adam, Nolensville resident & Realtor®
Monday, August 8, 2016
Whew! It's getting pretty hot out there, folks. The dog days of summer are upon us once more, but the real estate here in Nolensville is just as sizzling as our temperatures.
In fact – more so.
Residential re-sales and new construction landed a powerful one-two punch in town last month, as residential sales hit the 6-0 mark for the first time in Nolensville's (Williamson Co.) real estate history!
July is typically a solid-month as families focus on moving before the start of a new school year. Not even record-list prices and low-inventory could derail what is continuing to be a banner year of home sales in Nolensville – and throughout Williamson County.
So, let's break down July 2016's single-family residential sales numbers…
This data comes from my own research along with data by the Williamson County Association of Realtors. Keep in mind these figures do not include For Sale By Owner or Nolensville properties outside of Williamson County:
Single-Family Homes Closed: 

60… up from 47 in June

Median Sold Price: 

$460,724… up from $459,900 in June

Avg. Days on Market: 

47… down from 61 in June

Inventory: 

161

Pending: 

53

Number of new construction sales: 

30… up from 25 in June

Existing home sales: 

30… up from 22 in June

Median Sales Price/Square Foot: 

$149.39/sf

Average Year Built: 

2011
---
Record-Setting Home Sales in Nolensville…
2015 ended as the all-time, record-holder for home sales in Nolensville. Plan on seeing that number get obliterated this year.
Completely… obliterated.
Just take a look at the month-by-month sales figures over the past three years.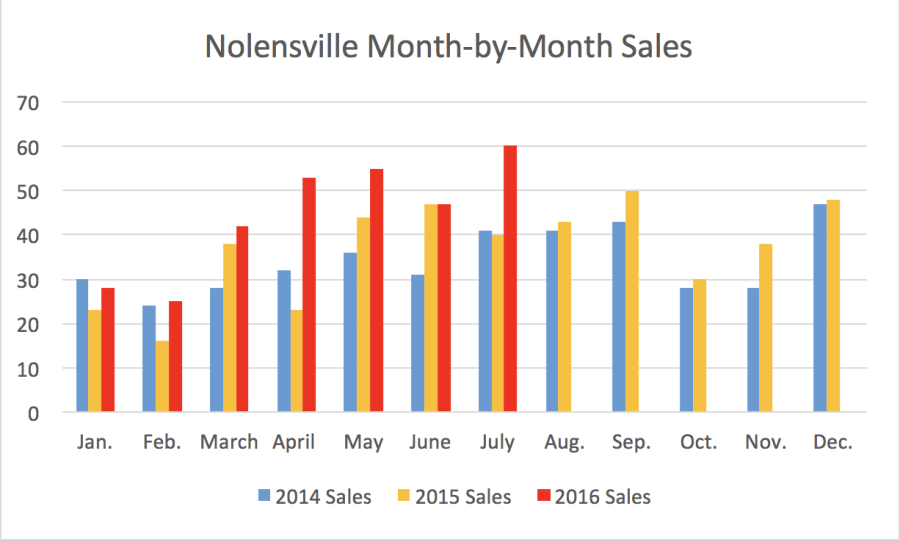 April and July 2016 *crushed* sales figures from the past – setting the table, folks – and just check out the pace we're on just over halfway through the year…

Year-to-date, we are now 79 homes ahead of last year's record-setting pace… a 34% jump! What?!!
Interested in up to date Nolensville TN real estate sales figures? I'll email you a daily update on Nolensville real estate complete with new listings, what has gone pending, and daily sales. Just shoot me an email with your name and preferred email address to flint@homesaroundnashville.com
---
Williamson County Home Sales Rebound…
So much for the concern over June's dip in sales; July residential sales set an all-time record with 612 closings, eclipsing the previous Williamson County record of 604 set in July 2015.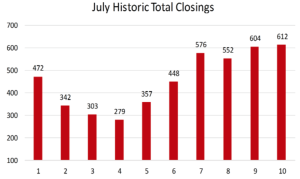 The median sales price for a Williamson County single-family home was $452,706 in July 2016, a 9.1% increase from $415,000 in June 2015.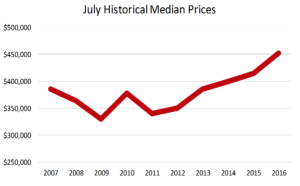 Year-to-date closings in Williamson County are 3,265… representing a 3.2% increase over the 3,164 closings for the same period last year.
Inventory remains the bugaboo across Williamson County. At the end of July 2016, it stood at 1,774 total residential units, indicating a less than three-month supply of available units. A normal/healthy market has a six-month supply.
WCAR released as statement regarding July's impressive numbers:
"With a thriving economy, active job market, strong school system and low crime rates, the desirability for homeownership in Williamson County remains extremely high," said David Logan, President of the Williamson County Association of REALTORS®. "Confidence in our community continues to draw buyers to Williamson County and that has kept our residential market very active despite higher median sales prices."
"At the start of 2016's third quarter, it is clear the real estate market in Williamson County is healthy and growing. The high number of pending sales is a solid indication the positive market trends should continue," added Logan.
---
Mortgage Rates – Holding Low and Steady…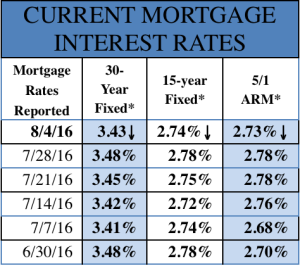 After increasing through most of July, mortgage rates started August by dropping near their lowest levels of 2016.
The 30-year conventional fixed rate fell down to 3.43%, just slightly above the lowest levels of the year. Mortgage rates have been below 3.5% since June.
---
I'm Out of Nolensville Inventory!
Egads – I've sold all my Nolensville listings! If you're considering putting your Nolensville home on the market, please give me a call and hear how I market and sell homes in our awesome town! I focus my real estate practice right here in Nolensville, and have now helped 40 home buyers and sellers reach their goals in Nolensville!
---
I'm a Nolensville TN resident… I'm a Nolensville TN Realtor®… and I always offer a complimentary, no commitment, no pressure Comparative Market Analysis for my neighbors. Please let me know how I may assist you in the sale or purchase of a Nolensville property.
Note: The above information cites Williamson County sales data for Nolensville, Tennessee. There are, of course, a handful of Nolensville properties that also exist in Davidson and Rutherford counties, but for the purpose of this article I am focusing on Williamson County since a majority of Nolensville addresses fall within this geographic area.