by Flint Adam, Nolensville resident & Realtor®
Monday, February 29, 2016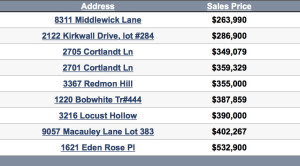 About 1 in 1,500 of you were born today. Your childhood was probably riddled with Leap Year jokes and kids calling the 16 year old version of you a 4 year old.
Well, I for one, celebrate YOU! Happy birthday, Leap Year-ers…
Okay, back to real estate. The last full week of February was strong, and ensured that we'll blow out February 2015's dismal sales figure. (I'll recap in a few days).
New construction was the big winner again, with 7 of 9 closings falling under that category. Meanwhile, 21 Nolensville homes either listed (or re-listed) in the past week.
Here is your breakdown of Nolensville TN single-family-residential transactions for the week ending 2/28/2016 as reported on MLS:
– Total sales closed: 9 (3 Davidson Co., 6 Williamson Co.)
– Highest closing price: $532,900 – 1621 Eden Rose Place in the Brittain Downs neighborhood.
– Number of new construction homes sold: 7
– Number of existing (resale) homes sold: 2
– Avg. Days on Market for the existing (resale) homes sold: 39
---
Can Wood Laminate Floors Cause Cancer?…
This was a notable real estate story last week with broad implications: the CDC revised a study finding that Lumber Liquidators had been selling some wood-floor laminate that has an elevated threat of cancer-causing formaldehyde levels.
Check out the story by clicking here.
---
How To Select Ideal Outdoor Furniture…
Spring is right around the corner and maybe you've been thinking about upgrading the 'ol outdoor décor. Here's an article with some ideas on how you can spruce things up for spring!
---
New Listing In Sherwood Green…
I've got a beautiful new listing in Sherwood Green for you to check out. It's located at 3275 Burris Drive and is a year 2015, Regent-built beauty. Use the 'Contact Me' form if you're interested in setting up a showing, and check out the video, below!
https://www.youtube.com/watch?v=7eLc3aAsV0A
---
Words of Wisdom…
These words are not mine, but I'm always seeking and sharing inspiration:
"Your present circumstances don't determine where you can go; they merely determine where you start."
~Nido Qubein

---
I'm a Nolensville TN resident… I'm a Nolensville TN Realtor®… and I always offer a complimentary, no commitment, no pressure Comparative Market Analysis for my neighbors. Please let me know how I may assist you in the sale or purchase of a Nolensville property.