by Flint Adam, Nolensville resident & Realtor®
Revised – Wednesday, January 13, 2016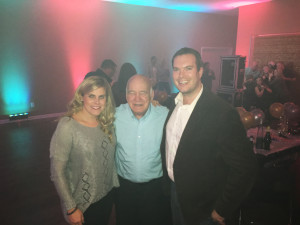 As my wife and I stood celebrating New Year's Eve at  Snyder Entertainment's annual shindig, it wasn't lost on me how much things have changed in such a short amount of time.
My wife and I moved to Nolensville in 2010. Back then, the Town Center shopping area was looking long in the tooth and devoid of the many businesses seen there today.
Fast-forward 5 short years, and not only was Brian Snyder's party thumping, but a few feet away Nolen's Place was packed with karaoke singers and the smell of local beer.
It was exciting to see so many people gathered together in community establishments, having fun with neighbors, and celebrating another year well done.
Moving to Nolensville was one of the best decisions of my life. This is a special community in a booming state, and word has gotten out, folks – people are moving here from Texas, Arizona, California, and beyond.
As neighborhoods pop onto the map and the town limits stretch out, we should welcome progress with responsibility. I believe we've got good leadership in Nolensville that cares about the direction we're heading. Maybe opinions differ at times, but so long as we all carry our community's best interests at heart, I'm confident the future will remain bright.
2015 was a special year for our town. My wish is that 2016 is just as remarkable for Nolensville, for my family, and you!
---
A Year for the (Real Estate) Record Books…
Greater Nashville's real estate was a big story all year. I'll highlight Williamson County and Nolensville further down, but let's begin with a look at the broader picture.
Final numbers for 2015 show there were 36,873 homes sold in the region. Compared to the 33,269 closings in 2014, the final closing numbers were up 10.8 percent. It's the most annual closings in the area since 2006.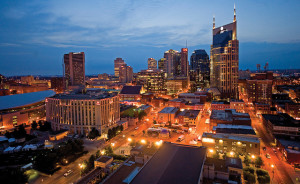 Denise Creswell, President of the Greater Nashville Association of Realtors, said, "It has been nearly a decade since our real estate market has seen this much activity and positive growth." She went on to say, "staying on a sustainable growth track, coupled with continued good reports on the economy and job market should make (2016) another successful and favorable one for both current and potential homeowners."
I'd have to agree. There's really nothing slowing us down that much right now. Sure, mortgage interest rates will likely be on the rise this year, and the stock market is topsy-turvy to kick off the new campaign, but jobs are good and the overall economy looks strong; and according to various statistics, more than 80 people move to Nashville every day! Meanwhile, residential inventory remains low and builders are struggling to keep up with demand.
Williamson County Sales Stand Out…
Approximately 16.8% of the 9-county, Middle Tennessee area's 2015 closings occurred in Williamson County. The total dollar volume of residential transactions for 2015 was over $7.9 billion, with $2.2 billion of that business being done in Williamson County. That represented 27.8% of the sales volume for the region.
"The real estate market in Williamson County throughout 2015 was very active all year long. The significantly higher number of closings in December suggests there may have been a logjam of closings that didn't happen in November due to new Consumer Financial Protection Bureau compliance guidelines that went into effect in October," said David Logan, 2016 WCAR President. "That might also explain why closings were down slightly in November."
December certainly made up for it. Sales volume of homes in Williamson County broke all preceding December records with 500 single-family residential and condominium closings. This represents a 25.6% increase over December 2014 at 398 closings, according to data from the Williamson County Association of REALTORS®.
There were 1,266 closings in the 4th quarter, up 8.4% from the 1,168 closings in the 4th quarter of last year. Total closings for 2015 totaled 5,551, an increase of 11.7 percent over the 4968 closings in 2014.
A Record Year for Nolensville Real Estate…
Nolensville real estate blew it out in 2015, finishing with 583 single-family residential closings, and 27 condo/town home closings. December proved to be an exclamation point on the year as 63 of the above-mentioned closings (10.3%) happened in that month alone. Perhaps just as impressive: the median December price in Nolensville exceeded that of Franklin by 6.5%.
Here's how December finished in Nolensville (Williamson County sales figures):
Single-Family Homes Closed: 

48… up from 38 in November

Median Sold Price: 

$443,368… up from $407,790 in November

Avg. Days on Market: 

52… even with November's 52

Inventory: 

111

Pending: 

39

Number of new construction sales: 

31… up from 26 in November

Existing home sales: 

17… up from 12 in November

Median Sales Price/Square Foot: 

$145.83/sf

Average Year Built: 

2009
Bent Creek led all subdivisions in sales with 11. Arrington Retreat was second with 10 sales and Brittain Downs was third with 6.
The average year built of the 17 existing home sales was 1999… with an average sales price of $390,270 and an average days on market of 84.
---
Visualizing Nolensville Real Estate Sales in 2015…
This is Nolensville residential sales data as reported by our local MLS (RealTracs) and only cites the Williamson County sales figures. For Sale by Owner and Nolensville homes in Davidson and Rutherford counties are not included.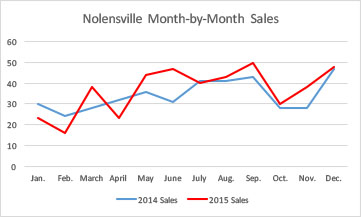 After a topsy-turvy first third of the year, sales regained their footing and generally finished ahead of the previous year each and every month.
Standout months included March, May, June, September, and November – all considerably stronger in year-over-year comparisons.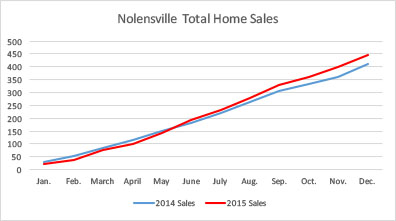 Nolensville real estate set a new record in 2015 with a total of 446 single-family residential closings within the Williamson County limits.
Year-over-year growth wound up roughly 9.2% stronger than in 2014.
---
Reviewing My 2015 Predictions…
So, do I have to eat crow or not? Early last year, I blogged my 5 Nolensville TN Real Estate Predictions for 2015. Here's how I fared:
1.) PREDICITON: Mortgage Rates Will Go Up – REALITY: Yes and No

According to the Bankrate.com graph on the left (click to expand), mortgage rates did, in fact, go up in 2015… but then they fell back to around the same level they were at the beginning of the year.
That part was a little unexpected, but welcome, to many buyers – including myself.
So, I'll say I was sort of right on this one… depending on when you locked in your rate.
2.) PREDICTION: Millenials Begin Making A Greater Impact – REALITY: Bingo!
U.S. News & World Report featured an article a few months ago on this very subject. They cited a report by the National Association of Realtors that found millennials making up the largest generational percentage of home buyers at 32 percent.
3.) PREDICTION: Builders Continue Leading the Way – REALITY: Yes, but I missed by how much
Of Nolensville's 446 closings referenced above, 217 were new construction… or 49%. In 2014, that percentage was 57%. So why the big drop? It had more to do with a circumstance unforeseen at the beginning of 2015 – labor.
Builders battled labor shortages through much of the year, and it led to delays ranging from weeks to months. For one builder, it was finding framers… for another builder it was scheduling brick laying. My clients (and myself) ran into delays in new construction that certainly affected the greater number.
There was also the unveiling of new TRID rules in the fall that led to some delays, though this would have affected resales as well, so I can't lay too much blame here.
Meanwhile, it was a sellers market… and lots of current homeowners took advantage of it! So, resales were pretty robust throughout the year and helped even out the new vs. existing construction mix.
4.) PREDICTION: Credit Remains the Gatekeeper – REALITY: Yes, and the gates opened some
I made the observation that if credit standards could loosen some, it would be helpful for many homebuyers. That came to fruition, as seen here.
5.) PREDICTION: Nolensville TN Real Estate Enjoys Another Year of Growth… But Growth Slows – REALITY: I nailed it!
I'm proud of this one. My forecast was year-over-year growth of 8% to 9%… and wouldn't you know it, we finished at 9.2%. I also made a call that we'd see a total of 430 to 450 total sales in 2015 (we finished with 446)… and I said we should expect 215 to 260 of those coming from new construction (there were 217).
---
DAC Custom Homes = Pretty Darn Awesome…
I have to make a plug here. I've represented buyers who have built homes with a variety of local builders, but one of them really stood out to me in 2015 – DAC Custom Homes. So much, in fact, that my wife and I built our new Bent Creek home with them.
DAC is a local, family-owned company that builds an exceptional product. As I got to know Joe and David DeFatta, though, I became just as impressed with their character and desire to offer top-notch service.
This is normally the kind of thing I'd stay pretty neutral on, but just as I have become an Apple evangelist, I have to sing the praises of a local builder who really does things right.
In the coming months, I'll be getting together with DAC to produce videos about their company and the custom home-building process. If you or someone you know is thinking about building and wants a level of customization that's way beyond what a lot of competitors offer, I'd love to introduce you to their product. Having represented clients who have built a DAC home… (and having gone through the process, myself)… I'm a great resource for prospective buyers seeking buyer-agent representation in this arena.
---
Closing Thoughts…
So that about wraps it up for my 2015 Nolensville Annual Real Estate Review. I'll blog recaps of individual neighborhoods in the weeks ahead… and plan on getting back to more advice blogs in 2016.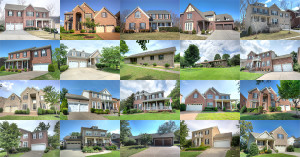 Meanwhile, if you're selling a home this year, I'd love an opportunity to meet with you. I listed and sold 20 Nolensville homes in 2015, and am ready to crank out more listings in 2016!
And if you're thinking about buying, I'm an Accredited Buyer's Representative and represented more than a half-dozen buyers who purchased Nolensville homes last year.
Until next time…
I'm a Nolensville TN resident… I'm a Nolensville TN Realtor®… and I always offer a complimentary, no commitment, no pressure Comparative Market Analysis for my neighbors. Please let me know how I may assist you in the sale or purchase of a Nolensville property.