by Flint Adam, Nolensville resident & Realtor®
Wednesday, March 9, 2016
March Madness is almost upon us! For those of you who don't care about NCAA basketball, at least we have the first day of spring to look forward to on March 20th.
And with spring, we enter the mad frenzy that is real estate's prime season. It would seem, in fact, that "the season" began early this year as we just wrapped up what has been a very active February in Nolensville… and Greater Nashville.
You might have already seen some of the headlines including "…home sales strongest in nearly a decade." It is rather impressive that despite an inventory shortage, a stock market that has been wobbly in '16, and price appreciation that is putting the squeeze on first-time home buyers, the market continues powering forward.
Competition among buyers remains strong. Some of you may poo-poo this next suggestion as a "Realtor pitch," but hear me out: if you're house-hunting right now it really pays to have a Realtor representing you. There's a lot of pre-market chatter going on among insiders (Realtors), and that means many suiters are already lined up before a home even reaches MLS. This is one of the reasons so many buyers see a house hit the market and are then devastated to learn it's already under contract.
Having a professional who is tuned in to the marketplace can give you that edge you'll need for the best properties out there.
It's also imperative that you get yourself pre-approved before you begin your home search. It guides your Realtor on what you're qualified to look at, and arms you with a pre-approval letter you'll submit when you make an offer.
As for sellers – now is a great time to be in your shoes; but you'll want to play it smart and make sure you're presenting your home well, taking care of maintenance on the front end, and accurately pricing it. Also, keep in mind that even if a buyer agrees to your price point, in most cases it will still need to appraise. The lender will order an independent appraiser to come in and evaluate the property. Some deals are blowing up due to poor appraisals, so it's best to accurately price on the front end.
So – Nolensville residential sales in February: it was quite a bump from one year ago when a dismal 16 units sold. February 2016 brought with it a 56% increase(!) in sales – we finished with 25, which also marks the strongest February we've had since 2007 when 27 Nolensville homes sold. (Keep in mind I'm only citing Williamson County sales).
Let's go ahead and break everything down courtesy of stats provided by my own research along with data by the Williamson County Association of Realtors. Keep in mind these figures do not include For Sale By Owner or Nolensville properties outside of Williamson County:
Single-Family Homes Closed: 

25… down from 28 in January.

Median Sold Price: 

$409,900… down from $426,898 in January

Avg. Days on Market: 

46… down from 47 in January

Inventory: 

162

Pending: 

103

Number of new construction sales: 

18… down from 19 in January

Existing home sales: 

7… down from 9 in January

Median Sales Price/Square Foot: 

$139.28/sf

Average Year Built: 

2013
Well, it was bound to happen: despite being the largest neighborhood in Nolensville, Bent Creek was knocked off its perch as top-selling neighborhood for the month. It almost happened last month as Arrington Retreat actually tied Bent creek with 5 sales each… but this month we pay homage to new victors – Burkitt Place and Silver Stream!
That's right, folks – the new Whitney Park at Burkitt Place and new construction in Silver stream pushed those neighborhoods to the top – each closed out the month of February with 4 sales. Tied for second place were Bent Creek and Summerlyn with 3 sales each.
With all of these new developments coming online, we may see a new neighborhood order around town!
Meanwhile, the average year built of the 7 existing home sales was 2007… with an average sales price of $406,171 and an average days on market of 47.
Interested in up to date Nolensville TN real estate sales figures? I'll email you a daily update on Nolensville real estate complete with new listings, what has gone pending, and recent sales. Just shoot me an email with your name and preferred email address to flint@homesaroundnashville.com
---
Visualizing Nolensville's Sales Numbers…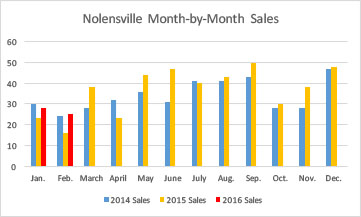 Time now for a visual representation of our sales figures. This is Nolensville residential sales data as reported by our local MLS (RealTracs) and only cites the Williamson County sales figures. For Sale by Owner and Nolensville homes in Davidson and Rutherford counties are not included.
2016 is starting off on a very similar trajectory as 2014 did with 25 or more sales in both January and February. March tends to be another strong month, and that's where we saw the first big jump in activity during 2015 as almost 40 homes closed out that time last year.
As of this writing, I count at least 32 homes currently under contract with a shot at closing in March… so the coming month may wind up similar to March 2015. If that's the case, then we could be on a record pace heading into the second quarter!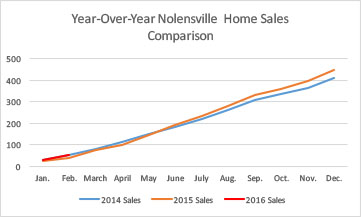 The year-over-year-over-year numbers expectedly look good – we're just 1 off the pace set through the first two months of 2014.
There are a lot of indicators leading toward another banner year of sales here in Nolensville and Greater Nashville. I heard a stat not too long ago that roughly 90 people a day are moving to Nashville. The job industry looks pretty good here. Home prices are still pretty affordable relative to a lot of western and northeastern areas. Interest rates remains near record lows (more on that below).
Oh – and Nolensville remains a sought-after community in Middle Tennessee. People want to move here. More people than there are available homes. That says a lot.
---
Williamson County Sales Make Moderate Gains…
It was another solid month of real estate sales countywide as year-over-year numbers rose 9.8-percent with 280 single-family home and condominium closings for the month versus 255 in February 2015.
The median sales price for a single-family home in February was $396,970 and for a condo it was $285,000. That compares to $402,655 and $216,000 respectively in 2015.
Meanwhile, housing inventory in the county fell 1.5-percent in February to 1,603… down from 1,629 in February 2015.
Year-to-date home closings for the county ended February at 605 – a 14.15-percent increase from the 530 closings reported through February 2015.
---
Mortgage Rates Sink in February…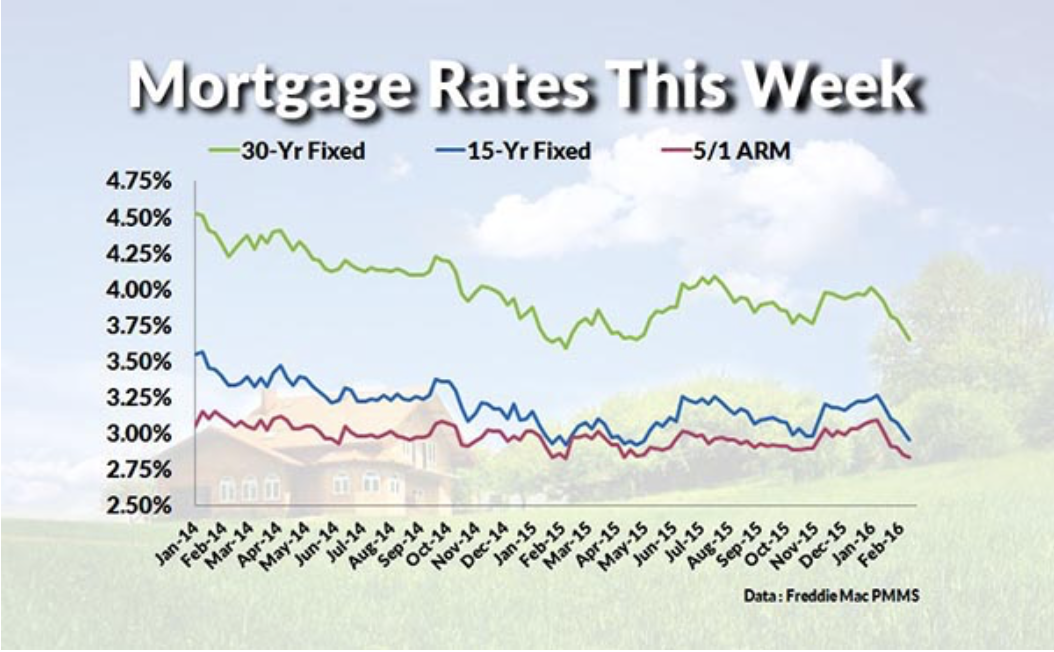 You likely won't find anyone complaining here: mortgage rates continued sliding down through February with the average 30-year fixed rate falling to 3.62% on February 25th (as reported by Freddie Mac PMMS).
There has since been a slight uptick, so if you've been sitting on the fence please understand that rates will in all likelihood be going up through the course of this year. You will never again in your lifetime be able to borrow money as cheaply as you can right now – so it's a worthy time to buy and lock in historically low rates!
---
 My #LoveNolensville Initiative…
I'm pleased to announce my new initiative I'm calling #LoveNolensville. This town and its people have been very good to me and my family. I've been thinking lately about how I can give more back. Well, #LoveNolensville is one of those ideas…
Beginning now, every client I represent who buys or sells a home in Nolensville may select a Nolensville non-profit whom I'll write a donation-check to following the closing of their transaction. Click here for more on how this initiative will work, and feel good about helping out your community when you choose to work with me!
---
I'm a Nolensville TN resident… I'm a Nolensville TN Realtor®… and I always offer a complimentary, no commitment, no pressure Comparative Market Analysis for my neighbors. Please let me know how I may assist you in the sale or purchase of a Nolensville property.
Note: The above information cites Williamson County sales data for Nolensville, Tennessee. There are, of course, a handful of Nolensville properties that also exist in Davidson and Rutherford counties, but for the purpose of this article I am focusing on Williamson County since a majority of Nolensville addresses fall within this geographic area.