by Flint Adam, Nolensville resident & Realtor®
Thursday, January 5, 2017
HAPPY NEW YEAR!
First of all, credit where it's due – kudos to Nolensville's Brian Snyder and Snyder Entertainment. They put on a magnificent New Year's Eve party at Mint Springs Farm in Nolensville. My wife and I have watched this event evolve over the years, and this one really took the cake. It's also a real pleasure seeing so many familiar faces from the community.
Brian – thank you, thank you, thank you for being a class-act and someone who makes Nolensville better!
If you haven't been to one of these parties before, get to know your town alderman and ask for an invite to New Year's Eve 2018!
Recapping 2016…
So yeah – another year gone! I can hardly believe it. It was also a pretty epic year in Nolensville real estate.
Sales records didn't just fall, they were destroyed. 724 homes with a Nolensville address (Davidson, Rutherford, and Williamson Counties) closed last year. For the purpose of consistency, I'll hereafter only reference the Williamson County sales stats as they make up the majority of the Nolensville footprint and represent the stats I track throughout my previous blogs.
In Williamson County Nolensville, the final tally of sold single-family homes was 549. Only one year earlier in 2015 we had set a then-sales record of 446 homes sold, so 2016's figure represents a pretty massive increase in sales. 23% year-over-year sales growth, in fact!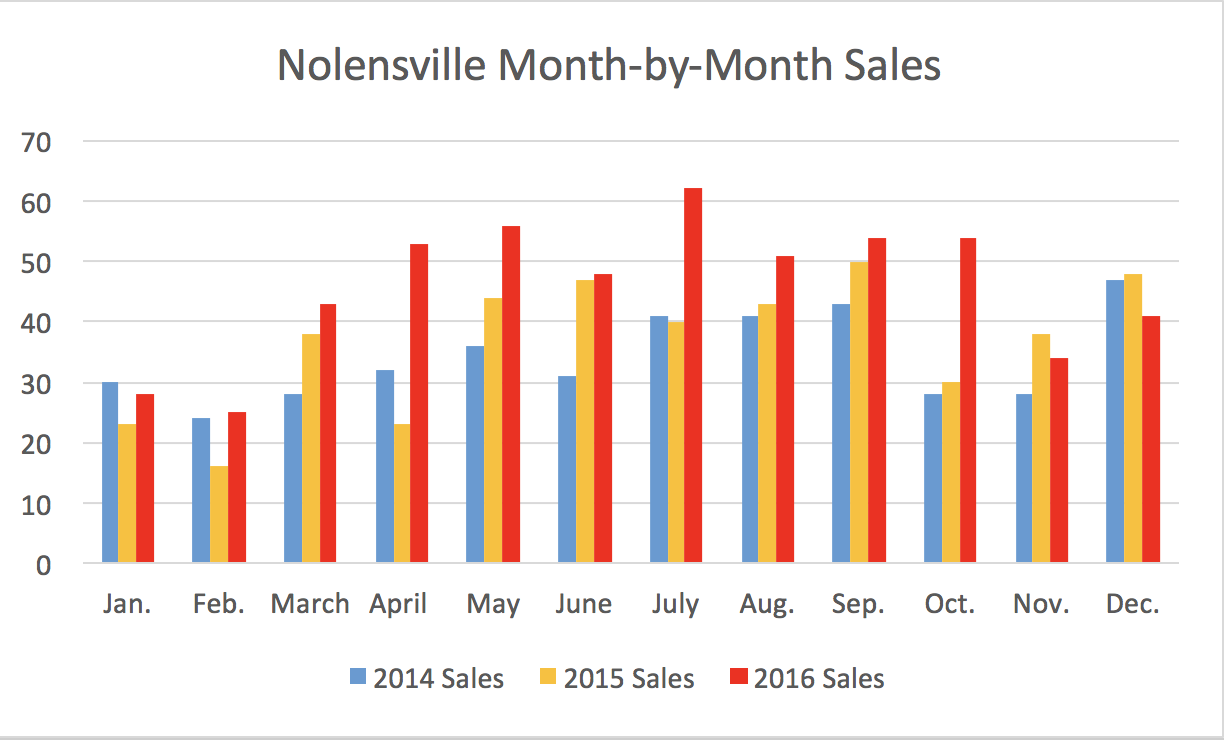 Meanwhile, the average price of homes in Nolensville jumped from $414,747 in 2015 to $458,115 in 2016 – a 10.46% year-over-year price increase. For perspective, that's more than the 9.5% growth the S&P 500 had in 2016.
Owning real estate has been a wealth-builder the past several years – especially in Greater Nashville. Those who bought around 2010 have arguably made out the best as they purchased when the housing market was near its lowest point. However, if you bought in 2006 or 2007, you probably just got back to even within the past year.
So, What's Ahead?…
As we look at 2017, there is plenty of reason to believe more sales records could be set. Just look at all the new construction happening around town!
There is continued expansion or new development in neighborhoods like:

Benington
Bent Creek
Burkitt Place
Burkitt Springs
Burkitt Village
Carothers Farms
Catalina
Eulas Glen
Scales Farmstead
Sherwood Green
Silver Stream
Summerlyn
The Farm at Clovercroft
The Ridge
Whitney Park
Whittmore
And then you have other new mixed-use projects like Nolensville Market Square and Burkitt Commons that will bring additional housing and commercial space to our town.
Nolensville is no longer a hidden gem. Our town's growth has become a reoccurring topic in local media, and buyers who used to snub the town in favor of purchasing in Franklin or Brentwood are now finding more reasons to give Nolensville their consideration. Finally, people from California, Arizona, Texas, and Florida (to name a few) are moving here based on the reputation our town is rightfully earning.
But it's not all rosy. There are challenges that lie ahead – for Nolensville… for Greater Nashville… and for the country – and while they likely won't put the kibosh on our recent real estate boom, they could possibly tap the brakes in 2o17.
5 Predictions for 2017 Nolensville Real Estate…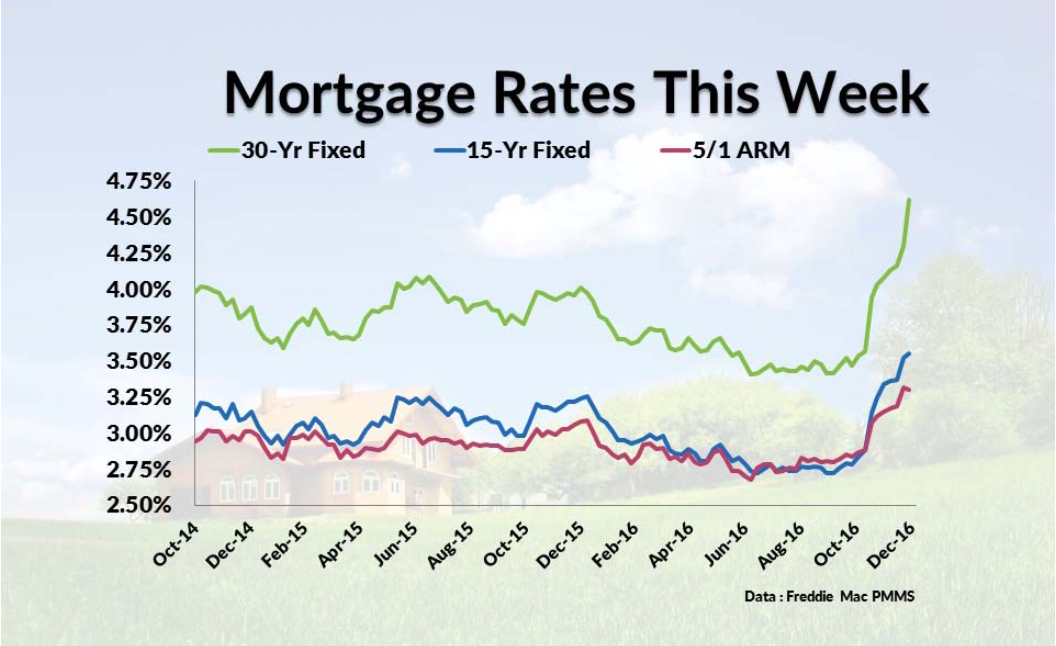 1.) Interest rates will rise: It's already happening – just look at the big spike in the adjacent mortgage rate graphic.
On December 29th, the mortgage rate for a typical 30-year-loan was 4.32%. Compare that with this past summer when mortgage rates hit a record-low.
Rates can change fast folks, and industry experts believe they're heading only one direction:
"The day has finally come that people have been talking about for two years," said Steve Cook, editor of Real Estate Economy Watch, "when you start seeing a steady rise in interest rates.
From Inman News:
The consensus was that the 30-year fixed rate in 2017 will likely stay in the 4-percent range — 4.5 percent to even 5 percent by year's end.

Mark Fleming, the chief economist at First American, said that his new estimate of next year's rate movement "shows mortgage rates getting much closer to 5 percent at the end of next year.
2.) Buyers will rush into action early… but a slower second half is possible: With interest rates on the rise, home buyers who have been sitting on the sidelines may finally be motivated to jump into action and find that next house.
But as we move into the second half of 2017, a slow-down could finally happen – and prices + interest rates will have a lot to do with that.
Williamson County recently approved an educational impact fee that will partially go into effect in March, with full implementation in September 2017.
New construction in Nolensville over 2,900sf will face an additional impact fee of over $10,000 come the fall.
So let's do some quick, rudimentary math…
Start with the 2016 average price of a NEW CONSTRUCTION home in Williamson County Nolensville… $492,131 (per MLS)
Assume price growth (increasing fees for labor, materials, and demand) of only half what we had in 2016… +5.23%
Add in the educational impact fee for a newly constructed 2,900sf home… $10,074
The average price of a NEWLY BUILT Nolensville home by the end of 2017 could theoretically become $527,943 … and interest rates will be around 5%.
Let that sink in.
3.) Smaller floor plans will become more popular: How do you combat rising prices? You opt for a smaller house.
The average size of a Nolensville home in 2016 was 3,106 square feet. However, there are builders still making homes around 2,500sf – and they will be the ones best positioned to thrive as the year goes on.
New construction in neighborhoods like Silver Stream and Whitney Park will thrive because of their more accessible price points and smaller floor plans.
4.) This will be the last 'Year of the Seller'… for a little while at least: The marketplace has favored sellers the past few years. Inventory has been tight, new construction has been behind, and buyer competition below $400,000 has at times been fierce.
But the party for sellers will end soon, and *prediction* – the rise of the Buyer's Market will happen in 2018.
5.) Federally-backed home loan programs and tax breaks remain: President-elect Trump has in the past spoken about cutting several federal programs, and there has been worry among some in the real estate industry that Fannie-Mae and Freddie-Mac  may be at risk… that the FHA loan program could disappear… and that tax incentives for homeowners could be in peril.
I don't believe any of these programs and incentives are going away any time soon. The government values home ownership, and especially as prices rise, the FHA loan program will be critical for many to realize the dream of home ownership.
Likewise, many banks need the protective blanket of Fannie and Freddie Mac in order to make loans.
And can you imagine the upheaval if mortgage-interest deductions went away? The economy has made a great rebound, but it's not functioning at 100%, and taking away any of these programs could be a real bad thing.
In Conclusion…
There you have it – my 5 Predictions for 2017 Nolensville Real Estate. Takeaways would be:
If you're thinking of selling – 2017 is the year you want to get it done, because the tide will turn soon.
If you're a buyer – you want to buy EARLY this year… because prices will jump in March and September with the Education Impact Fees, and interest rates could reach near 5% by year's end.
As always, I'm at your service and would be honored to help you in your home search and/or marketing and sale of your existing home. I'm a Nolensville resident & REALTOR® working for you!
---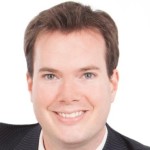 Flint Adam and his family live in Nolensville's Bent Creek community and he proudly focuses his real estate practice right here in Nolensville. Call him today at 615-500-6393 and discuss how he can help solve your real estate buying and selling needs.