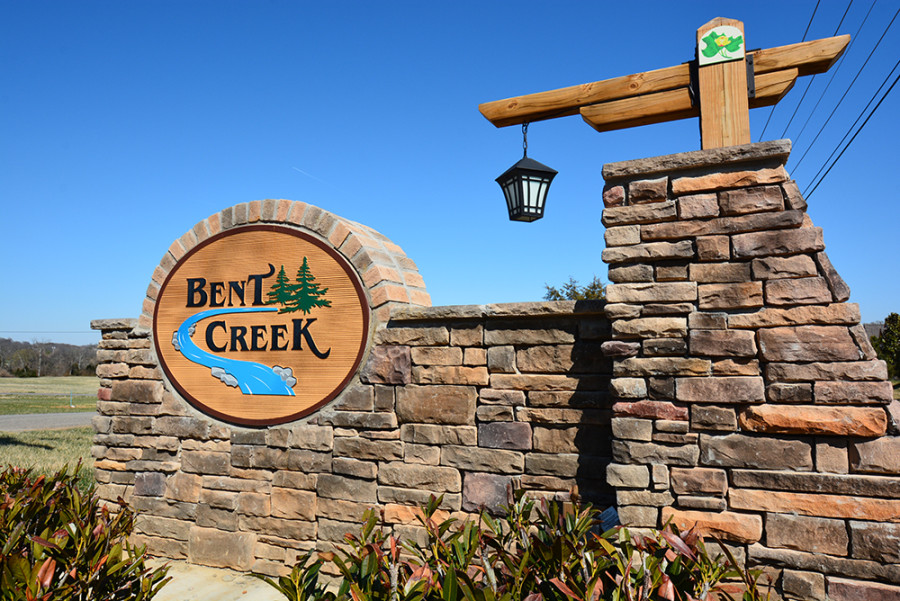 by Flint Adam, Bent Creek resident & REALTOR®
updated 4/26/2021
One Bent Creek home sale closed last week. The former Goodall Homes model at 4811 Jobe Trail brought a sales price of $510,000. It last sold in 2015 for $316,000. Quite a return in just six years of ownership!
It was an otherwise quiet week here in the neighborhood. Too quiet.
With the end of school in sight, this is traditionally the time of year where we see new listings hitting the market in earnest.
Only four Bent Creek homes have hit the market so far this April. Two years ago, eight home came on market between April 1 and April 26, 2019. That's a common theme across real estate these days.
Some sellers may be intimidated to put their home on the market given the headlines of craze in the real estate market, but that's the wrong way to look at things. More strategy is involved, yes, but there is great opportunity to sell with amazing terms while also positioning oneself to buy with security. If you're thinking of selling, or just want to know what your home is worth… give me a call!
Want a more detailed perspective on what's happening in our neighborhood, Nolensville, or Greater Nashville? Give me a call! I'm at your service. 615.500.6393
0

 NEW BENT CREEK LISTINGS LAST WEEK
1

 BENT CREEK CLOSINGS LAST WEEK

This page will be updated weekly with key Bent Creek real estate data. Further down the page, you can also check out what's currently listed for sale on MLS right here in the neighborhood.

Thanks for stopping by, and please consider me if you're planning to buy or sell – I've represented 57 buyers and sellers at the closing table in Bent Creek!
MY CURRENT BENT CREEK LISTINGS
4865 Powder Spring Rd – asking $439,990 (UNDER CONTRACT)  – see the video, below:
---
NEIGHBORHOOD SALES STATS
BENT CREEK 2021 REAL ESTATE SALES (AS OF 4/19/2021):
Bent Creek 2021 total sales so far:
18


Bent Creek 2021 avg. sales price:

$531,644


Bent Creek 2021 avg. sold price/sf:

$183


Bent Creek 2021 avg. days on market:

2
Want to know what a particular home in our neighborhood sold for regardless of date? Email me at flint@theguidehome.com for a report.
---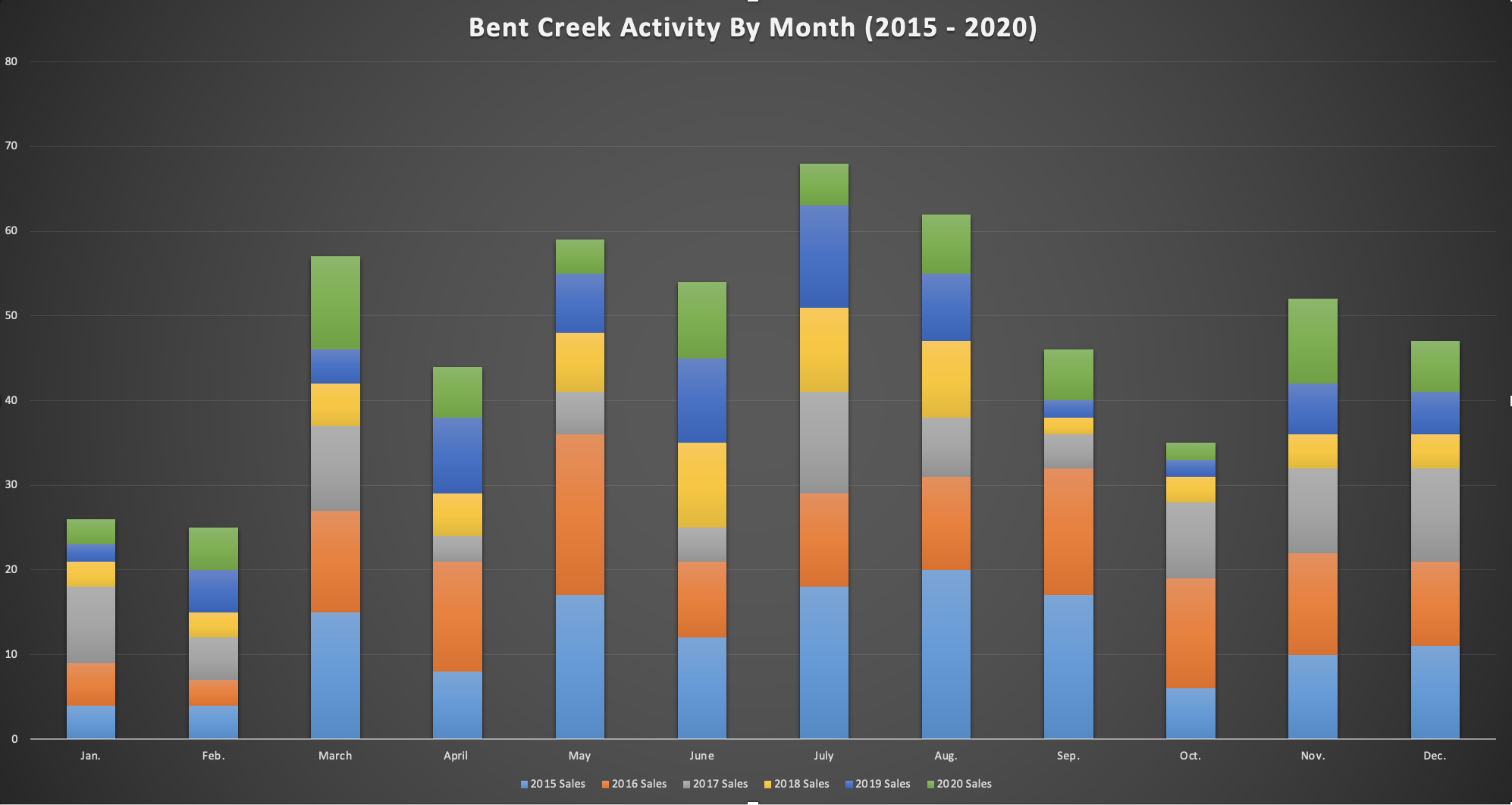 BENT CREEK 2020 REAL ESTATE SALES FINAL STATS:
Bent Creek total 2020 sales: 74 (up 2.78% year over year)
Bent Creek 2020 new home sales: 4 (up 33% year over year)
Bent Creek 2020 existing home sales: 70 (up 1.45% year over year)
Bent Creek 2020 new home avg. sales price: $561,316 (up 2.62% year over year)
Bent Creek 2020 existing home avg. sales price: $460,916 (up 4.61% year over year)
Bent Creek 2020 lowest closing price: $296,500
Bent Creek 2020 highest closing price: $594,000

---
SCHEDULE A NO-COMMITMENT, HOME PRICE EVALUATION:
Does Zillow know about the kitchen renovations you made last year? Can Trulia tell the difference between a custom-built Bent Creek home and one built by a national builder? No computer algorithm truly understands what makes your home unique, that's why you need to speak with a neighborhood real estate expert who has closed more than 40 Bent Creek homes!
I have earned the Pricing Strategy Advisor certification – additional education specifically geared toward making me your home pricing expert!
I am also a designated Seller Representative Specialist (SRS) with specialized training in helping homeowners sell their homes for the most money in the least amount of time!
Flint Adam's historical Bent Creek listing stats (as of 4/1/2021):
Number of Bent Creek listings sold: 46
Avg. Days on Market: 21
List Price to Sales Price Ratio: 98.88%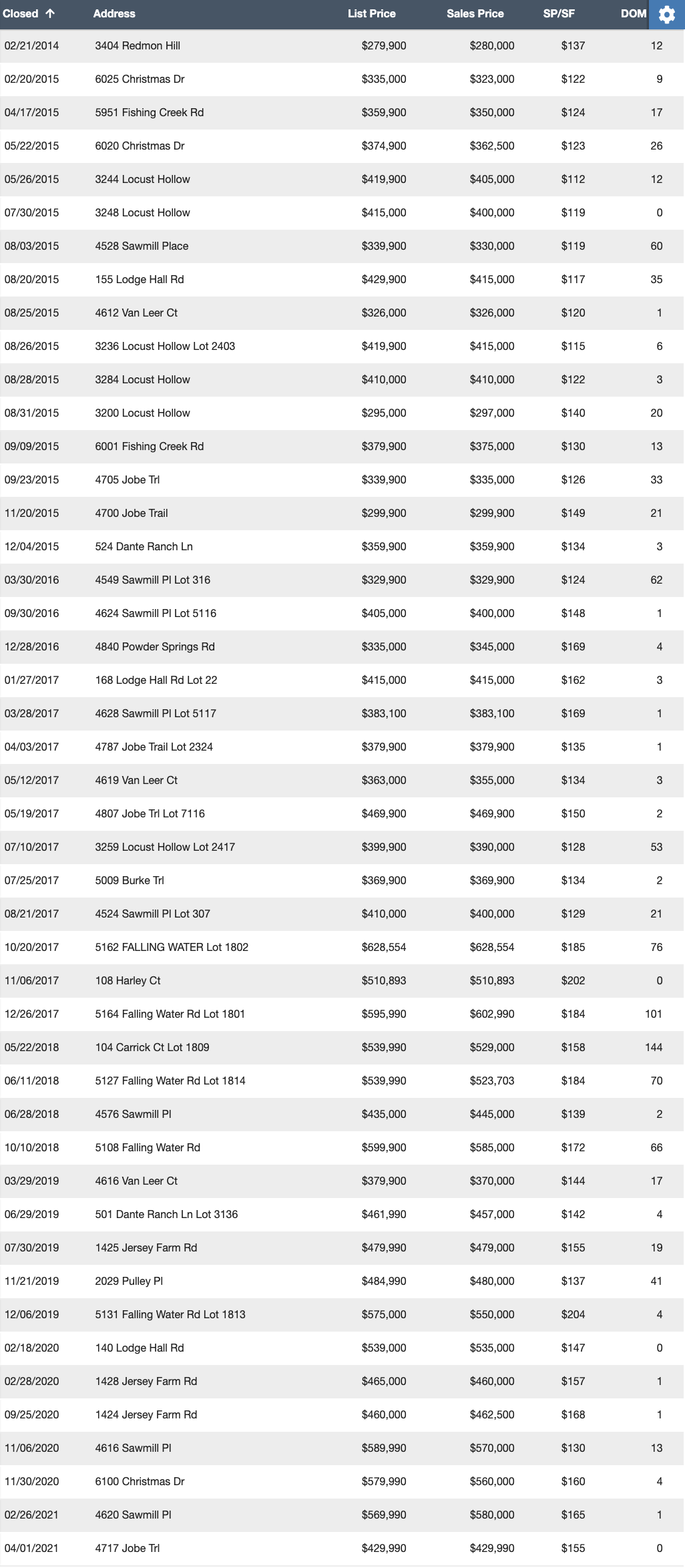 CLICK HERE and schedule your no-obligation home evaluation today!
---
CURRENTLY FOR SALE:

Sorry we are experiencing system issues. Please try again.